Power Semiconductors Weekly Vol. 112
Infineon Technologies AG launched a new automotive power module: The HybridPACK™ Drive G2. It builds on the well-established HybridPACK Drive G1 concept of an integrated B6 package, offering scalability within the same footprint and extending it to higher power and ease-of-use. The HybridPACK Drive G2 will be available with different current ratings, voltage levels (750V and 1200V) and Infineon's next generation chip technologies EDT3 (Si IGBT) and CoolSiC™ G2 MOSFET.
With a power range of up to 300 kW within the 750 V and 1200 V classes, the HybridPACK Drive G2 provides high ease-of-use and new features, such as an integration option for next-generation phase current sensor and on-chip temperature sensing, which enable system cost improvements. The power module achieves higher performance and power density through improved assembly and interconnect technology. The adoption of new interconnect technology (chip sintering) and of new materials (new black plastic housing) enables higher temperature rating, resulting in higher performance and longer product life.
The first generation (G1) of HybridPACK Drive was introduced in 2017, using silicon EDT2 technology. It offers a power range of 100 kW to 180 kW in the 750 V class. In 2021, Infineon expanded its product family with the first generation of HybridPACK Drive Automotive CoolSiC MOSFETs, which allowed the inverter design to achieve higher power up to 250 kW within the 1200 V class, longer driving range, smaller battery size and optimized system size and cost. With a track record of nearly 3 million units sold in various global electric vehicle platforms, the HybridPACK Drive is now Infineon's market-leading power module.
The lead products (FS1150R08, FS01MR08, FS02MR12) of the new HybridPACK Drive G2 are in production and will be available starting May 2023, with additional product variants to follow in 2023 and 2024. More information is available at www.infineon.com/hybridpackdrive.
Mitsubishi Electric Corporation announced that it will begin shipping samples of a new HV100 dual-type X-Series high-voltage insulated gate bipolar transistor (HVIGBT) module on May31, offering superior power, efficiency and reliability in inverter systems for large industrial equipment such as railways and electric power systems. The dual-type module, which achieves 4.5kV withstand voltage and 10.2kVrms dielectric strength, is rated at 450A, which is believed to be unmatched among 4.5kV silicon HVIGBT modules.
Power semiconductors are increasingly being utilized to efficiently convert electric power in order to lower the carbon footprint of global society, particularly in heavy industry, where these devices are used in power-conversion equipment such as inverters in railway traction systems and for DC power transmission. In response to the growing demand for devices offering high output, high efficiency and wide-ranging output capacity, Mitsubishi Electric released two versions (3.3kV/450A and 3.3kV/600A) of its HV100 dual-type X-Series high-dielectric-strength HVIGBT module in 2021. In the near future, the forthcoming HV100 dual-type X-Series module will contribute to even higher output, higher efficiency and improved system reliability for inverters used in large industrial equipment requiring high dielectric strength.
onsemi, a leader in intelligent power and sensing technologies, and premium electric mobility brand ZEEKR announced a long-term supply agreement (LTSA) between the two companies. onsemi will provide its EliteSiC silicon carbide (SiC) power devices to increase the powertrain efficiency of ZEEKR's smart electric vehicles (EVs), resulting in improved performance, faster charging speeds and extended driving range.
To support its expanding portfolio of high-performance EVs, ZEEKR will adopt onsemi EliteSiC MOSFET, 1200V, M3E with enhanced electrical and mechanical performance and reliability. These power devices deliver improved power and thermal efficiency, which reduces the size and weight of the traction inverter and enhances the range of the automaker's EVs.
"With cutting-edge technologies such as advanced SiC, ZEEKR will be able to offer electric vehicles with improved performance and even lower carbon emissions," said Andy An, CEO of ZEEKR Intelligent Technology. "As a brand committed to sustainability, ZEEKR will continue to explore different ways to accelerate the transition towards new energy vehicles."
The new LTSA will enable both companies to build a stronger supply chain relationship to support ZEEKR's growth over the next decade.
"A reliable supply chain is critical to business success and, after significant investments in our SiC end-to-end supply chain, onsemi can offer this strategic value to customers," said Hassane El-Khoury, president and CEO, onsemi. "This agreement will help our continued ramp of SiC operations, enabling us to offer industry-leading power devices that help our customers deploy the most efficient and highest performing EVs on the market."
ZEEKR is a premium electric mobility brand built to address the global demand for premium EVs. Utilizing Geely's advanced Sustainable Experience Architecture (SEA), ZEEKR develops in-house battery technologies, battery management systems, electric motor technologies and electric vehicle supply chain support.
Infineon Technologies AG and Schweizer Electronic AG are collaborating on an innovative way to further increase the efficiency of chips based on silicon carbide (SiC). Both partners are developing a solution to embed Infineon's 1200 V CoolSiC™ chips directly onto printed circuit boards (PCB). This will increase the range of electric vehicles and reduce the total system costs.
The two companies have already demonstrated the potential of this new approach: They were able to embed a 48 V MOSFET in the PCB. This resulted in a 35 percent increase in performance. SCHWEIZER contributes to this success with its innovative p²Pack® solution which enables power semiconductors to be embedded in PCBs.
"Our joint goal is to take automotive power electronics to the next level," said Robert Hermann, Product Line Head Automotive High-Voltage Discretes and Chips, of Infineon. "The low-inductive environment of a PCB allows clean and fast switching. Combined with the leading performance of 1200 V CoolSiC™ devices, chip embedding enables highly integrated and efficient inverters that reduce overall system costs."
"With Infineon's 100 percent electrically tested standard cells (S-Cell), we can achieve high overall yields in the p² Pack manufacturing process," said Thomas Gottwald, Vice President Technology at Schweizer Electronic AG. "The fast-switching characteristics of the CoolSiC chips are optimally supported by the low-inductance interconnection that can be achieved with the p² Pack. This leads to increased efficiency and improved reliability of power conversion units such as traction inverters, DC-DC converters, or on-board chargers."
Bosch is expanding its semiconductor business with silicon carbide chips. The technology company plans to acquire assets of the U.S. chipmaker TSI Semiconductors, based in Roseville, California. With a workforce of 250, the company is a foundry for application-specific integrated circuits, or ASICs. Currently, it mainly develops and produces large volumes of chips on 200-millimeter silicon wafers for applications in the mobility, telecommunications, energy, and life sciences industries. Over the next years, Bosch intends to invest more than 1.5 billion USD in the Roseville site and convert the TSI Semiconductors manufacturing facilities to state-of-the-art processes. Starting in 2026, the first chips will be produced on 200-millimeter wafers based on the innovative material silicon carbide (SiC).
In this way, Bosch is systematically reinforcing its semiconductor business, and will have significantly extended its global portfolio of SiC chips by the end of 2030. Above all, the global boom and ramp-up of electromobility are resulting in huge demand for such special semiconductors. The full scope of the planned investment will be heavily dependent on federal funding opportunities available via the CHIPS and Science Act as well as economic development opportunities within the State of California. Bosch and TSI Semiconductors have reached an agreement to not to disclose any financial details of the transaction, which is subject to regulatory approval.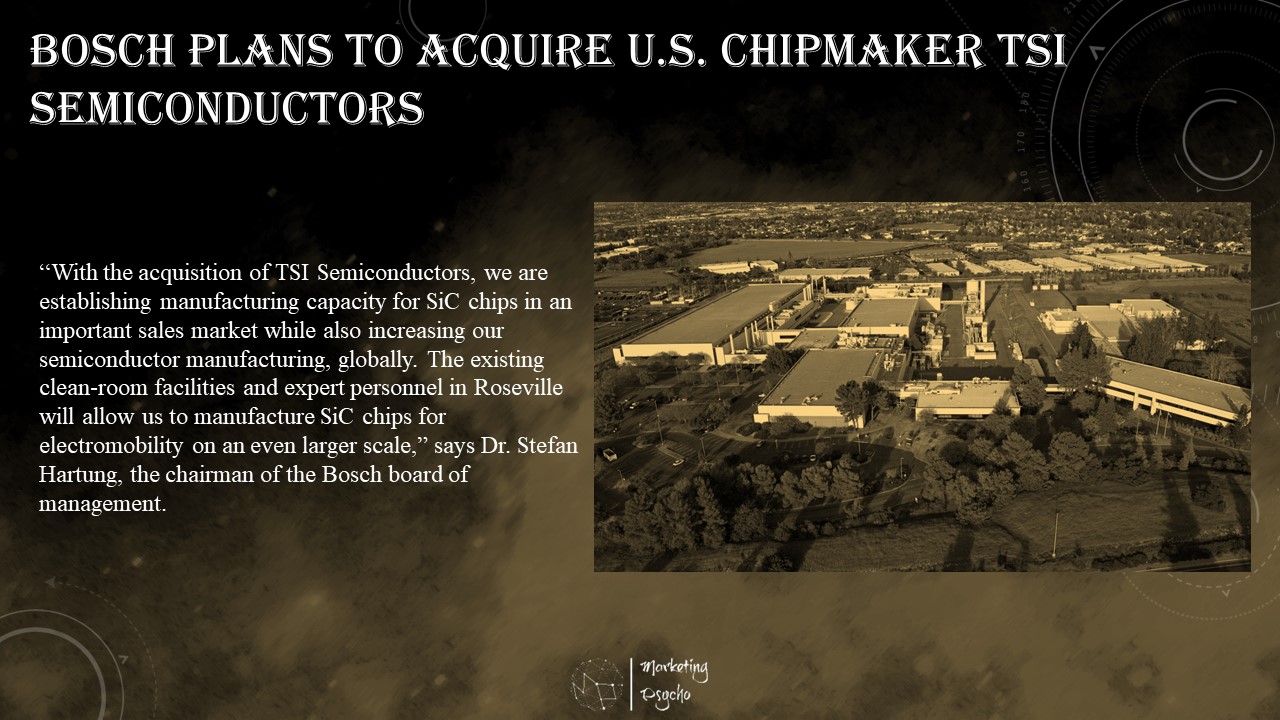 "With the acquisition of TSI Semiconductors, we are establishing manufacturing capacity for SiC chips in an important sales market while also increasing our semiconductor manufacturing, globally. The existing clean-room facilities and expert personnel in Roseville will allow us to manufacture SiC chips for electromobility on an even larger scale," says Dr. Stefan Hartung, the chairman of the Bosch board of management. "The location in Roseville has existed since 1984. Over nearly 40 years, the U.S. company has built up vast expertise in semiconductor production. We will now be integrating this expertise into the Bosch semiconductor manufacturing network," says Dr. Markus Heyn, member of the Bosch board of management and chairman of the Mobility Solutions business sector. "We are pleased to join a globally operating technology company with extensive semiconductor expertise. We are confident that our Roseville location will be a significant addition to Bosch's SiC chipmaking operations," says Oded Tal, CEO at TSI Semiconductors.
The new location in Roseville will reinforce Bosch's international semiconductor manufacturing network. Starting in 2026, following a retooling phase, first SiC chips will be produced on 200-millimeter wafers in a facility offering roughly 10,000 square meters of clean-room space. At an early stage, Bosch invested in the development and production of SiC chips. Since 2021, it has been using its own proprietary, highly complex processes to mass-produce them at its Reutlingen location near Stuttgart. In the future, Reutlingen will also produce them on 200-millimeters wafers. By the end of 2025, the company will have extended its clean-room space in Reutlingen from roughly 35,000 to more than 44,000 square meters. "SiC chips are a key component for electrified mobility. By extending our semiconductor operations internationally, we are strengthening our local presence in an important electric vehicle market," Heyn says.
Demand for chips for the automotive industry remains high. By 2025, Bosch expects to have an average of 25 of its chips integrated in every new vehicle. The market for SiC chips is also continuing to grow fast – by 30 percent a year on average. The main drivers of this growth are the global boom and ramp-up of electromobility. In electric vehicles, SiC chips enable greater range and more efficient recharging, as they use up to 50 percent less energy. Installed in these vehicles' power electronics, they ensure that a vehicle can drive a significantly longer distance on one battery charge – on average, the possible range is 6 percent greater than with silicon-based chips.
Semiconductors are key to the success of all Bosch business areas. The company recognized the potential of this technology early on, and has been producing semiconductors for more than 60 years. Bosch is one of the few companies to have not only electronic and software expertise but also a profound understanding of microelectronics. It can combine this decisive competitive advantage with its strength in semiconductor manufacturing. The supplier of technology and services has been manufacturing semiconductors in Reutlingen since 1970. They are used both in the automotive sphere and in consumer electronics. Modern electronics in vehicles is also the basis for reducing traffic emissions, preventing road accidents, and efficient powertrains. Production at the Bosch wafer fab in Dresden (300-millimeter wafers) started in July 2021. At nearly one billion euros, the wafer fab is the biggest single investment in the company's history.
In its wafer fabs in Reutlingen and Dresden, Bosch has invested more than 2.5 billion euros in total since 200-millimeter technology was introduced in 2010. On top of this, billions of euros have been invested in developing microelectronics. Independently of the investment now planned in the United States, the company announced in summer last year that it will be investing a further 3 billion euros in its semiconductor business in Europe, both as part of its investment planning and with the aid of the EU's "Important Project of Common European Interest on Microelectronics and Communication Technologies" program.
Toshiba Electronic Devices & Storage Corporation ("Toshiba") announced that it has started construction of a new wafer fabrication factory for power semiconductors at Kaga Toshiba Electronics Corporation, in Ishikawa Prefecture, Japan, its main discrete semiconductor production base. Construction will take place in two phases, with the production start of Phase 1 scheduled for within fiscal 2024. Toshiba will also construct an office building adjacent to the new fab to respond to the increase in personnel.
The new fab will have a quake absorbing structure and enhanced BCP systems, including dual power supply lines, and also aim to use 100% renewable energy. Product quality and production efficiency will be improved by introducing artificial intelligence systems and other measures.
Toshiba started power semiconductor production on a 300-milimeter wafer line in the second half of fiscal 2022. Going forward, Toshiba will expand production capacity of power semiconductors with the new fab and further contribute to carbon neutrality.
A contract chip maker backed by China's top foundry is seeking to raise US$1.4 billion in one of the world's biggest initial public offerings so far this year, as Beijing doubles down on efforts to develop its semiconductor industry amid heightened tech rivalry with the US.
Semiconductor Manufacturing Electronics Shaoxing (SMES) is offering 1.69 billion shares at 5.69 yuan apiece on Shanghai's Nasdaq-style Star Market.
If the company successfully raises 9.6 billion yuan (US$1.4 billion), it will be the year's second-biggest IPO in Asia-Pacific after Nexchip Semiconductor's US$1.67 billion fundraising on the Star Market on April 18.
Both IPOs, however, still fall short of ADNOC Gas' US$2.48 billion IPO in Abu Dhabi in March, the world's largest this year.
The IPO comes at a time when the Chinese government has been ramping up support for the semiconductor sector amid an intensifying tech war with the US, including easier access to the domestic capital market. Chips have emerged as a key battleground in the tech war, with the US choking China's access to both semiconductor chips and the equipment to manufacture them.
The deal will also provide a boost to the Star market after a last-minute delay to Syngenta Group's mega listing last month. The state-controlled seeds and agrichemicals powerhouse was planning to raise as much as US$9.5 billion, which could have been the year's biggest IPO deal.
SMES' listing will give the company a market value of 38.5 billion yuan, according to the filing. Haitong Securities, Huatai United Securities and Industrial Securities are underwriters of the offering.
SMES, founded in 2018 with a registered capital of 5.07 billion yuan, is a joint venture between Semiconductor Manufacturing International Corporation (SMIC) and the Shaoxing government. The company specialises in making power semiconductors and sensors, as well as packaging of analogue chips.
A SMIC holding company owns a 19.6 per cent stake in SMES, while a Shaoxing government-backed investment fund has a slightly larger stake at 22.7 per cent stake in the joint venture.
While SMES' operating income almost doubled to 4.6 billion yuan year on year in 2022, the chip maker has made losses is excess of more than 1 billion yuan for three straight years, the prospectus shows.
The company intends to use the proceeds to help upgrade its chip making and packaging technology, and supplement working capital.
The company will have a price to sales ratio of 8.4 times, higher than the average of 5.36 among peers like Huahong Semiconductors, according to the filing.
---
Subscribe to Power Semiconductors Weekly and watch it on YouTube every Tuesday.
If you prefer a monthly update about the world of power semiconductors delivered to your e-mail address, please, subscribe to Marketing Psycho Power Semiconductors newsletter