Power Semiconductors Weekly Vol. 111
Nexperia introduced a 650 V Silicon Carbide (SiC) Schottky diode designed for power applications which require ultra-high performance, low loss, and high efficiency. The 10 A, 650 V SiC Schottky diode is an industrial-grade part that addresses the challenges of demanding high voltage and high current applications. These include switched-mode power supplies, AC-DC and DC-DC converters, battery-charging infrastructure, uninterruptible power supplies and photovoltaic inverters and allow for more sustainable operations. Data centers, for example, equipped with power supplies designed using Nexperia's PSC1065K SiC Schottky diode will be better placed to meet rigorous energy efficiency standards than those using solely silicon-based solutions.
The PSC1065K delivers leading-edge performance with temperature-independent capacitive switching and zero recovery behavior culminating in an outstanding figure-of-merit (QC x VF). Its excellent switching performance is almost entirely independent of current and switching speed variations. The merged PiN Schottky (MPS) structure of the PSC1065K provides additional benefits, such as outstanding robustness against surge currents that eliminates the need for additional protection circuitry. These features significantly reduce system complexity and enable hardware designers to achieve higher efficiency with smaller form factors in rugged high-power applications. Designers can be further reassured by Nexperia's proven reputation as a supplier of high-quality products in a range of semiconductor technologies.
This SiC Schottky diode is encapsulated in a Real-2-Pin (R2P) TO-220-2 through-hole power plastic package. Additional package options include the surface mount (DPAK R2P and D2PAK R2P) and through-hole (TO-247-2) with a real 2-pin configuration that enhances reliability in high-voltage applications at temperatures up to 175 °C.
Katrin Feurle, Senior Director of the Product Group SiC at Nexperia, adds: "We are proud to offer a high-performance SiC Schottky diode that ranks among the top tier of currently available solutions. In an increasingly energy-conscious world, we are bringing greater choice and availability to the market as demand for high-volume, high-efficiency applications increases significantly."
Nexperia plans to continuously augment its portfolio of SiC diodes by including automotive-grade parts that operate at 650 V and 1200 V voltages with currents in the 6-20 A range. Samples and production quantities of the new SiC diodes are available now.
Microchip Technology Inc. announced that its board of directors has promoted Rich Simoncic to Executive Vice President of Microchip.
Simoncic started his business career as a new college graduate at Microchip in 1989, and has had progressively increasing development, operational and business unit responsibilities. He founded the analog business at Microchip in 1998 and has been instrumental in building it to a more than $2 billion annual business through a combination of organic efforts as well as acquisitions. He was promoted to vice president in 1995, to corporate vice president in 2001 and to senior vice president in 2019. He holds a bachelor's degree in electrical engineering technology from DeVry Institute of Technology.
"Rich will continue to manage all of Microchip's Analog business units. In addition, he will play a larger role assisting me with several corporate initiatives, including strategic planning, total system solutions, market megatrends and investor relations," said Ganesh Moorthy, Microchip's President and CEO.
Kyocera Corporation announced that it has reached an agreement to acquire about 37 acres of land for a new smart factory at the Minami Isahaya Industrial Park in Isahaya City, Nagasaki Prefecture. A signing ceremony held at New Nagasaki Hotel was attended by Kyocera Corporation President Hideo Tanimoto, as well as Kengo Oishi, Governor of Nagasaki Prefecture, and Yukishige Okubo, Mayor of Isahaya City.
Kyocera, which is reinvesting in its existing factories both in Japan and abroad, decided to build the new plant in December 2022 after determining that rising market demand will require additional production capabilities. The land purchase agreement includes a developed site of about 14 acres, where construction will begin in October 2023, and another 23-acre pre-developed site that Kyocera plans to acquire in 2024.
In the electronics industry, demand for components is expected to keep rising alongside such trends as miniaturization, advancing semiconductor technology, the growing functionality of smartphones and other communications devices, the expansion of 5G base stations and data centers, and the proliferation of new automotive innovations including ADAS (advanced driver assistance systems) and EV (electric vehicle) technologies.
To meet this demand, Kyocera is designing the new factory to produce fine ceramic components used in semiconductor-related applications as well as semiconductor packages, aiming for it to begin production in 2026.
Kyocera will continue developing its business to contribute to the local community by revitalizing the economy of Nagasaki Prefecture and creating new employment opportunities.
A chip industry conference that kicked off last week in Guangzhou has lined up major U.S. companies as participants despite Washington's widening restrictions on sales of cutting-edge semiconductor technology to China.
Applied Materials, Lam Research and KLA are among the main sponsors of the event as is German industrial group Siemens, according to conference materials.
The high-profile sponsorships attest to industry players' eagerness stay connected with China, the world's biggest market for semiconductors and the equipment used to make them.
Losing the Chinese market would not only hurt global earnings, but also cede growth opportunities to Chinese competitors, said an industry executive.
Supply chain innovation is a theme of the event, which follows an escalation of the Biden administration's efforts to cut off China's access to the means of producing advanced semiconductors. This campaign has seen Washington impose export restrictions on American technology and urge partners like Japan and the Netherlands to do the same.
The U.S. and its allies are trying to keep China down in advanced fields, but Beijing will accelerate efforts to promote "Chinese-style" self-reliance in semiconductors, Wei Shaojun, professor of microelectronics at Tsinghua University, told the conference.
China's chip industry enjoys powerful backing from the state. But in terms of advances in semiconductor production, its cutting edge is at only the 14 nanometer level. To reach 2 nm or 3 nm levels that the world's leading chipmakers are pushing, Chinese chipmakers will have to rely on foreign technology. The smaller the nanometer number, the more powerful the chip.
Wei said that given the Chinese market's size, global chip industry companies can hardly afford to abandon it.
Applied Materials distributed promotional materials at the event. For some sponsors, presentations at the event were scheduled to highlight current and future development plans.
China led the world in sales of semiconductor manufacturing equipment for a third straight year in 2022, according to SEMI, a trade group. Sales accounted for nearly 30% of the global total and fell by just 5% despite the disruption caused by the now-ended zero-COVID lockdowns and pressure from U.S. trade restrictions.
Led by the motto for 2023 "Brain Power", Finepower created a series of power semiconductors webinars. The industry experts will take you on a journey into various topics of power electronics. These technical webinars are suitable for beginners and professionals.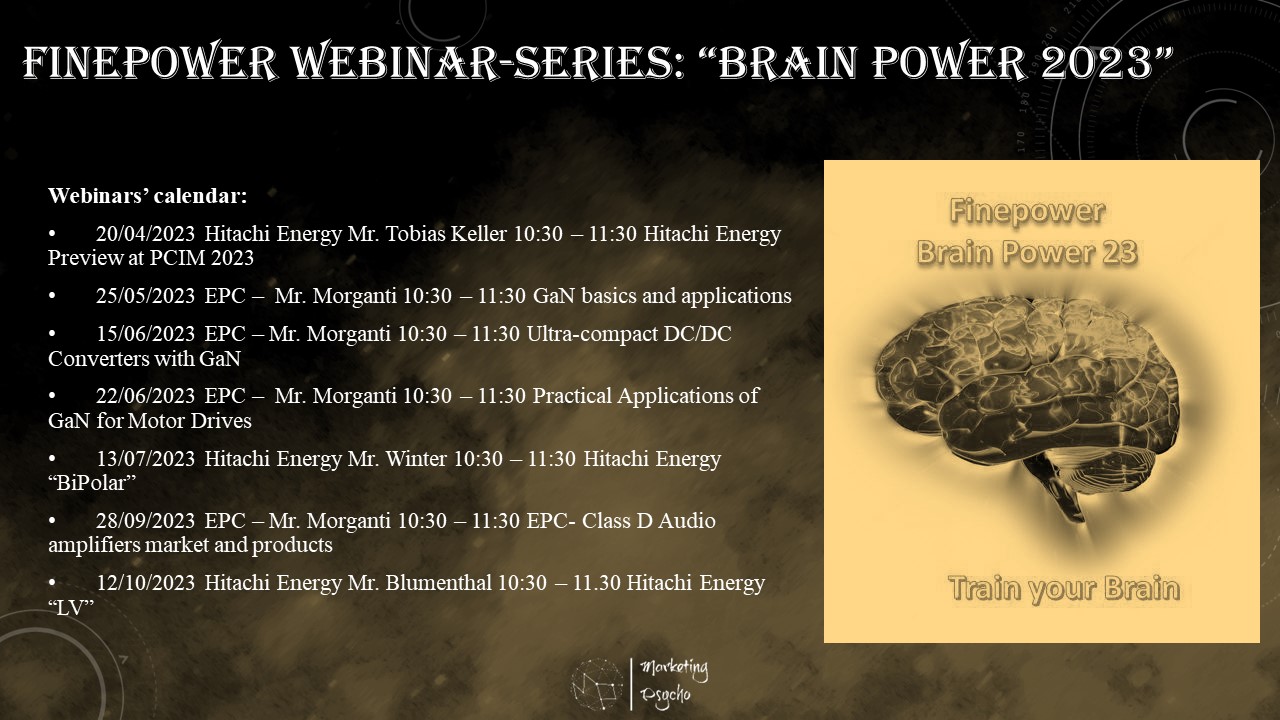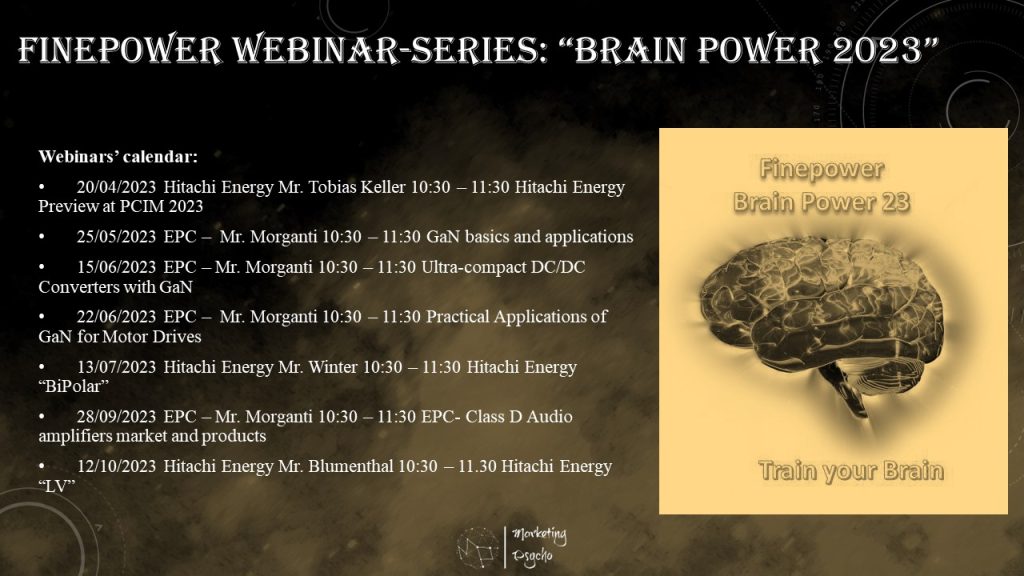 Webinars' calendar:
20/04/2023 Hitachi Energy Mr. Tobias Keller 10:30 – 11:30 Hitachi Energy Preview at PCIM 2023
25/05/2023 EPC –  Mr. Morganti 10:30 – 11:30 GaN basics and applications
15/06/2023 EPC – Mr. Morganti 10:30 – 11:30 Ultra-compact DC/DC Converters with GaN
22/06/2023 EPC –  Mr. Morganti 10:30 – 11:30 Practical Applications of GaN for Motor Drives
13/07/2023 Hitachi Energy Mr. Winter 10:30 – 11:30 Hitachi Energy "BiPolar"
28/09/2023 EPC – Mr. Morganti 10:30 – 11:30 EPC- Class D Audio amplifiers market and products
12/10/2023 Hitachi Energy Mr. Blumenthal 10:30 – 11.30 Hitachi Energy "LV"
---
Subscribe to Power Semiconductors Weekly and watch it on YouTube every Tuesday.
If you prefer a monthly update about the world of power semiconductors delivered to your e-mail address, please, subscribe to Marketing Psycho Power Semiconductors newsletter