Power Semiconductors Weekly Vol. 109
DISCO Corporation has developed DFD6342, a fully automatic dicing saw that supports φ8-inch wafers, and this equipment is currently available for purchase. DFD6342 is the newer model of DFD6341, and it covers both the cutting and grooving processes for a wide range of materials used for semiconductor wafers, semiconductor packaging, and electronic components.
This fully automatic dicing saw supports Φ8-inch wafers that are widely used in the mass production of several materials and devices. For example, it is used in wafer dicing for logic ICs, discrete devices, power devices, and compound semiconductors, for package dicing, and for cutting and grooving electronic components, optical parts, and multiple types of sensors.
DFD6342 is the successor equipment to DFD6341, and has been developed aimed at energy saving and improved productivity and usability. DFD6342 supports diversified processing needs with its expandability that can flexibly adapt to user-specified specifications.
The distance between the blades mounted opposite to one another has been shortened to 19.8 mm and the number of cut lines has been increased at the same time. In addition, by reducing the return time of the processing axis and setup time using the new NCS (non-contact setup), UPH has increased by 6.4%. By installing an ABC (Automatic Blade Changer), blade replacement operation is automated and downtime is reduced, resulting in less operator necessity and improved operating ratio.
By reducing heat generation through the adoption of a high-efficiency spindle motor, the cooling water amount has been reduced by 63%. In addition, by optimizing the air flow rate, air usage has been reduced by 20%.
A 19-inch touch panel (15-inch in the predecessor equipment) has been installed. Enlarged operation buttons and a layout with shortcuts to frequently-used screens make it easy to understand and contributes to quick operation. In addition, log data can be displayed as a graph, making it possible for operators to intuitively understand the error frequency and blade condition.
Axcelis Technologies, Inc., a leading supplier of enabling ion implantation solutions for the semiconductor industry, announced the shipment of its 500th Purion™ ion implanter system. The shipment went to a leading semiconductor device maker located in North America.
President and CEO Mary Puma commented, "This 500th Purion shipment validates our market leadership and strong customer partnerships. We look forward to extending this leadership within our broad and diverse global customer base as they continue to expand their manufacturing capacity. This large and growing Purion installed base provides a solid foundation for our Customer Solutions & Innovation aftermarket business."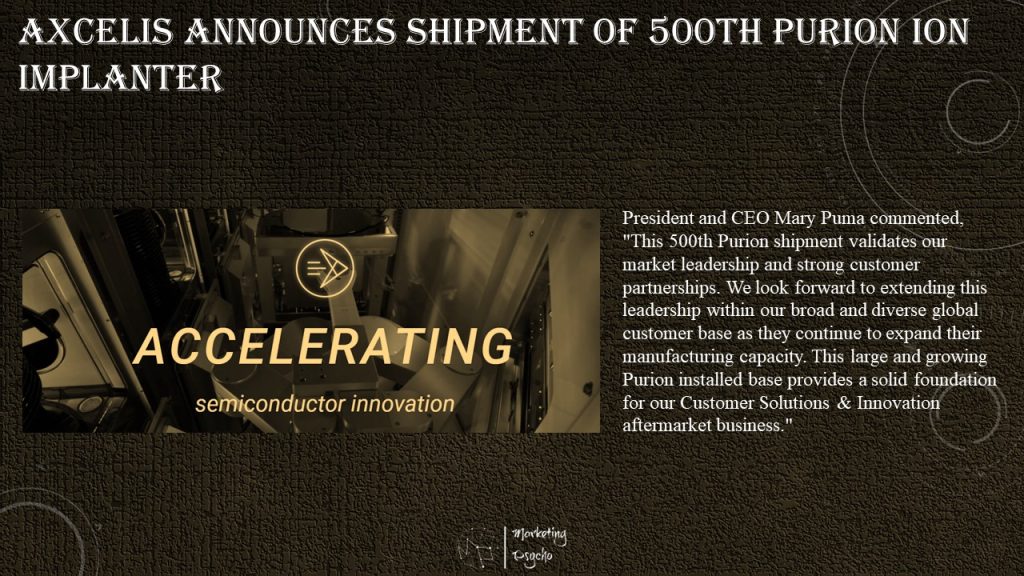 Executive Vice President of Marketing and Applications Greg Redinbo stated, "The Purion ion implanter platform provides a winning combination of highly differentiated, enabling technology and productivity, designed to solve customers' high value, high impact, ion implantation challenges. The advanced Purion Product Extensions have quickly established Purion as the leader in image sensor and power device manufacturing, making Axcelis the only company with a complete family of implant products for both the Si IGBT and SiC power device market segments."
EPC announced the publication of its Phase-15 Reliability Report, documenting continued work using test-to-fail methodology and adding specific reliability metrics and predictions for real world applications including solar optimizers, lidar sensors, and DC-DC converters.
This report presents the results of testing eGaN devices to the point of failure, which provides the information to identify intrinsic failure mechanisms of the devices. By identifying these intrinsic failure mechanisms, physics-based models that accurately project the safe operating life of a product over a more general set of operating conditions are developed. This is applied to information from real-world experience to determine mission robustness for specific applications.
This report is divided into nine sections, each dealing with a different failure mechanism or application case:
Section 1: Voltage/temperature stress on the gate
Section 2: Voltage/temperature stress on the drain
Section 3: Safe operating area (SOA)
Section 4: Short-circuit robustness testing
Section 5: Mechanical force stress testing
Section 6: Thermo-mechanical stress
Section 7: Reliability test results for long-term lidar pulse stress conditions
Section 8: Using test-to-fail methodology to accurately predict how eGaN devices can last more than 25 years in solar applications
Section 9: Applying the physics-based model to real-world DC-DC converter use cases
According to Dr. Alex Lidow, CEO and co-founder of EPC, "The release of EPC's Phase-15 reliability report examines information from real-world experience that either confirms the laboratory-derived data or opens new questions about mission robustness that leads to a deeper understanding of the behavior of GaN devices over a wide range of stress conditions."
Infineon Technologies AG has changed the name of its Industrial Power Control (IPC) Division to Green Industrial Power (GIP). The semiconductor manufacturer is thus highlighting its consistent alignment with the Decarbonization and Digitalization trends. For the newly named Division, green energies are key growth drivers for the business.
"Infineon is making green, cost-efficient electrical energy possible. We have a leading position in the fields of wind energy and solar power, with our power semiconductors setting the standard for higher efficiency levels throughout the entire energy conversion chain. This represents an enormous amount of growth potential, and we're putting a name on that potential by rebranding our Division", says Dr. Peter Wawer, President of the Green Industrial Power Division.
"The focus on industrial business has made us highly successful. This field will continue to grow in the future. At the same time the decarbonization of energy supplies and mobility will additionally accelerate the growth of renewable energies, grid expansion and charging infrastructures. Our extensive product portfolio, technologies, leading-edge expertise in power semiconductors, software and services, together with our highly experienced, global team all mean we are in a perfect position to shape the green transformation of our society."
Traditionally, one focus of the Division's sales has been on power semiconductors for efficient energy supplies in the industry and consumer sectors, for example drive technologies for electric motors. In the future, above-average growth will be driven primarily by the energy transformation and among other things will come from the field of renewable energies and the expansion of the necessary infrastructure.
The name change to Green Industrial Power documents the strong orientation of the Division towards its growth segments, with industrial business remaining an important part of GIP's portfolio in the future as well. There will be no corresponding new organizational structure. The name change took effect as of 1 April 2023.
The German tech giant Bosch has obtained the construction permit for its $1 billion EV components plant in Suzhou of eastern China's Jiangsu Province and had a groundbreaking ceremony on March 25.
At the beginning of 2023, Bosch signed an investment agreement with the Suzhou Industrial Park Management Committee to set up an R&D and manufacturing base for core components of new energy vehicles and autonomous driving.
Those products include the new generation of silicon carbide required for the electrification of commercial vehicles, the intelligent integrated braking system IPB2.0, the intelligent decoupling braking system, and other core technologies in autonomous driving, such as Bosch China's high-end intelligent driving solutions.
The project's first phase is expected to be put into use in 2024, said Suzhou Industrial Park.
---
Subscribe to Power Semiconductors Weekly and watch it on YouTube every Tuesday.
If you prefer a monthly update about the world of power semiconductors delivered to your e-mail address, please, subscribe to Marketing Psycho Power Semiconductors newsletter