Power Semiconductors Weekly Vol. 108
Toshiba Electronic Devices & Storage Corporation has launched a 150V N-channel power MOSFET "TPH9R00CQ5," which uses the latest generation U-MOSX-H process, for switching power supplies of industrial equipment, such as that used in data centers and communications base stations.
TPH9R00CQ5 features an industry-leading low drain-source On-resistance of 9.0mΩ (max), approximately a 42% reduction from Toshiba's existing product, "TPH1500CNH1." Compared with Toshiba's existing product "TPH9R00CQH," the reverse recovery charge is reduced by about 74% and the reverse recovery time by about 44%, both key reverse recovery characteristics for synchronous rectification applications. Used in synchronous rectification applications, the new product reduces the power loss of switching power supplies and helps improve efficiency. Furthermore, compared to TPH9R00CQH, the new product reduces spike voltage generated during switching, helping lower the EMI of power supplies.
The product uses the popular, surface-mount-type SOP Advance(N) package.
Toshiba also offers tools that support circuit design for switching power supplies. Alongside the G0 SPICE model, which verifies circuit function in a short time, highly accurate G2 SPICE models, which accurately reproduce transient characteristics, are now available.
Toshiba has also developed "1 kW Non-Isolated Buck-Boost DC-DC Converter for Telecommunications Equipment" and "Three-phase Multi Level Inverter using MOSFET" reference designs that utilize the new product. They are available on Toshiba's website from today. The new product can also be utilized for the already published "1 kW Full-Bridge DC-DC Converter" reference design.
Toshiba will continue to expand its lineup of power MOSFETs that reduce power loss, increase the efficiency of power supplies, and help to improve equipment efficiency.
Applications:
Power supplies of industrial equipment, such as that used in data centers and communications base stations.
Switching power supplies (high efficiency DC-DC converters, etc.)
Features:
Industry-leading low On-resistance: RDS(ON)=9.0mΩ (max) (VGS=10V)
Industry-leading low reverse recovery charge: Qrr=34nC (typ.) (-dIDR/dt=100A/μs)
Industry-leading fast reverse recovery time: trr=40ns (typ.) (-dIDR/dt=100A/μs)
High channel temperature rating: Tch (max)=175°C
DENSO CORPORATION announced that it has developed its first-ever inverter with silicon carbide (SiC) semiconductors. This inverter, which is incorporated in the eAxle, an electric driving module developed by BluE Nexus Corporation, will be used in the new RZ, Lexus' first dedicated battery electric vehicle (BEV) model has been released on March 30, 2023.
SiC power semiconductors consist of silicon and carbon that significantly reduce power loss compared with silicon (Si) power semiconductors. The verification of cruising test in a certain condition, which test was performed by BEV consisted of SiC semiconductor inverters, demonstrated inverters with SiC power semiconductor reduce power loss less than half of ones with Si semiconductor. As a result, the energy efficiency of BEVs is improved and cruising range is extended.
Key elements of developing the new inverter:
SiC power semiconductors with DENSO's unique trench-type metal-oxide-semiconductor (MOS) structure improve the output per chip due to reducing the power loss caused by heat generated. The unique structure achieved high voltage and low on-resistance operation.
Key elements of manufacturing the new inverter:
Based on the high-quality technology jointly developed by DENSO and Toyota Central R&D Labs., Inc., we utilize SiC epitaxial wafers that incorporate the results of work commissioned by New Energy and Industrial Technology Development Organization (NEDO). As a result, we have halved the number of crystal defects that prevent the device from operating normally due to the disorder of the atomic arrangement of the crystal.
By reducing crystal defects, the quality of SiC power semiconductor devices used in vehicles and their stable production are ensured.
DENSO calls its SiC technology "REVOSIC®," and uses it to comprehensively develop technologies for products ranging from wafers to semiconductor devices and modules such as power cards.
DENSO will contribute to the realization of a carbon-neutral society through development aimed at more efficient energy management for vehicles, while also utilizing the grant from Green Innovation Fund (GI Fund), which was adopted in 2022.
CISSOID and Silicon Mobility have announced a far-reaching partnership to deliver a complete and modular Silicon Carbide (SiC) inverter reference design supporting electric motor drives up to 350kW/850V. The reference design includes CISSOID's high voltage SiC-based power module, integrated Gate Driver board, Control board with Silicon Mobility's ultra-fast and safe OLEA T222 FPCU, DC and phase current sensors, DC link capacitor and EMI filtering together with integrated liquid cooling. CISSOID will also sell and deliver Silicon Mobility's OLEA® APP INVERTER Software for Electric Vehicle Powertrain Control providing the customer with a development platform ready for integration work.
Dave Hutton, CISSOID's CEO commented: "Up until now, customers only really had 2 options. The first was to develop all the hardware, then integrate with third party software into their design environment. This was extremely time consuming and required in depth knowledge of SiC-based power system design. The second option was to buy an off-the-shelf inverter that, however, does not offer the ability to fully customize for the application requirements."
Following this agreement, customers can now buy a complete SiC inverter reference design from CISSOID together with a license to use the Silicon Mobility's OLEA® APP INVERTER control software and design on top its software application. CISSOID will also provide the technical support to integrate the inverter into the end-application.
Once the design is completed, the customer can choose to purchase the entire inverter Bill-of-Material (BOM) from CISSOID or just the SiC Intelligent Power Module (IPM) and Control Board, while purchasing other components and Inverter housing from their preferred suppliers. The customer can then integrate the inverter into their motor drive system prior moving to production.
David Fresneau, VP Marketing and Business Development at Silicon Mobility added: "This is a great opportunity for our customers to get access to our advanced e-motor control hardware and software platform and a fully integrated high performance inverter reference design from CISSOID which will significantly simplify the design process and reduce Time-to Market.
onsemi announced a breakthrough in simulation tools for onsemi's EliteSiC Silicon Carbide (SiC) product family and its applications. The company launched the online Elite Power Simulator and Self-Service PLECS Model Generator, which provide meaningful insights for complex power electronic applications through system-level simulations at an early stage of the development cycle. The tools save power electronic engineers time by providing state-of-the-art accurate simulation data enabling EliteSiC product selection tailored to customer applications, instead of costly and time-consuming hardware fabrication and testing.
Users have ultimate power and flexibility to create high-fidelity system-level PLECS models when the Elite Power Simulator is deployed in conjunction with the Self-Service PLECS Model Generator. Whether uploaded to onsemi's Elite Power Simulator or downloaded for direct use, the self-service PLECS models deliver the optimization and accuracy required for demanding power electronic simulations. The models are generated based on typical or worst-case conditions to let the customer design within the technology boundaries. The capability to define application-specific parasitics ensures that the generated PLECS models provide highly accurate results for the customer's system-level simulations.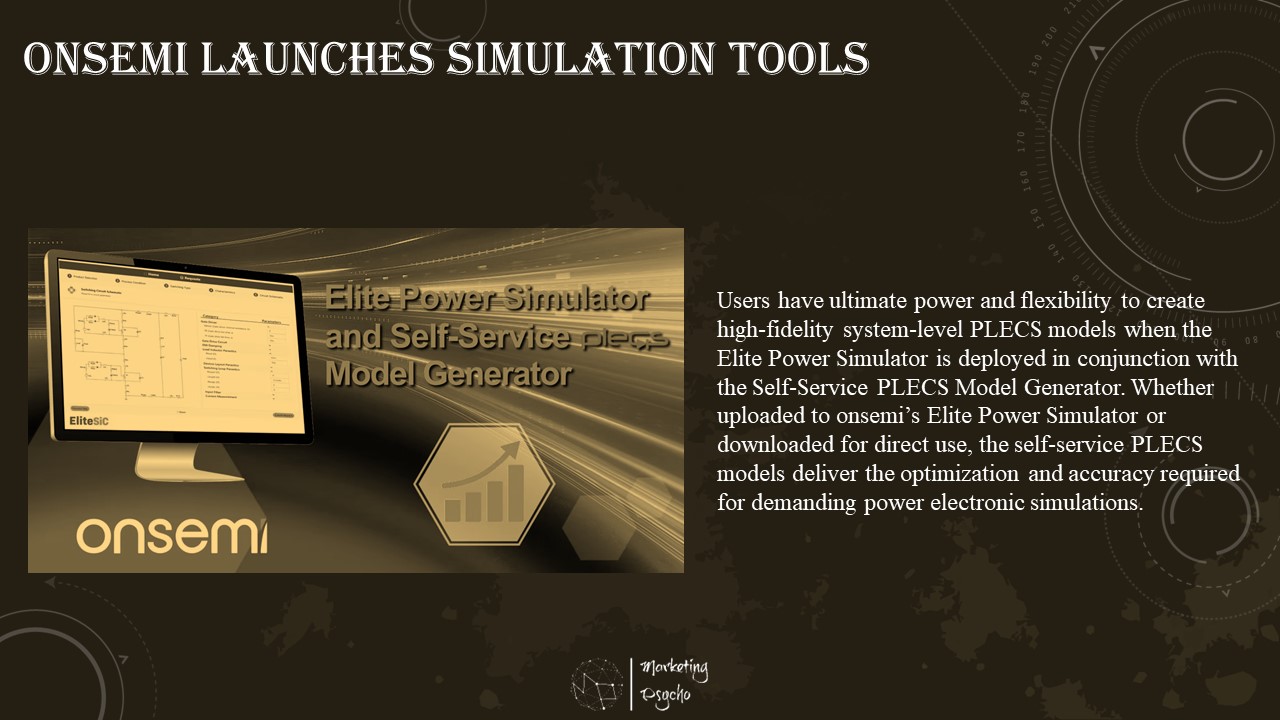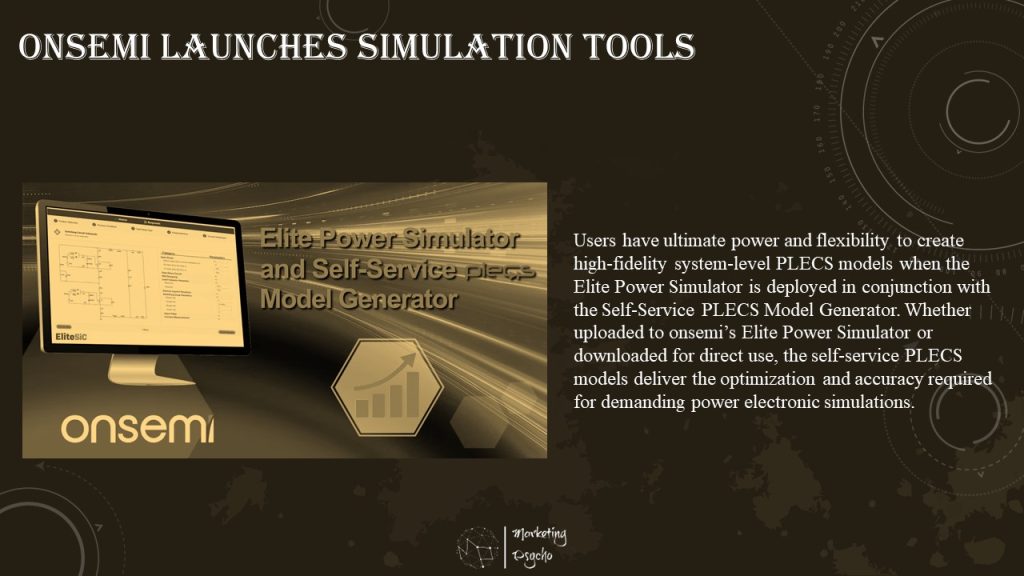 "Our PLECS simulator has proven very popular with power designers due to speed and ease of use," said Jost Allmelling, managing director and co-founder, Plexim. "It is particularly exciting to see the truly novel aspects here, including the ability to simulate soft switching accurately, the customized models via the onsemi Self-Service PLECS Model Generator and the ready-made models for corner cases."
To date, system-level simulators and their associated PLECS models have only been valid for hard switching topologies, with simulation results for soft switching applications such as LLC (inductor-inductor-capacitor) or CLLC (capacitor-inductor-inductor-capacitor) being highly inaccurate. onsemi's industry-first PLECS models break this trend and solve this problem for customers.
"This is a significant step for the industry, increasing its ability to get both hard and soft switching designs to market quickly," said Asif Jakwani, senior vice president and general manager of the Advanced Power Division, which is part of the Power Solutions Group at onsemi. "Our tools enable our customers to understand how our devices perform in their application environment and fully optimize the performance within the boundaries of the technology."
Diodes Incorporated (Diodes) introduced the latest addition to its portfolio of Silicon Carbide (SiC) products: the DMWS120H100SM4 N-channel SiC MOSFET. This device addresses demand for higher efficiency and higher power density for applications such as industrial motor drives, solar inverters, data center and telecom power supplies, DC-DC converters, and electric vehicle (EV) battery chargers.
The DMWS120H100SM4 operates at a high voltage (1200V) and drain current (up to 37A) while maintaining low thermal conductivity (RθJC = 0.6°C/W), making it well-suited for applications running in harsh environments. This MOSFET has a low RDS(ON) (typical) of only 80mΩ (for a 15V gate drive) to minimize conduction losses and provide higher efficiency. In addition, the device has a gate charge of only 52nC to reduce switching losses and lower the package temperature.
This product is the first SiC MOSFET on the market in a TO247-4 package. The additional Kelvin sense pin can be connected to the source of the MOSFET to optimize the switching performance, thereby enabling even higher power densities.
An analysis of the effective patents of gallium oxide power semiconductor components showed that there are 1,011 such patents as of September 2021, of which China has 328 and Japan has 313, the two countries account for more than 50% of the total.
Of the 460 new patents filed between September 2021 and November 2022, most are from China (240) and Japan (87.
In the semiconductor industry, gallium oxide (Ga2O3) is attracting attention as the next-generation power semiconductor material following SiC (silicon carbide) and GaN (gallium nitride) for its advantages like ultra-wide bandgap and increased efficiency. Recently, South Korea held the "Gallium Oxide Power Semiconductor Technology Roadmap Seminar", at which the patent application of gallium oxide in various countries was announced.
An analyst at AnA Patent said, "In just one year and two months, the number of patents related to gallium oxide power semiconductor devices has increased by about 50%, and the filing of patents around the world is very active. Although the actual technical capabilities cannot be judged by the number of patents alone, it is worth noting that China and Japan have filed for a large number of patents in this area."
---
Subscribe to Power Semiconductors Weekly and watch it on YouTube every Tuesday.
If you prefer a monthly update about the world of power semiconductors delivered to your e-mail address, please, subscribe to Marketing Psycho Power Semiconductors newsletter