Power Semiconductors Weekly Vol. 107
onsemi announced a new range of ultra-efficient 1200 V insulated-gate bipolar transistors (IGBTs) that minimize conduction and switching losses at a performance level that is industry-leading in the market. Intended to enhance efficiency in fast switching applications, the new devices will be primarily used in energy infrastructure applications like solar inverters, uninterruptible power supplies (UPS), energy storage and EV charging power conversion.
The new 1200 V Trench Field Stop VII (FS7) IGBTs are used to boost input to high voltage (Boost stage) as well as the inverter to provide an AC output in high switching frequency energy infrastructure applications. The low switching losses of FS7 devices enable higher switching frequencies that reduce the size of magnetic components, increasing power density and reducing system cost. For high-power energy infrastructure applications, the positive temperature coefficient of FS7 devices enables easy parallel operation.
"As efficiency is extremely critical in all high switching frequency energy infrastructure applications, we focused on reducing turn-off switching losses and providing the best switching performance in this new range of IGBTs," said Asif Jakwani, senior vice president and general manager of the Advanced Power Division, which is part of the Power Solutions Group at onsemi. "This industry-leading performance allows designers to meet their most challenging efficiency requirements in very demanding high power energy infrastructure applications."
The FS7 devices include high-speed (S-series) and medium-speed (R-Series) options. All devices include an optimized diode for low VF, tuned switching softness and can operate with junction temperatures (TJ) up to 175°C. The S-Series devices, like FGY75T120SWD, offer the best switching performance among currently available 1200 V IGBTs in the market. Tested with currents up to 7 times the rated value, this highly rugged IGBT platform also offers best-in-class latch-up immunity. The R-Series is optimized for medium-speed switching applications, such as motor control and solid-state relay in which conduction losses are dominant occurs. FGY100T120RWD shows a VCESAT as low as 1.45 V at 100A, an improvement of 0.4 V over previous generation devices.
The FS7 devices are available in a range of package styles including TO247-3L, TO247-4L, Power TO247-3L and as bare die, giving designers flexibility and design options.
Qorvo® presented a new surface-mount TO-leadless (TOLL) package for its high-performance, 5.4 milliohm (mΩ) 750V SiC FETs. This is the first product in a family of 750V SiC FETs that will be released in the TOLL package with on-resistance ranging from 5.4 mΩ to 60 mΩ. These devices are ideal for use in space-constrained applications such as AC/DC power supplies ranging from several 100s of watts to multiple kilowatts, as well as solid-state relays and circuit breakers up to 100A.
In the 600/750V class of power FETs, Qorvo Gen4 SiC FETs offer unmatched performance across the main figures of merit for on-resistance and output capacitance. Additionally, in the TOLL package, at 5.4 mΩ the devices have 4-10x lower on-resistance than competing best-in-class Si MOSFETs, SiC MOSFETs and GaN transistors. The 750V rating of the SiC FETs is also 100-150 volts higher than the alternative technologies, providing a significantly enhanced design margin for managing voltage transients.
Anup Bhalla, chief engineer for Qorvo's Power Devices business, said, "The launch of our 5.4 mΩ Gen4 SiC FETs in TOLL packaging is an important step in our goal of providing designers with the industry's best performance and multiple device options. Customers working on industrial applications in particular need this combination of flexibility and cost-efficient power design."
The TOLL package is 30% smaller in footprint and at 2.3 mm half the height of comparable alternative D2PAK surface-mount offerings. Despite the size reduction, advanced manufacturing techniques achieve an industry-leading 0.1° C/W thermal resistance from junction to case. The DC current rating is 120A up to case temperatures of 144 C, while the pulsed current rating is 588A up to 0.5 millisecond. Combined with the ultra-low on-resistance and excellent transient thermal behavior, this yields an 'I2t' rating around 8x better than a Si MOSFET in the same package, aiding robustness and immunity to transient overloads, while also simplifying the design. A Kelvin source connection is also provided in the TOLL package for reliable high-speed switching.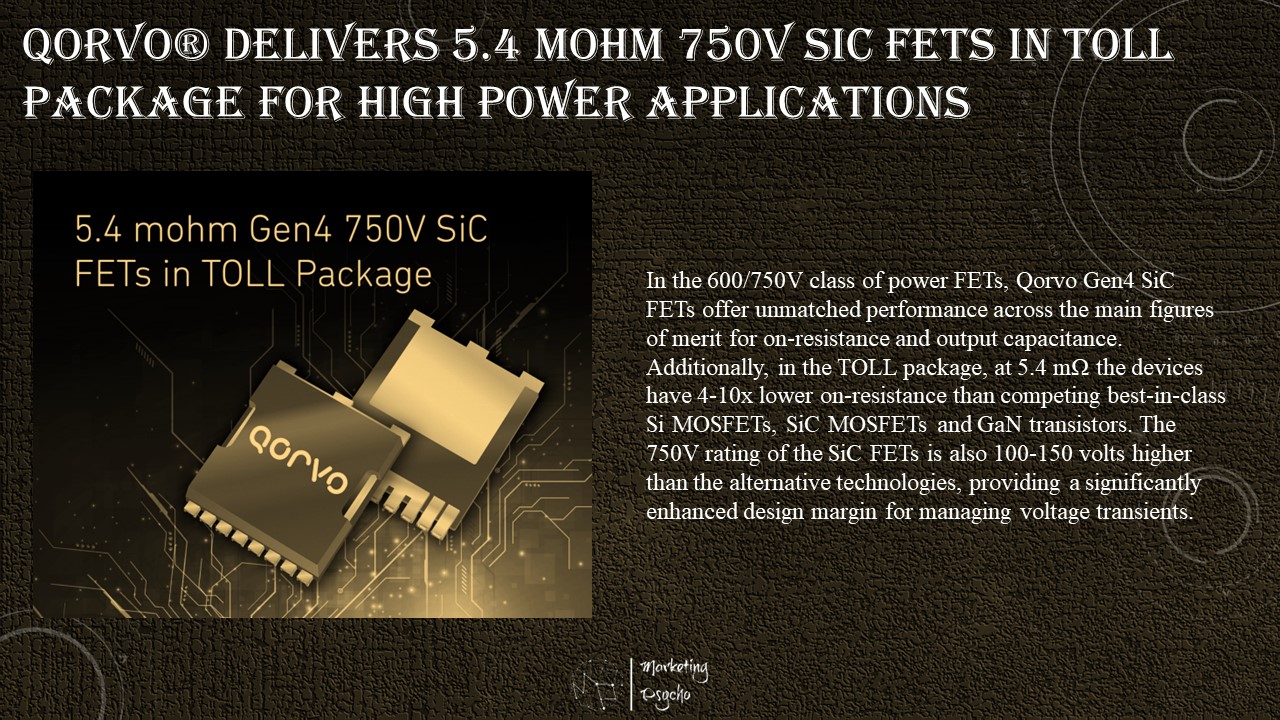 These Gen4 SiC FETs leverage Qorvo's unique cascode circuit configuration, in which a SiC JFET is co-packaged with a Si MOSFET to produce a device with all of the efficiency advantages of wide bandgap switch technology and the simpler gate drive of Silicon MOSFETs.
The Qorvo TOLL-packaged, Gen4 5.4 mΩ SiC FET is included in Qorvo's FET-Jet™ free-to-use online calculator, which allows instant evaluation of efficiency, component losses and junction temperature rise for parts used in a wide variety of AC/DC and isolated/non-isolated DC/DC converter topologies. Single and paralleled devices may be compared under user-specified heat-sinking conditions to determine an optimal solution.
The electrification of everything is driving the growth of SiC semiconductors as large market segments such as E-Mobility, sustainability and industrial turn to SiC power solutions because of its fast-switching capabilities, lower power loss and higher temperature performance. To help power design engineers transition to SiC power solutions with ease, speed and confidence, Microchip Technology announced its MPLAB® SiC Power Simulator that quickly evaluates Microchip's SiC power devices and modules across various topologies before committing a design to hardware.
Microchip's MPLAB SiC Power Simulator is a PLECS-based software environment designed in collaboration with Plexim to provide an online complimentary tool that eliminates the need to purchase a simulation license. The MPLAB SiC Power Simulator accelerates the design process of various SiC-based power topologies. Customers can confidently benchmark and evaluate SiC solutions in the design phase.
"Customers who are pursuing SiC technology can now use the web-based MPLAB SiC Power Simulator to benchmark and select the best Microchip SiC product for their design," said Clayton Pillion, vice president of Microchip's silicon carbide business unit. "With over two decades of investment in silicon carbide, Microchip provides our customers with versatile power solutions in its SiC portfolio that can easily be designed with other Microchip companion devices."
The tool can speed up time to market by delivering a comprehensive SiC evaluation that not only provides valuable benchmarking data but also reduces component selection times. A power electronics designer deciding between a 25 mΩ and 40 mΩ SiC MOSFET for a three-phase active front end converter can get immediate simulation results, such as average power dissipation and peak junction temperature of the devices.
The MPLAB SiC Power Simulator is a critical design tool for OEMs designing power systems for E-Mobility, sustainability and industrial applications that include electric vehicles, on/off-board charging, power supplies and battery storage systems.
Microchip's SiC portfolio includes industry-leading power module packaging with the lowest parasitic inductance (<2.9 nH), and industry-leading 3.3 kV discrete MOSFETs and diodes with the highest current ratings available. The SiC portfolio also includes 700V, 1200V and 1700V die, discretes and modules, as well as AgileSwitch® configurable digital gate drivers.
These SiC devices offer the ruggedness and performance to deliver gate oxide lifetimes that are predicted to be in excess of 100 years and degradation-free body diodes. SiC technology provides higher system efficiency, power density and temperature stability over silicon Insulated-Gate Bipolar Transistors (IGBTs) in high-power applications.
Power Integrations announced a 900-volt gallium-nitride (GaN) extension to the company's InnoSwitch3™ family of flyback switcher ICs. The new ICs, which feature the company's proprietary PowiGaN™ technology, deliver up to 100 watts with better than 93 percent efficiency, eliminating the need for heat sinks and streamlining design of space-challenged applications. InnoSwitch3 designs also offer exceptional light-load efficiency making them ideal for providing auxiliary power in electric vehicles during low-power sleep modes.
The AEC-Q100-qualified InnoSwitch3-AQ family is particularly suitable for EVs based on 400-volt bus systems where the 900-volt PowiGaN switch provides more power and increased design margin―required for 12-volt battery-replacement systems―with enhanced efficiency over silicon-based converters.
"The dominant bus voltage for electric vehicles is 400 volts," stated Peter Vaughan, automotive business development director at Power Integrations. "EV manufacturers are optimizing their new generation of 400-volt systems and re-engineering various power stages in the vehicle, such as the on-board charger. The 900-volt PowiGaN switch is extremely beneficial because it easily accommodates inductive noise spikes, yet it can operate from as low as 30 VDC, enabling systems to meet functional safety active discharge requirements. The extra power delivered by our GaN technology matches the increasing power demands of EV manufacturers, moreover, efficiency in power conversion―even in auxiliary systems―is important for both range extension and thermal management."
In the industrial space, extra power and increased efficiency are extremely advantageous in applications such as appliances, three-phase motors and auxiliary power supply units (PSUs) in servers. The new 900-volt parts are pin-for-pin compatible with existing 725-volt and 750-volt InnoSwitch3-EP parts and offer increased safety margin which is ideal for countries with unstable line voltages.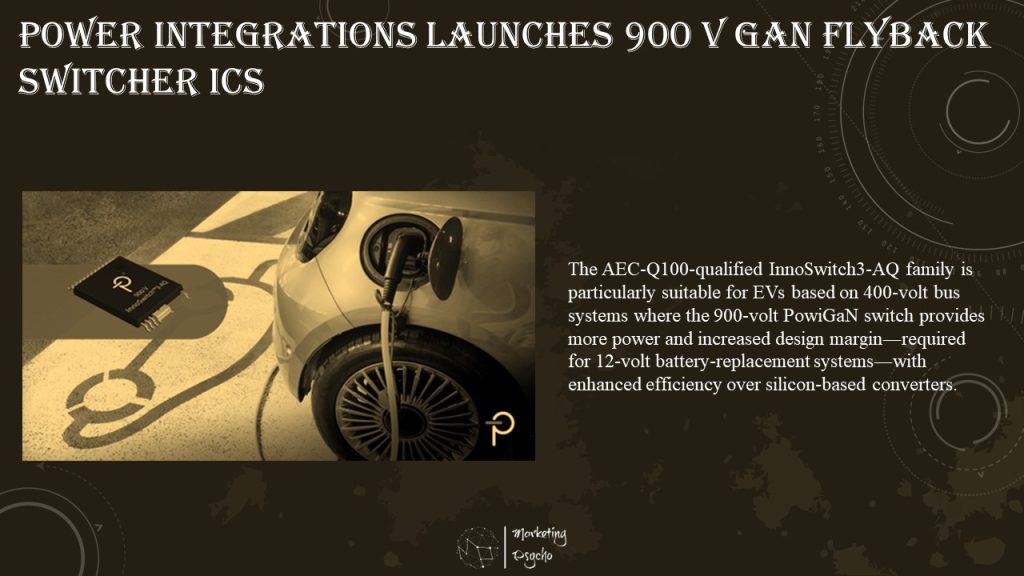 "Our ability to deliver GaN parts rated at up to 900 volts demonstrates the reliability and ruggedness of our PowiGaN technology," stated Silvestro Fimiani, senior product marketing manager at Power Integrations.
The new 900-volt InnoSwitch3-EP and InnoSwitch3-AQ off-line CV/CC flyback switcher ICs employ synchronous rectification, a valley switching discontinuous conduction mode (DCM) and continuous conduction mode (CCM) flyback controller. FluxLink™ communication technology enables the IC package to bridge the isolation barrier, optimizing efficiency and eliminating the need for optocouplers.
PowiGaN technology enables InnoSwitch3-EP ICs to deliver up to 100 watts (230 volts alternating current [VAC] plus or minus 15 percent) without heat sinks. InnoSwitch3-EP devices incorporate multiple protection features including line over- and under-voltage protection, output over-voltage and over-current limiting, and over-temperature shutdown. Devices are available with standard and peak power delivery options. Automotive InnoSwitch3-AQ devices can also deliver 100 watts from a 400-volt bus and provide performance and protection features similar to those of the popular 1700-volt silicon-carbide InnoSwitch3-AQ ICs currently used in 800-volt EV systems.
Transphorm, Inc. announced availability of its third high-power GaN design tool using a digital signal controller from Microchip Technology. The TDINV3000W050B-KIT is a 3.0 kW DC-to-AC non-isolated full-bridge inverter evaluation board. It pairs Transphorm's TP65H050G4WS SuperGaN® FET with Microchip's dsPIC33CK digital signal controller (DSC) board, which includes pre-programmed firmware that can be easily customized per end application requirements. Use of the new board highlights Transphorm's GaN superior performance and enables an understanding of how GaN can be used for Broad Industrial and Renewables power systems.
As with the previous two SuperGaN/Microchip DSC evaluation boards (the 4 kW TDTTP4000W066C-KIT) and the 2.5 kW TDTTP2500B066B-KIT), the single-phase 3.0 kW inverter board is backed by access to Microchip's worldwide technical support team for firmware development assistance.
"Our dsPIC® digital signal controllers and firmware customization expertise complements Transphorm's GaN technology and helps accelerate development while simplifying the design" said Joe Thomsen, Vice President, MCU16 Business Unit, Microchip. "Working together with Transphorm, we are proud to enable flexible and highly efficient power conversion to address a wide range of sustainability applications".
"High voltage power systems such as EV Chargers, UPS, and Solar Inverters are quickly becoming rapid growth markets for GaN. Transphorm's GaN platform was developed with such applications in mind," said Philip Zuk, SVP of Business Development and Marketing, Transphorm. "Working with Microchip on the firmware side enables us to support important, sustainable customer power system projects in a highly efficient manner. It removes potential limitations that may be experienced with firmware programming, simplifying development and speeding time to market. This collaboration allows renewables and other industries to easily leverage all our GaN has to offer."
The TDINV3000W050B-KIT features:
TP65H050G4WS: 650 V 50 mΩ SuperGaN FET in a TO-247 package
Power efficiency: ~99%
Input voltage: 0 VDC to 400 VDC
Output voltage: VDC / √2VRMS at 50/60Hz (programmable)
Output power: Up to 3000 W
Auxiliary supply voltage: 12 VCC
The board is designed around Microchip's dsPIC33CK digital power plug in module (PIM) to control the PFC powertrain, with the following pre-programmed PIM features:
Microchip's AEC-Q100-qualified dsPIC33CK256MP506 digital signal controller
100 MHz dsPIC® DSC core with integrated DSP and enhanced on-chip peripherals
Dual Flash Panels – to enable live update of code while power supply runs
High analog integration for reduced BOM costs and minimum system size
8 independent PWMs pairs with 250 ps resolution
Firmware updates for the dsPIC33CK PIM will be available for download from Microchip's website.
Microchip's dsPIC® DSCs are supported by a set of embedded design tools created to empower developers, even those with limited expertise. These tools provide intuitive graphical user interface for device initialization in Microchip's free MPLAB® X Integrated Development Environment. The software tools are complemented by a full line of programmer, debugger and emulator accessories.
While the adoption of GaN devices has expanded in recent years due to their superior high-speed switching characteristics, the speed of Control ICs, which are responsible for directing the driving of these devices, has become challenging.
In response, ROHM has further evolved its ultra-high-speed pulse control technology Nano Pulse Control™. It is cultivated for power supply ICs, succeeding in significantly improving the control pulse width from the conventional 9ns to an industry-best 2ns. Leveraging this technology allowed ROHM to establish its ultra-high-speed Control IC technology that maximizes the performance of GaN devices.
When pursuing miniaturization of the power supply circuit, it is necessary to reduce the size of the peripheral components through high-speed switching. Achieving this requires a Control IC that can take advantage of the drive performance of high-speed switching devices such as GaN devices.
To propose solutions that include peripheral components, ROHM established ultra-high-speed Control IC technology optimized for GaN devices utilizing proprietary analog power supply technology Nano Pulse Control™.
ROHM is currently working to commercialize Control ICs utilizing this technology, with plans to start sample shipment of 100V 1ch DC-DC Control IC in the second half of 2023. Using in conjunction with ROHM GaN devices (EcoGaN™ series) is expected to result in significant energy savings and miniaturization in a variety of applications, including base stations, data centers, FA (Factory Automation) equipment, and drones.
Going forward, ROHM will continue to develop products that solve social issues by pursuing greater ease-of-use in applications centered on its strengths in analog technology.
---
Subscribe to Power Semiconductors Weekly and watch it on YouTube every Tuesday.
If you prefer a monthly update about the world of power semiconductors delivered to your e-mail address, please, subscribe to Marketing Psycho Power Semiconductors newsletter