Power Semiconductors Weekly Vol. 106
VisIC Technologies Ltd. successfully tested its 2.2mΩ 650V half-bridge power module, consisting of 4 parallel 8mΩ Power FET, in a 3-phase configuration on a dyno-test-bench using a PMSM motor at a major automotive OEM.
Thanks to this, VisIC Technologies has proven that their D³GaN (Direct Drive D-Mode Gallium-Nitride) semiconductor technology is well-suited even for the most challenging high-power automotive applications. Concerns about parallelization and oscillations caused by fast-switching transients have been addressed.
The inverter phase current reached 350Arms (500A peak) at 400V, although test system set-up limitations prevented higher currents, which the 2.2mΩ Power Module is capable of.
Worldwide Harmonized Light Vehicles Test Procedure (WLTP) driving cycle testing was executed and achieved comparable efficiency with commercial Silicon Carbide-based modules, despite using early non-optimized module prototypes. This means that D3GaN will deliver its promise of the highest efficiency, improving car costs through lighter, smaller power systems and a smaller battery size, without compromising the car's driving range. In addition, the D3GaN technology, based on GaN-on-Silicon semiconductor process, is delivering better than Silicon Carbide (SiC) performance at the more competitive Silicon cost level.
"With this great accomplishment, acknowledged by a leading automotive OEM, VisIC Technologies has provided overwhelming evidence for higher-efficiency at lower-cost future EV traction inverters, for the automotive world," said Dr. Tamara Baksht, CEO & Co-founder of VisIC technologies. "The automotive market demands high-power, high-voltage, high-reliability GaN, and our D3GaN die and module solutions are the answer."
VisIC Technologies 3-phase prototype inverter system will be available for testing across additional customer sites towards the end of the 2nd quarter of 2023.
Mitsubishi Electric Corporation announced that it will double a previously announced investment plan to approximately 260 billion yen in the five-year period to March 2026 mainly for constructing a new wafer plant to increase production of silicon carbide (SiC) power semiconductors. Under the plan, Mitsubishi Electric expects to respond to rapidly increasing demand for SiC power semiconductors for electric vehicles as well as expanding markets for new applications that require, for example, low energy loss, high temperature operation or high-speed switching. The plan will also enable Mitsubishi Electric to contribute to the global green-transformation trend toward energy conservation and decarbonization.
A major portion of the increased investment, approximately 100 billion yen, will be used to construct a new 8-inch SiC wafer plant and enhance related production facilities. The new factory, which will incorporate an owned facility in the Shisui area of Kumamoto Prefecture, will produce large-diameter 8-inch SiC wafers, introduce a clean room featuring state-of-the-art energy efficiency and high-level automated production efficiency. In addition, the company will enhance its production facilities for 6-inch SiC wafers to meet growing demand in this sector as well.
In addition, Mitsubishi Electric will newly invest approximately 10 billion yen in a new factory that will consolidate existing operations, currently dispersed throughout the Fukuoka area, for the assembly and inspection of power semiconductors. The integration of design, development and production technology verification will greatly enhance the company's development capabilities and facilitate timely mass production in response to market demand. The remaining 20 billion yen, all new investment, will be targeted at equipment enhancements, environmental arrangements and related operations.
Over the years, while having led the SiC power module market in fields such as home appliances, industrial equipment and railcars, including the world's first SiC power modules for air conditioners and high-speed trains, Mitsubishi Electric has accumulated extensive expertise in high-performance, high-reliability technologies for screening and many other facets of the SiC power semiconductor production.
Microchip Technology Inc. has reached a milestone in its multi-year, $800 million initiative aiming to triple production capacity at its Gresham, Oregon manufacturing facility. Celebrating close to the halfway mark in a major workforce expansion and capital equipment investment, the efforts are part of Microchip's larger initiative to ramp up overall production in the U.S. as demand continues to grow for semiconductor products across a broad range of industries.
"We want to recognize the Microchip Gresham team for their dedication and ongoing hard work on this expansion and thank the state of Oregon and its elected officials for the incentives they have approved in support of its completion," said Ganesh Moorthy, President and CEO of Microchip Technology. "Our steady growth demonstrates the vital role of semiconductors and the importance of the CHIPS & Science Act for providing the economic support required to help level the global playing field for U.S. companies."
Working with the Business Oregon state economic development agency, the City of Gresham and Multnomah County, Microchip has been approved to receive state and local incentives of approximately $42.4 million for the expansion.
"This good news for Gresham opens a fresh chapter for Oregon's semiconductor industry with the new federal CHIPS & Science Act generating local dividends in the form of good-paying jobs and economic investment in our state," said Senator Ron Wyden. "I'm proud to have worked on getting this semiconductor bill into law last year, and will keep pressing on all fronts to ensure Oregonians and the semiconductor companies that employ them benefit from this landmark legislation."
"Oregon continues to be the center of excellence for semiconductor manufacturing in the country," Governor Tina Kotek said. "The state's focus on economic development led to Microchip expanding its operations in Gresham. This is a win for the city, state and nation: it will bring good-paying jobs to the community, keep Oregon a national leader in chip production, and strengthen our country's manufacturing, supply chain, and national security."
Microchip has added 300 new employees to its Gresham facility so far, with plans to hire as many as 300 more over the next few years. The company has also made substantial progress expanding and upgrading its 140-acre, 830,000-square-foot Gresham campus so it can manufacture higher volumes of its microcontroller, analog and security products. As part of the investment, Microchip is adding two cleanrooms and more than 160 new tools to its facility, which produces semiconductors from 8-inch wafers.
"Microchip continues to be focused on manufacturing legacy chips—the small, ubiquitous microcontrollers and analog products that power virtually every type of electronic device, including things like cars and e-bikes, home appliances, industrial motors and so much more. The growth of these products is critical for growing local, family wage jobs in Oregon and strengthening supply chains right here in the United States," said Congressman Earl Blumenauer.
"This expansion is a tremendous achievement for the City of Gresham and will go a long way in providing jobs and contributing to a thriving economy for our city," said Gresham Mayor Travis Stovall. "We are grateful for the partnership with Microchip Technology as well as the support from our Oregon legislators in moving this important work forward."
Microchip currently employs more than 900 people at its Gresham campus, with an additional 300 contractors working on-site. The jobs being created at the facility range from production specialists to technical roles in equipment and process engineering, facilities and management.
"Microchip established the Gresham site more than two decades ago, and it remains our largest and most advanced internal fabrication facility and an integral element of our long-term microcontroller and analog business strategies," said Steve Drehobl, senior vice president of Microchip's 8-bit and 16-bit business units. "Our $800 million expansion initiative here will enable us to better serve customers worldwide."
Microchip has more than 120,000 customers across the industrial, automotive, consumer, communications, computing and aerospace and defense markets. Its easy-to-use development tools and comprehensive product portfolio enables optimal design with reduced risk and lower total system cost and time to market. To learn more about Microchip and its Gresham location visit microchip.com.
South Korea announced that it will build the world's largest semiconductor cluster in the country's northwestern province.
The project will attract 300 trillion won (approximately $229.81 billion) in investments as part of the government's efforts to secure a competitive edge in the sector.
The ministry said the semiconductor cluster will be established in Gyeonggi Province and will house five advanced chip fabrication facilities as well as around 150 materials, parts, and fabless companies by 2042.
It added that the new complex will be located near existing chips facilities run by Samsung Electronics Co. and SK hynix Inc., as well as a number of parts and equipment companies and fabless firms, allowing the country to have the world's largest mega cluster for semiconductors.
It is part of the government's comprehensive plan to promote six key industries, including chips, displays, secondary batteries, bio, future vehicles, and robots, which also call for a corporate investment of 550 trillion won (approximately $419.181 billion) by 2026, according to the ministry statement, as reported by the news agency.
South Korean President Yoon Suk Yeol said during the announcement of his government plan that his country already possesses world-class technological and production capabilities in several areas.
"Cutting-edge industries are a core growth engine, as well as a security and strategic asset, and directly connected to our jobs and public's livelihoods," Yoon said during an economic policy meeting, according to the agency.
Yoon explained that the government is also pushing to invest 3.2 trillion won (approximately $2.439 billion) by 2030 in the development of technologies for next-generation semiconductors needed for power generation, vehicles, and artificial intelligence, among other things.
Co-located with E-Tech, the international event devoted to innovative electrical and electronic technologies, Fortronic electronics forum will once again open its doors on April 19-20, 2023 in Bologna, Italy.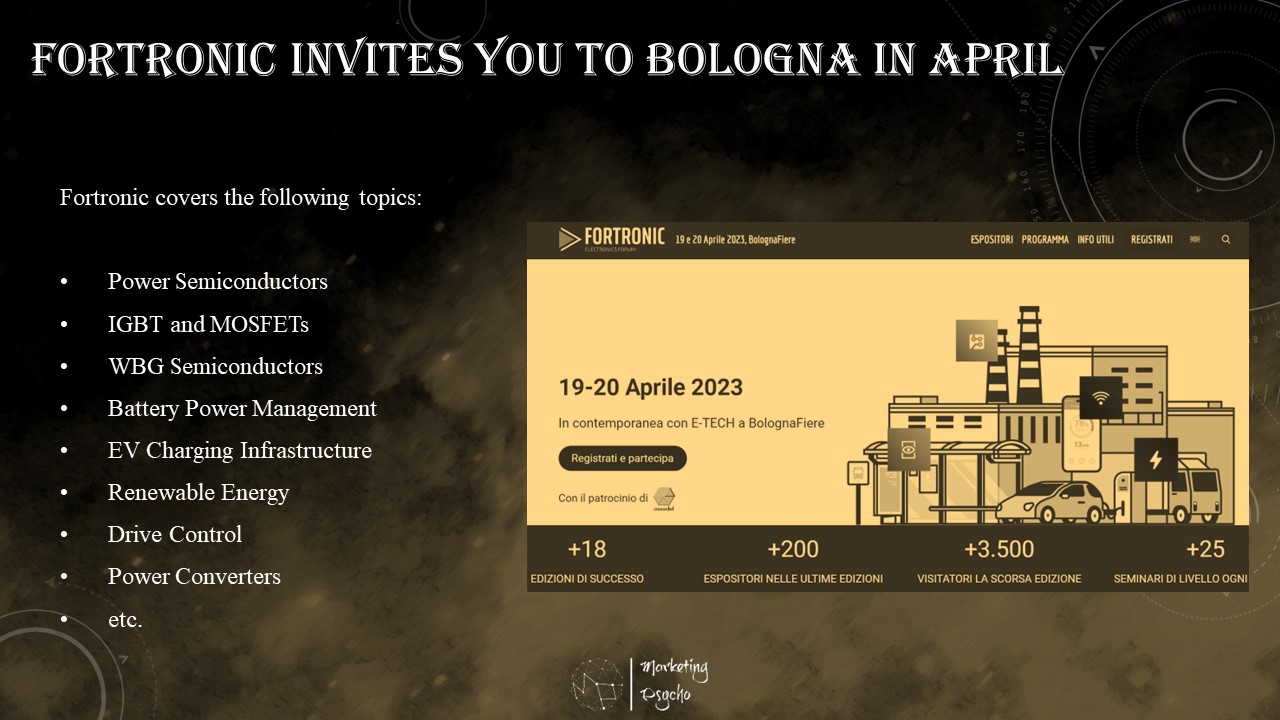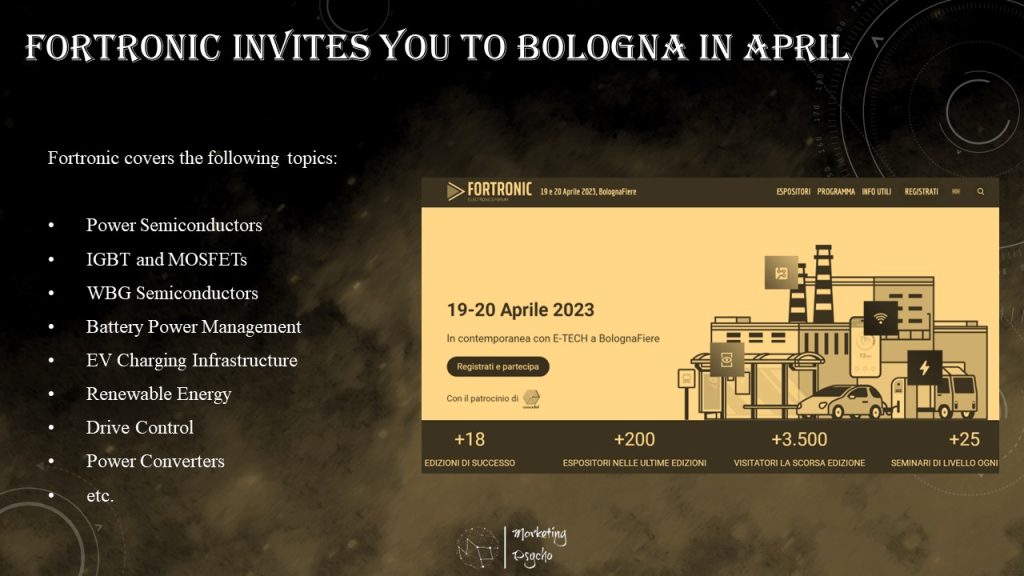 Fortronic is the one and only event in Italy that gathers power semiconductors and electronics industry players during two days of the trade show and workshops.
During the show you will have a chance to talk to the Italian power electronics community and learn the latest news about the Italian electronics market.
Fortronic covers the following topics:
Power Semiconductors
IGBT and MOSFETs
WBG Semiconductors
Battery Power Management
EV Charging Infrastructure
Renewable Energy
Drive Control
Power Converters
etc.
The event will take place at BolognaFiere on April 19-20, 2023. You can find our more about Fortronic at the event website. The list of the participants can be found here.
---
Subscribe to Power Semiconductors Weekly and watch it on YouTube every Tuesday.
If you prefer a monthly update about the world of power semiconductors delivered to your e-mail address, please, subscribe to Marketing Psycho Power Semiconductors newsletter