Power Semiconductors Weekly Vol. 104
Resonac Corporation has developed a third generation of high-grade silicon carbide (SiC) epitaxial wafer (HGE-3G) for power semiconductors and has started to mass-produce it. HGE-3G has quality superior to that of second-generation high-grade SiC epi-wafer (HGE-2G), which has been mass-produced up to the present.
SiC power semiconductor reduces power loss which occurs in conversion of electricity and emits less heat than conventional silicon-wafer-based power semiconductor, thereby conserving energy. Therefore, the demand for SiC power semiconductor is increasing rapidly especially in the field of industrial use, including use in electric vehicles (EVs) and renewable-energy-based power generation. SiC epi-wafer is produced through deposition and growth of epitaxial SiC layer on the surface of single crystal SiC substrate, and it is used as main material for SiC power semiconductors. Resonac has been supplying world-class-quality SiC epi-wafers as the largest independent supplier in the world and is acclaimed by many device manufacturers inside and outside Japan.
High-end models of power semiconductors for use in high-priced EVs and railcars are required to conduct electric current of higher density to achieve high output and space saving concurrently. To realize conduction of high-density electric current, SiC-epi-wafer manufacturers must develop technology to prevent expansion of dislocation defects existing in SiC substrate into epitaxial SiC layer. This time, Resonac has developed the very latest technology to grow epitaxial SiC layer and successfully solved the abovementioned problem and started to mass-produce third-generation high-grade SiC epi-wafers. This HGE-3G has high-reliability under high electric current density, and it will contribute to the spread of SiC-based high-end power modules.
The Resonac Group aims to be a "Co-Creative Chemical Company" and contribute to the sustainable development of global society. Under this vision, Resonac positions its operation to produce SiC epitaxial wafers, which contributes to efficient use of energy, as a next-generation business, and will allocate much of our business resources. In September 2022, Resonac started to ship samples of 200mm SiC epi-wafers using in-house manufactured single crystal SiC wafers. In addition, Resonac has been promoting "The Project to Develop SiC Wafers Technology for Next-generation Green Power Semiconductors," which aims to improve quality of SiC epi-wafer further. The Resonac Group will continue contributing to the spread of SiC power semiconductors by maintaining "Best in Class" as its motto and continuing provision of high-performance and highly reliable products.
Infineon Technologies AG and GaN Systems Inc. announced that the companies have signed a definitive agreement under which Infineon will acquire GaN Systems for US$830 million. GaN Systems is a global technology leader in the development of GaN-based solutions for power conversion. The company is headquartered in Ottawa, Canada, and has more than 200 employees.
"GaN technology is paving the way for more energy-efficient and CO 2-saving solutions that support decarbonization. Adoption in applications like mobile charging, data center power supplies, residential solar inverters, and onboard chargers for electric vehicles is at the tipping point, leading to a dynamic market growth," said Jochen Hanebeck, CEO of Infineon. "The planned acquisition of GaN Systems will significantly accelerate our GaN roadmap, based on unmatched R&D resources, application understanding and customer project pipeline. Following our strategy, the combination will further strengthen Infineon's leadership in Power Systems through mastery of all relevant power technologies, be it on silicon, silicon carbide or gallium nitride."
Jim Witham, CEO of GaN Systems, said: "The GaN Systems team is excited about teaming up with Infineon to create highly differentiating customer offerings, based on bringing together complementary strengths. With our joint expertise in providing superior solutions, we will optimally leverage the potential of GaN. Combining GaN Systems' foundry corridors with Infineon's in-house manufacturing capacity enables maximum growth capability to serve the accelerating adoption of GaN in a wide range of our target markets. I am very proud of what GaN Systems has accomplished so far and cannot wait to help write the next chapter together with Infineon. As an integrated device manufacturer with a broad technology capability, Infineon enables us to unleash our full potential."
As a wide bandgap material, GaN offers customer value by higher power density, higher efficiency, and size reductions, especially at higher switching frequencies. These properties enable energy savings and smaller form factors, making GaN suited for a wide range of applications. By 2027, market analysts expect the GaN revenue for power applications to grow by 56% CAGR to approx. US$2 billion (source: Yole, Compound Semiconductor Market Monitor-Module I Q4 2022).
As such, GaN is becoming a key material for power semiconductors, alongside silicon and silicon-carbide, and coupled with new topologies, such as Hybrid Flyback and multi-level implementations. In February 2022, Infineon announced doubling down on wide bandgap by investing more than €2 billion in a new frontend fab in Kulim, Malaysia, strengthening its market position. The first wafers will leave the fab in the second half of 2024, adding to Infineon's existing wide bandgap manufacturing capacities in Villach, Austria.
The planned acquisition of GaN Systems in an all-cash transaction will be funded from existing liquidity. The transaction is subject to customary closing conditions, including regulatory approvals.
Amid feverish anticipation, the joint laboratory, which was set up by Sineng Electric and onsemi, was inaugurated, with a view to pursue tremendous opportunities for the renewable energy industry to flourish.
The grand opening ceremony was witnessed by Qiang Wu, Chairman of Sineng Electric, Jianfei Li, Vice President & CTO of Sineng Electric, David Chow, Senior VP (Asia Pacific) of onsemi, Roy Chia, Vice President of Sales of onsemi China, and other leaders.
Deploying onsemi's best-in-class product line-up, R&D engineers from Sineng attempt at bringing new upgrades in the energy efficiency, product compatibility, and safety design of inverter applications.
Thus, the process to verify IGBT's adaptability to PV inverters, including the evaluation of IGBT transistors, SiC diodes, SiC MOSFETs, and IGBT modules becomes increasingly indispensable. With the support of the lab, an industry-level evaluation system will be built to test the semiconductor's features, including temperature rise, voltage stress, thermal resistance, temperature adaptation, and lifetime.
Through the partnership, we seek to advance in renewables and build a base for applications in various scenarios.
As a global leader in intelligent power and sensing technologies, onsemi is one of Sineng's most trusted allies.
Chairman of Sineng Electric Qiang Wu claimed that "establishing a joint lab is not only a sign that we attach supreme importance to the relations with onsemi, but also a signal that we have forged ahead in great strides in reshaping the future of energy."
"This cooperation is filled with expectations, and we look forward to starting a brand-new chapter with Sineng," said David Chow, Senior VP (Asia Pacific) of onsemi. "By teaming up with Sineng in resource sharing, product innovation, exchange of expertise, etc., we aim to drive technological development, spur innovations, facilitate the upgrading of the solar industry, and catalyze the energy transition."
British engineering and technology pioneer McLaren Applied has selected STMicroelectronics (ST), a global semiconductor leader serving customers across the spectrum of electronics applications, as a key supplier of silicon carbide (SiC) power modules for its next-generation IPG5 800V inverter.
Electric vehicle (EV) powertrain technology increasingly relies on a reliable supply of quality SiC semiconductors such as MOSFETs, especially in 800V architectures. In choosing ST's SiC, McLaren Applied aims to secure a solid and regular power electronics supply chain for McLaren Applied as it ramps up production and commercialization of its IPG5 inverter for OEMs and Tier 1 partners.
In the last six months, McLaren Applied has finalised powertrain agreements with American hybrid sports car marque Czinger and in-wheel motor specialists Elaphe for the supply of its IPG5 inverter, with a host of other mid- and high-volume EV models expected to be announced in the near future.
At just 3.79L in size and weighing 5.5kg, IPG5 can extend an EV's range by over 7%. Derived from decades of innovation in top tier automotive and motorsports applications, McLaren Applied's IPG5 is highly controllable, offering variable switching frequencies and unparalleled motor response. The variability in switching frequency up to 32kHz enables engineers to use a faster, more efficient, and lightweight drivetrain. McLaren Applied's IPG5 leverages the ST ACEPACK™ DRIVE power module based on third generation 1200V SiC MOSFET technology.
"Silicon carbide and the need for greater efficiency is absolutely going to be a key trend in the increasing adoption of EV technology," says Stephen Lambert, Head of Electrification at McLaren Applied. "Inverter technology is rapidly adopting silicon carbide semiconductors, especially in 800V architectures, and this deal with ST secures access to the best SiC semiconductor technology available today."
"Using ACEPACK DRIVE power module based on SiC MOSFET technology helps McLaren Applied achieve the greatest efficiency and longest driving range possible for their innovative, high performance powertrain systems," says Philippe Prats, Head of Automotive Marketing & Application EMEA STMicroelectronics.
The automotive team at McLaren Applied sees efficiency as leading what it describes as the third 'wave' of electrification. The first involved early pioneers of technology, and the second wave was denoted by the recent breakthrough of EVs to the mainstream. The third stage is efficiency and will see inverter technology use SiC semiconductors, especially in vehicles that need longer range and faster charging – two areas in which efficient power electronics are key.
The fourth stage will see OEMs building EVs which align with the driver experience they want to deliver and their brand ethos. McLaren Applied helps OEMs achieve this by enabling controllability, through its hardware and software, to deliver the most appropriate driver experience for the brand and type of car. The ability to control the drivetrain more sensitively enables OEMs to start programming different characteristics into their vehicles. With this, they can introduce character that some might say is lacking from EVs.
The next-generation IPG5 800V silicon carbide inverter can power electric motors to more than 400kW peak, 250kW continuous, at an unprecedented weight and volume. It has been designed for automotive applications, including direct drive, that are capable of operating high-speed motors efficiently and adhere to ISO 26262 ASIL-D standards.
Through its range of STPOWER solutions, ST is the global leader in SiC devices, built on decades of research and major investment in supply chain integration and dedicated SiC manufacturing facilities in Catania, Italy, and Ang Mo Kio, Singapore. To cover the increasing market demand and maintain market leadership, ST is continuing to introduce new technologies and advanced packages alongside investment in capacity to improve manufacturing capabilities, including a new integrated SiC substrate manufacturing facility in Catania announced in October 2022.
China's silicon carbide (SiC) semiconductors supplier InventChip announced the completion of its Series B financing worth hundreds of millions of yuan.
The round was led by GrowthFOF, and followed by various other institutions including Shenzhen Guozhong Venture Capital, a Shanghai Lingang New Area-backed fund, Goldstone Investment, Eastern bell Capital, and Long Capital. Existing shareholders such as Sunic Capital, Lightspeed China Partners, and GF Xinde Investment also increased their investment in this round.
Prior to this, InventChip had just secured a pre-B financing round of another hundreds of millions of yuan at the end of 2022, with investors including SAIC Motor's investment fund, Shangqi Capital, etc. In early 2022, InventChip also received strategic financing from XPeng.
As a SiC-focused chip company, InventChip is committed to developing SiC power devices, driver and control chips, and SiC power module products, providing one-stop chip solutions for customers around SiC power semiconductor applications.
Up to now, InventChip has planned three major product lines, namely SiC MOSFETs, SBDs, and driver ICs, and has developed a series of mass-produced products compliance to automotive standards, including 650V-1200V SiC MOSFETs, 1200V SiC Schottky diodes (SBDs), and SiC-specific gate driver chips.
Moreover, in early 2020, InventChip launched a SiC wafer fab project, aiming to build a six-inch SiC power chip factory that meets automotive-grade standards. After nearly two years of preparation, the factory officially started operation in July 2022, marking InventChip's strategic transformation from Fabless to IDM.
Infineon Technologies invites you to their 2023 Wide-Bandgap Developer Forum on 9 March broadcast from the studio in Munich.
The advantages of wide-bandgap technologies are well known and have been proven in many applications in recent years. With the highest efficiency and power density, accompanied with the use of fewer resources, they are also an important building block to slow climate change in the energy transition. Nowadays, no one can get around this requirement when developing new designs.
With Bloom Energy, Schneider Electric and Delta Electronics (Shanghai), Infineon Technologies is happy to welcome three customers who will share their project experience.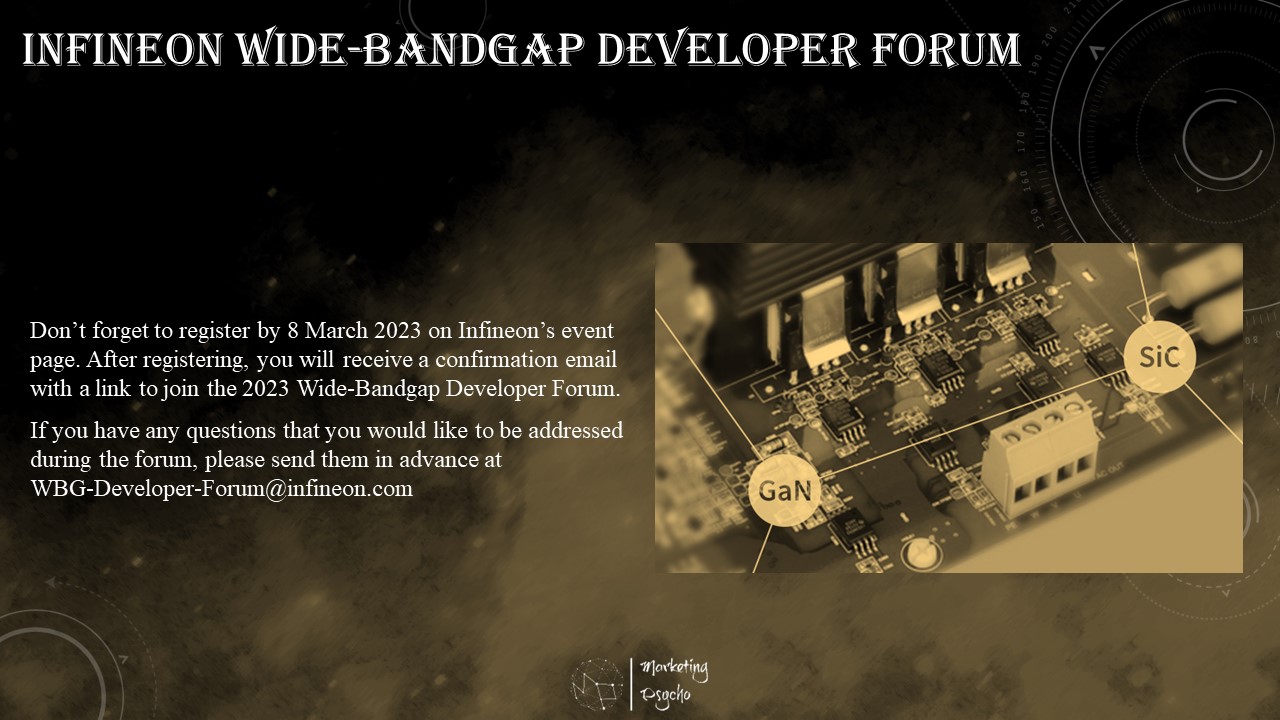 Like last year, technology expert sessions will cover numerous topics including the electric parameter stability of CoolSiC™ MOSFETs in switching operation, CoolGaN™ AC bi-directional switches, advanced .XT interconnection technology for SiC discretes, the latest evaluation boards for EV charging or fanless PSU, and much more.
In addition to the industrial experts, the automotive specialists will join. In the technology section, they will talk about next-generation CoolSiC™ technology, and in the application section, they will feature on-board EV charging and inverter solutions based on wide-bandgap technologies.
Don't forget to register by 8 March 2023 on Infineon's event page. After registering, you will receive a confirmation email with a link to join the 2023 Wide-Bandgap Developer Forum.
Before, during, and after the event, you are welcome to connect with the experts on the new Infineon Developer Community. Post a question in the dedicated forums for SiC and GaN to get answers from our community around the world.
If you have any questions that you would like to be addressed during the forum, please send them in advance at WBG-Developer-Forum@infineon.com
---
Subscribe to Power Semiconductors Weekly and watch it on YouTube every Tuesday.
If you prefer a monthly update about the world of power semiconductors delivered to your e-mail address, please, subscribe to Marketing Psycho Power Semiconductors newsletter