Power Semiconductors Weekly Vol. 100
Diodes Incorporated (Diodes) announced the release of its first Silicon Carbide (SiC) Schottky barrier diodes (SBD). The portfolio includes the DIODES™ DSCxxA065 series with eleven products rated at 650V (4A, 6A, 8A, and 10A) and the DIODES™ DSCxx120 series with eight products rated at 1200V (2A, 5A, and 10A).
These wide-bandgap SBDs bring the benefits of significantly improved efficiency and high-temperature reliability, while also responding to market demands for reduced system running costs and low maintenance. The devices are suitable for AC-DC, DC-DC, and DC-AC switching converters, photovoltaic inverters, uninterruptable power supplies, and industrial motor drive applications. These devices can also be used in a variety of other circuits, such as boost converters for power factor correction.
The efficient performance of these SiC devices are superior to those of conventional silicon-based products, and provide power supply designers with uncompromising product performance benefits, such as:
Negligible switching losses due to low capacitive charge (QC) that provide high efficiency in fast switching applications. This is suitable for circuit designs with higher power density and smaller overall solution size.
Low forward voltage (VF) that further improves efficiency, reducing power losses and operational costs. Reduced heat dissipation that helps lower overall system cooling budgets. High surge current capability that increases robustness for better system reliability, while excellent thermal performance reduces build costs. Three package options include surface mount TO252-2 (Type WX), through-hole TO220AC (Type WX), and ITO220AC (Type WX-NC).
NexGen Power Systems, Inc., the global leader in the design, development, and manufacture of Vertical GaN® semiconductors for high power applications, announced engineering sample availability and production schedules for its industry best 700V and 1200V NexGen Vertical GaN® semiconductor devices. NexGen's 1200V Vertical GaN e-mode Fin-jFETs are the only wide-band-gap devices to have successfully demonstrated >1 MHz switching at 1.4kV rated voltage.
Sampling on a limited basis to strategic customers and partners since mid-2022, NexGen's Vertical GaN semiconductors are expected to begin full production in the Third Quarter of 2023.
"No other semiconductor device can match the performance characteristics that NexGen Vertical GaN® offers, and we are incredibly proud to be the first company ever to deliver, from our facility in Syracuse, New York, production samples of 700V and 1200V devices using GaN-on-GaN technology," said Shahin Sharifzadeh, the company's Chief Executive Officer.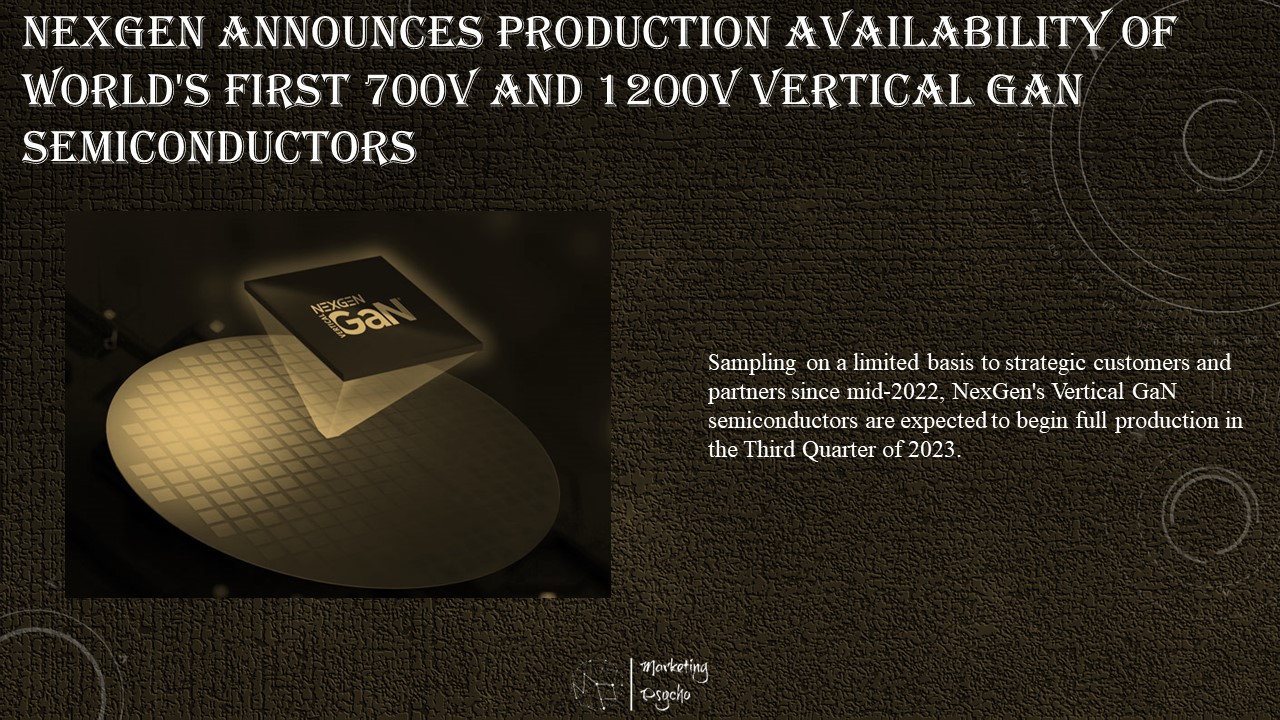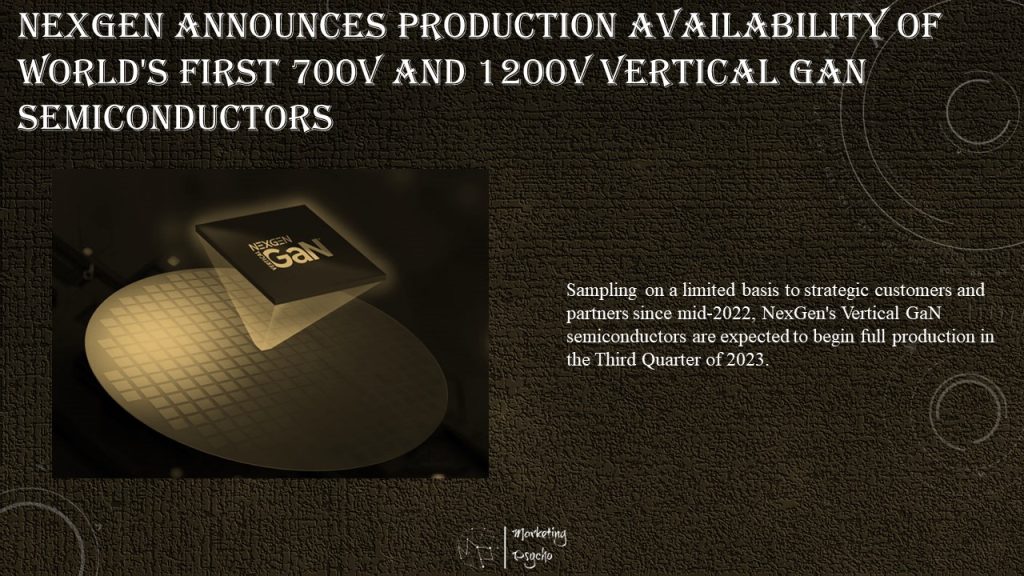 "Simply put, NexGen's semiconductors will allow our customers to develop power solutions that they have not been able to do with Silicon, Silicon Carbide or GaN-on-Silicon technologies. While many have talked about it for decades, by the third quarter of this year, NexGen will deliver production quality Vertical GaN semiconductor devices operating at 1200V and switching frequencies of up to 10MHz, while able to withstand avalanche voltages of 1470V. As we move into full scale production after the significant manufacturing strides we made in the last year, we look forward to seeing our automotive, data center, LED lighting and industrial customers deliver fundamental, market changing, improvements in the power efficiency and performance of their products."
Wolfspeed, Inc. announced plans to build a highly-automated, cutting-edge 200mm wafer fabrication facility in Saarland, Germany. The company's first fab in Europe will be its most advanced, creating a breakthrough innovation Silicon Carbide development and production facility in the European Union to support growing demand for a wide variety of automotive, industrial and energy applications. The Wolfspeed facility is planned as part of a collaboration within the IPCEI for Microelectronics and Communication Technologies framework, and is dependent upon state aid approval from the European Commission. IPCEI funding is intended to support technology development and initial deployment within this project. ZF Friedrichshafen also intends to support the new construction by making a sizable financial investment as part of a new strategic partnership announced separately.
The European fab announcement is an important part of the company's broader $6.5 billion capacity expansion effort, which includes opening of the company's 200mm Mohawk Valley device fab in April 2022, and the construction of The John Palmour Manufacturing Center for Silicon Carbide, a 445-acre (180 hectare) Silicon Carbide materials facility in North Carolina, which will expand the company's existing materials capacity by more than 10x. The first phase of construction for the materials facility is slated to be complete by the end of FY2024.
"This new fab represents a big step forward for both Wolfspeed and our regional customers, as we enhance the ecosystem for semiconductor production and innovation," said Gregg Lowe, President and CEO of Wolfspeed. "Silicon Carbide devices offer greater energy efficiency and are essential in the global shift toward sustainable electrification. This new facility will be crucial to supporting our expansion in a capacity constrained industry that is growing very rapidly, especially across the EV marketplace. It was important for us to have a facility located in the heart of Europe, near many of our customers and partners, to foster collaboration on the next generation of Silicon Carbide technologies."
The announcement was made at an event on the 35-acre (14-hectare) site of the planned fab, a former coal-fired power plant in Saarland, Germany. German Chancellor Olaf Scholz was in attendance to welcome Wolfspeed to the region, as well as Robert Habeck, Vice Chancellor of Germany and Federal Minister for Economic Affairs and Climate Action, and Saarland Minister-President Anke Rehlinger. Representing the new partnership, ZF CEO Holger Klein, and Stephan von Schuckmann, Member of the ZF Board of Management also joined in the announcement. Wolfspeed also announced today a strategic partnership with ZF that includes an investment in Wolfspeed as well as a joint Silicon Carbide R&D facility in Germany, which is part of the same IPCEI framework. Fab construction is anticipated to begin in the first half of 2023, subject to approval by the EU Commission.
"This project is a great transformation driver and a job engine for a traditionally industrial region. Furthermore, it bundles important know-how in Europe and contributes to the implementation of the European Green Deal by reducing energy consumption and CO2 emissions," said Saarland Minister-President, Anke Rehlinger. "We're proud to have Wolfspeed, and have our region play such a vital role in advancing Silicon Carbide semiconductor innovation."
The fab will be designed for groundbreaking manufacturing processes to produce the future generation of Silicon Carbide devices. The new fab will also employ innovative sustainability measures, including high percentages of recycled water and a reduced emission footprint, which will serve as a model for more sustainable fabs in the future. The fab will employ more than 600 people when fully operational.
The adoption of Silicon Carbide power devices is rapidly growing across multiple markets, including renewable energy and energy storage, electric vehicles, charging infrastructure, industrial power supplies, traction and variable speed drives. Silicon Carbide enables smaller, lighter and more cost-effective designs, converting energy more efficiently to enable countless new clean energy applications.
Wolfspeed, Inc. announced a strategic partnership that includes the creation of a joint innovation lab to drive advances in Silicon Carbide systems and devices for mobility, industrial and energy applications. The partnership also includes a significant investment by ZF to support the planned construction of the world's most advanced and largest 200mm Silicon Carbide device fab in Ensdorf, Germany. Both the joint innovation lab and the Wolfspeed device fab are planned as part of the Important Project of Common European Interest (IPCEI) for Microelectronics and Communication Technologies framework, and are dependent upon state aid approval from the European Commission.
"These initiatives are a significant step towards a successful industrial transformation. They strengthen European supply resilience and, at the same time, support the European Green Deal and the strategic goals for Europe's Digital Decade," said Dr. Holger Klein, CEO of ZF.
The strategic partnership includes a joint research facility in Germany that will focus on real world e-mobility and renewable energy system level challenges. The goal of the collaboration is to develop breakthrough innovations for Silicon Carbide systems, products, and applications, covering the full value chain from chip to complete systems. Additional collaboration partners will be invited to participate in the innovation process, establishing an end-to-end, European Silicon Carbide innovation network.
The R&D center will focus on innovation for Silicon Carbide systems and devices to meet specific requirements in all mobility segments including consumer, commercial, agricultural, and industrial vehicles as well as in the industrial and renewable energy markets. The collaboration will drive improvements such as higher efficiency, increased power density and higher performances for electrification solutions.
As separately announced, Wolfspeed plans to construct a fully automated, highly advanced200mm wafer fabrication facility in Saarland, Germany. ZF intends to support this new construction by making a sizable financial investment in the hundreds of millions of dollars in exchange for Wolfspeed common stock. As a part of this investment ZF will have a minority ownership position in the fab. Wolfspeed will maintain all operational and management control rights in the new fab. ZF and Wolfspeed previously announced a strategic partnership in 2019 to create industry-leading, highly efficient electric drivelines with a Silicon Carbide inverter, and these new initiatives represent the next generation of innovation for the partners.
"We have a strong partner by our side in ZF, which brings industry-leading experience in scaling components for electric mobility as well as the aptitude to accelerate innovation in Silicon Carbide systems and power devices. I am confident this partnership will lift Silicon Carbide semiconductor technology to a new level of global impact, supporting increased sustainability and efficiency efforts across a multitude of industries," said Gregg Lowe, president and CEO of Wolfspeed.
"Together, Wolfspeed and ZF combine expertise in power electronics and systems with a know-how in applications that is unparalleled in the industry. Wolfspeed brings its more than 35 years in Silicon Carbide technology, and at ZF we have a unique understanding of the overall systems across all sectors – from passenger cars and commercial vehicles to construction machinery, wind power and industrial applications. The close cooperation between fab and R&D center will enable us to develop breakthrough innovations beyond state of the art for the benefit of our customers," says Stephan von Schuckmann, Member of the ZF Board of Management.
Veeco Instruments Inc. acquired Epiluvac AB, a privately held manufacturer of chemical vapor deposition (CVD) epitaxy systems that enable advanced silicon carbide (SiC) applications in the electric vehicle market. Epiluvac, based in Sweden, was founded in 2013 by a highly experienced team in SiC. Epiluvac's technology platform combined with Veeco's global go-to-market capabilities create a significant long-term growth driver for Veeco.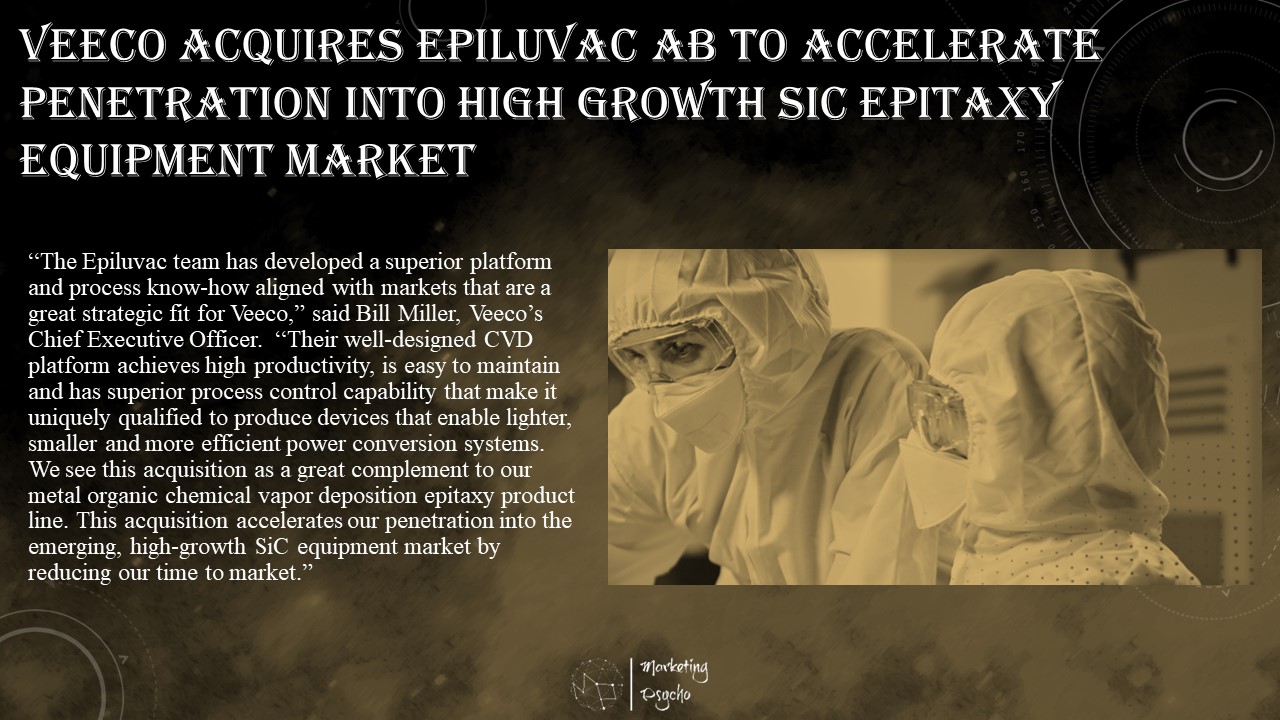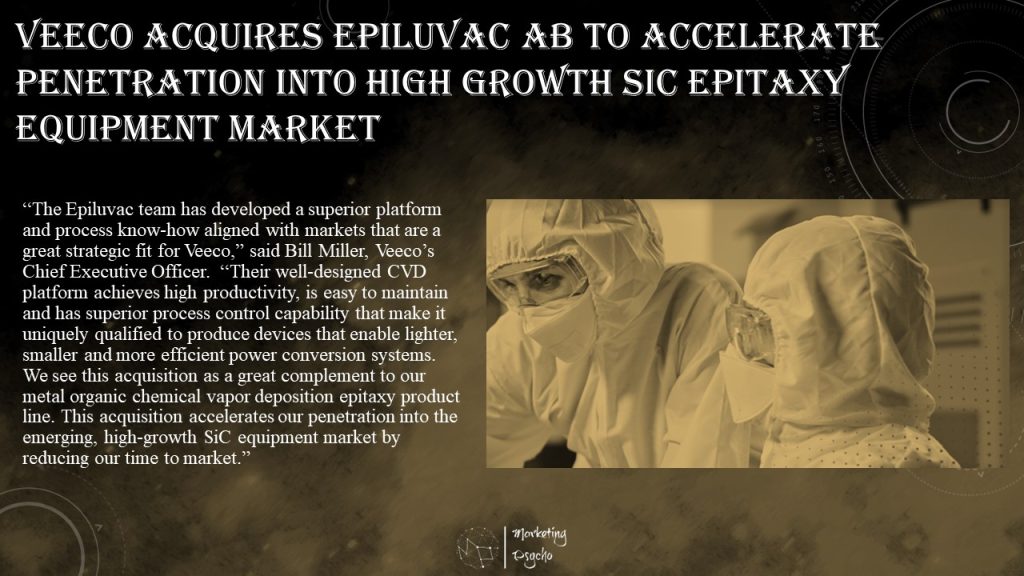 The desire for clean, efficient and reduced fossil-fuel energy is driving tremendous growth in the electric vehicle market. Applications such as on-board charging, fast charging and powertrain inverters are ideally suited for SiC power devices. The SiC device market is forecasted to grow approximately 30% compound annual growth rate (CAGR) from 2023 through 2027 according to Yole Group. Accordingly, the SiC epitaxy equipment market is expected to grow approximately 15% CAGR over the same time period according to Yole Group and internal Veeco estimates.
"The Epiluvac team has developed a superior platform and process know-how aligned with markets that are a great strategic fit for Veeco," said Bill Miller, Veeco's Chief Executive Officer. "Their well-designed CVD platform achieves high productivity, is easy to maintain and has superior process control capability that make it uniquely qualified to produce devices that enable lighter, smaller and more efficient power conversion systems. We see this acquisition as a great complement to our metal organic chemical vapor deposition epitaxy product line. This acquisition accelerates our penetration into the emerging, high-growth SiC equipment market by reducing our time to market."
"We are excited to join Veeco, a recognized leader in semiconductor and compound semiconductor capital equipment," commented Per-Anders Eriksson, Epiluvac's Chief Executive Officer. "Our complementary technology platforms, along with Veeco's extensive worldwide sales, service and manufacturing capabilities, will position us well to help our customers enable accelerated SiC adoption. The decades of research and development the Epiluvac team has invested in this demanding epitaxial process will be a great asset to Veeco's already impressive process capabilities."
Epiluvac is an early-stage revenue company with 11 employees. The purchase price for the transaction, all payable in cash, is $30 million paid at the time of closing with a potential additional $35 million in performance based earn-outs. The impact to Veeco's financial results are not expected to be material in 2023 and volume revenue is expected to begin in 2024.
Veeco will discuss the acquisition during its upcoming Q4 and full year 2022 earnings call on February 15, 2023.
Cambridge GaN Devices kicks off the first Tutorial Webinar Series in February. During this series, company's GaN experts will share their insights on GaN for efficient power conversion and how CGD's HV technology ICeGaN™ enables ease of use and the highest performance.
Key Take-Aways:
Basics of GaN vs Si and SiC
Potential benefits of broad adoption of GaN
Different concepts of currently available GaN technology
Date: February 9, 2023
Time: 5 PM GMT
---
Subscribe to Power Semiconductors Weekly and watch it on YouTube every Tuesday.
If you prefer a monthly update about the world of power semiconductors delivered to your e-mail address, please, subscribe to Marketing Psycho Power Semiconductors newsletter