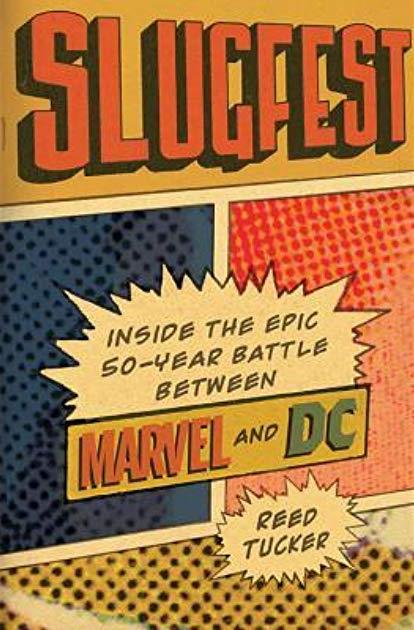 Competition creates new ideas, new discoveries and achievements. So it was with Coca-Cola and Pepsi, McDonald's and Burger King, Schwarzenegger and Stallone. So it was with the comics industry. No one knows what it would be now if Marvel had not appeared on the DC path.
So in the book, the author describes almost all the stages of development of the two giants. Conservative DC and more vibrant, youthful and full of ideas Marvel collide in our world to give all comic books fans even more fascinating stories and stunning graphics.
The book has a lot of interesting moments and facts that allow you to better understand the whole philosophy of the comic books industry, all the undercurrents and military actions between companies. So we learn that many authors and artists worked on two fronts, som of them turned to competitors, some came back again. In the history of Marvel there were such moments that some heroes, without whom today we cannot imagine their universe, were on the verge of entering the DC universe.
Moreover, the book is full of various marketing facts, techniques and ideas. Let me just give you a brief overview of five the most important things to learn from superhero marketing book.
Take Drastic Measures in relation to your Marketing
Case Study – The Death of Superman comic books series. When DC faced great challenge they decided to "kill" their main hero to attract as many attention as possible. And it really worked. So never be afraid to create something shocking, extraordinary, nonstandard to attarct more people to your product.
Case Study – Marvel and their campaignt with multiple covers for the same comic books. When Marvel wanted to leverage their sales, they used different covers for same issue of the comic books. All comics fans couldn't resist the temptation to buy all of them.
Case Study – DC and Marvel mutual work on some projects. Do not be afraid to work with your competitors. You can create even better products using help of your competitors. Keep in touch with competitors' marketing team to share some ideas and results. Competition creates better product!
Get rid of useless Things
Case Study – Both companies got rid of some characters that never had success. If you analyze your sales and see that some product line has very low performance and all your marketing attempts do not change the situation, that you need to cancel, get rid, eliminate it. Do not spend your time on the things that do not generate profit.
Case Study – Marvel Studios movies. Quality is the key to success. Both companies tried to provide various types of their content delivering low quality comic books and failure movies, and every time they returned back to quality. Quality is always a king. And it is related to everything you do – sales, customer service, logistics, support, marketing etc. Deliver high quality content to your customers to be always on top.
The book has lot of other examples that can be used in your marketing. If you doubt that, then you have to read this superhero marketing book. And never forget that everything you do in your marketing has to be SuperMarvelous!
And if you need more marketing ideas, this is the right one for you – Lateral Marketing by Kotler