Power Semiconductors Weekly Vol. 9
It is a milestone on the path to the chip factory of the future: at the new Bosch semiconductor fab in Dresden, silicon wafers are passing through the fully automated fabrication process for the first time. This is a key step toward the start of production operations, which is scheduled for late 2021.
Manufacturing of automotive microchips will be a primary focus when the fully digital and highly connected semiconductor plant is up and running.
In January 2021, Bosch began putting its first wafers through the fabrication process in Dresden. From these, the company will make power semiconductors for use in applications such as DC-DC converters in electric and hybrid vehicles. In the six weeks it takes to produce the wafers, they undergo some 250 individual fabrication steps – all of which are fully automated.
The new wafer fab in Dresden is Bosch's response to the surging number of areas of application for semiconductors, as well as a renewed demonstration of its commitment to Germany as a high-tech location. Bosch is investing around one billion euros in the high-tech manufacturing facility, which will be one of the most advanced wafer fabs in the world. Funding for the new building is being provided by the federal German government, and more specifically the Federal Ministry for Economic Affairs and Energy. Bosch plans to officially open its wafer fab in June 2021.
Toshiba will expand production capacity for power devices with the construction of a 300-millimeter wafer fabrication facility at Kaga Toshiba Electronics Corporation in Japan. Mass production on the new line will start in the first half of fiscal year 2023.
Power devices are essential components for managing and reducing power consumption by vehicles and industrial and other electrical equipment. Growth in the e-vehicle, factory automation and renewable energy sectors continues to drive demand growth for power devices.
Toshiba has until now met demand by expanding production capacity on a 200mm wafer facility at Kaga Toshiba Electronics Corporation. The company will construct the new 300mm facility in a building on the same site that currently houses a 200mm line. The new 300mm line will be used to manufacture low-voltage metal-oxide-semiconductor field-effect transistors (MOSFETs) and insulated gate bipolar transistors (IGBTs).
Toshiba will make decisions on further investments to increase output in line with market conditions. It will also continue to expand production of discrete semiconductors, including power devices, at Japan Semiconductor Corporation, a manufacturing subsidiary that mainly produces system LSIs.
Toshiba will strengthen its power device business by expanding production capacity and continue to contribute to advances in energy-saving.
Toshiba has launched 650V super junction power MOSFETs, TK065U65Z, TK090U65Z, TK110U65Z, TK155U65Z and TK190U65Z, in its DTMOSVI series that are housed in a TOLL (TO-leadless) package. Volume production shipments start today.
TOLL is a surface-mount package that has an approximately 27% smaller footprint than the usual D2PAK package. It is also a 4-pin type package that allows Kelvin connection of its signal source terminal for the gate drive. This can reduce the influence by the inductance of the source wire in the package to bring out the high-speed switching performance of the MOSFETs, suppressing oscillation when switching.
Compared to Toshiba's current product, TK090N65Z, the turn-on switching loss is reduced by about 68% and turn-off switching loss by about 56%. The new MOSFETs are suitable for power supplies for industrial equipment such as data centers and photovoltaic power conditioners.
The combination of TOLL packaging with the latest generation DTMOSVI process technology extends the line-up to cover a low On-resistance of up to 65mΩ(max). Toshiba will continue to enhance products with the TOLL package to contribute to equipment downsizing and improved efficiency.
Infineon Technologies AG has launched StrongIRFET™ 2 – the new generation of power MOSFET technology in 80 V and 100 V. Featuring broad availability at distribution partners and excellent price/performance ratio make these right-fit products an easy choice for designers interested in convenient selection and purchasing. Optimized for both low- and high-switching frequencies, the family supports a broad range of applications enabling high design flexibility. Amongst the applications profiting from the StrongIRFET are SMPS, motor drives, battery-powered tools, battery management, UPS and light electric vehicles.
The new StrongIRFET technology offers 40 percent R DS(on) improvement and over 50 percent lower Q g compared to the previous generation, translating into higher power efficiency for improved overall system performance. Increased current ratings allow for higher current carrying capability, eliminating the need to parallel multiple devices, which leads to lower BOM costs and board savings.
The new StrongIRFET 2 products can be ordered now in a TO-220 package. The family comprises a broad range of R DS(on) classes in 80 V and 100 V. The new portfolio will be available in various packages continuing with TO-220 FullPAK, D 2PAK, D 2PAK 7-pin and DPAK.
Leading global automotive supplier, Marelli, has launched the first power module for motorsports electric and hybrid traction applications completely developed in the company's Corbetta facility, fully based on Silicon Carbide (SiC) technology and using a new direct cooling solution. This leading-edge system will be the core building block for even more efficient, compact and lighter inverters.
The new module, called EDI (Enhanced Direct-cooling Inverter), was developed by Marelli Motorsport with the Fraunhofer Institute for Reliability and Microintegration IZM and features an innovative structural design that drastically reduces the thermal resistance between the SiC components themselves and the liquid coolant, thanks to a new baseplate-less solution. The result is an extremely compact power stage, which can exploit the efficiency advantage of Silicon Carbide, allowing vehicle designers more flexibility in packaging, cooling system design and minimized energy storage.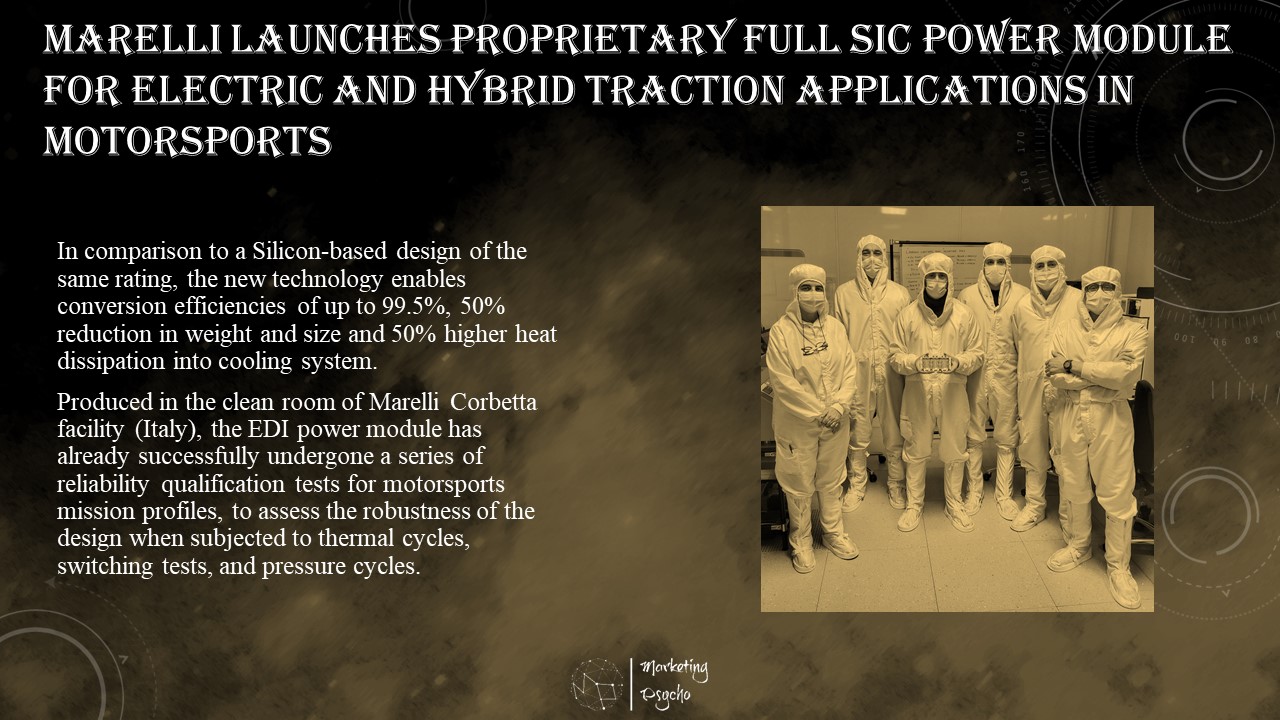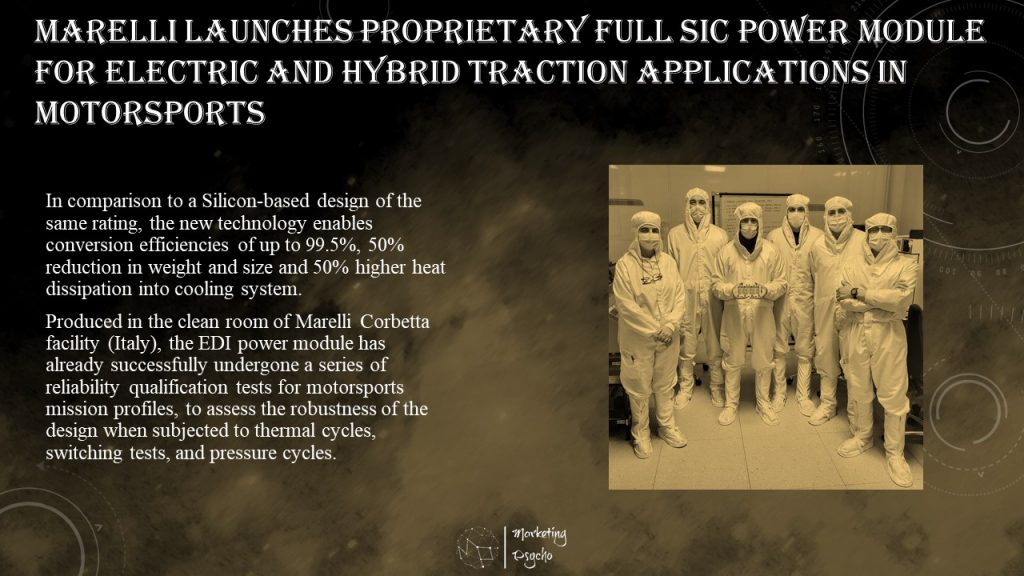 In comparison to a Silicon-based design of the same rating, the new technology enables conversion efficiencies of up to 99.5%, 50% reduction in weight and size and 50% higher heat dissipation into cooling system.
Produced in the clean room of Marelli Corbetta facility (Italy), the EDI power module has already successfully undergone a series of reliability qualification tests for motorsports mission profiles, to assess the robustness of the design when subjected to thermal cycles, switching tests, and pressure cycles.
As wide-bandgap technologies continue to penetrate traditional and emerging power electronics applications, semiconductor companies have been developing their product offerings at an extraordinary rate. Some have already announced multiple generations of their technology. With its proven Silicon Carbide (SiC) MOSFET device performance and best-in-class customer support, ON Semiconductor is a leader in this space.
For example, ON Semiconductor recently expanded its range of wide bandgap (WBG) devices with the introduction of its 650 volt (V) Silicon Carbide MOSFETs, creating new opportunities for higher efficiency in a powerband that was previously under-serviced.
In ON Semiconductor blog you'll find the discussion about the market trends in 2021, and how OEMs will benefit from the efforts of leading semiconductor manufacturers.
On March 31st join Bodo's virtual roundtable, focused on wide bandgap technology. The goal is to keep the dialog going on, independent of any events that are hosted on fixed dates. These expert talks will build on the articles that Bodo publishes in his Bodo's Power Systems magazine, giving you the chance to ask questions to the experts out of the industry.
Next session will take place over ZOOM on March 31st. The discussion will cover GaN from 3:00 to 4:00 pm CET and SiC from 4:30 to 5:30 pm.
Register at Bodo's Power Systems website!
Find more information about power semiconductors in Marketing in Power Electronics section of the website.