Power Semiconductors Weekly Vol. 89
Infineon Technologies AG is planning to continue expanding its 300-millimeter manufacturing capacity, to enable the expected acceleration in growth of analog/mixed-signal and power semiconductors. The intended location is Dresden (Germany). Adequate public funding is required for the investment decision. With a planned total investment of €5 billion, this would be the largest single investment in Infineon's history.
Thereby, the company would strengthen its position as a global semiconductor leader in power systems. When operating at full capacity, the planned factory would have the potential to generate annual revenue equal to the level of the investment. The new factory is expected to create up to 1,000 new highly qualified jobs and according to planning could be ready to start production in autumn of 2026.
Wolfspeed, Inc. and BorgWarner Inc. announced a strategic partnership that calls for BorgWarner to invest $500 million in Wolfspeed's financing transaction in exchange for a silicon carbide device capacity corridor. Under the multi-year agreement between BorgWarner and Wolfspeed, BorgWarner will be entitled to purchase up to $650 million of devices annually as BorgWarner requirements increase. Details of the Wolfspeed financing can be found in Wolfspeed's separate press release and Form 8-K filed with the SEC. BorgWarner has also filed a Form 8-K disclosing its commitment to invest.
"Silicon carbide-based power electronics play an increasingly important role for our customers as our electric vehicle business continues to accelerate," said Frédéric Lissalde, President and CEO of BorgWarner. "We believe this agreement helps ensure that BorgWarner will have a reliable supply of high-quality silicon carbide devices, which are significant to the company's inverter growth plans. Building upon BorgWarner's world-class Viper power switches and inverter technology, we are excited about the opportunity to work jointly with Wolfspeed, the leader in silicon carbide, on the potential development of the next generation of silicon carbide products. We believe our relationship with Wolfspeed will drive innovation, accelerate the global transition to electric vehicles, and further BorgWarner's vision for a clean, energy-efficient world."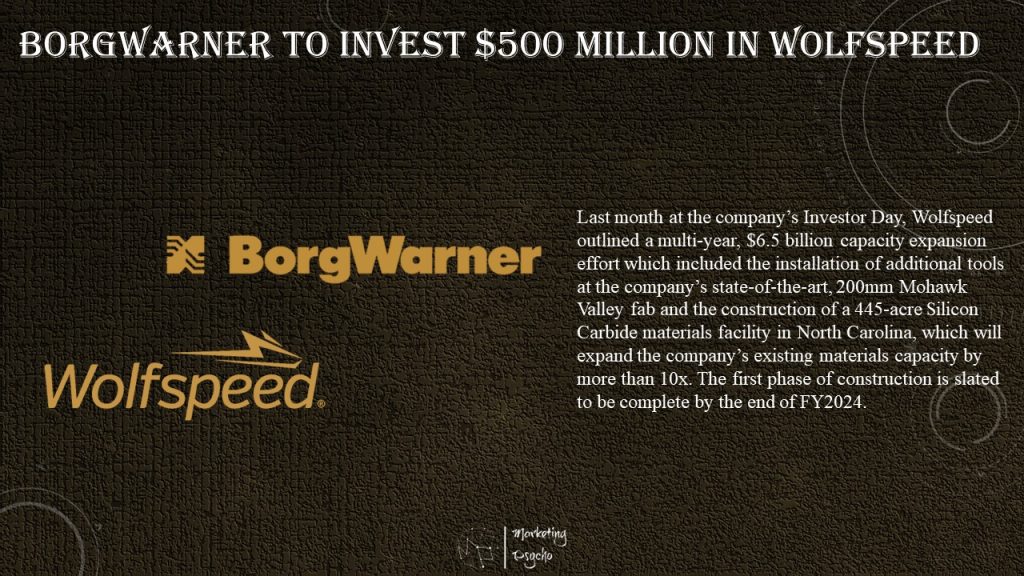 BorgWarner's Charging Forward strategy targets $4.5 billion of electric vehicle revenue for 2025, compared to less than $350 million in 2021. Based on new business awards and acquisitions announced as of the Company's third quarter earnings release, BorgWarner believes it is already on track to achieve approximately $4 billion of electric vehicle revenue by 2025.
"Today's announcement demonstrates the creative solutions two collaborative and strategic partners are pursuing to better support the growing demand for silicon carbide devices. BorgWarner has been a strong partner with Wolfspeed for many years, and we are pleased to secure the investment from them which will be used to support our capacity expansion efforts and ensure we have a steady supply of product for their customers," said Gregg Lowe, President and CEO for Wolfspeed. "This agreement, combined with our most recent announcement of a multi-billion-dollar materials expansion in North Carolina, confirms the industry transition from silicon to silicon carbide is well underway."
Last month at the company's Investor Day, Wolfspeed outlined a multi-year, $6.5 billion capacity expansion effort which included the installation of additional tools at the company's state-of-the-art, 200mm Mohawk Valley fab and the construction of a 445-acre Silicon Carbide materials facility in North Carolina, which will expand the company's existing materials capacity by more than 10x. The first phase of construction is slated to be complete by the end of FY2024.
Infineon Technologies AG and Stellantis have signed a non-binding Memorandum of Understanding as a first step towards a potential multi-year supply cooperation for silicon carbide (SiC) semiconductors. Infineon would reserve manufacturing capacity and supply CoolSiC™ "bare die" chips in the second half of the decade to the direct Tier 1 suppliers of Stellantis. The potential sourcing volume and capacity reservation have a value of significantly more than €1 billion.
"We firmly believe in electromobility and are excited to develop partnerships with leading automotive companies like Stellantis that make it a part of people's everyday life," said Peter Schiefer, Division President Automotive of Infineon. "Compared to traditional power technologies, silicon carbide increases the range, efficiency and performance of electric vehicles. With our leading CoolSiC™ technology and continuous investments in our manufacturing capacities, we are well positioned to meet the growing demand for power electronics in electromobility."
Infineon and Stellantis are in talks about delivering the CoolSiC Gen2p 1200 V and CoolSiC Gen2p 750 V chips for electric vehicles under Stellantis brands. The unmatched performance, reliability, and quality of CoolSiC technology would allow Stellantis to build vehicles with longer ranges and lower consumption for the best user experience – and support the company in its efforts to standardize, simplify and modernize platforms.
Infineon has a market-leading role as a high-quality and high-volume supplier to the automotive industry. Infineon is preparing for the accelerated demand of the industry with significant investments. In 2024, for example, Infineon's new fab for SiC technologies will start manufacturing in Kulim, Malaysia. It will complement existing manufacturing capacities in Villach, Austria, following Infineon's multi-site strategy.
Nexperia is shocked by the UK Government's decision to order the divestment of 86% of its semiconductor wafer factory in South Wales, known as Newport Wafer Fab (NWF), despite the acquisition being cleared by two previous security reviews. Nexperia does not accept the national security concerns raised. The far-reaching remedies which Nexperia offered to fully address the Government's concerns have been entirely ignored.
The UK Government chose not to enter into a meaningful dialogue with Nexperia or even visit the Newport site. More than 500 employees in Newport also raised their own significant concerns about such a divestment – the Government has chosen not to listen to them and instead taken this decision which puts the livelihoods of them and their families, as well as more than £100m of taxpayers' money, completely unnecessarily at risk. Nexperia will now challenge the order and will do everything possible to keep the factory and protect its employees in South Wales.
On 25 May 2022, Nexperia learned from public media reports that the UK Government's Secretary of State for Business, Energy and Industrial Strategy (BEIS) was exercising his statutory power to retroactively "call in" acquisition of NWF, announced in July last year.
The Secretary of State exercised this power under the new National Security and Investment Act (which became effective in January 2022), after previous reviews by BEIS and the UK's National Security Advisor, both of which found no substantive national security concerns that should give cause to block the acquisition.
Nexperia has now been notified by the Secretary of State that, despite the two previous reviews and proposals, he now requires the divestment of 86% of Nexperia Newport.
Nexperia does not accept the potential national security concerns raised. The Company proposed far-reaching remedies to BEIS's Investment Security Unit that fully address even these potential concerns. Nexperia offered, amongst others, not to conduct the compound semiconductor activities of potential concern and to provide the UK Government with direct control and participation in the management of Newport. There has been no dialogue between the Government and Nexperia on these proposals. The Government has not visited Newport, has not spoken with the over 500 employees whose jobs are now at risk, and none of the three responsible Secretaries of State have responded to Nexperia's requests for dialogue.
Responding to the decision on behalf of Nexperia, UK Country Manager, Toni Versluijs, said:
"We are genuinely shocked. The decision is wrong, and we will appeal to overturn this divestment order to protect the over 500 jobs at Newport. This decision sends a clear signal that the UK is closed for business. The UK is not Levelling Up but Levelling Down communities like South Wales.
"The decision is wrong – in many aspects. It is legally wrong – being disproportionate given the remedies Nexperia has proposed. It is wrong for the employees of Nexperia Newport– creating further uncertainty. It is wrong for the UK semiconductor industry – taking out a strong player. It is wrong for the UK economy – undermining its semiconductor industry as we brought new production to Newport. It is wrong for the UK taxpayer – who could now be faced with a bill of over £100 million for the fallout from this decision.
"We will appeal this wholly incorrect decision. We are hugely disappointed by this extraordinary U-turn, and the greater uncertainty that it creates for our employees and their families in Wales whilst also not recognizing the commitment of our 1,000 employees in Manchester. As a globally successful European-centered company, with our roots at Royal Dutch Philips and proud, 90-year track record in Britain, it is astonishing that our employees face such jeopardy and hundreds of millions of pounds of foreign direct investment are not welcome.
"We rescued an investment-starved company from collapse. We have repaid taxpayer loans, secured jobs, wages, bonuses and pensions, and agreed to spend more than £80m on equipment upgrades since early 2021. Those who sold the business to us agreed that it was the only viable solution, and the deal was publicly welcomed by the Welsh Government.
"Quite apart from the apparent concerns raised by various parties, which we have been keen to address openly, we have been shocked by the Government's process and its refusal to have a meaningful dialogue to discuss our proposals for a mutually positive solution. We made every effort to engage, to explain our business and made bold proposals for our operations in Newport and its management to nullify any potential fears about possible national security risks. We have been especially disappointed that we were denied the opportunity to discuss these with the Secretary of State himself or any of his political or Private Office team."
Nexperia will prioritize looking after the impacted employees at Nexperia Newport and reducing the negative impact on its customers.
Can we contribute to the worldwide energy challenge by maximizing the efficiency in power conversion at a low cost? The answer is: YESvGaN! The goal of the YESvGaN consortium is to create a new class of vertical power transistors based on Gallium Nitride (GaN), so-called vertical GaN membrane transistors.
These novel power devices combine the efficiency of wide-bandgap (WBG) semiconductors with the lower cost of the established silicon semiconductor technology. Within YESvGaN, the development of the required new technology all the way from wafer to application is covered.
Since the project launched on May 1, 2021, developments have been made by the project consortium, consisting of 23 European partners. Vertical device demonstrators with FinFET architectures and Schottky diodes – being important building blocks for a novel vertical membrane transistor technology – have been created successfully. Also, vertical layer stacks have been grown on silicon and sapphire with a diode breakdown voltage exceeding 500 V. This is a major step to reach the overall project goal of 1200 V blocking voltage on low-cost silicon or sapphire substrates.
As a result, the market for future high-performance applications, e.g., in the automotive industry, could be accessible for the GaN semiconductor material. For vertical GaN power transistors with ultra-low resistance contribution from the backside contact, the development of a reliable membrane process technology is crucial. YESvGaN has succeeded in producing such fragile GaN membranes with a thickness of a few micrometers and a diameter of several millimeters without breaking. Novel assembly and interconnection technologies are being tested for the final application of membrane vertical GaN power transistors under extreme conditions. This includes operating temperatures of more than 250 °C. In addition, virtual prototypes are being developed to evaluate the efficiency of GaN devices in the target applications using digital twins.
We are confident that YESvGaN will continue to achieve promising results in the next phases of the project and take a significant step towards fully vertical GaN membrane transistors. So, can we contribute with energy-efficient low-cost vertical GaN technology to the worldwide energy challenge? Our answer remains: YESvGaN!
GaN Systems unveiled its annual power semiconductor predictions for 2023. These predictions explore the overarching systemic changes underway around the global semiconductor supply chain and sustainability initiatives specific to key power-reliant industries.
We are at the inflection point for power GaN technology. Notwithstanding nearly three years of significant global economic and geopolitical headwinds, the GaN power semiconductor has established itself as a preferred product solution across multiple market segments, including data center, electric vehicle, industrial, and consumer electronics industries. It has accomplished this by uniquely solving some of the most pressing and critical power systems challenges around energy efficiency and design in these industries.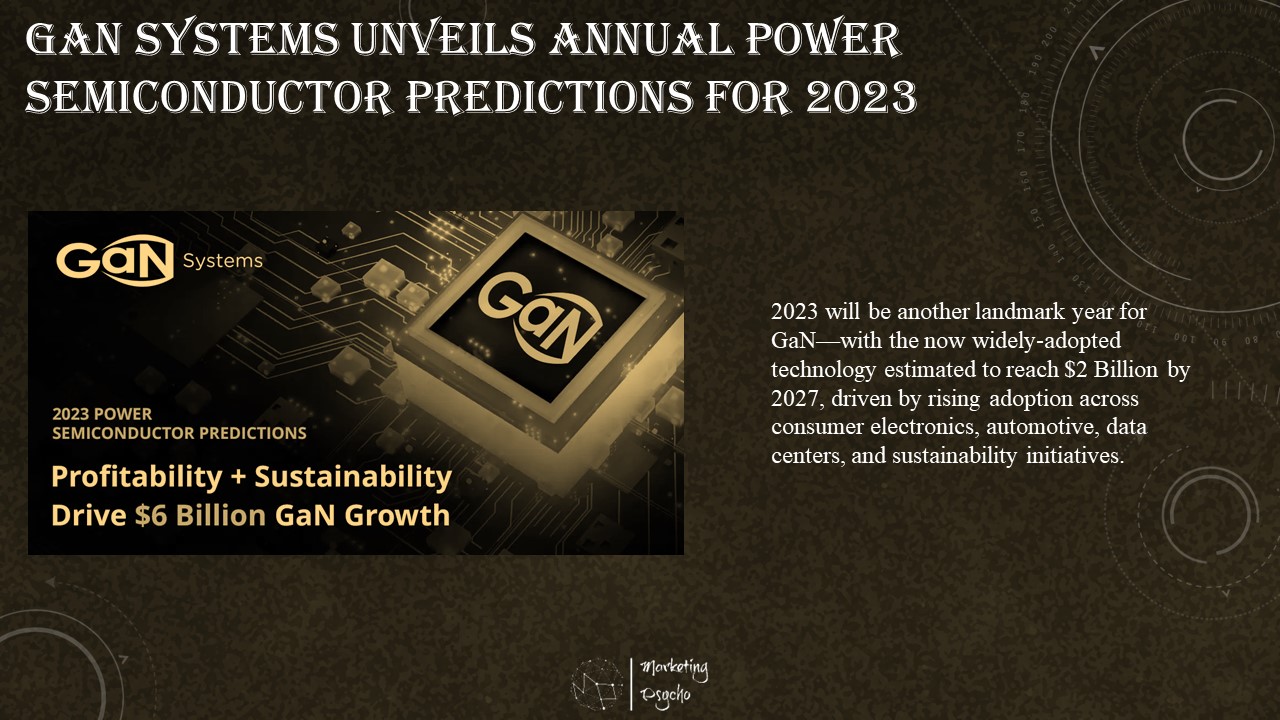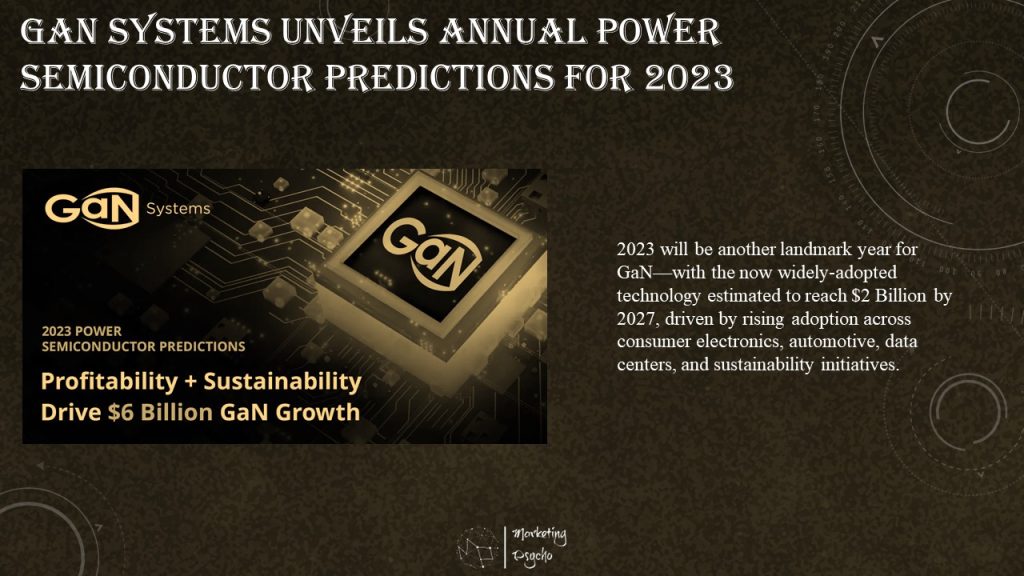 With the strong momentum of the electrification megatrend and an increasing number of products containing semiconductors, economic winners and losers will be determined mainly by those who can better manage their supply chains that not only enable the production of existing goods for businesses and consumers – yet stoke the fires of innovation for the near future.
Key Take-Aways
2023 will be another landmark year for GaN—with the now widely-adopted technology estimated to reach $2 Billion by 2027, driven by rising adoption across consumer electronics, automotive, data centers, and sustainability initiatives.
Supply Chain – The initiation of historic multi-year programs to change where and how semiconductors are fabricated and packaged.
Sustainability – Motivations for efficiency and conservation will concur with new political imperatives for energy independence. GaN isn't just a good choice for high-frequency designs. It's also good for the planet.
Data Centers – GaN makes new inroads to become the solution of choice as data centers upgrade processors to optimize their ability to address profitability and sustainability goals.
Electric Vehicles – GaN is integrated into designs for energy-efficient E.V.s and charging stations needed to meet the 2030 goals of auto manufacturers and global governments, businesses, and other organizations that influence the future of the automotive industry and road transport.
Consumer Electronics – GaN is further entrenched in the mainstream with continuing innovations and new product releases in chargers, audio, appliances, and power tools designs.
---
Subscribe to Power Semiconductors Weekly and watch it on YouTube every Tuesday.
If you prefer a monthly update about the world of power semiconductors delivered to your e-mail address, please, subscribe to Marketing Psycho Power Semiconductors newsletter.