Power Semiconductors Weekly Vol. 88
Exactly three years ago Leapers Semiconductor has joined the exciting world of power semiconductors. Thanks to the team in Wuxi, China and our R&D located in Kumagaya, Japan, during the past three years the company succeeded to introduce to the market a wide range of silicon carbide power modules for various applications like new energy vehicles, smart grid, solar and wind power generation, motor drives, medical equipment, traction, etc.
In Leapers Semiconductor everyone is passionate about power semiconductors. We look forward to the future of electrification with ambitious goals, and this is the reason why by our third birthday we achieved another great milestone.
On October 27, 2022, Leapers Semiconductor has opened our new factory in Wuxi to double the production capacity and correspond to the market challenges with the growing demand for the automotive grade silicon carbide power modules.
And to celebrate such a memorable day for the company and the industry, Leapers Semiconductor held 'The Third Generation Power Semiconductor SiC Industry Development Technology Forum'.
The Forum became a great platform for the presentations and discussions in the field of silicon carbide held by the leading companies in this area – from the material and packaging solutions to the production processes and reliability control.
All participants and guests had a chance to join the factory tour to learn more about Leapers Semiconductor's history, the timeline of power semiconductors industry and silicon carbide in particular, take a look at the company's current product line and sneak a peek at the Leapers Semiconductor's company and product roadmap.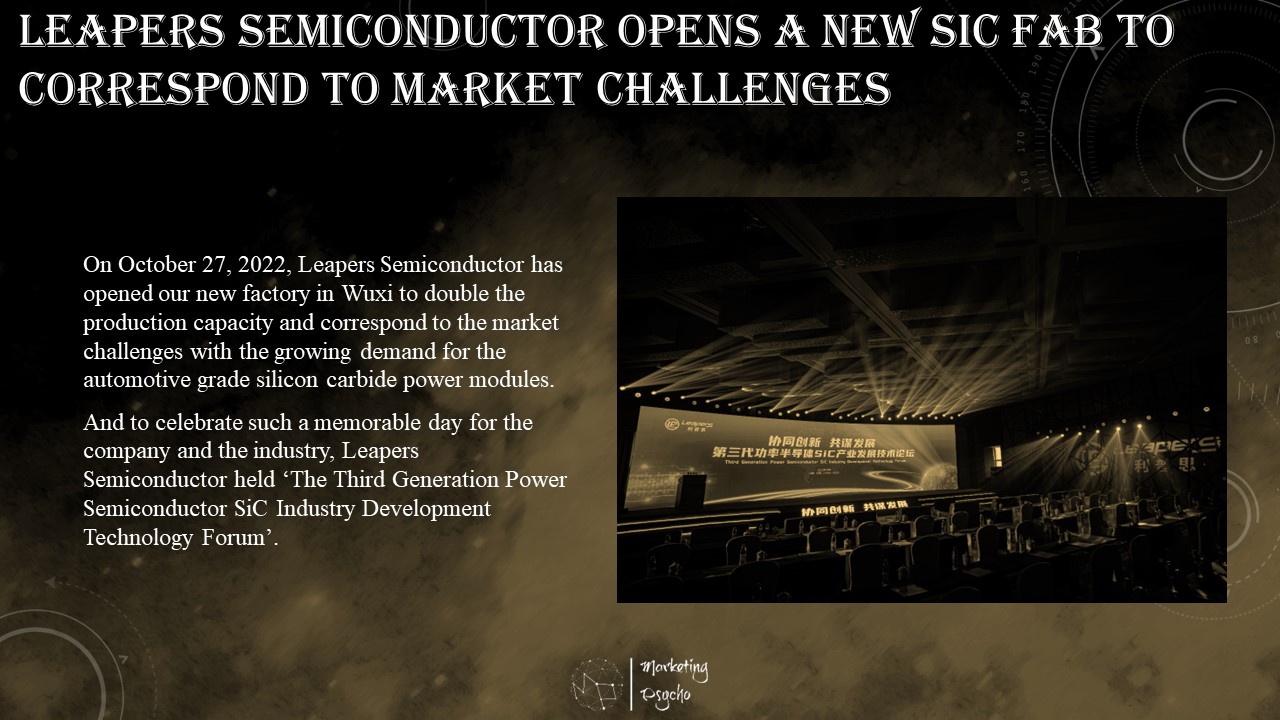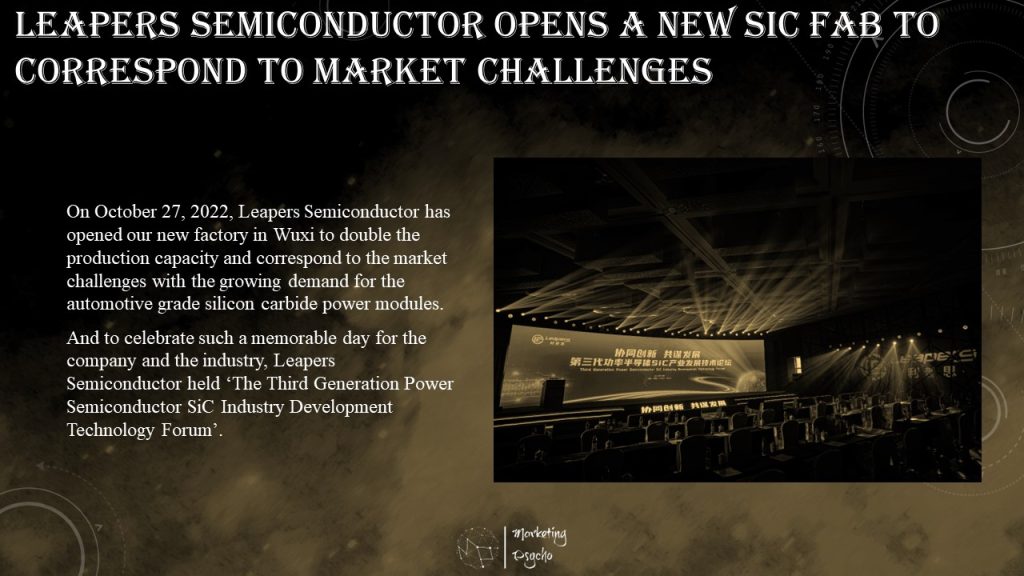 The local authorities and industry experts highlighted the high level of the SiC modules production automation they have not yet seen at any domestic company in power semiconductors industry. With the commissioning of the new factory Leapers Semiconductor is stepping forward to providing next generation silicon carbide modules to the power electronics market.
A wonderful gala dinner completed this special for the industry and Leapers Semiconductor day.
Alpha and Omega Semiconductor Limited (AOS) announced its new industry-leading 650V and 750V SiC MOSFET platform for both industrial and automotive applications. The 650V SiC MOSFETs are ideal switching solutions for industrial applications such as solar inverters, motor drives, industrial power supplies, and new energy storage systems, while the AEC-Q101 qualified 750V SiC MOSFET line is targeted for the high-reliability needs in electric vehicle (EV) systems such as the on-board charger (OBC) and the main traction inverter.
The new AOM015V75X2Q 750V αSiC MOSFET expands on the existing second-generation 1200V αSiC MOSFET and diode products with an industry-leading low RDS(ON) down to 15mΩ in a standard TO-247-4L package while maintaining a recommended +15V gate drive voltage to ensure the broadest compatibility with existing gate driver solutions. Due to the
minimized internal gate resistance and optimized cell design, AOS designed these devices to exhibit ultra-fast switching speeds that are fully controllable with an external gate resistor. This benefit is also noticeable in standard switching figures of merit (FoM) such as RON x QGD and RON x QRR that are improved compared to existing 750V SiC MOSFET solutions.
Highlighting the advantages of these new αSiC MOSFETs is the breakthrough performance increase in short circuit withstand time (SCWT) for planar SiC MOSFETs. For many applications, and especially in EV inverters, a longer SCWT can greatly improve the system's ruggedness and give developers more flexibility in design. In order to achieve an increase in SCWT, it is typically necessary to also significantly increase the die size of the product, which can impact overall system costs.
"We are very excited to follow up on our successful 1200V αSiC MOSFETs with these automotive-grade 650V and 750V products. Our industrial, renewable energy, and xEV customers will now have a complete portfolio available to select the right solution that supports their wide range of product power levels at an even higher performance and efficiency level," said David Sheridan, Vice President of SiC products at AOS.
Technical Highlights:
650V αSiC MOSFETs are qualified for industrial use
750V αSiC MOSFETs are AEC-Q101 Qualified for xEV applications and PPAP capable
RDS,ON available down to 15mΩ
Low Qrr and robust body diode
Maximum operating junction temperature to 175°C
The ambitious carbon neutrality goals set across the world push many industries to switch to green energy, or at least start their transition by using less harmful to the environment energy sources. Same ambitious goals push the automotive industry to speed up the process of adopting new technology to replace ICE vehicles with the electric ones.
Right now, car manufacturers have various approaches to vehicle electrification like mild-hybrid electric vehicles MHEV, full hybrid electric vehicles HEV, plug-in hybrid electric vehicles PHEV, battery electric vehicles BEV, and fuel-cell electric vehicle FCEV. Some companies completely stopped production of internal-combustion engines and now focus on xEV only.
Transition to a greener society is impossible without efficient power semiconductors. And for the automotive industry silicon carbide power semiconductors mean efficiency.
Leapers Semiconductor has a wide silicon carbide product range for the electric vehicles' DC-DC converters, auxiliary drives, and of course, the traction inverters, for which we offer our flagship HPD series which are among the best in class on the market.
Leapers Semiconductor announced the expansion of the automotive grade E0 series SiC power modules with a new model – DFS36FB12EYQ1.
DFS36FB12EYQ1 is a 3 phase SiC MOSFET power module with high performance automotive grade SiC MOSFET chips. This new E0 module features:
1200 V Blocking voltage
36mΩ Rds(on)@Tj =25°C
70mΩ Rds(on)@Tj =175°C
Low Switching Losses
175°C maximum junction temperature
Thermistor inside
The excellent properties of DFS36FB12EYQ1 perfectly match the requirements of the electric vehicles designed based on 800V platforms. The 800V architecture solves two major tasks of the new energy vehicles – the first one is to greatly improve the charging performance, and the second one is to improve the operating efficiency of the electric vehicle.
For 800V platform it is crucial that all other critical components like an AC compressor, DC/DC converters, OBC, etc. can withstand high voltage with high thermal resistance. 800V upgrade of any component in the platform is a big step forward for it. Silicon-based IGBTs has almost reached the limit of its material performance, and SiC power devices have undoubtedly become the best alternative.
The electric compressor is one of the essential components in the electric vehicle using 800V platform. It not only supports the thermal management of the cockpit, but also is responsible for the thermal management of the battery and drive system. It can be considered the "heart" of the vehicle's thermal management.
If a 400V AC compressor is used, a DC-DC step-down design will be required, which reduces efficiency and increases losses, and cannot engage the full potential of the 800V architecture. On the other hand, if you consider to apply an 800V AC compressor, power semiconductors have to deal with higher requirements, and IGBTs can no longer meet correspond to them.
Leapers Semiconductor launched the E0 series DFS36FB12EYQ1 SiC power module to provide the design engineers with the technology they need. Its performance indicators perfectly match the requirements of the 800V AC compressors, and can easily perform DC-AC conversion at 800V, which significantly improves the efficiency and reduces losses.
Besides automotive application, E0 series DFS36FB12EYQ1 SiC power modules can be used in various high-frequency applications, uninterruptible power supplies, motor converters, etc.
Unlike the competitors all E0 series SiC power modules produced by Leapers Semiconductor feature epoxy resin instead of silicone gel leading to 3x and higher power and thermal cycling characteristics. Now all customers can benefit from these SiC MOSFET modules to design more efficient and compact product which will not only save time and money for end customers, but deliver long time excellent performance with no additional maintenance system cost.
Among other features E0 series DFS36FB12EYQ1 can offer:
25 A max output current @Tf =145°C
Automotive-grade quality
Low thermal resistance
High insulation and voltage resistance
CTI > 400
High-speed switching
At the moment E0 series DFS36FB12EYQ1 power modules can be ordered as the engineering samples with mass production coming very soon.
NXP Semiconductors has joined the Semiconductor Climate Consortium (SCC) as a founding member. Created by the SEMI Sustainability Initiative, the consortium is the first global, industry-wide collaborative focused on addressing the semiconductor industry's response to climate change.
SCC members include companies from across the semiconductor ecosystem, all with a vision to accelerate progress on climate action, including support of the Paris Agreement and related accords. The consortium will work together to set near- and long-term goals and align on common approaches, channels and innovations that will drive sustainable growth across the value chain.
The consortium will meet for the first time at the 2022 United Nations Climate Change Conference (COP27), which takes place from November 8 to November 10 in Sharm El Sheikh, Egypt.
Joining SCC reaffirms NXP's commitment to enabling a better, safer, more secure and sustainable world through innovation.
To ensure progress and accountability to the environment, NXP has set ambitious sustainability goals dedicated to continuous improvement and tracking year–on–year progress. Goals include achieving carbon neutrality in its operations by 2035, minimizing its impact on global water supplies and developing collaborative circular economy solutions. In early 2022, NXP formally committed to the Science Based Targets initiative (SBTi).
"NXP is proud to be one of the founding members of SCC as we remain unwavering in our commitment to a more sustainable future. We are excited to unite as a global industry to continue this sustainability journey together."
For more information about the Semiconductor Climate Consortium, explore the SCC mission and vision page.
Yole Group & CITC announced a joint forum and discussion on packaging for photonic, power, and RF devices, all of which are crucial for the semiconductor ecosystem. Indeed, regional demand and a reliable supply chain necessitate close collaboration of all packaging players, i.e., from materials and equipment vendors to device manufacturers and packaging facilities.
The packaging approaches for photonic, RF, and power devices & modules are very varied and need to respond to a rapid evolution of device front-end & module advancement. For this reason, all packaging approaches are used, from traditional discrete and module packaging using wire bond interconnects to more advanced Ag sintering or Cu sintering die attach technologies to advanced packaging, comprising Flip-Chip, System-in-Package, Fan-In, Fan-out, Embedded Die, 2.5D (glass and silicon interposer) and 3D stacking. Advanced Packaging technology, including the entire ecosystem supporting it, is one of the key factors supporting semiconductor industry growth.
---
Subscribe to Power Semiconductors Weekly and watch it on YouTube every Tuesday.
If you prefer a monthly update about the world of power semiconductors delivered to your e-mail address, please, subscribe to Marketing Psycho Power Semiconductors newsletter.