Power Semiconductors Weekly Vol. 74
Toshiba Electronic Devices & Storage Corporation and Toshiba Corporation (collectively "Toshiba") have together developed the world's first 4.5kV double-gate reverse-conducting injection-enhanced gate transistor (RC-IEGT). Toshiba confirmed a total power loss, when switching on and off (switching loss), reduction of 24% compared with the conventional single-gate structure.
Power devices, components that supply and manage power, are essential to reduce power consumption in all kinds of electronic equipment and to achieve a carbon neutral society. In the global trend to decarbonization and energy saving, IEGTs are used in a wide range of applications, such as high power inverters and high-voltage DC power transmission, where they are required to have higher current and efficiency, and lower power losses and consumption. It is difficult to reduce power loss in IEGT, as there is a trade-off whereby reducing the loss when the IEGT is on (conduction loss) increases switching loss.
Toshiba developed a 4.5-kV double-gate RC-IEGT with a hole control gate (CG) separate from the main gate (MG). This approach achieves loss reduction by controlling hole extraction before turn-off and injection compared with reverse recovery in a single device. In IEGT mode, where current flows from the back side to the front side of the substrate, the CG is turned off before the MG at turn-off to reduce the holes accumulated in the substrate and reduce the turn-off loss.In diode mode, where current flows from the front side to the back side of the substrate, by turning on MG and CG at the same time just before reverse recovery, electrons accumulated in the substrate are reduced and reverse recovery loss is reduced.
By combining the newly developed double-gate RC-IEGT and gate control technologies, turn-off and turn-on losses were reduced by 24% and 18%, respectively, and reverse recovery loss was reduced by 32%, against the conventional single-gate structure. As a result, total switching loss was reduced by 24% without any increase in conduction loss in actually measured values.
Details of the achievement were reported at the IEEE International Symposium on Power Semiconductor Devices and ICs (ISPSD) 2022, an international conference held in Vancouver, Canada and online on May 22 to 25.
Toshiba will continue to develop double-gate RC-IEGT and gate control technologies, aiming for commercialization in and beyond 2025. Toshiba is committed to contributing to carbon neutrality through supporting the higher performance of power electronics equipment.
European chip maker STMicroelectronics is reported to be in talks with GlobalFoundries on building a joint wafer fab in France. The two companies want to take advantage of the subsidy opportunities afforded by the European Chips Act.
The European Commission has proposed the €43 billion European Chips Act as a mechanism to help Europe increase domestic IC manufacturing and produce 20 percent of the world's chips by 2030. ST already has a joint development deal with Tower Semiconductor at the 300mm wafer fab it is building in Agrate, Italy, but Tower is being taken over by Intel. GlobalFoundries also has a fab in Dresden, Germany.
The political awareness of the strategic significance of chip production has increased since a chip supply shortage closed or limited production at many European companies, particularly in automotive sector. Intel has been persuaded to put two wafer fabs in Magdeburg, Germany at a cost of about €17bn and is set to receive a 40 percent subsidy.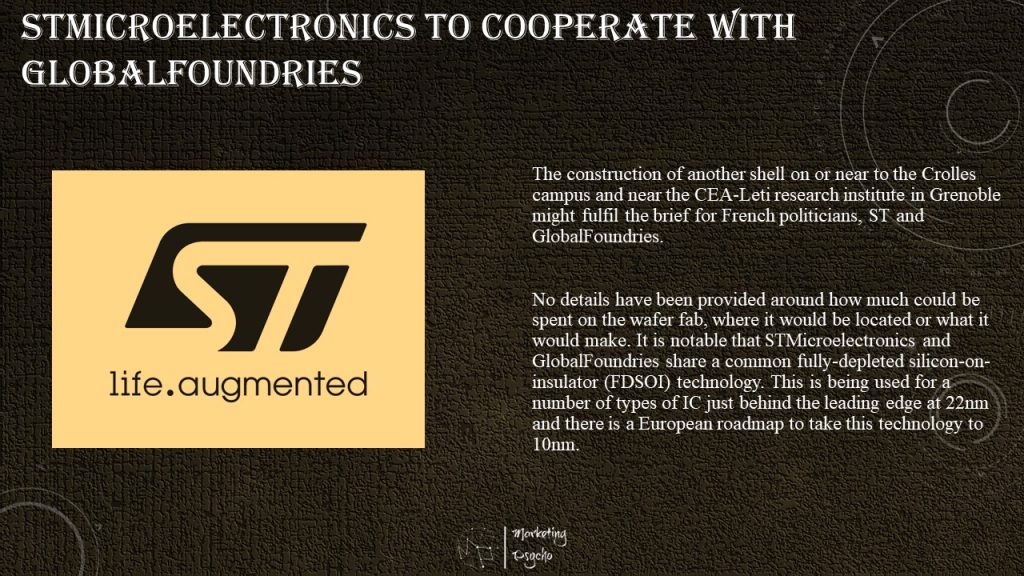 Intel's wafer fabs will manufacture advanced chips at around the 2nm node but are not due to start production until 2027. Intel is also planning to put down an R&D and chip design centre in France
France is eager to also see its chip manufacturing footprint expand and may be pushing ST to participate and help create what would be a second wafer fab under the European Chips Act initiative. ST has a major 300mm wafer fab Crolles that was developed 20 years ago under the Crolles 2 Alliance. This comprised ST, Philips (later NXP Semiconductor) and Motorola Semi (subsequently Freescale and then acquired by NXP Semiconductor).
The construction of another shell on or near to the Crolles campus and near the CEA-Leti research institute in Grenoble might fulfil the brief for French politicians, ST and GlobalFoundries.
No details have been provided around how much could be spent on the wafer fab, where it would be located or what it would make. It is notable that STMicroelectronics and GlobalFoundries share a common fully-depleted silicon-on-insulator (FDSOI) technology. This is being used for a number of types of IC just behind the leading edge at 22nm and there is a European roadmap to take this technology to 10nm.
There may be political pressure to double-down on the FDSOI technology as something that provides European differentiation.
With a vision to explain the simple application and functioning of semiconductors, Mitsubishi Electric's Semiconductors & Devices department has initiated a semiconductors and devices lab project across India.
In the first phase, the company prepared educational tools and equipment which has been supplied to two technical institutions; Manav Rachna International Institute of Research and Studies located in Faridabad and PSG College of Technology located in Coimbatore.
The educational material prepared by semiconductors & devices department includes IGBT Module, IGBT Stack, DIPIPMs, DIPIPM Evaluation PCBA with controller, IGBT Gate Drivers, UPS, etc. which have been supplied at the labs of both the colleges. Under the program, regular training sessions will also be organized by Mitsubishi Electric professional engineers for the students to impart the necessary knowledge for better understanding.
The ultimate objective of this program is to up-skill the next generation of engineers with practical working knowledge of semiconductors and open-up their imagination for the new challenges that the electric and electronic industry will bring to them. The launch activity of the lab setup at the institutions was done by Hitesh Bhardwaj, General Manager, Semiconductor & Devices division, Mitsubishi Electric India Pvt Ltd.
Toshiba Electronic Devices & Storage Corporation ("Toshiba") announced Toshiba Electronics Europe GmbH, its European sales and marketing subsidiary, extends their relationship with Farnell, a global distributor of electronic components, products and solutions who trade as Farnell in Europe, Newark in North America and element14 throughout Asia Pacific. As a result of this agreement, Farnell will stock more Toshiba products in greater quantities, increasing their support of Toshiba's customer supply chain.
The new arrangement results from a desire by both companies to reflect Toshiba's market-leading solutions for a wide range of markets / applications including automotive, industrial, Internet of Things (IoT), motion control, telecoms, networking, consumer and white goods applications. There will be an increased focus on Toshiba's strengths including power solutions and advanced motor control.
Farnell's portfolio will now expand to include more of Toshiba's most innovative devices, encompassing some 800 products by year end and increasing further to 1,000 items during 2023. The focus will be on Toshiba's optocouplers and relays, low- and high-voltage MOSFETs, discrete IGBTs, small signal diodes and transistors, voltage regulators, logic devices and motor control solutions.
Commenting on the enhanced partnership, Ian Wilson, Senior Manager – Distribution Sales – at Toshiba Electronics Europe GmbH said: "In these times of global shortage it is important to strengthen our support to meet the product availability and support needs of the engineering community who continue to design, qualify, upgrade and repair with the latest components. We are particularly pleased to see some of our more innovative products become available via Farnell."
Simon Meadmore, Vice President of Product and Supplier Management at Farnell added: "Farnell has a successful long-term relationship with Toshiba, and this is the right time to grow our range with this strong, innovative and respected brand. Our customers can now enjoy enhanced availability of Toshiba products coupled with fast access to new-to-market technologies. The new agreement strengthens the overall relationship between Toshiba, Farnell and the Avnet Group. We are committed to regularly launching new devices to enhance our existing portfolio from Toshiba."
In common with Toshiba's desire to provide excellent technical support to their engineering customer base, Farnell offers free access to multiple technical online resources, datasheets, application notes, videos, webinars and 24/5 technical support.
The growing range of Toshiba products is now supported, stocked and available for fast delivery from Farnell in EMEA, Newark in North America and element14 in APAC.
Navitas Semiconductor, the industry-leader in gallium nitride (GaN) power ICs, has announced its participation in the third 'GaN Marathon' Workshop taking place in Venice, Italy from June 20th – 22nd.
GaN is a next-generation power semiconductor technology running 20 times faster than traditional silicon. Compared with traditional silicon chargers, gallium nitride chargers can achieve 3x the power or 3x faster charging with up to 40% energy savings in just half the size and weight of legacy silicon solutions. GaNFast™ ICs integrate GaN power with drive, control, protection and sensing to enable faster charging, higher power density and greater energy savings for mobile, consumer, enterprise, eMobility and new-energy markets.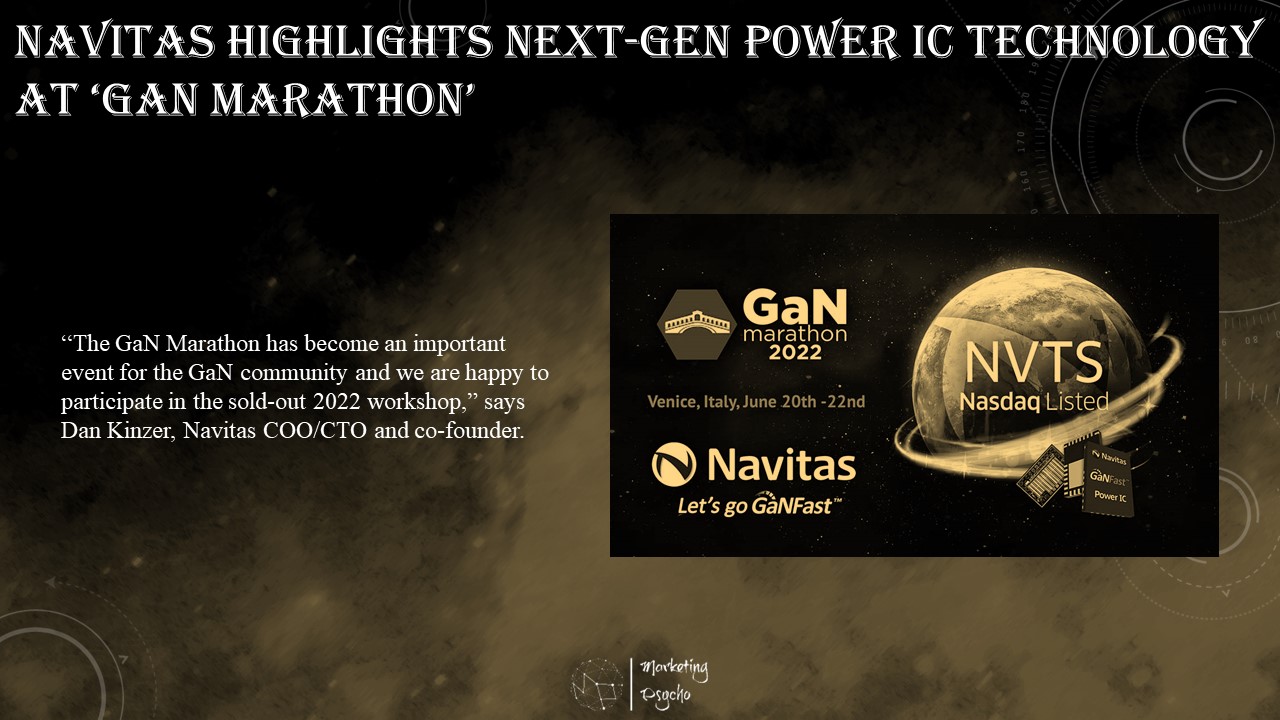 Founded at the prestigious, 800-year-old University of Padova, the 'GaN Marathon' is a dynamic forum covering the latest developments in the GaN community, with over 60 speakers, informal talks and networking opportunities. Navitas' Matteo Uccelli will present a technical paper entitled "Evolution in GaN Power IC Integration: Loss-less Sensing and Autonomous Protection", which introduces the latest developments in GaNFast ICs with GaNSense™ technology, and leading-edge applications.
"The GaN Marathon has become an important event for the GaN community and we are happy to participate in the sold-out 2022 workshop," says Dan Kinzer, Navitas COO/CTO and co-founder.
Matteo Uccelli's paper will be presented on June 21st, at 8:50am, session reference RPG1_3. Additional conference details can be found at: https://ganmarathon.com/
This Wolfspeed webinar will explore power conversion system topologies and circuit designs for high-end residential and commercial heat pump and air conditioner systems. You will learn how to replace traditional silicon power components with Wolfspeed Silicon Carbide power components, and how they can improve system efficiency and system thermal management. Silicon Carbide power components also help reduce the overall system size, weight, performance, and cost.
Key Take-Aways:
Heat pump and A/C power system architectures and circuit design techniques
Details of power factor correction circuit options and trade-offs
A brief comparison to Gallium nitride (GaN) application
Date: June 28, 2022
Time: 6 PM CEST
Duration: 30 min
---
Subscribe to Power Semiconductors Weekly and watch it on YouTube every Tuesday.
If you prefer a monthly update about the world of power semiconductors delivered to your e-mail address, please, subscribe to Marketing Psycho Power Semiconductors newsletter.