Power Semiconductors Weekly Vol. 73
Global carbon neutrality trend pushes our modern society to live a more sustainable life, rely on new energy sources, and comply with many requirements. Every step we make in this direction takes us closer to the greener future.
Many industries across the world help us achieve the goals we set. And major effort is coming from power electronics industry. Power electronics engineers work on the latest projects in energy storage systems, solar inverter systems, uninterruptible power supplies, etc., to deliver best performance required by consumers with less resources and materials involved in development and production.
Power semiconductors industry has always been the major drive force for power electronics. And with introduction of silicon carbide (SiC) as the successor of silicon (Si) it became possible for engineers to provide more compact, power efficient, highly reliable solutions using the new generation power modules.
A good example of such power modules is E0 series which was introduced not long ago by Leapers Semiconductor Co., Ltd. (Leapers Semiconductor). And now Leapers Semiconductor expands the E series family with new press fit SiC MOSFET power modules in a compact E2 design.
Similar to E0 series, to produce extremely reliable E2 series SiC MOSFET power modules Leapers Semiconductor uses best in class Si3N4 AMB substrates that combine great mechanical robustness with excellent heat dissipation properties featuring very high-power densities. Besides, E2 series modules contain epoxy resin.
This combination leads to 3x and higher power and thermal cycling characteristics.
All E2 series SiC modules provide best in class low switching losses. Among other features of E2 modules are:
Automotive-grade quality
Low thermal resistance
High insulation and voltage resistance
CTI > 400
High-speed switching
Leapers Semiconductor innovative approach to product development results in high performance products. E2 series is no exception. Now all customers can benefit from these SiC MOSFET modules to design more efficient and compact product which will not only save time and money for end customers, but deliver long time excellent performance with no additional maintenance system cost.
Leading semiconductor test equipment supplier Advantest Corporation has announced that it has entered into an agreement to acquire Italy-based CREA – Collaudi Elettronici Automatizzati S.r.l. ("CREA").
CREA is a major supplier of power semiconductor test equipment. Its products are used to test all kinds of power devices, and are utilized by global semiconductor companies around the world.
The global response to climate change has stimulated demand for electric vehicles and energy-efficient data centers, boosting demand for power ICs, which are needed to efficiently supply electricity for these and other applications. Manufacturers are accelerating the development of next-generation silicon carbide (SiC) and gallium nitride (GaN) power devices, which have superior power characteristics, while power semiconductors are also increasingly being integrated into other devices. The power device market is expected to grow significantly in the future.
CREA has many years of extensive experience in the development and production of test equipment for power semiconductors, including the latest SiC / GaN semiconductors. This acquisition will enable Advantest to provide broader test and measurement solutions to a wider range of customers in high-growth sectors.
Advantest President and CEO Yoshiaki Yoshida commented, "The acquisition of CREA will expand our test and measurement solutions within the evolving semiconductor value chain to meet a wider range of customer needs. By integrating CREA's product lineup, development capabilities, excellent customer base, and world-class R&D team into the Advantest Group, we can enrich our portfolio of power semiconductor test solutions. I am also confident that as the power device market is expected to grow in the future, this acquisition will contribute directly to our and our customers' efforts to help achieve Net Zero."
CREA, headquartered in Ciriè close to Torino, Italy, will become a wholly-owned subsidiary of Advantest Europe GmbH, the Company's European subsidiary. The closing of the transaction is tied to regulatory approvals.
The financial advisor on this acquisition was Houlihan Lokey Corporation, and the legal advisors were Nagashima Ohno & Tsunematsu and Pedersoli Studio Legale.
STMicroelectronics has officially opened its new clean room – dedicated to silicon carbide products – at its location in Bouskoura, Morocco.
The company says that it has invested a total of USD 240 million between 2020 and 2022 – double the previous four-year cycle – to support a major capacity increase for the growth of the electric vehicle (EV) and industrial markets.
The clean room recently underwent a major expansion to increase the size by a third, from 22,500 square metres to 30,000 square metres, to install more than 150 new manufacturing machines for new semiconductor power packages. Since July 2021, ST has created 700 jobs at the site – and the company looking to continue with significant recruitments in 2022.
The investment in larger production capacity has principally been made to support customers with the uptake in demand for EVs. ST Bouskoura is one of ST's principal sites for the assembly and testing of the company's STPOWER Silicon Carbide products, which are used in EVs where they are embedded in the main traction inverter and the on-board charger, as well as in charging infrastructure.
"The investments made to increase production capacity and improve the facilities, as well as the significant ongoing recruitment, underline the importance of ST Bouskoura's development for ST's future growth and global leadership in products dedicated to vehicle electrification and the digital transformation of industrial companies," says Mr. Fabio Gualandris, ST EVP Head of Back-End Manufacturing & Technology, in a press release.
ST site in Bouskoura currently employs 3,300 people, 40% of whom are technicians and engineers, manufacturing products in a variety of semiconductor packages for customers in the automotive and industrial markets, as well as sophisticated integrated circuits, such as secure microcontrollers for smart card.
Yole Développement (Yole) and System Plus Consulting announced the creation of Yole Group and its entities, Yole Intelligence and Yole SystemPlus.
For more than a year, both partners have been considering a common and unique evolution of the two companies. This stems from the development of the semiconductor industry and its growth, questions and requests from manufacturers and other leading players, and the need to clarify what each company offers.
Today the project becomes a reality with:
The creation of Yole Intelligence, which encompasses the expertise of Yole Développement, with a strong focus on market and technology trends.
The new name of System Plus Consulting: Yole SystemPlus, which dives deeply into the technology with valuable teardowns, and reverse engineering and costing analyses.
And the introduction of Yole Group, with a new visual identity combining Yole Intelligence and Yole SystemPlus.
This evolution illustrates a shared commitment to growing by comprising multidisciplinary experts and developing business with the sole aim of responding to requests from the industry.
The clearly identified distribution of product and consulting services offered by Yole Intelligence and Yole SystemPlus will be presented on a new and dynamic internet platform, www.yolegroup.com, that will enable easy navigation and quick access to information and products.
In addition to the company's description, product information, and library, Yole Group's website covers the latest news from the semiconductor industry as well as interviews with leading companies and unique editorial content created by Yole Group's analysts. These noteworthy stories will be part of a new dynamic section, Industry Insight (formerly i-Micronews).
Yole Group will undoubtedly continue to develop by applying its strategy of both organic and inorganic growth, which has proven successful so far.
Along with its consolidation, the Yole Group is expanding with the creation of two subsidiaries, in mainland China and the United Kingdom, as well as becoming a major shareholder of Piséo, the center of innovation and industrial expertise in the analysis of electro-optical performance and the integration of photonics technologies.
Power electronics involves a whole range of critical applications, from electrification to smart grids. It is a fundamental pillar for the entire industry to meet climate change demands and it involves increasing energy efficiency, reducing our carbon footprint through new materials, and adopting new circuit topologies.
This year's PowerUP virtual conference and exhibition will focus on the following topics:
Wide Bandgap: Devices, Applications, System Solutions
Renewable Energies & Smart Grid
Low Power: Energy Harvesting, Wireless Power Transfer, Supercapacitors
The PowerUP Expo 2022 takes place from June 28-30. It works in the same way as a live exhibition and conference with fair grounds, an exhibition hall, and a conference area. The technical conference will feature several topic-specific sessions of keynotes, panel discussions, technical presentations, and tutorials about major technical trends, market requirements, and new application areas.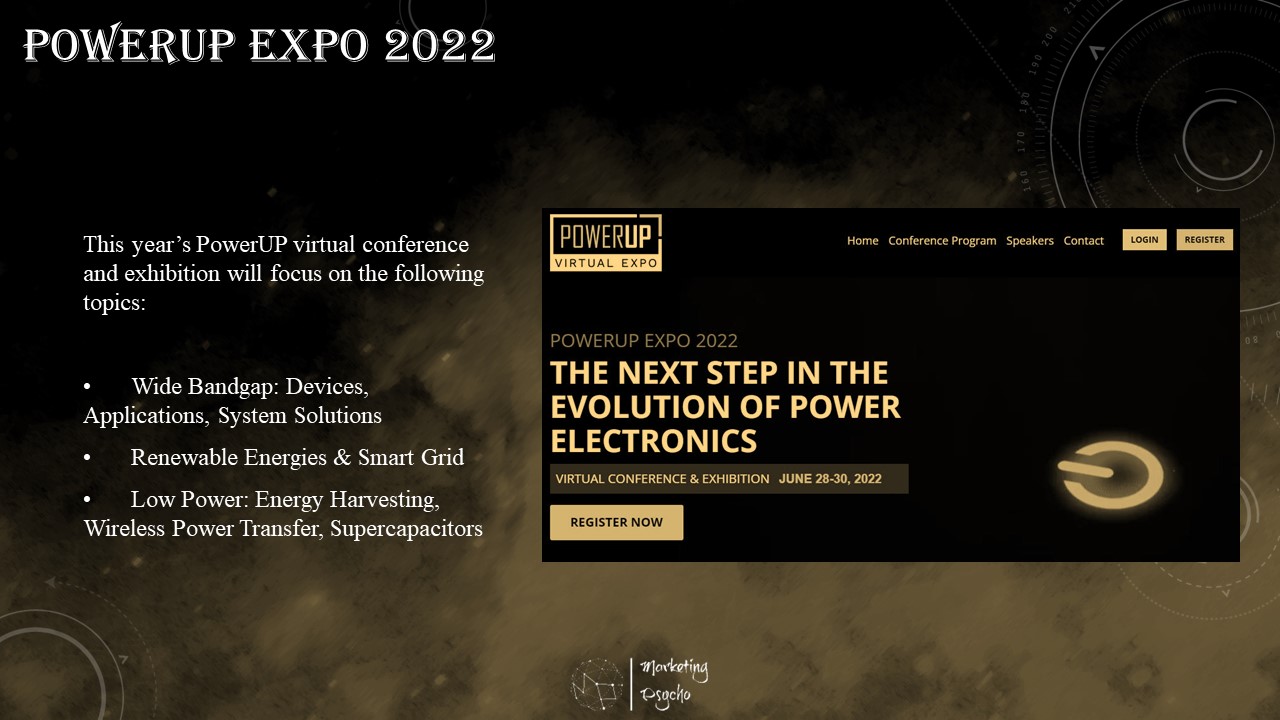 In addition to the conference there will be an exhibition hall, featuring virtual booths from leading power electronics companies, as well as a chat tool enabling visitors to directly connect with each other, with the hosts, and with the exhibiting companies.
The SEMITRANS 20 offers high power and reliability in a scalable package design, perfect for high power motor drives and renewable energy converters. Its low inductance design offers simple paralleling and system integration while the industry standard design enables a multiple-sourcing strategy.
During this SEMIKRON webinar, learn why the SEMITRANS 20 is the perfect match for high power motor drives, wind, solar and energy storage converters.
Key Take-Aways:
What are the benefits of the SEMITRANS 20 power module?
How does the SEMITRANS 20 achieve high reliability?
How can the SEMITRANS 20 be integrated into a 3-level converter?
Date: June 28, 2022
Time: 4 PM CEST
Duration: 1 hour
---
Subscribe to Power Semiconductors Weekly and watch it on YouTube every Tuesday.
If you prefer a monthly update about the world of power semiconductors delivered to your e-mail address, please, subscribe to Marketing Psycho Power Semiconductors newsletter.