Power Semiconductors Weekly Vol. 7
Toshiba has launched MG800FXF2YMS3 silicon carbide (SiC) MOSFET module integrating newly developed dual channel SiC MOSFET chips with ratings of 3300V and 800A, for industrial applications. Volume production will start in May 2021.
To achieve a channel temperature of 175°C, the new product adopts an iXPLV (intelligent fleXible Package Low Voltage) package with silver sintering internal bonding technology and high mounting-compatibility. The new SiC MOSFET module meets the needs for high-efficiency, compact equipment for industrial applications such as converters and inverters for railway vehicles, and renewable energy power generation systems.
Applications of MG800FXF2YMS3 SiC MOSFET:
Inverters and converters for railway vehicles
Renewable energy power generation systems
Industrial motor control equipment
Nexperia, the expert in essential semiconductors, has confirmed that it will be making significant additional global investments in manufacturing capacity and research and development during 2021. The new investments are in line with a growth strategy that last year saw Wingtech Technology, Nexperia's parent company, commit RMB12 billion ($1.85 billion) to building a new 300mm (12-inch) power semiconductor wafer fab in Lingang, Shanghai. This factory, which will go live in 2022, will have an estimated annual output of 400,000 wafers.
Nexperia's plans for this year include improving production efficiency and implementing new 200mm technologies at its European wafer fabs in Hamburg in Germany and Manchester in the UK. In Hamburg there will also be additional investment in new technology for wide bandgap semiconductor manufacturing.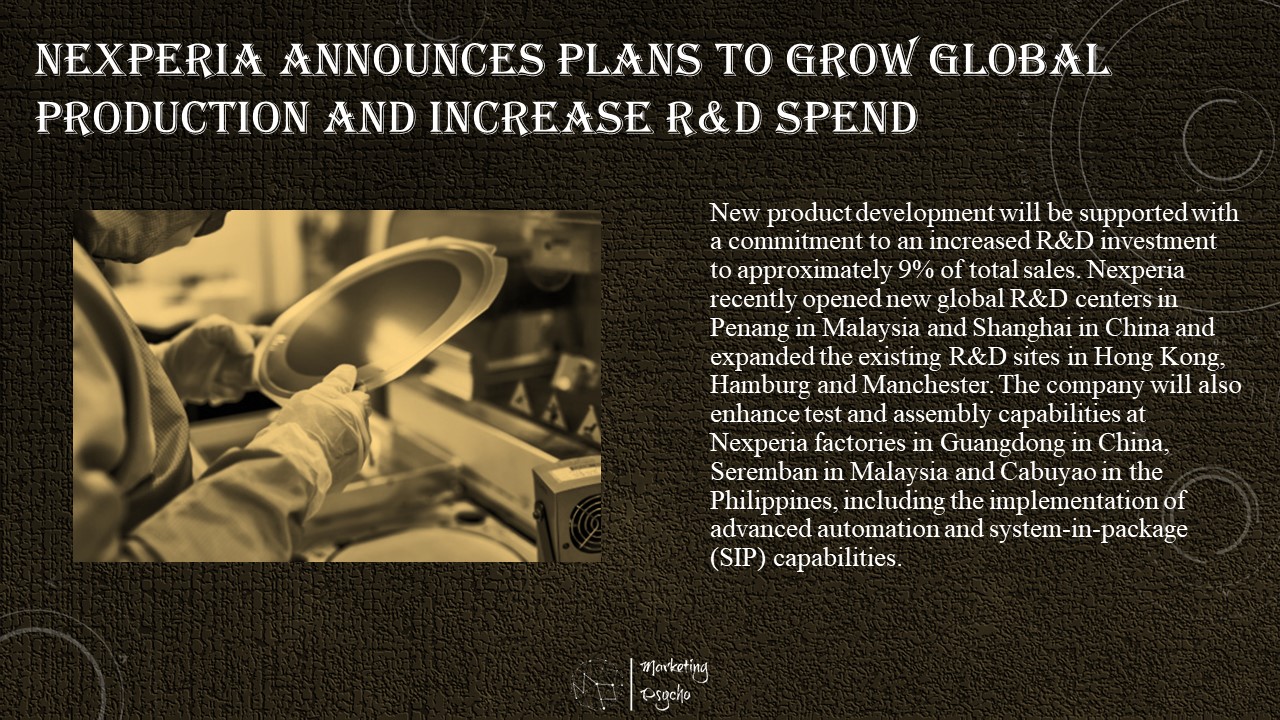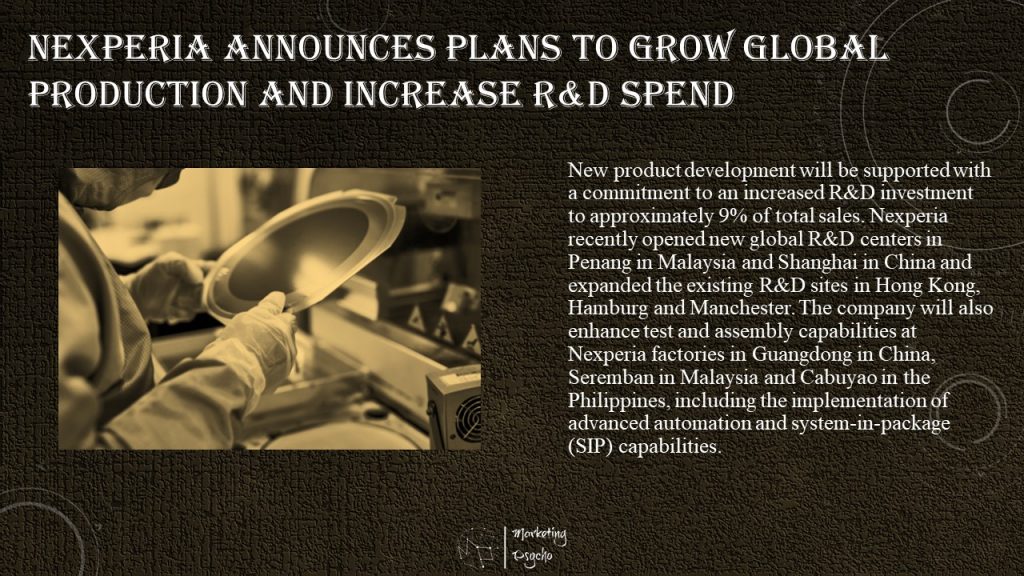 New product development will be supported with a commitment to an increased R&D investment to approximately 9% of total sales. Nexperia recently opened new global R&D centers in Penang in Malaysia and Shanghai in China and expanded the existing R&D sites in Hong Kong, Hamburg and Manchester. The company will also enhance test and assembly capabilities at Nexperia factories in Guangdong in China, Seremban in Malaysia and Cabuyao in the Philippines, including the implementation of advanced automation and system-in-package (SIP) capabilities.
ON Semiconductor, a chipmaker scrambling to meet the high demand for automotive components, expects to relieve a bottleneck in auto chip production by the second half of the year at the latest.
In an interview with CNBC's Jim Cramer, ON Semiconductor CEO Hassane El-Khoury said the company is experiencing a rush in orders for its products amid an industrywide shortage in chips.
The shortage, which began when demand for electronic products such as computers surged during the pandemic, has forced carmakers including General Motors and Ford to cut back on manufacturing some vehicles.
"The orders came on so strong that we're not able to keep up, but we do have the capacity," El-Khoury said in an appearance on "Mad Money." "For our chips, we are able to support the capacity. We started the new demand, and we're going to be through this in one or two quarters."
Subsidiary, Denso Malaysia said the expansion had been approved by the Malaysian Investment Development Authority (Mida) and construction work at its site in Selangor was now scheduled to start in April.
Denso, with Toyota Motor Corporation as its largest shareholder, already produces engine and airbag control units in Malaysia, along with air conditioning systems, radiators and electric power steering systems among other parts.
Denso Malaysia confirmed it would invest in production of ASIC named exposed package automotive semiconductors which are said to offer greater functionality, high heat dissipation, high miniaturisation potential and cost reduction.
The company also said it would invest in fully automated production lines with in-house designed manufacturing equipment including unique processing techniques with emphasis on efficiency and high quality. The semiconductors would be shipped to customers worldwide.
The investment comes as the global auto industry faces an unprecedented shortage of semiconductors after key global suppliers last year switched production to meet rising demand for consumer electronics during the global COVID-19 pandemic.
German chipmaker Infineon said it was expanding its production capacity to help address global supply shortages, and would be able to meet the needs of its customers in the long term.
CEO Reinhard Ploss said Infineon's new plant in Villach, Austria, due to open in late summer, would be capable of producing enough power semiconductors each year to equip the drive trains of 25 million electric vehicles.
A semiconductor supply crunch has forced carmakers like Volkswagen, Ford and General Motors to idle production after the chip market was swept clean by demand for higher-margin consumer electronics. Analysts say that supply of automotive products like microcontrollers will remain tight until mid-year as chipmakers adjust to demand that has snapped back since the outbreak of the coronavirus pandemic last spring.
President Biden will sign an executive order to assess supply chain vulnerabilities in four areas including critical minerals and electric vehicle batteries.
The order comes as the automotive industry is being rocked by a shortage of semiconductor chips and nearly a year after a lack of personal protective equipment necessary to reduce transmission of COVID-19 exposed weaknesses in the United States' supply chains.
The White House said in a fact sheet that the order is a means to address climate change and kick-start the economy.
"By identifying supply chain risks, we can meet the President's commitment to accelerate U.S. leadership of clean energy technologies," the White House said.
The order directs federal agencies to conduct 100-day supply chain reviews of pharmaceuticals, semiconductors, electric vehicle batteries and critical minerals, including rare earths.
The White House notes that the United States is a leading exporter of EVs but trails other countries in supplying raw materials and manufacturing batteries.
In a Powerex Board Approved action dated January 1, 2021, Joe Wolf has been appointed as President and Chief Executive Officer. He will succeed the outgoing CEO, John Hall, who has retired. Joe has been serving as a Vice President and the company's Chief Financial Officer since 2016.
Joe joined Powerex as a Sr. Financial Analyst in 2008. He steadily progressed in leadership roles during his tenure at the company rising from Controller to Director of Finance to CFO and now CEO. He is the right executive to lead the company during the challenging post-COVID-19 recovery and is pro-actively pursuing numerous opportunities to solidify Powerex as a premier supplier and trusted industry partner. He is equally committed to personal and professional growth of the highly dedicated Powerex Team members.
In a related move, Ron Yurko has been promoted from company Vice-President to Chief Operating Officer (COO). Ron joined Powerex in 2007 as an Engineering Manager. Ron was promoted to running the R&T Business Unit in 2010. In subsequent years he has taken on more responsibility in Sales and in helping forge company strategy. His strong Engineering and Manufacturing background, his Sales abilities, and his reputation with Powerex customers make him an ideal choice for COO.
To fully understand the characteristics of SiC and why the 'young contender' to silicon has developed into a market worth over $600 million in 2020, the webcast brings together valuable speakers from one of the most significant companies in SiC, Wolfspeed as well as, System Plus Consulting and Yole Développement (Yole).
The online event will take place in three parts:
Dieter Liesabeth, Director Strategic Business Development Automotive at Wolfspeed will elaborate on the company's expertise on SiC substrate and design wins.
Amine Allouche, Technology and Cost Analyst at System Plus Consulting will present the SiC device manufacturing challenges and will dive into technology choices of the main SiC manufacturers, examining the technology and cost.
Ezgi Dogmus, PhD, Team Lead Analyst in Compound Semiconductor & Emerging Substrates in the Power & Wireless Division at Yole will analyze the market beginnings of SiC and how it has evolved to address the mature and less expensive silicon market. She will also share her expertise on the automotive market for SiC.
The webcast examines the evolution of SiC as a challenger to silicon and looks at how this technology has matured to the stage where it figures in announcements by major automotive manufacturers around the world. This informative webcast charts its evolution from niche to mainstream and analyses the potential for continued growth.
Do not miss this powerful webcast on March 4, 2021, to get latest updates on Power SiC!
Find more information about power semiconductors in Marketing in Power Electronics section of the website.