Power Semiconductors Weekly Vol. 67
SanRex announced that the GSA series of SOT-227 packaged IGBT modules will be available from April 2022. By offering two types, a low Vce(sat) type and a high-speed switching type, SanRex will meet a wide range of customer requirements. The SOT-227 package contributes to the overall miniaturization of on-board equipment.
Main Features:
Compact and reliable SOT-227 standard package
Can be directly attached to the heat sink
Isolation voltage 2500V
RoHS compliant
GSA100AA60
Pursuing low loss in the low switching frequency range
Achieves low Vce(sat) thanks to original IGBT chip(Tj=125℃, Vce(sat)1.21V Typ.))
Main Applications:
AC / DC TIG Welding Equipment
Bypass AC Switch (such as UPS)
Forward-Reverse pulse power
GSA75AA120
Excellent high-speed performance(40~70kHz)
Uses IGBT specialized for high-speed performance and high-speed diodes optimally designed to match the IGBT
Main Applications:
Welding/Cutting Equipment
Induction Heating Supply
Switching Mode Power Supply
Uninterruptible Power Supply (UPS)
Our energy future is being shaped by the climate change and rising demand for energy. This is the challenge we all face and need to act accordingly. This is why our society places a huge bet on renewable energy sources, especially on solar and wind power generation.
In 2021 solar and wind farms generated about 10% of global electricity. And this number will continue to grow as many businesses globally target to become more sustainable over time. Besides, companies involved in power generation and transmission continue to work on more efficient products to deliver better performance and cut energy losses.
Through its technological innovations for renewable energy applications Leapers Semiconductor Co., Ltd. (Leapers Semiconductor) aims to move humanity forward to the better and greener future. That is why Leapers Semiconductor introduced to the market its latest ED3 series SiC MOSFET power modules.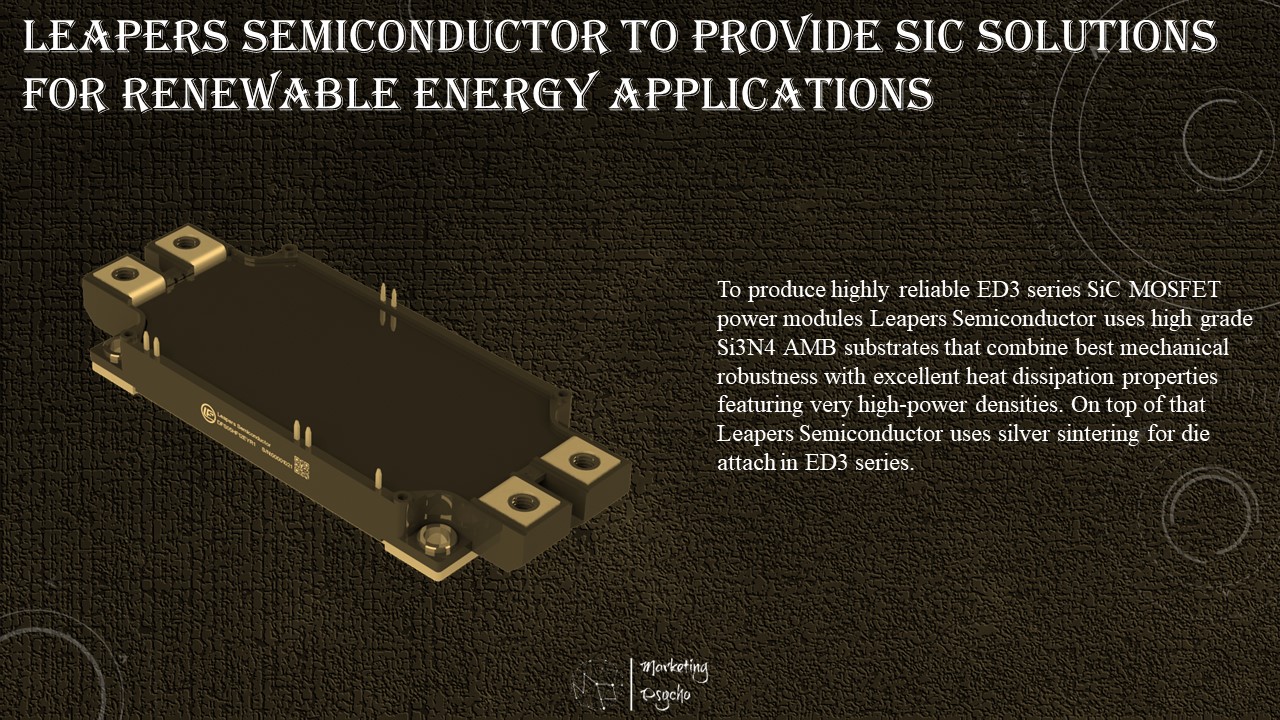 ED3 series are high performance SiC MOSFET power modules in a well-known low inductance footprint designed specifically for solar and wind power applications.
To produce highly reliable ED3 series SiC MOSFET power modules Leapers Semiconductor uses high grade Si3N4 AMB substrates that combine best mechanical robustness with excellent heat dissipation properties featuring very high-power densities. On top of that Leapers Semiconductor uses silver sintering for die attach in ED3 series.
ED3 series provide low energy loss characteristics meaning that the engineers can now design converters and inverters with much higher efficiency and reduced size.
Global semiconductor supplier ROHM, together with Delta Electronics, a world-class power supply manufacturer, have entered into a strategic partnership to develop and mass produce next-generation GaN (gallium nitride) power devices.
Combining Delta's power supply device development technology cultivated over many years with ROHM's market-proven power development and manufacturing expertise will make it possible to develop 600V breakdown voltage GaN power devices optimized for a wide range of power supply systems.
ROHM has already established a mass production system for 150V GaN HEMTs featuring a breakthrough 8V gate withstand voltage in March 2022. This will allow ROHM to expand its new lineup of EcoGaNTM for power circuits in IoT communication and industrial equipment (i.e. base stations, data centers) while further improving device performance.
Kazuhide Ino, Managing Executive Officer, CSO, ROHM Co., Ltd.
ROHM is extremely pleased to enter into a strategic partnership for GaN power devices with Delta, a global leader in power and thermal management. As power semiconductors – a key area of focus for ROHM – play an increasingly important role in achieving a decarbonized society, ROHM will continue to develop advanced devices in a range of fields utilizing Si, SiC, and GaN, along with solutions that combine peripheral components such as control ICs that maximize their performance. Through this partnership, ROHM will mass produce GaN power devices that can contribute to the configuration of more efficient power supply systems as well as develop GaN IPMs that integrate analog ICs (one of ROHM's strengths) at an early stage, further expanding our lineup of easy-to-use products.
Mark Ko, Vice Chairman, Delta Electronics, Inc.
The development of GaN power devices is of significant interest to the global electronics industry. We have been working with ROHM for many years, and are very pleased that this year's technical exchange will finally produce results, which is a milestone for both companies and one that will bring us closer together. In addition to this GaN collaboration, Delta is looking to further strengthen its product lineup as a key business strategy, with high expectations for product development utilizing ROHM's strengths in analog (Nano) and other technologies. We believe that strengthening our collaboration with ROHM will allow us to provide a wide range of solutions that meet the needs of the global power supply market.
Improving the efficiency of motors and power supplies, which are said to account for the most of the world's electricity consumption, has become a significant hurdle to achieving a decarbonized society. As power devices hold the key to improving efficiency, the adoption of new materials such as SiC and GaN is expected to further increase the efficiency of power supplies. ROHM and Delta have been engaged in technological exchanges and building a cooperative relationship in the development of various applications for many years, and through this partnership both companies will develop and mass produce the industry's most advanced GaN power devices that maximize GaN performance to accelerate power technology innovation and contribute to achieving a sustainable society.
SK Inc., the strategic investment holding company of South Korea's SK Group, announced that it has acquired a majority stake in Yes Power Technix, Korea's sole SiC power semiconductor design and manufacturing company. Under the terms of the transaction, SK Inc. will invest a total of 120 billion won to acquire a 95.8 percent stake in Yes Power Technix.
In 2021, SK Inc. became the second-largest shareholder in Yes Power Technix after it acquired a 33.6 percent stake in the company for 26.8 billion won. Since its initial investment, SK Inc. has been working to bolster Yes Power Technix's competitiveness in the SiC power semiconductor business through product development, process upgrades, and customer acquisition.
SK Inc. now plans to promote Yes Power Technix as a leading global SiC power semiconductor company by further strengthening its manufacturing and technological competitiveness, enhancing R&D capacity, and extending its portfolio in high value-value added products.
"We are excited to further expand our SiC business with speed and scale," said Kim Yang-taek, executive vice president of SK Inc.'s Advanced Materials Investment Center. "The acquisition is a step forward in strengthening our investment in key technologies concerning electric vehicles. Through rapid production ramp-up, we expect the acquisition to support our ambitious plan to become a global leader in advanced materials."
Power semiconductors are essential semiconductors in electric vehicles, electronic products, and 5G communication networks, as they can control the direction of electrical current and power conversion. The SiC power semiconductors are emerging as the next-generation power semiconductors, rapidly replacing silicon (Si) semiconductors. SiC semiconductors are able to withstand about 10 times the voltage and have high operating temperature compared to silicon (Si) power semiconductors. Furthermore, SiC power semiconductors have one tenth of the thickness of Si semiconductors. With the increasing demand for superfast EV charger, SiC power semiconductors are expected to emerge as the next-generation game changer with adoption rate forecasted to exceed 60 percent by 2025.
In particular, SiC power semiconductors are poised to become a key component of electric vehicles, as they can increase energy efficiency by 7 percent. In 2018, Tesla Inc. of the U.S. first introduced SiC power semiconductors in its Model 3. Since then, SiC power semiconductors are deployed in over 30 percent of all electric vehicles. Yole Development, a global market research company, estimates the global SiC power semiconductor market to reach US$4.9 billion in 2026 and continues to raise its market forecast due to the soaring demand from the growing number of electric vehicles.
Through the acquisition of Yes Power Technix, SK Inc., which also has a SiC wafer manufacturing subsidiary SK Siltron, will secure the key parts of SiC power semiconductor value chain that includes wafer fabrication, design, and manufacturing. Currently, the global SiC power semiconductor market is dominated by a small number of companies such as in Germany, the U.S. and Japan. With the worldwide shortage of SiC wafer supply, Yes Power Technix is expected to generate various synergy, with a steady supply of SiC wafer through SK Siltron. SK Inc. is also working towards securing U.S.-based SiC power semiconductor customers through a close collaboration with the U.S. body of SK Siltron.
SK Inc. is planning to establish a global mass-production system of SiC power semiconductors while also expanding its line to high value-added products such as Gallium nitride semiconductor (GaNon SiC) through partnerships with global companies. Seen as the new material for power semiconductors, GaN on SiC is used for 5G, satellite communication and radar equipment.
Toyoda Gosei Co., Ltd., has been selected as one of partners for the Japanese Ministry of the Environment (MoE)'s "FY2022 Project for Acceleration of Social Implementation and Dissemination of Components (GaN) and Materials (CNF) for Realizing Innovative CO2 Emission Reduction." Together with Panasonic Corporation, Nagoya University, and Osaka University, the company will develop next-generation gallium nitride (GaN) power devices.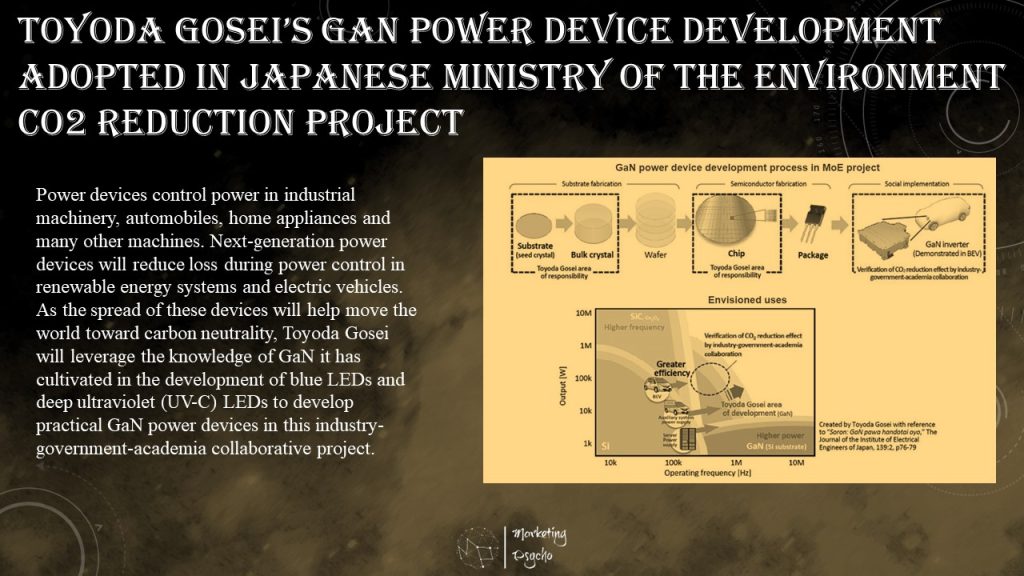 Power devices control power in industrial machinery, automobiles, home appliances and many other machines. Next-generation power devices will reduce loss during power control in renewable energy systems and electric vehicles. As the spread of these devices will help move the world toward carbon neutrality, Toyoda Gosei will leverage the knowledge of GaN it has cultivated in the development of blue LEDs and deep ultraviolet (UV-C) LEDs to develop practical GaN power devices in this industry-government-academia collaborative project.
The MoE project aims to develop vertical GaN power devices which can provide both high power and high-speed operation, using high-quality, large diameter, and low electrical resistance GaN substrates developed by Toyoda Gosei, Osaka University and Panasonic Corporation. Nagoya University will develop high efficiency GaN inverters with these semiconductor chips, and implement them in battery electric vehicles and demonstrate their performance. Through the industry-government-academia collaboration, CO2 reduction effect will be verified.
Wolfspeed, Inc., the global leader in Silicon Carbide technology and production, officially opened its state-of-the-art, Mohawk Valley Silicon Carbide fabrication facility in Marcy, N.Y. with a ribbon cutting ceremony with Federal and State Officials. The 200mm wafer fab will help lead the industry-wide transition from Silicon to Silicon Carbide-based semiconductors.
New York Governor Kathy Hochul was on site to officially welcome Wolfspeed to Mohawk Valley, in addition to Eric Bach, Senior Vice President of Product and Chief Engineer at Lucid Motors. As a key partner, Lucid Motors had the honor of "cutting the ribbon" with its Lucid Air®, named the 2022 MotorTrend Car of the Year®. Wolfspeed recently announced a multi-year agreement with Lucid to supply Silicon Carbide devices. The Lucid Air Grand Touring features an official EPA estimated 516 miles of range or 1,050 horsepower.
"By cutting the ribbon on this new chip fabrication facility, we are making good on the promise of being the most business-friendly and worker-friendly state in the nation, while cementing New York as the national hub for semiconductor production," Governor Hochul said. "Employers in cutting-edge industries like Wolfspeed will power the future of New York by bringing good paying jobs and educational opportunities to communities like this one, right here in Marcy. My administration is pulling out all the stops to position emerging industries for success in our state, and I thank Wolfspeed for this public-private partnership."
"We are honored to be joined by these government, community, and industry leaders to celebrate Wolfspeed's Mohawk Valley Fab, New York State's economic competitiveness and American chip manufacturing," said Gregg Lowe, president and CEO of Wolfspeed. "I am incredibly proud of the team, and all of our partners, who brought this monumental fab to life in such a short time. This fab will not only supply customers in 2022 but also support long-term American competitiveness."
"As a market leader and technology innovator, we share Wolfspeed's values and mission to provide industry-leading solutions for energy efficient consumption and a sustainable future," said Eric Bach, Senior Vice President of Product and Chief Engineer at Lucid. "Today, we are very proud to announce we will be partnering with Wolfspeed to source the highest quality Silicon Carbide components here in the State of New York, providing even more American jobs for the EV industry."
The automated Mohawk Valley facility is the world's first and largest 200mm Silicon Carbide fab providing uncompromised wafer quality and higher yield. The devices developed in Mohawk Valley will be critical in feeding Wolfspeed's $20B+ pipeline and the global semiconductor industry. The first Silicon Carbide lot was run at the facility earlier this month. More than 600 high-tech Mohawk Valley jobs will be created by 2029.
"We are proud to be a part of the growing semiconductor industry in New York and appreciate the strong, sustained support received from our local partners," said Rex Felton, Senior Vice President of Global Operations. "This facility showcases our commitment to the highest standards for operational excellence that will lead to more output and therefore, more product in the hands of our customers."
Wolfspeed is also expanding its operations in N.C. with the creation of a materials factory in Durham, N.C., scheduled to be completed later this year. Together, these factories establish a national Silicon Carbide corridor on the East Coast, combining Wolfspeed's 30+ year history of research and development in N.C. with the strong technology base, rich manufacturing heritage, and high-quality talent in N.Y.'s Mohawk Valley.
"SUNY Polytechnic Institute is proud to join Governor Kathy Hochul in congratulating Wolfspeed as they cut the ribbon on their state-of-the-art Mohawk Valley Fab," said SUNY Poly Acting President Dr. Tod A. Laursen. "This site now holds incredible promise for our region, New York State, and especially our graduates who are well prepared for the types of leading-edge careers that will be available. I am grateful for our partnership with Wolfspeed, which is powering targeted, semiconductor-centered curricula and providing new high-tech equipment at SUNY Poly via the $250,000 Wolfspeed Curriculum Gift; uplifting traditionally underserved students through scholarship opportunities from Wolfspeed's$2,000,000 scholarship program over 10 years; and providing $1,500,000 in funding to establish the Dr. John Edmond and Dr. John Palmour SUNY Polytechnic Institute Endowed Faculty Chairs; all of which underpin the continued expansion of science, technology, engineering, and mathematics (STEM) opportunities for students at SUNY Poly."
"Twenty-seven months ago, Wolfspeed, State and Local partners announced plans by Wolfspeed to build the world's largest 200 mm state-of-the-art Silicon Carbide semiconductor facility here in the Mohawk Valley. Today we celebrate the opening of Wolfspeed's Mohawk Valley Fab. Wolfspeed is a leader in the power electronics market with the transition from Silicon to Silicon Carbide semiconductors, and the Mohawk Valley Region is at the heart of this industry transformation," said Mohawk Valley EDGE President and CEO Steven DiMeo. "We want to give special thanks to Gregg Lowe and the entire Wolfspeed team for their commitment and the tremendous community partner they have become with their financial commitments to SUNY Poly and Mohawk Valley Community College to produce the next generation of technology leaders."
May 2019 seems so distant today. Many things happened since then. The world has changed. But I'm sure that one thing will never change. This is the unity of power electronics society.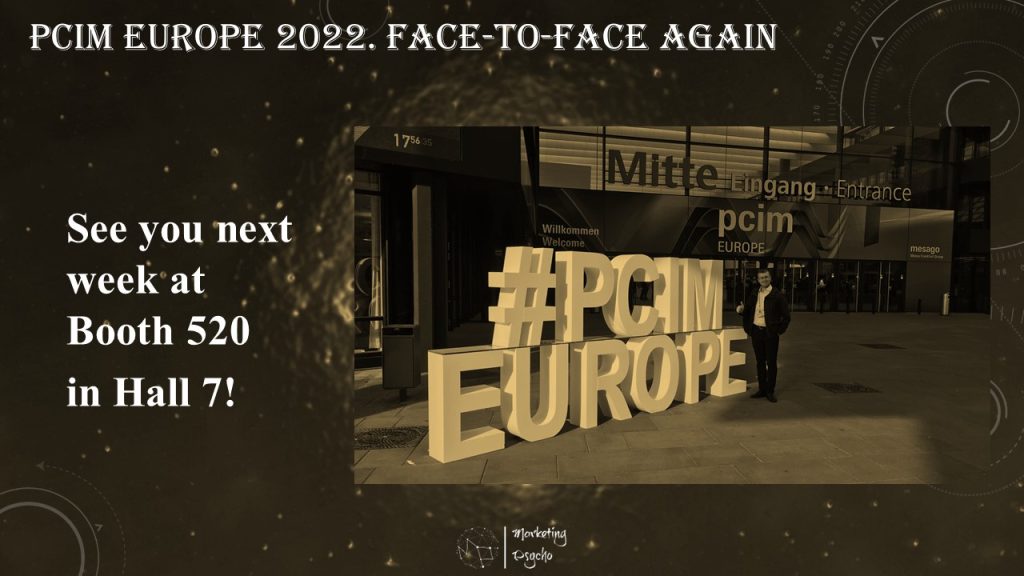 I used to come to PCIM Europe every year since 2011. I've made a lot of friends. And I'm incredibly happy and grateful to be back this year to meet my old friends and industry colleagues.
Now I am part of Leapers Semiconductor team. And we have a lot of interesting products to show. You will find me in Hall 7, Booth 520.
See you next week!
---
Subscribe to Power Semiconductors Weekly and watch it on YouTube every Tuesday.
If you prefer a monthly update about the world of power semiconductors delivered to your e-mail address, please, subscribe to Marketing Psycho Power Semiconductors newsletter.