Power Semiconductors Weekly Vol. 64
Toshiba Electronics Europe GmbH has added four N-channel super junction 650 V power MOSFET devices to extend their DTMOSVI series. The new devices build upon the market success of the current devices and will primarily be used in applications like Industrial and lighting power supply and other applications where ultimate efficiency at small form factor is a requirement.
The new TK090E65Z, TK110E65Z, TK155E65Z, and TK190E65Z MOSFETs achieve a 40% reduction in the drain-source on-resistance (RDSON) x gate-drain charge (Qgd) figure of merit (FoM) when compared to the previous DTMOS generation. This will translate into a substantial decrease in switching losses over earlier devices. As a result, designs incorporating the new devices will see an increase in efficiency. The performance enhancement will apply to new designs as well as upgrades of existing designs.
All four of the new devices offer a drain-source voltage (VDSS) of 650 V with a drain current (ID) capability up to 30 A. Drain-source on-resistance (RDSON) is as low as 0.09Ω and the gate-drain charge (Qgd) can be as low as 7.1 nC, allowing low-loss operation at high speeds. All devices are packaged in industry-standard TO-220 through-hole packages.
Toshiba will continue to expand its product lineup to meet market trends and help improve the efficiency of power supplies.
EPC announced the production release of the EPC2050, a 350 V GaN transistor with a maximum RDS(on) of 80 mΩ and a 26 A pulsed output current. The EPC2050 measures just 1.95 mm x 1.95 mm. This tiny size enables power solutions that occupy ten times less area than comparable silicon solutions.
Applications benefiting from the fast-switching speed and tiny size of the EPC2050 include DC-DC conversion from/to 120 V-160 V such as in aerospace applications, 120 V-150 V motor control for medical motors, DC-AC inverters, multi-level converters such as Totem Pole PFC and DC-DC solutions converting 400 V input to 12 V, 20 V or 48 V outputs. Additional applications include fast chargers, battery management systems, electric vehicle charging, solar power inverters, high power lidar for autonomous cars and delivery vehicles, LED lighting, RF switches, and consumer & industrial wirings like wall-mounted sockets and Class D Audio.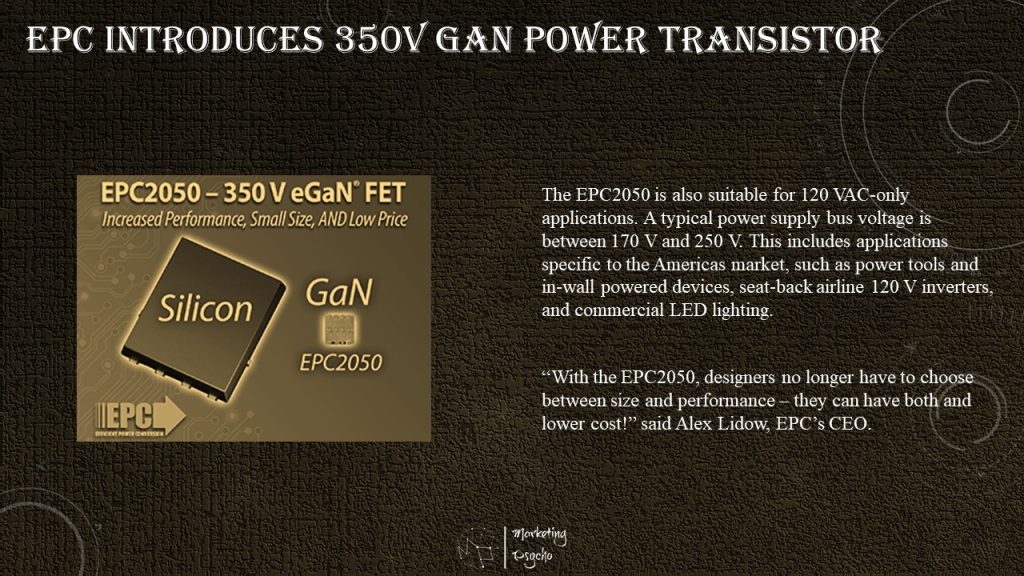 The EPC2050 is also suitable for 120 VAC-only applications. A typical power supply bus voltage is between 170 V and 250 V. This includes applications specific to the Americas market, such as power tools and in-wall powered devices, seat-back airline 120 V inverters, and commercial LED lighting.
"With the EPC2050, designers no longer have to choose between size and performance – they can have both and lower cost!" said Alex Lidow, EPC's CEO.
ASM International N.V. officially unveiled its state-of-the-art Singapore manufacturing facility and operations hub and announced the groundbreaking of a second manufacturing floor at the site. The opening ceremony was attended by Singapore Minister for Manpower and Second Minister for Trade and Industry, Dr Tan See Leng, and by representatives of JTC Corporation and of the Singapore Economic Development Board.
ASM's Singapore expansion comes amidst recent global chip shortages, and will enable ASM to capitalize on surging demand brought on by accelerated digitalization trends. The facility, including the first manufacturing floor, was completed at the end of 2020. Including the second manufacturing floor, that will be production-ready early 2023, ASM's capacity in Singapore will quadruple, and global capacity will more than triple. At the Singapore facility ASM assembles and tests its advanced deposition tools, including ALD and Epi, that are critical for the production of leading-edge semiconductor devices.
The design of the new facility allows for a more efficient manufacturing flow, and a higher level of flexibility, which has been particularly beneficial to cope with the challenges of the industry supply chain constraints recently.
"This strategic investment is increasing our ability to meet our customers' demand and to support them transitioning to the next technology nodes," said ASM International President and CEO Benjamin Loh. "The expansion of our second floor will further provide us with the flexibility to grow our revenue to our previously communicated target of €2.8-3.4 billion by 2025, a CAGR of 16%-21% over a five-year period. Our investment in Singapore is an important step that will help us position as a technology leader in the pursuit of our Growth through Innovation strategy."
Second Minister Dr Tan See Leng commented: "Beyond boosting its manufacturing capabilities and capacity, ASM's expansion will also advance Singapore's semiconductor sector by creating many new jobs and business opportunities. We stand ready to continue partnering companies like ASM to grow their manufacturing footprint in Singapore and bolster Singapore's position as an advanced manufacturing hub."
The ASM Singapore facility was built with sustainability in mind and achieved the Green Mark Gold Plus certification. Aspects including smart building monitoring and energy efficiency, enhanced insulated building envelope and façade performance, greenery incorporated into the design, water efficient fixtures and systems, and sustainable building materials all contributed to this achievement.
"Backed by strong government support, Singapore is the ideal location for our global operations tapping into its highly-educated workforce and leveraging the extensive supply chain ecosystem in the region," added Loh.
ASM's Singapore operations have been instrumental in its growth. The local headcount has increased by 2.5x over the last five years to approximately 850 people by the end of 2021. Established in 2003, ASM in Singapore has transitioned over time towards higher value activities. Beyond manufacturing, the Singapore operations today also include key functions such as Supply Chain Management, worldwide IT, and Global People. This transition is illustrated by 50% of the workforce in Singapore having a degree or higher qualification. Managers and professionals account for 42% of the local ASM workforce, of which 60% are Singaporeans.
Mr Tan Boon Khai, CEO of JTC, said "We are delighted to have ASM be part of the established semiconductor ecosystem and expand their footprint in our estate. With its newest leading-edge manufacturing facility, we hope to foster a strong spirit of collaboration and create a vibrant community for innovations to flourish. This will further strengthen Singapore's edge as a leading advanced manufacturing hub."
Mr Tan Kong Hwee, Executive Vice President of Economic Development Board commented: "We are delighted that ASM has chosen Singapore for a major expansion of their global production capacity. The semiconductor sector is a key pillar of Singapore's manufacturing industry with a diverse range of capabilities, including IC design, equipment, R&D and advanced manufacturing. We look forward to ASM's growth and the creation of new business and job opportunities in this rapidly growing sector."
Hyundai Motor Group (HMG) has honored Infineon Technologies AG as "Partner of the Year 2021" with the "Special Award for Supply Competence." The top global automaker recognized Infineon's efforts to stabilize uncertain supply chains despite the challenges posed by COVID-19 and the global semiconductor shortage.
In particular, Infineon was honored for its excellent risk management working with HMG. Infineon Korea and Infineon Headquarters have provided flexible and strategic cooperation to manage the difficult situation in the market. For example, by providing the silicon carbide (SiC) based power module HybridPACK™ CoolSiC™ Drive, Infineon demonstrated product quality and its ability to respond to new requirements.
"Infineon is a reliable partner. We are honored that our efforts to maintain our delivery capabilities in a very challenging environment are valued and appreciated by our customers," said Peter Schiefer, President of the Automotive Division at Infineon. "With the rapid momentum towards green mobility, semiconductor solutions are in high demand. We are driving the transformation toward electromobility with high-quality products, leading technology and system expertise, along with a global production network."
The conversion to electromobility has just started. Almost every second of the BEVs (Battery electric vehicle) and PHEVs (Plug-in Hybrid) produced in 2021 use Infineon semiconductors in the inverter. In order to further strengthen the resilience of the supply chain, Infineon is continuously increasing its capacities in production and assembly of high-power solutions in Europe and Asia.
Furthermore, Infineon is strengthening its market leadership in power semiconductors by adding significant manufacturing capacities in the field of wide bandgap (SiC and gallium nitride, GaN) semiconductors. SiC can help to increase the range of an electric car by five to ten percent.
HMG has been awarding the "Partner of the Year" award since 2002. In early 2019, Infineon was the first semiconductor manufacturer to receive this award. It was awarded in recognition of outstanding achievements in just-in-time supply and contribution to strengthening the overall competitiveness of the Hyundai Motor Group.
The Shenzhen Stock Exchange released an announcement stating that it had suspended the IPO review of BYD Semiconductor, as the required financial information in its application document had expired and needs to be updated.
BYD Semiconductor official responded that the suspension of the company's listing review is temporary and has had no bad impact for the company's listing plan. At present, the company is trying to submit an updated financial plan to the stock exchange to resume its listing review.
BYD Corporation Limited is the controlling shareholder of BYD Semiconductor, directly holding 72.30% equity interest therein. From January to September 2021, BYD Semiconductor reported operating revenue of $210.5 million, up 171.22% from one year earlier. The firm's estimated revenue for 2021 was 3.05 billion yuan – 3.2 billion yuan ($480 million – $504 million), up 111. 6% – 122.0% year-on-year.
BYD Semiconductor has previously secured two rounds of financing, raising about 2.8 billion yuan from Xiaomi Yangtze River Industry Fund, Sequoia Capital and CICC Capital.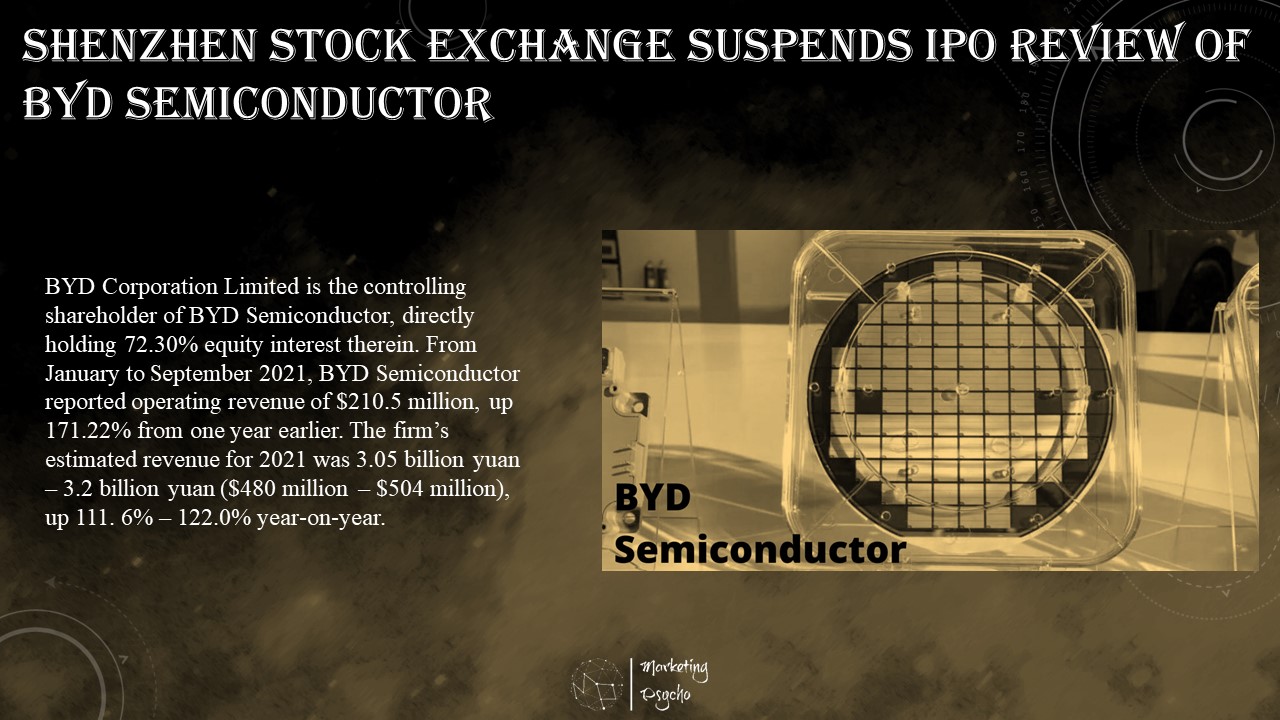 On June 30 last year, BYD declared the proposed spin-off of BYD Semiconductor for listing on the Shenzhen Stock Exchange's Growth Enterprise Market (GEM). On January 20, stock authorities published an announcement indicating that BYD Semiconductor was scheduled to be reviewed for an IPO on GEM on January 27.
The firm's prospectus shows that BYD Semiconductor intends to raise 2.686 billion yuan through this IPO. The funds are reportedly to be used to ensure a stable supply of wafers through self-built production lines and capacity expansion, to achieve independent control of key production steps of power semiconductors and intelligent control ICs, and to consolidate and enhance the company's market position and comprehensive competitiveness under tight supply of global automotive-grade semiconductor wafers.
GaN devices have a variety of positive properties and are suitable as replacements for Si switches in certain applications. Experts will provide deeper insights in this Power&Beyond web conference.
High volume applications like EVs demand outstanding power density, low losses and high switching frequency. GaN devices are a suitable answer for these requests featuring reduced switching losses yielding higher efficiency at higher frequency operation. Thus, GaN has the potential to substitute silicon MOSFETs in the 650 V range due to lower conduction and significantly lower switching losses.
This web conference offers an excellent overview of GaN technology with all its advantages especially for high volume markets. The benefits in terms of their switching capability as well as the advantages of scalability and of high volume production are presented and thoroughly discussed.
Main topics of the web conference:
High-performance characteristics of Power GaN FETs and application requirements
Topologies and controller solution that enable high density design with GaN
Impact of parasitic inductances to GaN performance and methods of improvement
Gate drive requirements and solution for optimal GaN operation
Options for a market demanding extra power at fast growing rate
Since the high-volume Tesla Model 3 electric vehicle (EV) adopted SiC devices in 2017, SiC technology, cost, supply chain and applications have continued to evolve.
Yet there is a concern about SiC wafer supply, pushing multiple players to expand their capacity. Nevertheless, major SiC material players are moving to the device level. That's because there is now strong traction for SiC discrete devices, and increasingly modules, in end systems in industrial, automotive and energy applications.
As such, even as the pandemic has caused semiconductor shortage issues elsewhere, SiC has continued to ramp up production. EVs and hybrid EVs are taking off, while battery systems transition from 400V to 800V. We expect SiC growth to further accelerate and revolutionize our daily lives.
In this webcast Yole Développement will present the latest analysis of this market's size, ecosystem and technology, and cost evolution.
---
Subscribe to Power Semiconductors Weekly and watch it on YouTube every Tuesday.
If you prefer a monthly update about the world of power semiconductors delivered to your e-mail address, please, subscribe to Marketing Psycho Power Semiconductors newsletter.