Power Semiconductors Weekly Vol. 63
Toshiba Electronic Devices & Storage Corporation has launched a 150V N-channel power MOSFET "TPH9R00CQH" that uses the latest generation process, "U-MOSX-H," and that is suitable for use in switching power supplies for industrial equipment—including those deployed in data centers and communications base stations.
TPH9R00CQH has a drain-source On-resistance about 42% lower than TPH1500CNH, a 150V product that uses the current generation process, U-MOSⅧ-H. Optimization of the new MOSFET's structure has improved the trade-off between the drain-source On-resistance and two charge characteristics, realizing excellent low-loss characteristics. In addition, spike voltage between the drain and source at switching operation is reduced, helping to lower electromagnetic interference (EMI) in switching power supplies. Two types of surface mount packages are available: SOP Advance and the more popular SOP Advance(N).
Toshiba also offers tools that support circuit design for switching power supplies. Alongside the G0 SPICE model, which can verify the circuit function in a short time, the highly accurate G2 SPICE models, which accurately reproduce transient characteristics, are now available.
Toshiba will expand its lineup of power MOSFETs that improve equipment power supply efficiency by cutting losses, helping to reduce power consumption.
Applications:
Power supplies for communications equipment
Switching power supplies (high efficiency DC-DC converters, etc.)
Features:
Excellent low-loss characteristics
(trade-off between On-resistance and gate switch charge and output charge)
Low On-resistance: RDS(ON)=9.0mΩ (max) @VGS=10V
High channel temperature rating: Tch (max)=175°C
Odyssey Semiconductor Technologies, Inc., a semiconductor device company developing innovative high-voltage, vertical power switching components based on proprietary Gallium Nitride ("GaN") processing technology, announced it has reached a technology milestone in its development of the world's most advanced vertical GaN power field-effect transistors (FETs).
Global sustainability trends require new technologies and approaches for power conversion in electric vehicles, solar and wind turbines, data centers and industrial motors. The trend to depart from traditional silicon-based transistors has been underway for over a decade – silicon can no longer meet the voltage and conversion efficiency demanded. Gallium-Nitride (GaN), deployed as lateral (or parallel) conduction FETs, provides efficiency improvements but fail to provide the voltage rating. Silicon Carbide (SiC) provides the voltage rating but falls short on efficiency. However, until Odyssey's recent innovation in vertical GaN, the performance and reliability of these new, predominant approaches have been insufficient.
Odyssey was founded to commercialize vertical GaN FETs. FETs that can provide the conversion efficiency of GaN with the higher voltage rating of SiC. The approach will lead to breakthrough performance for the most demanding applications.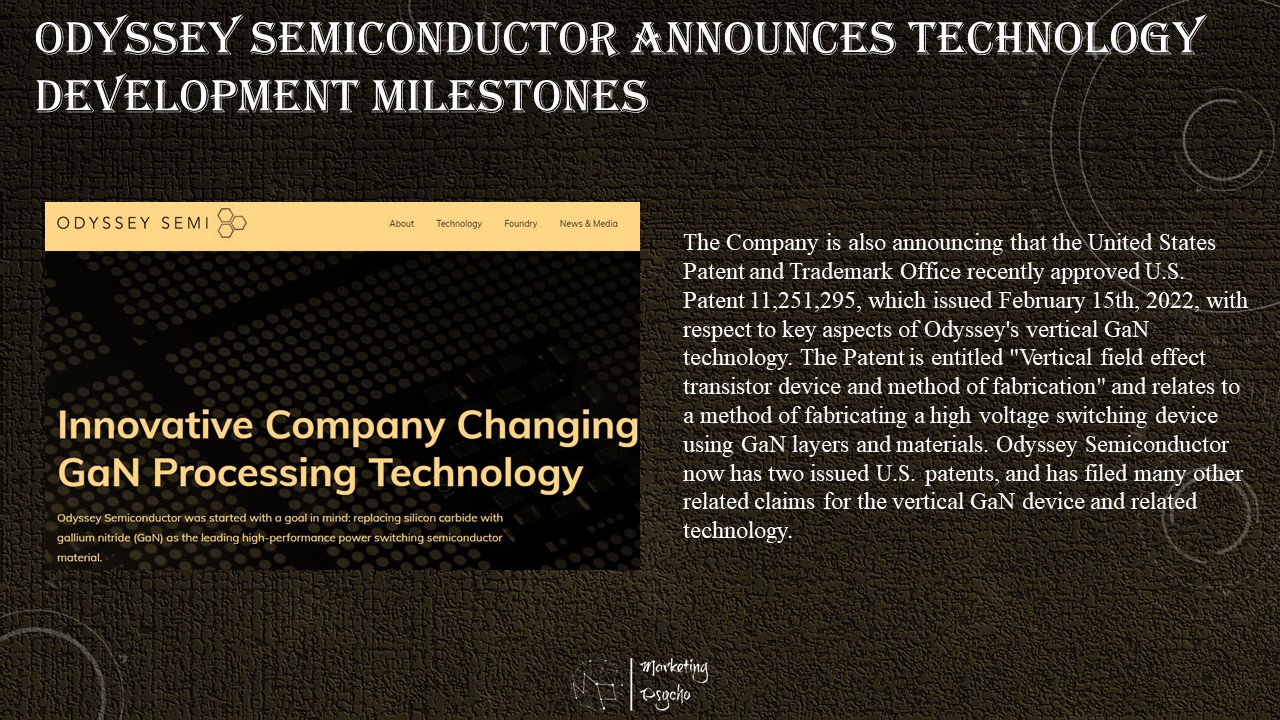 Odyssey has now validated its approach at a 700 V rating while also providing industry-leading efficiency with and remarkably low on-resistance approaching 1mOhm-cm2. These devices also exhibit very low gate leakage and can be operated in a mode where they are normally "off". Technology validation can begin on these 700 V devices while an extension of the same architecture to the next milestone of a 1200 V rating or better is completed.
Odyssey, with global headquarters in Ithaca, New York is developing this technology in their own manufacturing facility. As the U.S. needs to strengthen domestic semiconductor manufacturing, Odyssey is showing its commitment with its own wafer fabrication facility. This also streamlines the technology and product development processes with close collaboration between R&D and the fab.
The Company is also announcing that the United States Patent and Trademark Office recently approved U.S. Patent 11,251,295, which issued February 15th, 2022, with respect to key aspects of Odyssey's vertical GaN technology. The Patent is entitled "Vertical field effect transistor device and method of fabrication" and relates to a method of fabricating a high voltage switching device using GaN layers and materials. Odyssey Semiconductor now has two issued U.S. patents, and has filed many other related claims for the vertical GaN device and related technology.
"This 700 V milestone validates our industry-leading efficiency and remarkably low on-resistance. Odyssey is on-track to deliver 1200 V vertical GaN FETs in 2022 for a handful of customers who have already requested engineering samples. We are thrilled the U.S. Patent and Trademark Office has granted our U.S. patent. This strengthens Odyssey Semiconductor's leadership position in vertical GaN devices and related technology," said Rick Brown, co-founder, interim CEO, CTO, and Board member. "Our patent is one of many that will help protect Odyssey's key aspects on our GaN devices."
"Our goal is to fully protect our GaN devices using both patent rights and trade secrets," concluded Brown.
Showa Denko K.K. (SDK) has launched mass production of silicon carbide single crystal wafers (SiC wafers) with a diameter of 6 inches (150 mm), which are used as materials for SiC epitaxial wafers to be processed and installed into SiC-based power semiconductors (SiC power semiconductors).
SiC power semiconductor has excellent heat-resisting property and high withstanding voltage much better than those of conventional silicon-based power semiconductor, which is currently the mainstream of power semiconductors. SiC power semiconductor contributes to improvement in power module's energy efficiency and downsizing. Therefore, the demand for SiC power semiconductors is increasing rapidly in various fields, especially those for use in xEVs, railcars, and industrial equipment.
As an independent supplier of SiC epitaxial wafers, SDK has the global-top share in the market, and has been providing power-device manufacturers with Best in Class SiC epitaxial wafers. Therefore, SDK's SiC epitaxial wafers are highly acclaimed by power-device manufacturers in and outside Japan.
SDK has been considering in-house production of SiC wafers, which are used as main material for SiC epitaxial wafers, aiming to improve quality of our SiC epitaxial wafers and establish a stable supply system for them. From 2010 to 2015, SDK took part in "Novel Semiconductor Power Electronics Project Realizing Low Carbon Emission Society," which was hosted and entrusted by the Ministry of Economy, Trade and Industry and New Energy and Industrial Technology Development Organization (NEDO), as a member of the "Research and Development Partnership for Future Power Electronics Technology." Furthermore, in 2018, SDK took over SiC-wafer related assets of Nippon Steel & Sumitomo Metal Group (current Nippon Steel Group), and has been developing technologies for mass production of SiC wafers since then.
This time, SDK decided to launch in-house mass production of 6-inch SiC wafers because plural customers have adopted SDK's SiC epitaxial wafers made from in-house produced 6-inch SiC wafers. On the other hand, SDK will continue purchasing SiC wafers from its partners in order to respond to rapidly growing demand for SiC epitaxial wafers for power semiconductors. Thus, SDK will diversify sources of SiC wafers, thereby establishing stable supply chain for SiC epitaxial wafers.
The Showa Denko Group aims to be a "Co-Creative Chemical Company" and contribute to the sustainable development of global society. Under this vision, SDK positions its operation to produce SiC epitaxial wafers, which contributes to efficient use of energy, as a next-generation business, and will allocate much of our business resources. The Group will continue contributing to the spread of SiC power semiconductors by maintaining "Best in Class" as its motto and continuing provision of high-performance and highly-reliable products.
SEMIKRON and Danfoss Silicon Power announced a merger to create a joint business specialized in Power Electronics focusing on power semiconductor modules.
With an existing workforce of more than 3,500 dedicated power electronic specialists, the new SEMIKRON-Danfoss will provide world-class technology expertise as the leading partner in Power Electronics. The merger comes with a firm commitment to future investments, paving the way for green growth and a more sustainable, energy efficient and decarbonized future. SEMIKRON-Danfoss will be a central enabler of this transition.
The electrical power will be in the future the most important energy source. The power semiconductor module is at the heart of all power electronic solutions. The module is built of power semiconductors that makes it possible to convert and control the electrical power.
With the rise of e-mobility, the demand for electric vehicles is expected to increase by 30% each year over the next years. This speaks to the enormous growth potential of power modules as they are a key component for powering the electric motor and in vehicle chargers.
Industrial motors are consuming 50% of electrical energy in the world and only 20% of these motors are equipped with variable speed motor controls, leaving a large untapped potential to improve energy efficiency and reduce CO2 emissions. The power module is the key component in any variable speed control for electric motors.
The ongoing global transition aiming at replacing fossil fuels by improving energy efficiency and ambitious use of renewables also increases the demand for power modules. The power module is critical in all solar installations and all wind turbines to enable the power conversion to grids and energy storage.
SEMIKRON-Danfoss will leverage its strong core business in industrial- and renewable power module applications and will utilize the partnership to target a leading position in Automotive power modules. SEMIKRON-Danfoss will set the trend and drive the technology shift into Silicon Carbide solutions in both industrial and automotive applications.
The newly formed SEMIKRON-Danfoss joint business will be owned by the current owner-families of SEMIKRON and the Danfoss Group, with Danfoss being the majority owner.
The new joint business SEMIKRON-Danfoss will be managed by one common leadership team. The joint business will be operated in the accustomed manner, retaining existing production facilities, customer and supplier relationships and distribution channels.
SEMIKRON-Danfoss will retain the two main locations in Germany, Nuremberg and Flensburg. The current factories and sales offices of Semikron and Danfoss Silicon Power will continue operations as usual.
Danfoss President & CEO Kim Fausing, said:
"The new SEMIKRON-Danfoss builds on a strong long-term partnership and more than 90 years of combined technology leadership in Power Module packaging, innovation, and customer application expertise. With electrification driving the green transition, SEMIKRON-Danfoss aims to become the preferred decarbonizing partner for customers. We have the passion, competences and technologies to more than double our business in five years."
SEMIKRON CEO Karl-Heinz Gaubatz added: "This really is an exciting moment. Based on close, trusting conversations over the last months we have identified that SEMIKRON and Danfoss are a unique fit with complementing assets, a strong team and shared values. By combining SEMIKRON's expertise as a pioneer for semiconductor technology with more than 70 years of experience in the development of top-class power modules and systems and the strength, innovativeness and fast-paced operations of Danfoss Silicon Power and the Danfoss Group we are positioned ideally to become one of the strongest players in power electronics."
Claus A. Petersen, Senior Vice President and General Manager Danfoss Silicon Power, concludes:
"The new SEMIKRON-Danfoss is a great opportunity for customers, partners and our employees. Timing is perfect, with strong growth in our key markets Automotive, Industry and Renewables. With the emerging technology transition from Silicon to Silicon Carbide, we are set to become the strongest partner of our customers. SEMIKRON-Danfoss will inspire the future and offers great career opportunities".
Nexperia announced the official launch of its new design center in Dallas, Texas. Having recently celebrated its 5th anniversary as an independent company, this development marks another major step towards Nexperia's stated goal of becoming a world leader in essential semiconductors by 2030.
The Dallas design center is Nexperia's first research and development facility in North America and will focus on the development of analog signal conversion and power management ICs. According to Irene Deng, general manager business group, Power and Signal Conversion at Nexperia, who will head up the new center: "The Dallas design center represents an important company milestone for several reasons. It demonstrates Nexperia's commitment to establishing R&D activity in North America and it will also enable Nexperia to expand and strengthen the analog IC portfolio, power management ICs and signal conditioning ICs."
Nexperia has ambitious plans for its new center and is aiming for a sixfold increase in the numbers of employees located there by the end of 2023. "Upon presenting this investment proposal to the CEO of Nexperia, Xuezheng Zhang, it received near immediate approval, as entering the analog market delivers on our strategy to transition the Nexperia portfolio towards more differentiated, unique and combined products. Having worked in the semiconductor industry for over 30 years, I have seldom encountered such ambitious growth plans" says Dan Jensen, general manager of Nexperia's business group, Analog & Logic ICs.
To capture the opportunities that address the power management and signal conversion requirements, Nexperia will both strengthen and expand its portfolio with more complex and high-power products.  The addition of these products will further reinforce the strong brand reputation Nexperia has gained for its existing portfolio of logic, discretes and wide-bandgap semiconductor devices.
Power module reliability could be limited by its ability to withstand repeated load cycles. This SEMIKRON webinar introduces the concept of power cycling, its effect on power semiconductor modules, and shows how to predict when a module may fail. If you are a design or component engineer, be sure to join this webinar.
Key Take-Aways:
Learn about the main failure modes related to power cycling.
Understand how to apply the latest power cycling lifetime model in your application.
See examples of how packaging technology can improve lifetime.
Date: April 12, 2022
Time: 4 PM CEST
Duration: 1 hour
Silicon Carbide offers well-known performance advantages for applications like automotive drivetrains, automotive charging, and high-frequency–based systems, yet markets such as industrial motor and motion linger as a silicon stronghold.
With the overarching urgency for higher-efficiency motor systems as well as the need for flexibility in scaling power-conversion thermal systems, the system-level advantages of Silicon Carbide make a significant and timely argument for its adoption.
Key Take-Aways:
Approaches to circuit architectures using Silicon Carbide
Scalability from discrete to modules
Design and market trends for motors and motion
Date: April 13, 2022
Time: 5 PM CEST
---
Subscribe to Power Semiconductors Weekly and watch it on YouTube every Tuesday.
If you prefer a monthly update about the world of power semiconductors delivered to your e-mail address, please, subscribe to Marketing Psycho Power Semiconductors newsletter.