Power Semiconductors Weekly Vol. 50
The automotive industry is in a process of switching to higher-voltage powertrains – from a level of 400 V to 800 V in electric cars. This process requires time, as there are not enough suppliers and – as we understand – and the costs are not yet at a level to switch the entry-level products.
However, 800 V is just another level rather than the final solution, especially in the case of the bigger battery systems. According to the recent reports from China, BYD Semiconductor (a subsidiary of BYD), has not only developed but also launched on the market an all-new 1,200 V power device driver chip: BYD BF1181.
The BF1181 chip is described as a magnetic isolated single-channel gate driver chip dedicated to controlling 1,200 V power devices – compatible with 1,200 V IGBT and SiC power modules. BYD Semiconductor is already shipping the BYD BF1181 chip to automakers this month.
We guess that it's not accidental, and the company is getting ready for a higher voltage in electric commercial vehicles like trucks and buses because BYD's latest e-platform 3.0 is envisioned for 800 V electric cars.
That might be the case, especially because the Western automotive industry is also working on a higher voltage solution for trucks – including 3.75 MW (3,000 A at 1,250 V) fast charging, tested at the National Renewable Energy Laboratory (NREL) and the Charging Interface Initiative (CharIN) event earlier this year.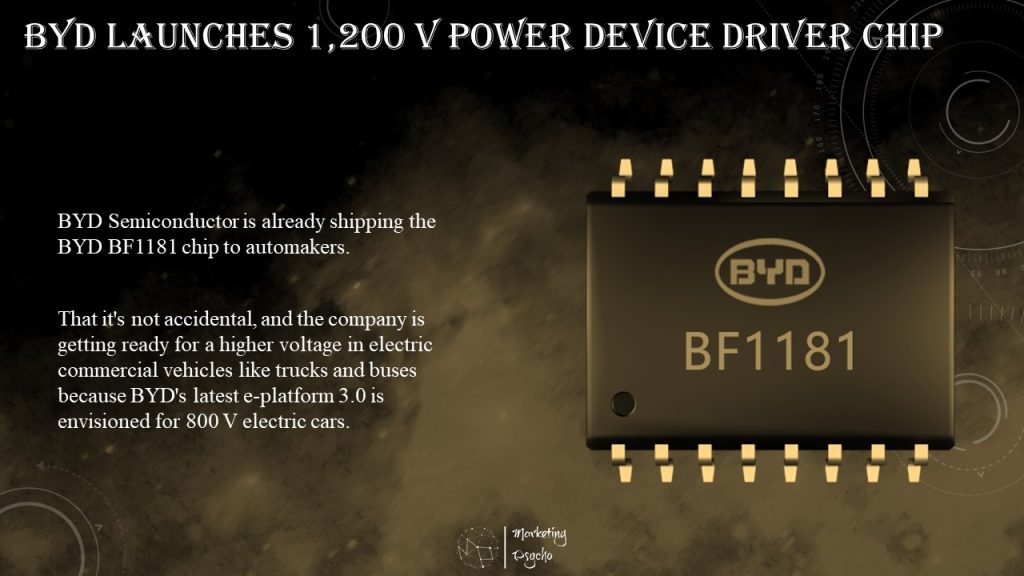 It's difficult to say how high the system voltage might go in the future. In the case of cars, the current target of about 800 V appears to be enough. But if the electrification would expand to semi-trucks, battery-electric trains, and aircraft, up to a few kV could be desirable.
In order to meet the high-frequency and compact application needs of automotive customers. Wuxi Leapers Semiconductor has introduced a new E0 series silicon carbide (SIC) power module. The module uses the latest 1200V/1700V SiC MOSFET chip. And the On-state resistance Rds(on) is as low as 5.5mohm. In addition to optimize the electrical performance, Wuxi Leapers Semiconductor has also strengthened the heat dissipation and reliability with new high temperature resistant epoxy resin material and assembly process. The E0 series SiC MOSFET module can prolong the power cycle lifetime by 3-4 times. The E0 package outline is compatible with Easy1B package as well.
E0 key features:
High heat dissipation Si3N4 AMB substrate
Tjmax=175°C
Press-fit terminal
Easy installation with double screws
Half-Bridge Circuit design
H-Bridge Circuit design
Applications:
UPS
Energy storage systems
Charging systems
Motor drivers
Power supply
hofer powertrain, a globally leading automotive powertrain technology company, and VisIC Technologies Ltd., a global leader in gallium nitride (GaN) solutions for high-voltage automotive applications, announced a partnership to work jointly on a GaN-based inverter for 800V automotive applications.
"Our partnership with hofer powertrain for the development of gallium nitride-based power inverters in electric vehicles is the breakthrough of gallium nitride technology for 800V battery systems in the automotive industry", said Tamara Baksht, CEO of VisIC. "VisIC's D3GaN technology was developed for the high-reliability standards of the automotive industry and offers the lowest losses per RDS (on). It also simplifies the system solution and enables highly efficient and affordable powertrain platforms solutions. The ability to support cars with 800V battery, along the 400V battery, is the significant step forward in GaN worldwide adoption by automotive electrical driveline".
hofer powertrain has been working for more than 5 years on the development of 3-Level inverters for automotive powertrain applications, revealing vast benefits that the 3-Level topology brings compared to today's state-of-the-art 2-Level inverters using IGBTs or SiC chips. The special properties of the 3-L topology of an inverter lead to improved overall system energy consumption at the relevant reference driving cycles, such as WLTP (World harmonized Light-duty vehicles Test Procedure), due to reduced harmonic losses in the motor. Moreover, the Noise Vibration Harshness (NVH) behavior of the complete Electric Drive Unit can be improved due to the better Total Harmonic Distortion of the output current affecting noise reduction.
Finally, costs are reduced regarding Electro Magnetic Compatibility measures to meet the increasingly strict requirements (like Comité International Spécial des Perturbations Radioélectriques 25 class 5), due to the better common-mode behavior of the hofer powertrain 3-Level inverter.
Gallium nitride semiconductors are the key to efficiency improvements and increasing the driving range of electrified vehicles. This technology offers significantly better switching speed and smaller and lighter package size, thereby reducing total system cost.
Today's GaN chips are used for 400V DC-link voltage and hofer powertrain 3-Level topology coupled with VisIC's GaN benefits will take it to the next level of improvement of 800V powertrains. The synergy of both parties can be used for 3-level topologies. "We are happy to cooperate with VisIC on the joint development of 800V 3-Level automotive inverters. Both technologies in combination allow us to apply the benefits of GaN and the benefits of the 3-L topology, and thereby multiply the benefits for our customers", says Philipp Matt, Electronics expert at hofer powertrain.
LX Semicon, the largest fabless company in Korea, acquired LG Innotek's silicon carbide (SiC) semiconductor assets. It is expected to develop SiC semiconductors and enter the semiconductor market for automotive.
LX Semicon recently completed a contract to acquire patent assets with SiC semiconductor device facilities. The two companies confirmed that "the amount of the acquisition cannot be disclosed, but it is true that the transfer contract has been signed." As a result, LX Semicon is expected to enter the automotive semiconductor market. The SiC development organization will also operate soon.
Not many companies have developed SiC semiconductors. Overseas companies such as Wolfspeed and ON Semiconductors, and domestic SK Siltron and Yes Power Technix have started to develop 8-inch SiC semiconductors. LX Semicon is expected to develop semiconductor materials and devices of the same size. It is highly likely that SiC semiconductor materials will be developed as 'Epitaxial Wafers'. Epitaxial wafers are considered upgraded SiC wafers due to their high electron movement speed.
LG Innotek's SiC semiconductor has been developed as a national task since 2019. LG Innotek transfers SiC materials such as wafers and devices to LX Semicon and transfers assets such as facilities. SiC semiconductors are widely used in electric vehicles and 5G mobile communication markets.
According to the market research firm Yole Developpment, the size of the SiC semiconductor market will expand from the current 1.1 trillion won to 12.8 trillion won by 2030. Demand is expected to surge in electric automotive markets such as electric vehicles. LX Semicon is Korea's largest fabless semiconductor manufacturer with annual sales exceeding 1 trillion won.
However, it was evaluated that the future is uncertain as most of its sales are concentrated on display driving chips (DDI). As the decline in the domestic LCD market accelerated, a sense of crisis grew. SiC semiconductor market's strategy is to overcome these risks and secure new growth engines. Regarding the business plan after acquiring LG Innotek SiC assets, an official at LX Semicon said, "It is for research and development (R&D) of SiC semiconductors."
BYD has officially placed an order with chipmaker Hangzhou Silan for automotive IGBTs, totaling 100 million yuan ($16 million). BYD previously sourced its IGBT modules from its own semiconductor division.
In the first half of 2021, Silan's IGBT device revenue was 190 million yuan, up 110% year-on-year. The packaged products of automotive IGBT modules have entered the stage of batch supply. Previously, the company only provided products for customers such as LeapMotor.
People close to BYD said that the news is true. "This is partly because BYD Semiconductor's production capacity is really tight, and partly to compress its related transactions with BYD Group."
It was not only Silan that got the orders, but also StarPower Semiconductor, Times Electric and China Resources Microelectronics, almost all manufacturers that have passed BYD's verification were included. Automotive products have extremely high requirements on reliability and safety, and have a very strict certification process. The verification period of downstream manufacturers is more than one year.
BYD Semiconductor has a complete industry chain of automotive-grade IGBTs including design, manufacturing, packaging and complete vehicle applications. On June 30 this year, BYD, which is listed in Shenzhen, announced that the application to spin off its subsidiary BYD Semiconductor to ChiNext, a Nasdaq-style subsidiary of the Shenzhen Stock Exchange, for listing. However, it was suspended on August 18.
BYD Semiconductor's affiliate transactions with BYD Group have become a focal point of concern for potential investors. According to the IPO application updated by BYD Semiconductor on December 1, its related sales revenue to BYD Group in 2020 and the first half of 2021 were 851 million yuan and 670 million yuan, respectively, accounting for 59.02% and 54.24% of its total revenue in the periods.
As for why choosing Silan, a senior researcher from a private equity institution said: "First of all, automakers prefer IDM model manufacturers who can guarantee production capacity independently. Secondly, the scale of Silan's capacity is at the forefront of China."
Chinese power semiconductors company Marching-Power Technology announced that it has secured over 500 million yuan ($78.51 million) in the Series C round, which was led by CDH Investments and attracted other investors including BAIC Capital, Gaorong Capital, CASH Capital, Guiyang Venture Capital, Xinchao Group, Huajin Capital, and V Fund. Index Capital served as the financial consultant.
The company said the money raised will be poured in the R&D of the products for new energy vehicle and photovoltaic industries and used to further expand of its production capacity.
Founded in 2017, Marching-Power Technology has three product lines for the IGBT series, the MOSFET (metal–oxide–semiconductor field-effect transistor) series, and the module series. Its module packaging line is capable of potting and plastic-packaging the modules designed for NEVs and industrial control devices, and the IPMs (intelligent power modules) for home appliances.
According to the company's research statistics, the global market size of power semiconductors has hit over 260 billion yuan ($40.823 billion), about 40% of which are held by China's market. The country is facing rapid expansion of power semiconductor market scale thanks to the robust downstream demands, most of which are from automobile industry. Thanks to the boom in NEVs, the size of Chinese automotive power semiconductor market is expected to reach 27 billion yuan ($4.24 billion) in 2025.
Zhu Yangjun, CEO of Marching-Power Technology, told a local media outlet that the company will principally center efforts and resources on three fields over the next three to five years: the industrial control, the inverter appliance, and the new energy, which embraces three segments including automotive mobility service, energy storage, as well as electricity generation using wind or solar power.
CorEnergy Semiconductor, a leading Chinese GaN devices provider, has completed Series C financing recently and will accelerate the construction of its second fabrication plant, the company announced.
CorEnergy Semiconductor is based in Zhangjiagang, China's eastern Jiangsu Province. Founded in 2010 by Dr. Gavin Zhu, the company has a diverse team of experts with years of experience in materials, device designs, and in-depth manufacturing know-how of silicon and GaN devices.
CITIC Securities and Goldstone Investment jointly led this financing round. Institutional investors from previous rounds also participated, including CSC Financial Shanjin Capital and Scheme Capital, Guangzhou Yuexiu Industry Fund, GF Xinde Investment.
CorEnergy Semiconductor CEO Zhu Tinggang said that the company would further accelerate the construction of its second plant. It will foray into the fast-charging market and continue to explore the application of GaN (gallium nitride) materials in the field of 5G base stations and new energy vehicles.
The company specializes in III-V materials (the third-generation semiconductor), epitaxial wafers, high-voltage power switching, and RF amplifier devices in its full-fledged 6-inch and 8-inch fabrication facility with a combined monthly throughput of more than 5000 GaN HEMT and Si MOSFET wafers.
At present, CorEnergy plant in Zhangjiagang is operating at full capacity. The company's customers include Honor, Sony, BYD, Baseus, Bull. Its monthly wafer production capacity is expected to reach 30,000 pieces after completing its second plant.
Subscribe to Power Semiconductors Weekly and watch it on YouTube every Tuesday.
If you prefer a monthly update about the world of power semiconductors delivered to your e-mail address, please, subscribe to Marketing Psycho Power Semiconductors newsletter.