Power Semiconductors Weekly Vol. 46
Toshiba Corporation has demonstrated the world's first successful fabrication of high-performance circuits with analog–digital integration on a single chip driver integrated circuit (IC) for controlling next-generation power semiconductors. The developed IC detects the voltage and current status of power semiconductors at ultra-high speeds of 2 µs or less, and fine control reduces noise generated by power semiconductors by up to 51%. Theoretical calculations also confirm that power loss when driving the motor can be reduced by 25% compared with equivalent noise reduction by conventional methods. In the event of a short circuit or other malfunction, the power semiconductor can be immediately protected to prevent damage to it.
This is a technology that maximizes the performance of next-generation power semiconductors. It will contribute to the realization of a carbon-neutral society by assisting in miniaturization, high efficiency, and high reliability of the motor drive circuits and DC–AC converters used in electric vehicles, industrial equipment, smart power grids, and so on.
Power semiconductors control voltages and currents. They are used to drive motors in many applications, and for DC–AC power conversion. To realize a carbon-neutral society, it is vital to improve the efficiency and reduce the size of power semiconductors and power converters. Furthermore, the power semiconductor market continues to expand every year, and the global market for driver IC for controlling power semiconductors has grown from approximately 140 billion yen in 2017 to approximately 180 billion yen in 2021, and this trend is expected to continue in the future.
Currently, devices such as insulated gate bipolar transistors (IGBT) and silicon metal–oxide–semiconductor field-effect transistors (Si-MOSFET) are typically used for power semiconductors. Further improving efficiency will require reducing the power loss that occurs during power conversion, so the development of next-generation power semiconductors with low loss characteristics such as silicon carbide MOSFET (SiC-MOSFET) is progressing. Next-generation power semiconductors will reduce power loss in power conversion, achieve high efficiency, and facilitate heat dissipation, thereby enabling reductions in both size and weight. However, when these devices are controlled using conventional circuit methods, power loss reductions come at the expense of increased noise. Furthermore, heat dissipation paths shrink, so in the unlikely event of a short circuit or other fault, the temperature will instantly rise, making it easier for semiconductor elements to break.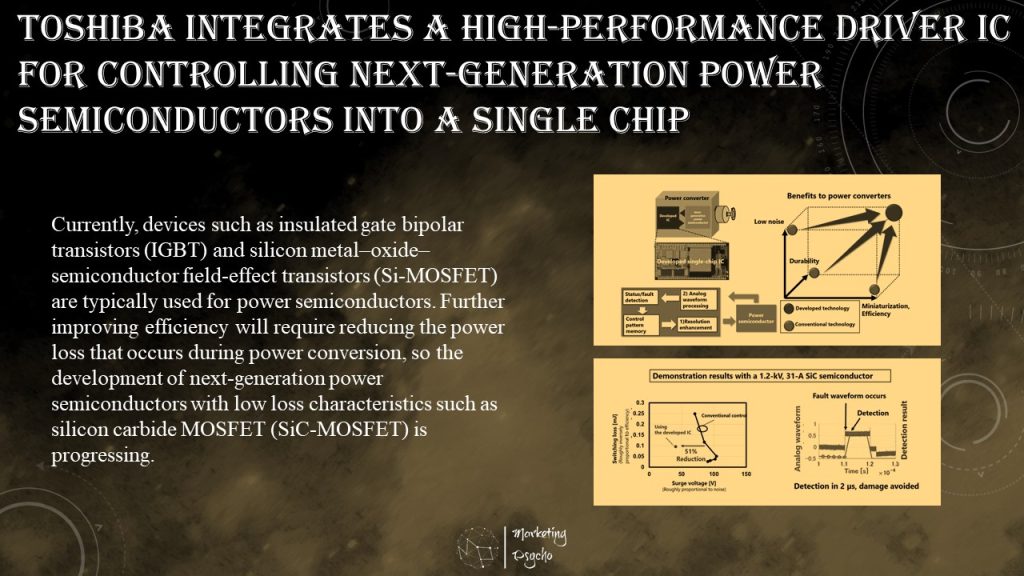 There has been research on technologies for reducing noise in next-generation power semiconductors by improving control methods, but flexibility in reducing noise has been problematic because the optimum method for doing so differs according to the voltage and current state of the power semiconductor element. In addition, conventional methods require system designers to implement fault detection and protection functions for short circuits and the like via a microcomputer, and the inherent delay can result in damage to the element.
Toshiba has thus addressed this problem by developing the world's first high-performance single-chip gate driver IC with mixed analog and digital circuits. Conventionally, realizing high functionality like that provided by this IC required configurations using many individual semiconductor components such as signal converters, memories, operation circuits, and amplifier circuits. However, mounting analog and digital circuits together, allows for the use of an analog circuit to detect voltage and current in power semiconductor elements as well as a digital circuit to select a control method based on the detection results, thereby realizing optimum control by a single chip without many parts. The developed semiconductor also has memory for storing control methods, and during control, a resolution enhancement circuit combining low-speed digital and high-speed analog circuits realizes appropriately fine control by using analog circuits only for those parts requiring high-speed control.
Toshiba has also developed an analog waveform preprocessing technology that extracts only those features required for control and fault detection from the high-speed voltage and current waveforms of power semiconductors, allowing fault detection with a low-speed analog-to-digital converter. There is thus no need to pass through a microcomputer, allowing immediate detection of short circuits and other faults.
This IC can also be realized by low-cost complementary metal–oxide–semiconductor (CMOS) process technologies that are compatible with existing fabrication equipment. Using this IC, the company succeeded in controlling a 1.2-kV SiC-MOSFET power semiconductor and reducing its surge voltage, a major cause of noise generation, by 51% with no increase in power loss. Using conventional methods for an equivalent surge reduction would increase loss when driving the motor, but theoretical calculations clearly show that using this IC can reduce power loss by 25%. The IC also succeeded in fault state detection at speeds as low as 2 µs without using a microcomputer. These features are expected to maximize the performance of next-generation power semiconductors.
The Toshiba Group will aim for practical use of the developed IC by 2025. Power electronics is a market of focus for the Toshiba Group, which will continue to develop technologies related to this IC. The group will promote the application of next-generation power semiconductors to various power conversion systems, thereby contributing to the reduction of CO2 emissions through higher efficiency of power semiconductors, and the realization of a carbon-neutral society.
GaN Systems, the global leader in GaN (gallium nitride) power semiconductors, announced a strategic partnership with ASE Technology's subsidiary, Universal Scientific Industrial Co., Ltd., to co-develop GaN power modules for the EV market. As the electric vehicle shifts from using legacy silicon power transistors to the increased performance of GaN, power modules are also transitioning to meet the demands of low heat loss and superior voltage control in the power conversion process. GaN power modules enable higher efficiency, increased EV range, and increased EV performance.
"We are proud to partner with an industry leader like GaN Systems," said JP Shi, USI's SVP of Strategic Investment. "We have worked with GaN Systems for years and are impressed with the company's leadership in high reliability, automotive-qualified GaN – an essential building block for EVs. We look forward to building optimized and highly efficient modules that will be the cornerstone of best-in-class DC-DC converters, on-board chargers, and traction inverters."
The heart of the EV traction drivetrain is the semiconductor power module. USI has more than 20 years of experience in power electronics manufacturing of various package types and high-reliability modules, including power modules, IPMs (intelligent power modules), DC/DC converters, and RF power transistors. USI has been well-recognized by OEMs and Tier-1 suppliers in the automotive sector by introducing the automotive functional safety standard ISO26262 and being certified with Chapters II and VII for manufacturing.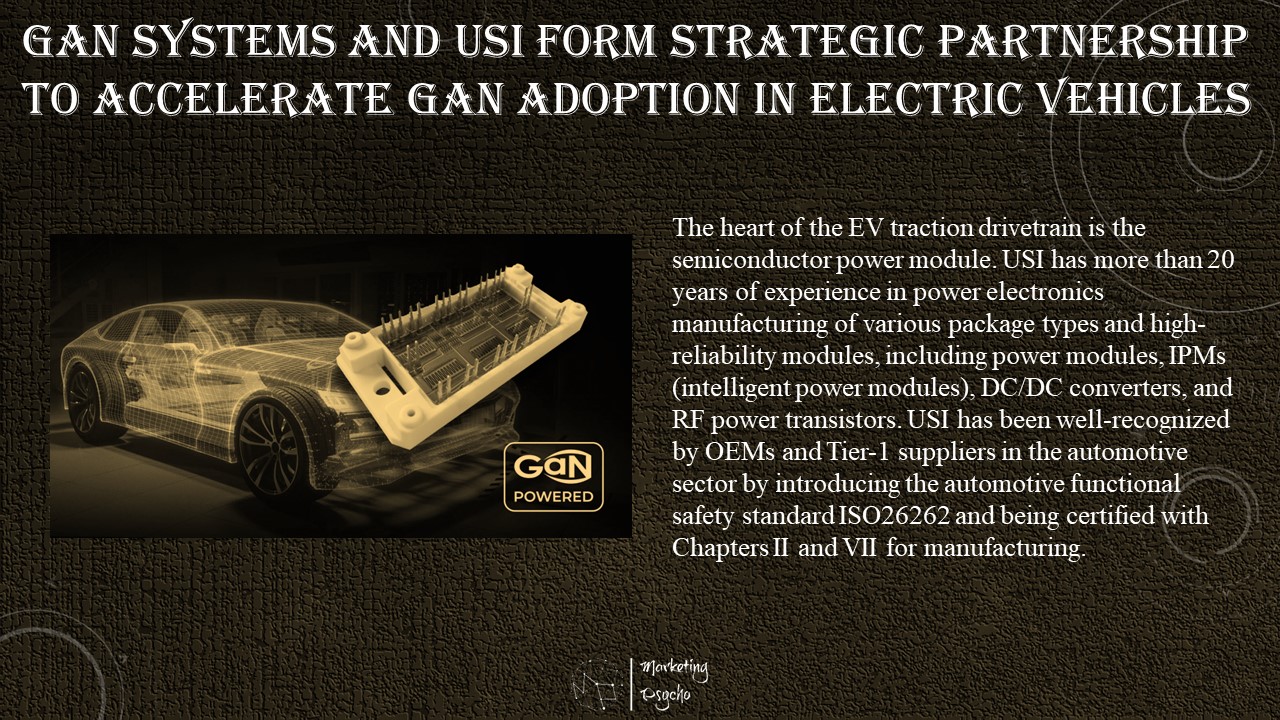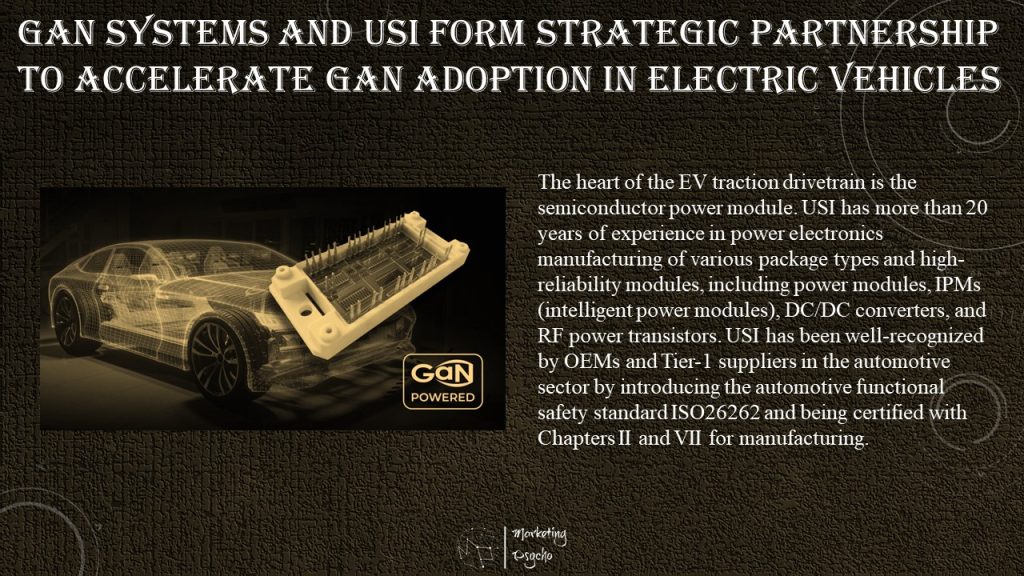 Stephen Coates, GM and VP of Operations at GaN Systems, said, "With today's announcement, USI joins our ecosystem of partners working to bring leading GaN technology to EVs. Through this partnership, we bring together USI's leadership in complex, high-power integrated modules with our high-reliability GaN semiconductor technology to build truly disruptive, game-changing modules for next generation EVs. Building on our deep industry relationships with leaders like BMW, Toyota, and Vitesco, GaN Systems and USI will work together to accelerate GaN adoption across the EV platform."
Power electronics and power conversion have a great influence on the cost and range of an electric vehicle. During each conversion cycle of electric energy, a certain amount of electricity is inevitably lost as heat due to the principles of physics. This impacts the total efficiency of an electric drive train. Innovative design with GaN offers a superior solution by enabling much higher efficiencies, ultimately lowering heat losses and allowing higher operating performance. The result is systems that are compact, easier to manufacture, and more cost-efficient.
Aehr Test Systems, a worldwide supplier of semiconductor test and reliability qualification equipment, has joined the PowerAmerica Institute (PowerAmerica), a public-private research initiative dedicated to accelerating the adoption of high performing, next generation silicon carbide (SiC) and gallium nitride (GaN) power electronics.
The collaboration will result in bringing next generation silicon carbide and gallium nitride power electronics to markets faster, reducing cost and risk factors associated with new generation technologies. An organization that brings together the semiconductor manufacturers and the companies that use semiconductor power electronics in their products, PowerAmerica Institute is well placed as an information hub. With the backing of the U.S. Department of Energy and the engagement of top researchers, knowledge and processes can be provided to educate the American workforce and provide more innovative product designs.
"Wafer test and burn-in equipment play a key role in high volume SiC and GaN production, as wafer level stress testing contributes to highly reliable SiC and GaN power electronic products," said Victor Veliadis, Executive Director of PowerAmerica. "We welcome Aehr to the PowerAmerica family and look forward to working with them to accelerate the adoption of wide bandgap technology."
Gayn Erickson, President and CEO of Aehr Test Systems, commented, "Aehr Test is excited about becoming the newest member of PowerAmerica and joining the other prestigious organizations in advancing wide bandgap (WBG) Silicon Carbide (SiC) and Gallium Nitride (GaN) technologies and accelerating the next generation of power electronics. We look forward to joining some of the brightest minds in WBG research, device manufacturing, power electronics and systems, with the objective of reducing cost and the inherent risks in this new technology.
"Wide bandgap semiconductors permit devices to operate at much higher temperatures, voltages, and frequencies, making the power electronic modules using these materials significantly more powerful and energy efficient than those made from conventional semiconductor materials. The benefits of bringing the more robust and cost effective SiC and GaN technologies to market will drive longer range in electric vehicles, along with energy savings in consumer, data center and industrial processes and help deliver renewable energy onto the electric grid."
Under geopolitics, Taiwan plays a key role in the global semiconductor supply chain, and is becoming increasingly important. How to strengthen the existing competitive edge in the arena is the goal of joint efforts of industry, government, and academia. Recently, a consensus has emerged in all recommendations made to the government, that is, talents are the most critical, but the scarcest resource in Taiwan among all the elements.
WIN Semiconductors Corp. (WIN) and National Yang Ming Chiao Tung University (NYCU) held on November 18th the opening ceremony, and entered into a cooperation agreement for establishment of the NYCU-WIN Joint Technology Innovation Center in NYCU Hsinchu campus. The opening ceremony was represented by Dennis Chen, Chairman of WIN and Dr. Chi Hung Lin. President of NYCU has accumulated solid R&D achievements, technologies and talents in the field of compound semiconductors, while WIN Semiconductors is the world's largest compound semiconductor foundry with excellent R&D team and advanced wafer processing technologies.
In the future, the parties will combine their advantages and resources to form a first-tier R&D team, focusing on development of compound semiconductor materials and devices related to wireless communication and optoelectronic application, and most importantly, fostering of future top-notch talents desperately needed by the industry.
Presently, WIN and NYCU have already started a couple of collaborative R&D projects. The research and development results of these projects will be brought into B5G (post 5G), 6G, next-generation ultra-high frequency (THz) communication and optical sensing components to meet demands ranging from mobile phones, autonomous cars, data centers to satellite communication, in the hope of supporting Taiwan's compound semiconductor supply chain to establish an irreplaceable market position in the world.
Jochen Hanebeck will take over as the new Chief Executive Officer of Infineon Technologies AG on 1 April 2022. This was decided by the Supervisory Board. Hanebeck was reappointed for five years, his contract runs until 31 March 2027. He has been a member of the Management Board and Chief Operations Officer since 2016. He succeeds Dr. Reinhard Ploss, who has led the company as CEO since 2012.
"We are delighted to present Jochen Hanebeck, an outstanding expert of both the semiconductor industry and, of course, Infineon, for the position of Chief Executive Officer. The Supervisory Board, Dr. Ploss and Mr. Hanebeck will define the details of this change in the leadership of Infineon in the coming months," says Dr. Wolfgang Eder, Chairman of the Supervisory Board of Infineon. "Jochen Hanebeck has already contributed significantly to Infineon's profitable growth trajectory over many years in various leadership positions. With him as CEO, the company will continue its success in the undoubtedly demanding times ahead. We thank Dr. Ploss most cordially for his extraordinarily successful work at the helm of Infineon. He has led Infineon into the global top ten. Thanks to his visionary power, and equally his personal thoughtfulness, Infineon today is excellently positioned as a technology leader in global high-growth markets."
"I'm very grateful for the trust of the Supervisory Board," says Jochen Hanebeck. "Together with the Management Board team and all employees, I want to seize the opportunities that continue to present themselves to Infineon in the future, and make our customers successful in the marketplace. Our semiconductor solutions are central pillars for the major trends of electrification and digitalization of the world. It is an honor for me to take over an excellently positioned company from Reinhard Ploss."
"With Jochen Hanebeck, the Supervisory Board has made a very good choice for the future leadership of Infineon," says CEO Dr. Reinhard Ploss. "I have known Jochen Hanebeck for many years as a competent and reliable colleague. He is very familiar with our industry and its challenges, and I am proud that Infineon's course will continue to be determined by a member of today's management team in the years to come."
Dr. Reinhard Ploss (born 1955) has been a member of Infineon's Management Board since 2007 and Chairman since 2012. The strategic approach "Product to System" was established in the company under his leadership. In addition, the portfolio was expanded and completed through the successful acquisitions of International Rectifier and Cypress Semiconductor Corp. Dr. Ploss began his career with the company in 1986 as a process engineer.
Jochen Hanebeck has been a member of the Management Board and Chief Operations Officer since 2016. He was born in 1968 in Dortmund. He received a degree in electrical engineering from RWTH Aachen University. He has been with Infineon since 1994 (Siemens AG until 1999).
Power electronics is playing an increasingly important role in various markets such as automotive, industrial, and consumer. It is an enabling technology for a wide range of new functions that enhance vehicle and smart grid performance, safety and functionality. Power devices will improve system performance in energy-saving applications, as well as in all high-voltage industrial applications.
PowerUP Expo is a virtual conference and exhibition that aims to envision the future of Power Electronics. PowerUP works in the same way as a live exhibition and conference does: it has fair grounds, an exhibition hall, and a conference area.
During the technical conference, it will have topic-specific tracks with keynotes, panel discussions, technical presentations and tutorials covering major technical trends, market requirements, new applications areas, etc.
Parallel to the Conference there will be an Exhibition, featuring virtual booths from leading power electronics companies. A Live Chat tool enables visitors to directly contact the booth personnel.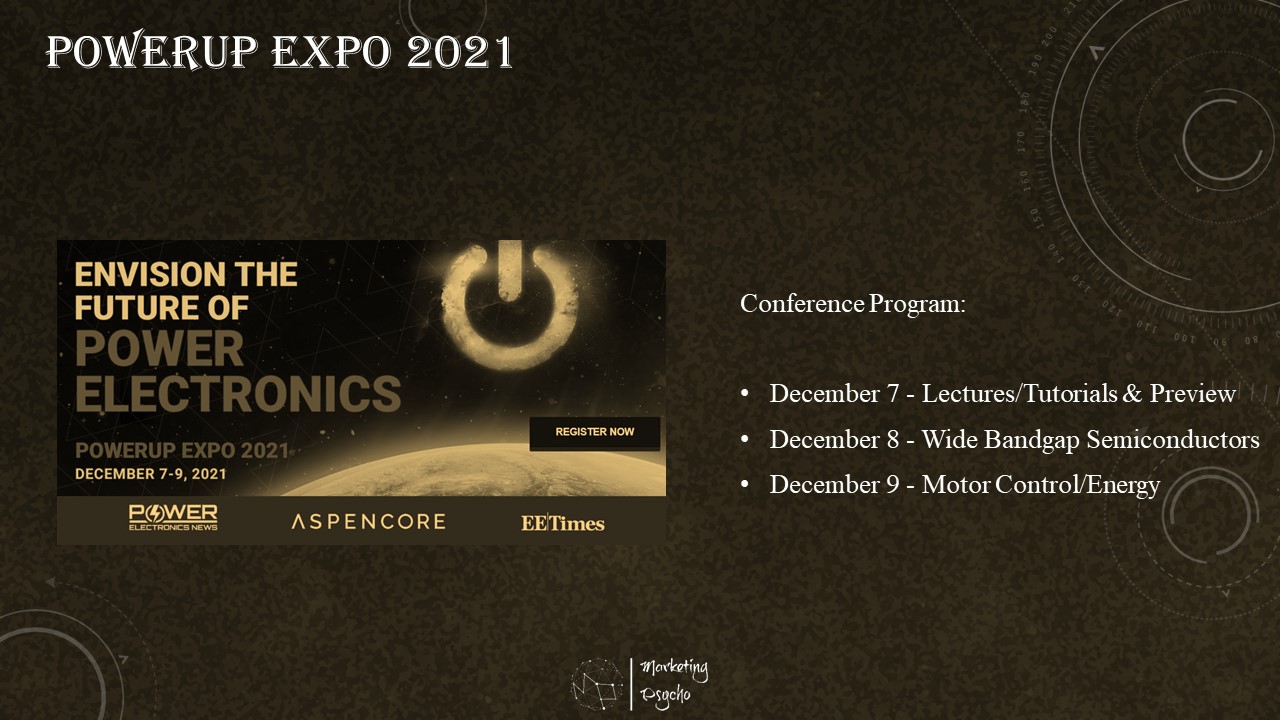 Conference Program:
December 7 – Lectures/Tutorials & Preview
On Dec. 7, we will be running several 1-hour Lectures/Tutorials with live Q&A and we will preview the Technical Presentations from the whole conference. You may watch these presentations on demand all day on Dec. 7 and if you have any questions, you may come back on Dec. 8 and 9 for live Q&A chats with the speakers.
December 8 – Wide Bandgap Semiconductors
The next wave of GaN and SiC: The availability of wide-bandgap (WBG) devices is providing new solutions and answers to the challenges that power device designers face in an era in which the watchword is "efficiency." WBG semiconductor technologies such as silicon carbide (SiC) and gallium nitride (GaN) promise benefits in wide-ranging applications, from universal wireless charging to power converters.
December 9 – Motor Control/Energy
High-efficiency Motor Control for Industry: Semiconductor devices serve the needs of motor drive and power control, which offer a better position, and torque, as well as much higher efficiency. The motor control circuit must switch the current flow to the motor coils on and off quickly, with minimal switching time or conduction period losses. As efficiency standards for these applications continue to strengthen, cost-efficient and energy-efficient motor control solutions simplify the design and provide a high level of integration, along with enhanced safety features and certified isolation capabilities.
The Future of Energy: One problem to be solved for the future of humanity is related to energy, global warming, and the depletion of fossil fuels. Renewables, energy storage, power grids, and other energy trends emphasize the reliability of aging electrical infrastructure and transmission and distribution lines around the world. Growing and supporting renewable energy poses a lot of challenges.
Innovations in power electronics are accelerating the electrification of transport systems. Wide Band Gap devices and specifically Silicon Carbide is poised to step in and be the workhorse, a role once filled by IGBTs. This is due to its improved efficiency and size reduction benefits.
In this webinar Microchip will explore various transport applications of SiC diodes, MOSFETs and how to optimize their performance with Microchip's digital gate drivers.
Date: December 09, 2021
Time: 6 AM CET
Duration: 1,5 hours
Subscribe to Power Semiconductors Weekly and watch it on YouTube every Tuesday.
If you prefer a monthly update about the world of power semiconductors delivered to your e-mail address, please, subscribe to Marketing Psycho Power Semiconductors newsletter.