Power Semiconductors Weekly Vol. 45
Alpha and Omega Semiconductor Limited (AOS), a designer, developer, and global supplier of a broad range of power semiconductors, power ICs, and digital power products, announced the release of the latest 80V Power MOSFET using patented Shield Gate Technology which is optimized for higher switching frequencies used in telecom and server power supply to achieve higher efficiency compared to the previous generation. The new 80V Power MOSFET technology has lower switching losses in hard switching, topologies and have less voltage overshoot than the previous generation. This improved performance from light load operation and throughout the load range results in easier design choices for high-efficiency applications. The 80V MOSFET family of devices offers the highest levels of power density and energy efficiency, which are essential in solar, power supplies, and battery power applications such as in eScooters.
AONR66820 and AONS66811 are Power MOSFETs in DFN3.3×3.3 and DFN 5×6 package, respectively. AONR66820 is perfectly suited for isolated DC-DC converters used in telecom applications. AONS66811 is appropriate for synchronous rectification and provides improved reverse recovery charge and reduced voltage overshoot, which provides higher efficiency and more robustness to the power supply. The AOTL66810 (80V) in TOLL package has approximately 25% smaller footprint than a standard wire-bonded TO-263 (D2PAK) package.
This new device offers a higher power density compared to existing solutions. It is ideally suited for industrial BLDC motor applications and battery management to reduce the number of MOSFETs in parallel. The AOTL66810 has a 1.25mOhms max at 10Vgs with a maximum drain current of 420A at 25°C. The pulsed current at 1700A, is limited by the maximum junction temperature of 175°C.
"With the significant performance improvement with clip technology in a robust TOLL package enables higher current density and higher current capability. The AOTL66810 simplifies new designs to enable savings in overall system cost due to a reduced number of devices in parallel. AOS's TOLL package is best suited for high power applications," said Peter H. Wilson, Director of LV/MV MOSFETs at AOS.
Fuji Electric Co., Ltd. launched its 2nd-generation discrete SiC-SBD Series of power semiconductors, which will contribute to energy saving in data centers and communication base stations.
Network traffic has been increasing due to digital transformation (DX), the increase in remote work, and the expanded use of Internet services. This has accelerated capital investment in data centers and communication base stations. As a result, demand for power supply equipment is increasing as well and its market is expected to grow from the current 300 billion yen to 450 billion yen in FY2028.
Because data centers and communication base stations require a large amount of DC power for facility operation, their power supply equipment is outfitted with power semiconductors (diodes) that efficiently convert (rectify) the AC power received from utility companies into DC power.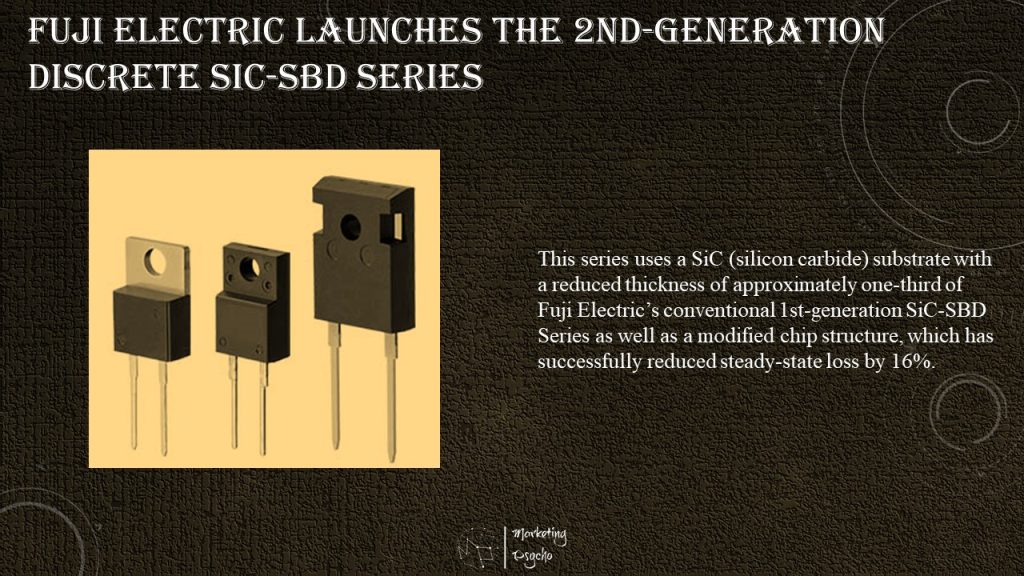 Power semiconductors undergo power loss (steady-state loss) when power is supplied. Fuji Electric has developed and launched its 2nd-generation discrete SiC-SBD Series for power supply equipment of data centers and communication base stations, and it will contribute to energy saving by reducing steady-state loss in electronic circuits.
Fuji Electric will contribute to the achievement of a decarbonized society by rolling out this series globally to achieve energy saving for equipment.
One way to reduce power loss in power semiconductors is to reduce the distance through which the electricity flows by making a thinner substrate element. This series uses a SiC (silicon carbide) substrate with a reduced thickness of approximately one-third of Fuji Electric's conventional 1st-generation SiC-SBD Series as well as a modified chip structure, which has successfully reduced steady-state loss by 16%. Fuji Electric has achieved one of the industry's thinnest substrates by applying its proprietary processing technology. It has also improved resistance to large currents caused by lightning. These measures contribute to energy saving and better reliability of the equipment that uses this product.
For modern switch-mode power supplies (SMPS) and battery-powered applications there is a clear trend towards higher efficiency and improved reliability. Supporting this trend, Infineon Technologies AG introduced the OptiMOS™ 6 100 V with a new power MOSFET technology. The new technology is specifically optimized for high switching frequency applications such as telecom and solar, where losses are associated with charges (switching) and on-state resistance (conduction). At the same time, due to the best-in-class R DS(on) and wider safe operating area (SOA), it is also ideal for battery-powered applications (BPA) and battery management systems (BMS).
Taking advantage of a novel design concept, the OptiMOS 6 100 V family of MOSFETs comes with improved R DS(on) and industry's best figures-of-merit (FOMs). It combines the benefits of exceptionally low on-state resistance and superior switching performances. The unique features of OptiMOS 6 allow for easier thermal design and less paralleling, leading to excellent efficiency, improved power density, system cost reduction, and prolonged lifetime.
Especially in the telecom market, OptiMOS 6 is a "game-changer" by achieving 18 percent lower R DS(on) and more than 30 percent improvement in FOMs (R DS(on) x Q g and Q gd), compared to the state-of-the-art OptiMOS 5 . In a 600 W, -(36-60) V to 12 V ZVS buck-boost converter, the OptiMOS 6 in SuperSO8 package with 2.2 mΩ can achieve one percent higher efficiency than OptiMOS 5 BSC027N10NS5 (2.7 mΩ) across the whole load range. This results in a 7 W lower power loss due to improved charges and R DS(on), enabling up to 15 percent higher power density. Among the key benefits, the new technology in the 100 V range allows for lower conduction and switching losses and minimizes the necessity for paralleling parts.
OptiMOS 6 100 V is an energy efficient solution that contributes to a greener world. In the framework of telecom power system, by switching to the new MOSFET technology, the annual electricity saving potential equals the electricity consumption of 170 households. The devices help to reduce the energy consumption by one million Euros over a time span of ten years.
OptiMOS 6 100 V is now available in SuperSO8 5×6 and PQFN 3.3×3.3 packages in a broad range of R DS(on) classes from industry best-in-class to price/performance optimized. More information is available at www.infineon.com/optimos-6-100V
ROHM has recently been certified as a preferred supplier of SiC power solutions by United Automotive Electronic Systems Co., Ltd., (UAES), a Chinese Tier 1 comprehensive automotive manufacturer.
ROHM and UAES have been collaborating and carrying out detailed technical exchanges on the development of automotive applications utilizing SiC power devices from 2015.
In 2020 ROHM established a joint SiC technology laboratory at UAES headquarters (Shanghai, China) with the goal of strengthening cooperation on the development of innovative power solutions centered on SiC, and mass production of a number of automotive products equipped with ROHM SiC power devices is already underway, such as onboard chargers for electric vehicles.
More recently, ROHM's industry-leading SiC power device performance along with power solutions that include peripheral components were highly evaluated, resulting in ROHM being selected as the first preferred supplier in this field. ROHM SiC power devices are also being used in inverter modules currently being developed by UAES to extend the cruising range of electric vehicles and reduce battery size. And in the future, the two companies will continue to accelerate the development of SiC power solutions to achieve technical innovation for electric vehicles.
Mr. Guo Xiaolu, Deputy General Manager, United Automotive Electronic Systems Co., Ltd.
We have been conducting ongoing technical exchanges with ROHM, a leader in SiC power devices. The high rating that ROHM devices and peripheral solution proposals have received has led to ROHM being selected as a preferred supplier. For us at UAES, vehicle applications utilizing SiC are an important business that is about to go into full swing, and we have now entered a concrete stage of mass production of SiC-equipped inverters and other products. We would like to thank ROHM for their previous efforts and look forward to building a long-term collaborative relationship using this certification as a new start.
Dr. Kazuhide Ino, Managing Executive Officer, CSO and Director of Accounting & Finance Headquarters, ROHM Co., Ltd.
We are very appreciative to have received this recognition by UAES, the largest Tier 1 manufacturer in China. As the automotive market moves quickly towards electrification, we see an important opportunity to help UAES develop advanced applications that meet customer needs. ROHM offers a broad range of products in addition to SiC, including IPMs, IPDs, gate drivers, and LED drivers that are ideal for onboard inverters and chargers. Going forward, we look forward to deepening our relationship with UAES and promoting the development of a wide range of products utilizing ROHM's cutting-edge technologies that will contribute to the further evolution of electric vehicles.
Texas Instruments Incorporated (TI) announced plans to begin construction next year on its new 300-millimeter semiconductor wafer fabrication plants in Sherman, Texas. The North Texas site has the potential for up to four fabs to meet demand over time, as semiconductor growth in electronics, particularly in industrial and automotive markets, is expected to continue well into the future. Construction of the first and second fabs is set to begin in 2022.
"TI's future analog and embedded processing 300-mm fabs at the Sherman site are part of our long-term capacity planning to continue to strengthen our manufacturing and technology competitive advantage and support our customers' demand in the coming decades," said Rich Templeton, TI's chairman, president and CEO. "Our commitment to North Texas spans more than 90 years, and this decision is a testament to our strong partnership and investment in the Sherman community."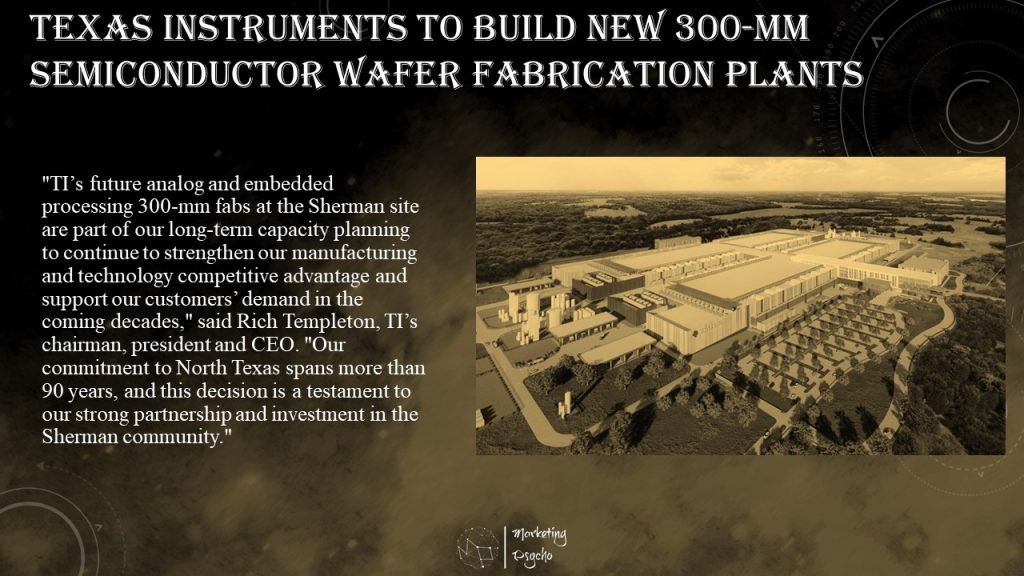 Production from the first new fab is expected as early as 2025. With the option to include up to four fabs, total investment potential at the site could reach approximately $30 billion and support 3,000 direct jobs over time.
The new fabs will complement TI's existing 300-mm fabs which include DMOS6 (Dallas, Texas), RFAB1 and the soon-to-be-completed RFAB2 (both in Richardson, Texas), which is expected to start production in the second half of 2022. Additionally, LFAB (Lehi, Utah), which TI recently acquired, is expected to begin production in early 2023.
Rogers Corporation announced that it has entered into a definitive merger agreement to be acquired by DuPont in an all-cash transaction that values Rogers at approximately $5.2 billion.
The transaction delivers substantial value to Rogers' shareholders, who will receive $277 in cash per share, representing a 33% premium over Rogers' closing share price on November 1, 2021, and a 46% premium to the 1-month volume weighted average share price.
Following the closing of the transaction, Rogers will be integrated into DuPont's Electronics & Industrial business unit. Rogers significant applications engineering, design expertise, and deep customer relationships form a strong strategic fit with DuPont's innovation capabilities and collaborative approach to solving the most complex customer challenges.
"Rogers is a recognized global leader in advanced materials solutions, and this combination with DuPont will help accelerate our long-term growth in EV/HEV, ADAS and other key markets," stated Bruce D. Hoechner, Rogers' President and CEO. "The Rogers' team has created a growth-focused organization built on a foundation of strong technology leadership and customer intimacy. Our combination with DuPont, a proven leader in technology-based materials, provides resources and support to allow Rogers to scale for success. Rogers is a natural fit with DuPont, and this combination will create an exciting next chapter for Rogers' customers, employees and partners."
"Rogers is a results-driven organization with excellent technical expertise and deep customer relationships that align well with DuPont's leading innovation and applied material science capabilities," said Ed Breen, DuPont Executive Chairman and CEO. "The combination of Rogers with our Electronics & Industrial business further strengthens our market-leading portfolio and ability to bring new solutions to exciting end markets. We look forward to welcoming Rogers' employees and working together to deliver essential innovations that help our customers and company grow."
Phase Change TIM offers a simplified manufacturing process, but generally has a higher thermal resistance than paste. SEMIKRON, determined to find the best solution, researched which Phase Change Material offers the best benefits to their power modules. They found a solution, which competes with even the latest High Performance Thermal Paste.
In this webinar, Stefan Hopfe will explain the most significant properties of Thermal Interface Material. Additionally, he will explain the support SEMIKRON provides, such as pre-applied TIM.
Key Takeaways:
What value does Phase Change TIM have compared to paste?
How can pre-applied TIM increase manufacturing efficiency?
What additional services does SEMIKRON offer?
Date: November 30, 2021
Time: 4 PM CET
Duration: 45 minutes
Subscribe to Power Semiconductors Weekly and watch it on YouTube every Tuesday.
If you prefer a monthly update about the world of power semiconductors delivered to your e-mail address, please, subscribe to Marketing Psycho Power Semiconductors newsletter.