Power Semiconductors Weekly Vol. 43
SemiQ announced the launch of its 2nd Generation Silicon Carbide power switch, a 1200V 80mΩ SiC MOSFET, expanding its portfolio of SiC power devices. This MOSFET complements the company's existing SiC rectifiers at 650V, 1200V and 1700V.
SemiQ has engineered this MOSFET to provide the best trade-off of conduction and switching losses to benefit the widest possible range of applications.
SemiQ device maintains its efficiency advantage over a full range of frequencies versus popular competitive products. This gives designers more flexibility over a wider range of applications than other devices on the market.
SiC MOSFETs bring high efficiency to high-performance applications including electric vehicles, power supplies and data centers and are specifically designed and tested to operate reliably in extreme environments. Compared to legacy Silicon IGBTs, SemiQ's MOSFETs switch faster with lower losses, enabling system-level benefits through reduced size, weight and cooling requirements.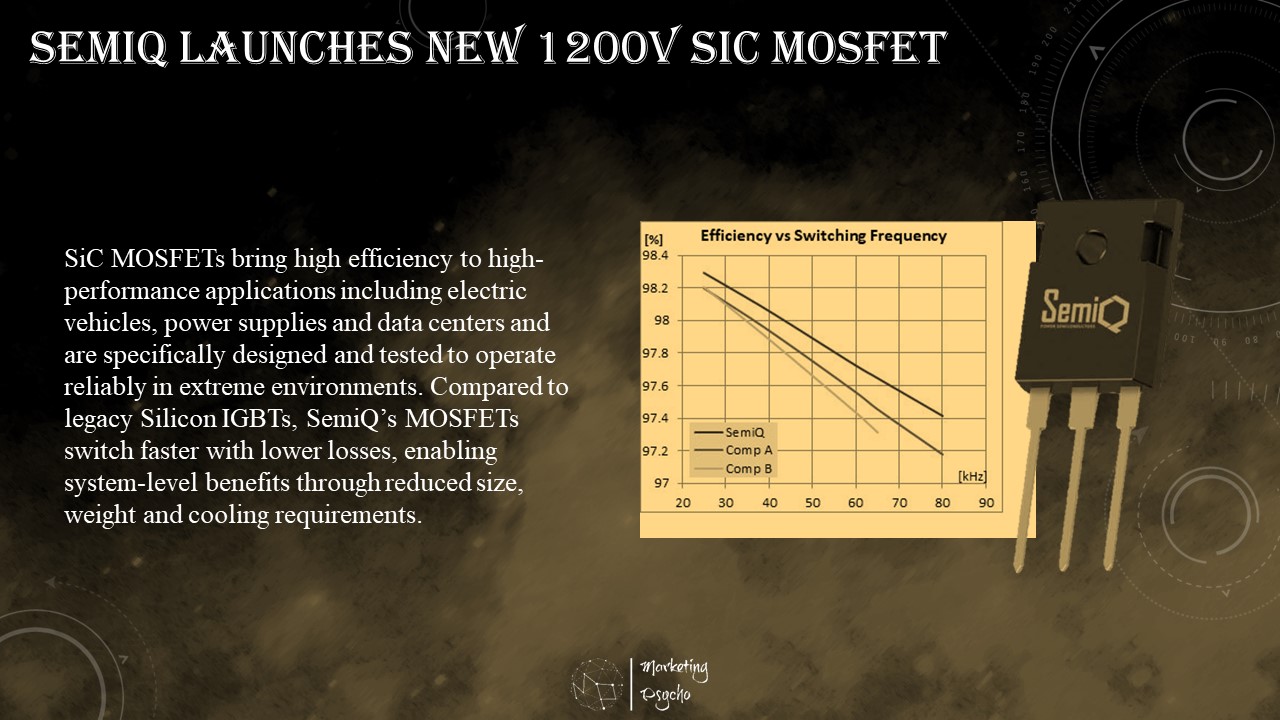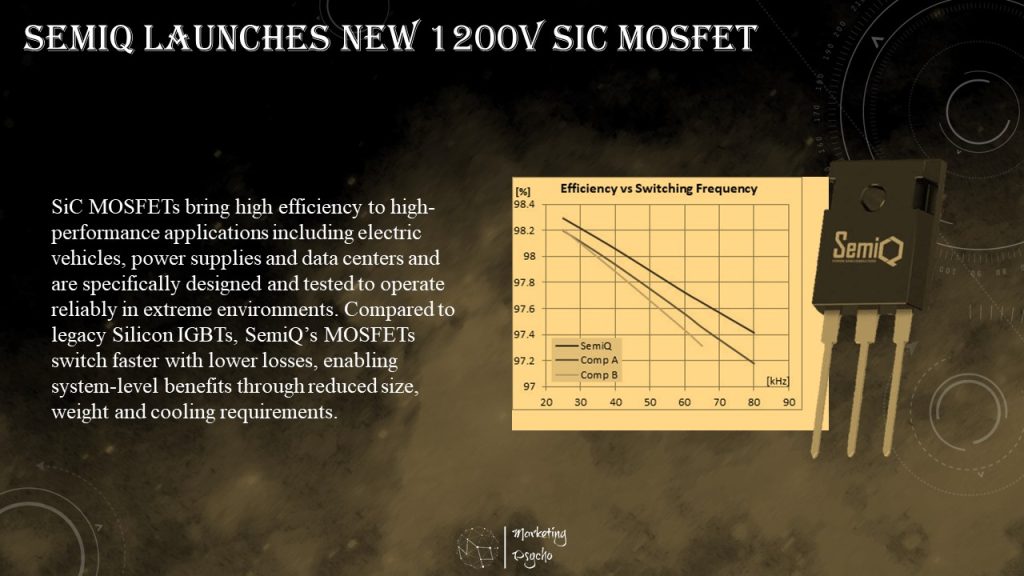 Michael Robinson, President and General Manager at SemiQ said "Thanks to those employees, associates, supporters and vendors who have worked tirelessly to build and qualify our initial Gen2 SiC Power MOSFET which demonstrates the high-quality, optimized performance, and robust reliability that will be characteristic of a SemiQ MOSFET portfolio that is on the way."
SemiQ's new 1200V 80mΩ SiC MOSFET is available in a TO-247-3L package and will soon be available in a TO-247-4L package and a series of modules.
DENSO Corporation has been contributing to spreading the use of electric vehicles, extending their mileage, and reducing CO₂ emissions from vehicles by developing SiC (silicon carbide) power semiconductors, which incorporate DENSO's proprietary structures and processing technologies, and using them in its in-vehicle products.
A power semiconductor is like the muscles in the human body. It moves components, such as inverters and motors (limbs), based on commands from an ECU (brain). Typical power semiconductors used in in-vehicle products are made from silicon (Si). In comparison, SiC offers superior performance in high-temperature, high-frequency, and high-voltage environments, and helps significantly reduce the power loss, size, and weight of inverters. Thus, SiC devices have attracted attention because they accelerate the electrification of vehicles.
For example, a booster power module, which incorporates DENSO's SiC power semiconductor, is about 30% smaller in volume with 70% less power loss than a conventional product with a Si power semiconductor. As a result, products have been made smaller and vehicle fuel efficiency improved.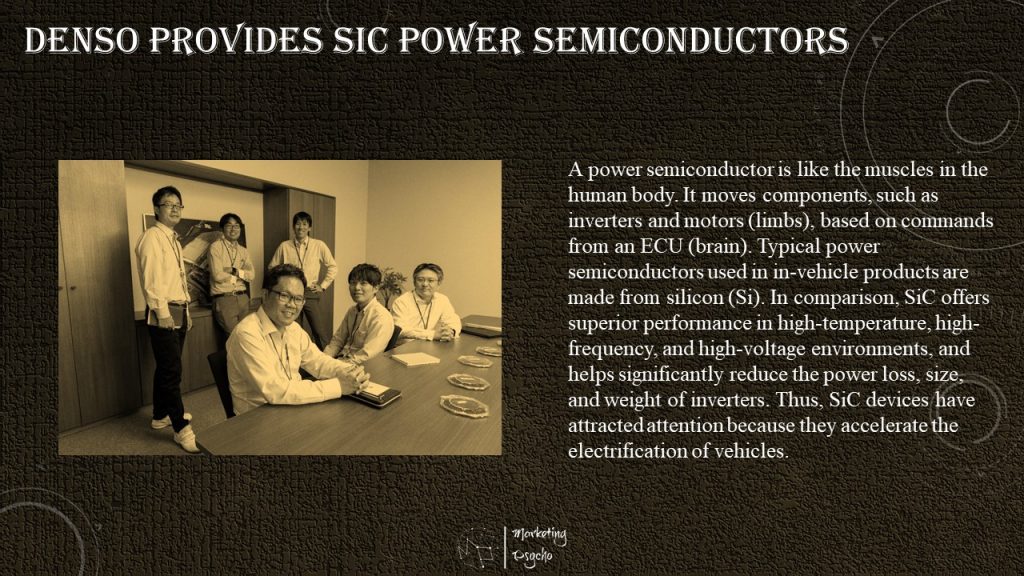 DENSO calls these SiC technologies "REVOSIC," conveying the idea of making "changes" in society through innovative technologies. The company has been developing a comprehensive range of technologies from wafers to power modules, and will continue R&D on REVOSIC SiC technologies and spreading their use in electric vehicles to help realize a decarbonized society.
Semiconductor Power Electronics Center developed a novel and cost-effective 3.6kV/400A SiC half-bridge IPM based on the Austin SuperMOS.
Twenty-four 1200V SiC MOSFETs are integrated into the IPM together with a high isolation voltage gate power supply, gate driver with overcurrent protection. Ultra-low-power loop stray inductance is achieved by utilizing magnetic flux cancellation in the IPM.
The proposed 3.6-kV/400-A half-bridge power module has three high-power connections (VDC+, VDC–, and SW node) and four optical fiber connections for two PWM inputs and two fault outputs. Integrating 12 1,200-V SiC MOSFETs based on the Austin SuperMOS configuration, the module uses a dedicated PCB to create a low-inductance power loop and has internal decoupling capacitors and a SuperMOS voltage-balancing circuit. The power-loop structure is designed with a magnetic flux cancellation effect to achieve low parasitic inductance. The discrete SiC MOSFET substrate was realized with a 1-mm–thickness aluminum nitride (AIN) direct-bonded copper, thus increasing both heat dissipation and insulation voltage.
BorgWarner, a global product leader in delivering innovative and sustainable mobility solutions for the vehicle market, is the recipient of a $4.97 million U.S. Department of Energy (DOE) Award for the development of a Scalable Ultra Power-dense Extended Range (SUPER) inverter. This research and development project is one of 24 university and industry-led projects that collectively were awarded $60 million in an effort to reduce CO2 emissions from the transportation sector.
BorgWarner is leading this 39-month project and working with Infineon Technologies Americas Corp., PolyCharge America, Inc., the National Renewable Energy Laboratory and Virginia Tech as partners to bring the SUPER inverter to fruition. Wolfspeed, Inc. will be a key supplier.
"With an intense focus on electrification, and as a leading systems integrator and high-voltage inverter supplier, we are proud to be selected by the DOE to develop a next-generation inverter that will accelerate innovation in electric drive systems and propel the performance and capabilities of electric vehicles," said Dr. Stefan Demmerle, President and General Manager, BorgWarner PowerDrive Systems. "We have a longstanding relationship with the DOE and have teamed up with an impressive group of industry partners and technology leaders to charge forward with this project."
The goal of the project is to develop an advanced inverter that is smaller, more efficient and more cost-effective than inverters on the market today, with the intent of enabling 800-volt electrified vehicles to meet or exceed the DOE solicitation target of 100kW per liter of power density. Additionally, project plans call for a design that allows high power density with power scaling between 100 kW and 300 kW and can be used either as a standalone device or integrated into a drive unit that includes a motor and gearbox.
During the first year of the project, which will begin in October, the group will create the concept for the entire silicon carbide (SiC) based inverter system. In the second year, the team will make all critical components that make up the inverter, including the power module and capacitor, and finalize the inverter's design. The final year will be used for validation of the components and the SUPER inverter. Once complete, the team expects to take the technology from development to production relatively quickly.
"For this project, we will be leveraging our experience with our unique and high-performing 800V Viper silicon carbide based inverter, advancing the concept with a building block approach and increasing component integration to achieve higher performance targets and ultimately expand its commercial potential," continued Demmerle. "We expect the number of high-voltage EVs to sharply increase in the coming years and this scalable, high power density inverter will help expedite adoption."
KEC, the first company to move into the Gumi National Industrial Complex, is drawing attention by taking a second leap forward, including a new investment of 20 billion won.
KEC executives and employees, including CEO Kim Hak-nam and union leader Lee Joon-han held a signing ceremony for a resolution for joint labor-management practice at the Gumi Plant, and declared their will to achieve 'KEC Group's Vision 2025' by harmonizing labor and management and actively promoting it.
KEC's declaration of execution for this second leap comes from the 'Vision 2025', which contains core values such as a leap forward as a future-oriented global power semiconductor company in the automotive industry, announced by KEC Group two years ago to celebrate the company's 50th anniversary.
This resolution includes contents such as ▷new investment of 20 billion won and review of additional investment in production facilities for continuous development and job stability of the Gumi Plant ▷ active cooperation in preparing for the future and strengthening competitiveness through labor-management harmony.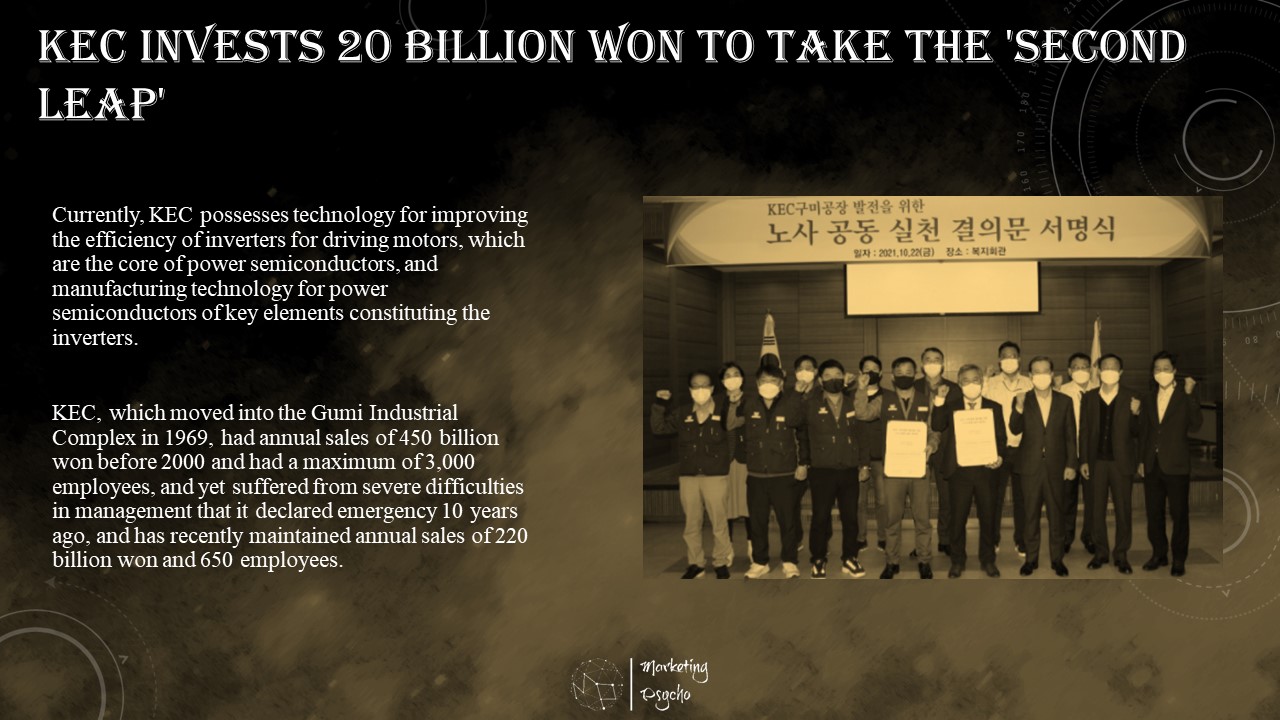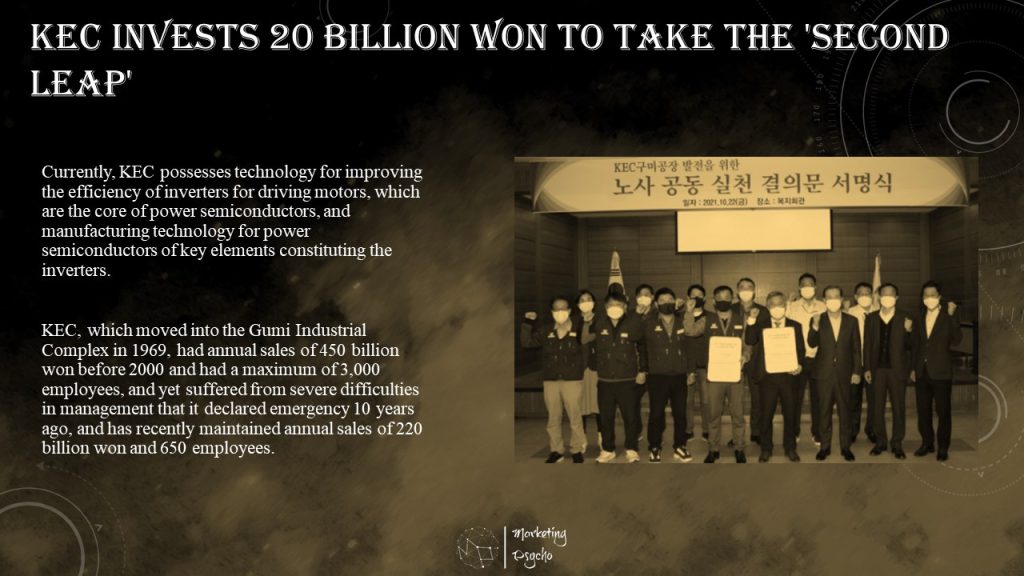 KEC, a non-memory integrated semiconductor company, is currently implementing a comprehensive growth strategy from R&D to distribution in order to grow into a global power semiconductor company under KEC Group's 'Vision 2025'
Currently, KEC possesses technology for improving the efficiency of inverters for driving motors, which are the core of power semiconductors, and manufacturing technology for power semiconductors of key elements constituting the inverters.
KEC, which moved into the Gumi Industrial Complex in 1969, had annual sales of 450 billion won before 2000 and had a maximum of 3,000 employees, and yet suffered from severe difficulties in management that it declared emergency 10 years ago, and has recently maintained annual sales of 220 billion won and 650 employees.
Qorvo®, a leading provider of innovative RF solutions that connect the world, announced that it has acquired Princeton, New Jersey-based United Silicon Carbide (UnitedSiC), a leading manufacturer of silicon carbide (SiC) power semiconductors. The acquisition of United Silicon Carbide expands Qorvo's reach into the fast-growing markets for electric vehicles (EVs), industrial power, circuit protection, renewables and data center power. United Silicon Carbide will become part of Qorvo's Infrastructure & Defense Products (IDP) business and will be led by Dr. Chris Dries, who was formerly United Silicon Carbide's president and CEO and is now general manager of Qorvo's Power Device Solutions.
Philip Chesley, president of Qorvo IDP, said, "The addition of United Silicon Carbide to our IDP business significantly expands our market opportunities in high-power applications. This acquisition enables Qorvo to deliver high-value, best-in-class intelligent power solutions covering power conversion, motion control and circuit protection applications."
Dr. Dries said, "Our team is thrilled to expand our SiC portfolio as part of Qorvo and continue to build the business with speed and scale, working to accelerate SiC adoption with the industry's highest performance devices. Our SiC technology, together with Qorvo's complementary Programmable Power Management products and world-class supply chain capabilities, enable us to deliver superior levels of power efficiency in advanced applications."
United Silicon Carbide's product portfolio now spans more than 80 SiC FETs, JFETs and Schottky diode devices. Based on a unique cascode configuration, the recently announced Generation 4 SiC FETs are specified at an industry-leading 750V at 5.9 milliohm RDS(on), enabling new levels of SiC efficiency and performance critical for EV chargers, DC-DC converters and traction drives, as well as telecom/server power supplies, variable speed motor drives and solar photovoltaic (PV) inverters.
Subscribe to Power Semiconductors Weekly and watch it on YouTube every Tuesday.
If you prefer a monthly update about the world of power semiconductors delivered to your e-mail address, please, subscribe to Marketing Psycho Power Semiconductors newsletter.