Power Semiconductors Weekly Vol. 41
Wolfspeed, Inc., the global leader in Silicon Carbide technology, announced that ZINSIGHT Technology (Shanghai) Co., Ltd., an innovator of advanced electric drive systems, will utilize Wolfspeed® 1200V Silicon Carbide MOSFETs in its advanced motor controller for ultra-high-speed air compressors in fuel cell vehicle (FCV) engines.
Consumer demand for zero-emission vehicles such as battery-electric vehicles (BEVs) and FCVs is expected to increase over the next decade as automakers and government entities shift focus away from production of internal combustion engine vehicles for a cleaner and more sustainable future. The use of Silicon Carbide in BEVs and FCVs results in significant cost savings, while high-efficiency power modules enable lower energy losses and higher range.
"The air compressor is one of the most critical components in FCV engines, affecting both efficiency and volume," said Dr. Shi Jingkui, CEO of ZINSIGHT. "We partnered with Wolfspeed to harness its leadership in Silicon Carbide and ensure our technologies deliver best-in-class performance in speed, performance, efficiency, reliability and electromagnetic compatibility (EMC)."
Using Wolfspeed's industry-leading 1200V Silicon Carbide MOSFETs, Zinsight developed an ultra-high-speed motor controller for use in FCV air compressors. The 35kW HS35 solution provides enhanced efficiency and energy production, achieving more precise motor control over the entire FCV speed range.
"This collaboration further diversifies our automotive pipeline as we bring Silicon Carbide technology to fuel cell vehicles," said Jay Cameron, senior vice president and general manager for Wolfspeed Power. "Wolfspeed Silicon Carbide enables our customers to provide best-in-class efficiency as they help automakers lead the transition to a more sustainable future."
As a pure-play semiconductor powerhouse, Wolfspeed is leading the industry transition from silicon to Silicon Carbide in the automotive sector as it transitions away from internal combustion engines.
Together with 33 European project partners, Robert Bosch GmbH is coordinating the European funding project TRANSFORM – Trusted European SiC Value Chain for a greener Economy. centrotherm is involved in this project as a project partner and leading supplier of high-temperature furnaces for post-implantation annealing of silicon carbide wafers.
The common project goal is to establish and strengthen the complete value chain from the substrate to the silicon carbide-based energy converter in Europe. Due to the rapidly growing energy demand and the goal of climate neutrality of the European Union by 2050, energy efficiency plays a central role. The use of silicon carbide as a semiconductor in power electronics is an important building block for achieving these goals, not only in e-mobility. Depending on the application, efficiency gains of between 6 % and 30 % are expected. In addition, TRANSFORM is expected to help significantly strengthen the competitive position of European technology on the global market.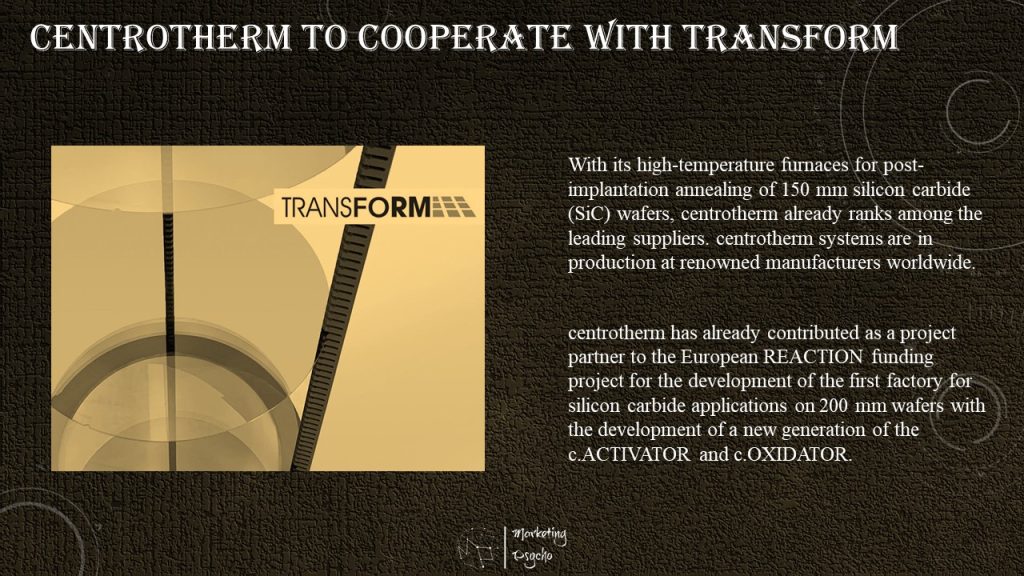 With its high-temperature furnaces for post-implantation annealing of 150 mm silicon carbide (SiC) wafers, centrotherm already ranks among the leading suppliers. centrotherm systems are in production at renowned manufacturers worldwide.
centrotherm has already contributed as a project partner to the European REACTION funding project for the development of the first factory for silicon carbide applications on 200 mm wafers with the development of a new generation of the c.ACTIVATOR and c.OXIDATOR.
The official project website was launched at www.sic-transform.eu.
This project has received funding from the ECSEL Joint Undertaking (JU) under grant agreement No 101007237. The JU receives support from the European Union's Horizon 2020 research and innovation programme and Germany, France, Italy, Sweden, Austria, Czech Republic, Spain.
Littelfuse, Inc. and Carling Technologies, Inc. announced that they have entered into a definitive agreement for Littelfuse to acquire Carling for $315 million in cash, subject to a working capital adjustment.
Founded in 1920, Carling has a leading position in switching and circuit protection technologies with a strong global presence in commercial vehicle, marine and datacom/telecom infrastructure markets. The business is headquartered in Plainville, Connecticut, with offices and facilities located around the world. The company has annualized sales of approximately $170 million.
"We are excited to welcome Carling employees to the Littelfuse team," said Dave Lesperance, Vice President and General Manager, Littelfuse Commercial Vehicle Business. "With its strong brand name and a long history of innovation, quality, and reliability, Carling enhances our presence and growth in commercial vehicles and communications infrastructure. Our complementary engineering capabilities, application expertise, and product portfolios will drive deeper engagement with a broader base of customers and distribution partners, serving as a platform for future growth."
"The combination of Carling and Littelfuse, both with a rich heritage, will leverage our collective resources and portfolios to create increased value for our customers," said Richard Sorenson, Sr., Carling Technologies President and Chief Executive Officer. "Joining a world-class organization like Littelfuse will accelerate our business plans and provide expanded opportunities for our employees around the world."
The transaction is subject to customary closing conditions and regulatory approvals, and is expected to close during the fourth calendar quarter of 2021.
Littelfuse will share additional details about Carling during the company's third quarter of fiscal 2021 earnings conference call on Wednesday, October 27, 2021 at 9:00 a.m. Central Time. The conference call will be available via webcast from www.littelfuse.com. A recording of the call will also be available there.
Transphorm, Inc. – a pioneer in and global supplier of high reliability, high performance gallium nitride (GaN) power conversion products – announced the appointment of Cindi Moreland to the Company's Board of Directors, effective October 20, 2021.
Ms. Moreland has over 30 years of experience working as an attorney within the technical field. Having counseled public and private companies, both domestically and internationally, Ms. Moreland is a recognized expert across the technology sector for her informed guidance on legal matters, such as SEC/SOX compliance, intellectual property and risk management. She currently serves as the general counsel of Care.com, an online marketplace for various care services and a subsidiary of IAC/InterActiveCorp. Previously, Ms. Moreland served as the Vice President, General Counsel and Chief Compliance Officer for Samsung Mobile USA. Prior roles also include Vice President, General Counsel, Corporate Secretary and Chief Compliance Officer of Applied Micro, and General Counsel of Motorola, Inc.'s semiconductor unit. Ms. Moreland holds both a Bachelor of Arts and Juris Doctorate from the University of Mississippi.
"Cindi is well known in the industry for her legal expertise and corporate counsel, and we are excited to welcome her as our newest independent director," stated Mario Rivas, Transphorm's Chief Executive Officer. "Having worked together previously while at Motorola Semiconductors, I have first-hand insight to the value of her guidance as well as the depth of her legal knowledge. She brings a wealth of complementary experience to Transphorm's existing Board, which will play an important role as we continue to grow as a public company. Together with the additions of Ms. McFarland and Ms. Smales earlier in the year, this appointment demonstrates our ongoing commitments to board diversification and further strengthening the breadth, talent, knowledge and background of our directors."
Concurrent with Ms. Moreland's appointment, Brittany Bagley has stepped down from Transphorm's Board of Directors. Ms. Bagley's resignation is not due to any disagreement relating to the Company's operations, policies or practices, and primarily relates to a desire to dedicate more time to other existing full-time career commitments.
Mr. Rivas further commented, "On behalf of the Board and the entire company, I want to extend our utmost gratitude to Brittany for her loyal service and significant contributions over the past six years. She has been incredibly generous with her time and commitment to the company, while helping to prepare and position Transphorm to lead the GaN revolution, and we wish her the very best in her future business pursuits."
In order to satisfy the ever-growing demands for modern electronic devices, especially in terms of durability, reliability and thermal resilience, PINK has developed a sintering system, as silver sintering is the most promising joining technology as an alternative to the conventional soldering technology in power electronics.
By the use of PINK sintering systems, you can achieve sintering connections, which are characterized by reliable, resilient and highly temperature-resistant bonds.
Silver sintering is becoming a mature interconnect technology in power electronics. Learn more about the sintering process for power electronics in PINK's live web seminar.
Key Takeaways:
Advantages of sintering as interconnect technology
Introduction of sintering – from paste printing to sintered device
Benefits of PINK sintering systems
Q&A
Date: November 03, 2021 at
Time: 9 AM and 5 PM CET
Duration: 1 hour
Subscribe to Power Semiconductors Weekly and watch it on YouTube every Tuesday.
If you prefer a monthly update about the world of power semiconductors delivered to your e-mail address, please, subscribe to Marketing Psycho Power Semiconductors newsletter.