Power Semiconductors Weekly Vol. 37
No more uncertainty with your designs. No more approximate figures. No more complicated simulation. Solve it with VINcoSIM.
VINcoSIM is a Vincotech web-based integrated simulation environment to support your power electronics design. It provides calculations for semiconductor losses and predictions for junction temperatures for Vincotech power modules. Starting from simple configuration of key parameters such as voltages, currents and switching frequencies, the software gives a proper estimation for the operation conditions of the power module in real application. The results are based on real measurements taken from each module. VINcoSIM will be available starting October 1. Besides on October 4, Vincotech will hold a webinar dedicated to this new simulation tool and will present all its features.
Why use VINcoSIM?
It is accurate:
Real measurement data, all topologies (also advanced ones) are available, custom heatsink option is included
It is fast and complete:
600+ products available, simulation takes only seconds
It is easy to use:
Only 1 configuration step, flexible options for your needs, no downloading necessary, no cost
Upcoming Webinar
VINcoSIM – The Next Generation Simulation Environment for Power Modules from Vincotech
Key takeaways
Get to know a new user-friendly, web-based simulation environment
Learn how to solve your application-specific challenges for power modules
See real life examples in the simulation software
Discover the technical background of the simulation system and how it benefits you
UnitedSiC, a leading manufacturer of silicon carbide (SiC) power semiconductors, has responded to the power designer's requests for higher-performance, higher-efficient SiC FETs with the announcement of the industry's best 750V, 6mohm device. At a RDS(on) value of less than half the nearest SiC MOSFET competitor, the new 6mohm device also provides a robust short-circuit withstand time rating of 5ms. There are 9 new device/package options in the 750V SiC FET series, rated at 6, 9, 11, 23, 33, and 44mohms. All devices are available in the TO-247-4L package while the 18, 23, 33, 44, and 60mohm devices also come in the TO-247-3L. Complemented by the already available 18 and 60mohm devices, this 750V expanded series provides designers with more device options, enabling more design flexibility to achieve an optimum cost/efficiency trade-off while maintaining generous design margins and circuit robustness.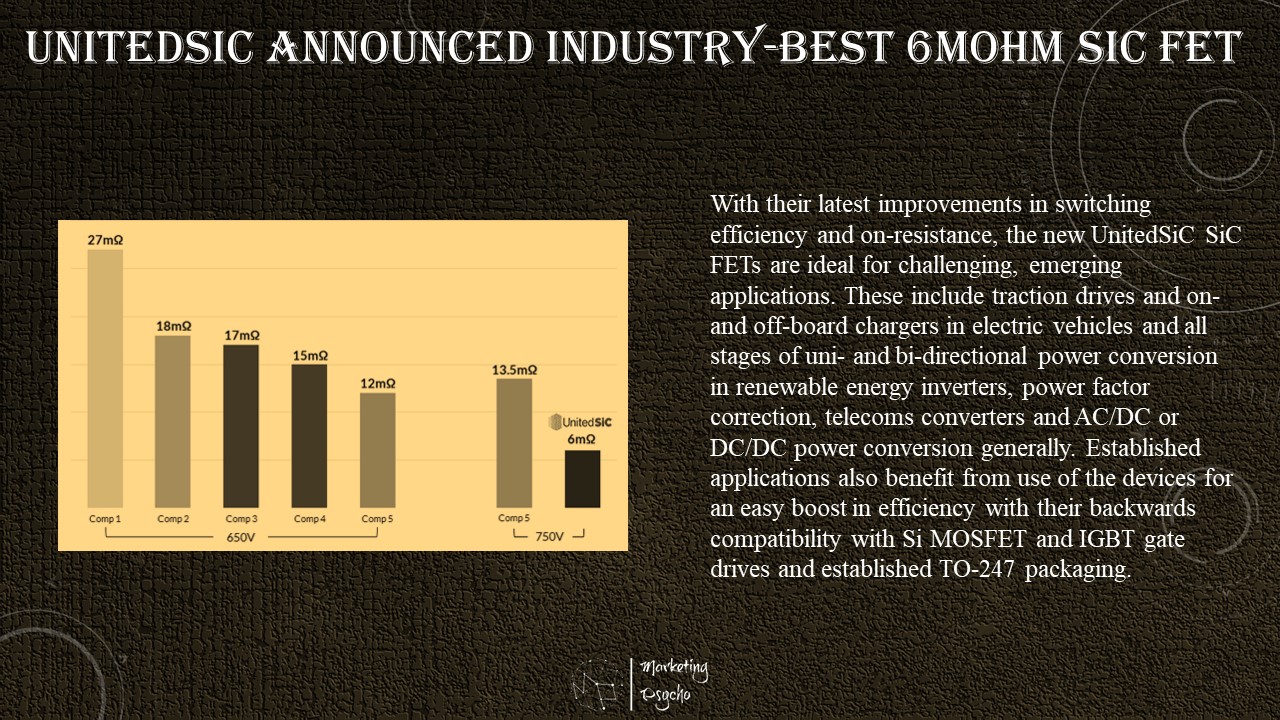 Gen 4 SiC FETs from UnitedSiC are a 'cascode' of a SiC JFET and a co-packaged silicon MOSFET. These together provide the full advantages of wide band-gap technology – high speed and low losses with high temperature operation, while retaining an easy, stable, and robust gate drive with integral ESD protection. The advantages are quantified by Figures of Merit (FoMs) such as RDS(on) x A, a measure of conduction losses per unit die area. Gen 4 SiC FETs achieve the lowest values in the market at both high and low die temperatures. FoM RDS(on) x EOSS/QOSS is important in hard-switching applications and is half the nearest competitor value. FoM RDS(on) x COSS(tr) is critical in soft-switching applications and UnitedSiC device values are around 30% less than competitor parts, rated at 650V compared with UnitedSiC's at 750V. For hard switching applications, the integral body diode of SiC FETs is superior in recovery speed and forward voltage drop to competing Si MOSFET or SiC MOSFET technologies. Other advantages incorporated into the Gen 4 technology are reduced thermal resistance from die to case by advanced wafer thinning techniques and silver-sinter die-attach. These features enable maximum power output for low die temperature rise in demanding applications.
With their latest improvements in switching efficiency and on-resistance, the new UnitedSiC SiC FETs are ideal for challenging, emerging applications. These include traction drives and on- and off-board chargers in electric vehicles and all stages of uni- and bi-directional power conversion in renewable energy inverters, power factor correction, telecoms converters and AC/DC or DC/DC power conversion generally. Established applications also benefit from use of the devices for an easy boost in efficiency with their backwards compatibility with Si MOSFET and IGBT gate drives and established TO-247 packaging.
GaN Systems, the global leader in GaN power semiconductors, announced the signing of a comprehensive Capacity Agreement with BMW Group for GaN Systems' high-performance, automotive-grade GaN power transistors, which increase the efficiency and power density of critical applications in electric vehicles.
GaN power semiconductors are a key ingredient to achieve the small size, lightweight, and high efficiency required in the next generation of high-performance electric vehicles. Under the terms of the agreement, GaN Systems will provide capacity for multiple applications in series production. The guaranteed volumes by GaN Systems are a key building block for reliability in the supply chain for automotive players like BMW.
BMW's relationship with GaN Systems began more than four years ago when BMW's engineers found that small size, lightweight, low-cost onboard chargers, DC/DC converters, and traction inverters were enabled by GaN. This led to investment from BMW's venture capital firm, BMW I Ventures, to support and accelerate the automotive qualification of the GaN technology.
"The close collaboration among GaN Systems and BMW's engineers has helped to solidify the technology for automotive series production, resulting in the most advanced GaN power transistors in the marketplace today," said Kasper Sage, managing partner BMW i Ventures. "As electric vehicles become more prominent, the demand for critical semiconductor components is only going to increase, thereby making strategic partnerships with suppliers like GaN Systems even more important."
Cree, Inc., the global leader in Silicon Carbide technology through its Wolfspeed business, announced that it will transfer the listing of its common stock to the New York Stock Exchange ("NYSE") from The Nasdaq Global Select Market. Cree expects to commence trading as a NYSE-listed company at market open on October 4, 2021 under the new ticker symbol 'WOLF'. The Company will continue to trade its common stock on the Nasdaq until the close of the market on October 1, 2021. As previously announced, the Company will also change its corporate name from Cree, Inc. to Wolfspeed, Inc. effective October 4, 2021.
"We are pleased to join the NYSE, one of the world's most prestigious trading platforms, as we continue on our transformational journey as a pure play global semiconductor powerhouse leading the industry transition from silicon to Silicon Carbide," said Gregg Lowe, Chief Executive Officer at Cree | Wolfspeed. "Importantly, our company name change to Wolfspeed capitalizes on our 30-year heritage of working with Silicon Carbide and underscores our ambitious plans to compete and win in the rapidly expanding marketplace, which we believe will continue to provide long-term value for our customers and shareholders."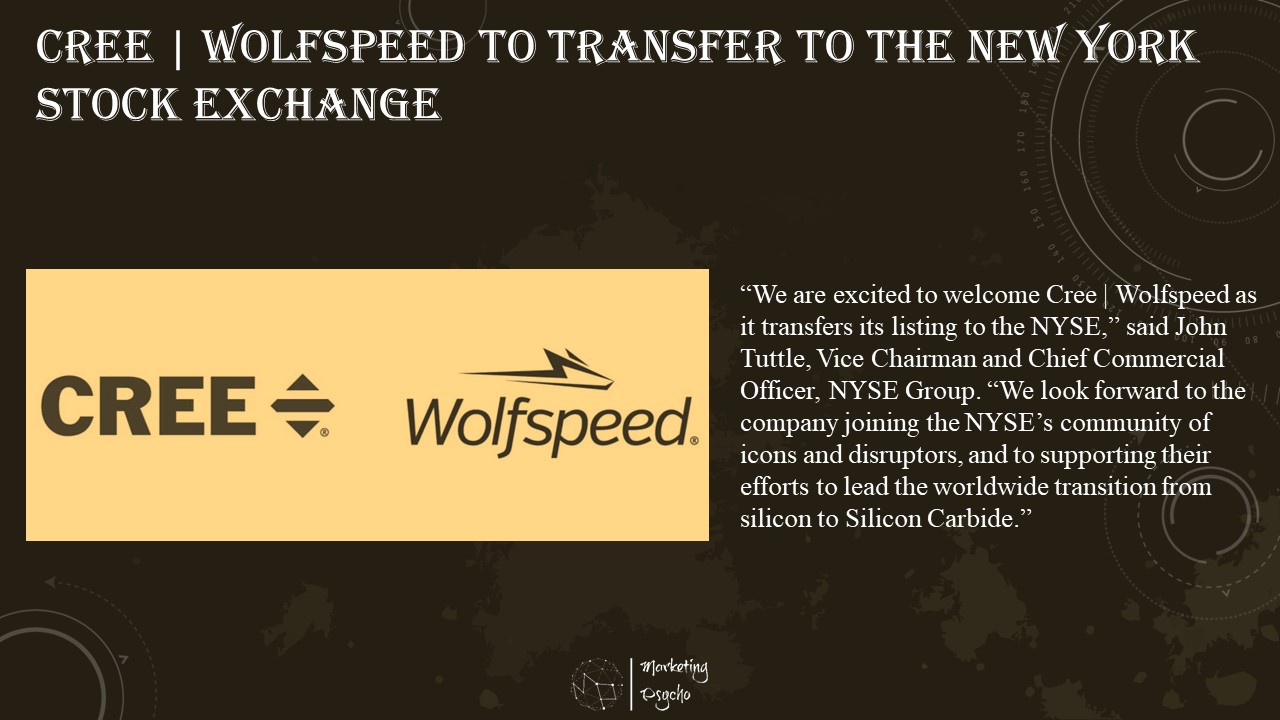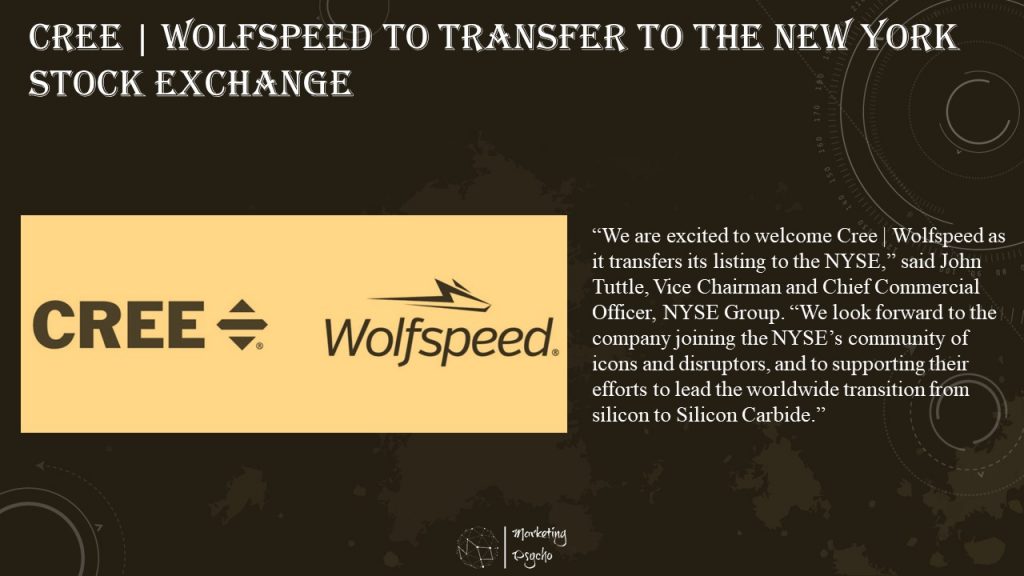 "We are excited to welcome Cree | Wolfspeed as it transfers its listing to the NYSE," said John Tuttle, Vice Chairman and Chief Commercial Officer, NYSE Group. "We look forward to the company joining the NYSE's community of icons and disruptors, and to supporting their efforts to lead the worldwide transition from silicon to Silicon Carbide."
Cree will host an Investor Day the morning of Wednesday, November 17, 2021 at the New York Stock Exchange in New York City. Cree | Wolfspeed CEO Gregg Lowe, CFO Neill Reynolds, and other members of the senior management team will discuss the Company's progress on its transformation strategy and share more detail about its long-term outlook. In-person attendance is limited to the investment community and registration is required. Institutional investors and financial analysts interested in attending should contact Cree's investor relations team via the following email: investorrelations@cree.com.
The event will be webcast live on the Investor Relations page of the Company website. Webcast details will be available on Cree's website at investor.cree.com/events.cfm. A replay of the webcast and related presentation materials will be available on the website following the conclusion of the event.
On the occasion of golden osmanthus fragrance and cool autumn wind, Jiangsu fulehua Power Semiconductor Research Institute Co., Ltd. held a grand capping ceremony.
Bao Yu, chairman of Dongtai Municipal Committee of the Chinese people's Political Consultative Conference, Qiu Haitao, Secretary of the Party group of Dongtai Municipal Committee of the Chinese people's Political Consultative Conference, sun Yanchun, director of the United Front Work Department of Dongtai Municipal Committee, Xu Yue, deputy director of Dongtai Municipal People's Congress, Cui Hengrong, vice mayor of Dongtai Municipal People's government, Chen Lijun, Secretary of the Party Working Committee of Dongtai high tech Industrial Development Zone and other leaders of various government departments were invited to attend, He Xianhan, President of Ferrotec (China), chairman of the board of directors, Jiangsu fuluode Semiconductor Technology Co., Ltd., Zhang Enrong, general manager of Jiangsu fuluohua Power Semiconductor Research Institute Co., Ltd., Chen Lihua, chairman of Jiangsu jinhuayu Construction Co., Ltd., Jiangsu fuluode Semiconductor Technology Co., Ltd More than 180 employees including Jiangsu fulehua Power Semiconductor Research Institute witnessed this exciting moment.
The capping ceremony was presided over by Vice Mayor Cui Hengrong. He introduced: in this beautiful season of fruitful and full harvest, we gathered in Dongtai high tech Zone to witness the capping of fulehua power semiconductor research institute project. The completion of the project is not only the rich fruit of fuluode group aiming at power semiconductor devices and tackling the key technology of "neck", but also the active exploration of "political schools, colleges and enterprises" to build a high-level new R & D institution, but also the vivid practice of implementing the innovation driven development strategy and adhering to the goal of "strengthening the city by industry", It will certainly inject a booster and stimulate new vitality into the high-quality development of manufacturing industry in our city.
In his speech, president extended a warm welcome and heartfelt thanks to all the guests and employee representatives of the company on behalf of fuluohua company, and reiterated that in the past three years, thanks to the policy support of Dongtai municipal government and high-tech Zone, the company has made great progress in scientific research and development, technological innovation and talent training. Jiangsu fulehua power semiconductor research institute is a new R & D institution led by Jiangsu fulede Semiconductor Technology Co., Ltd. and established jointly with the Institute of silicate, Chinese Academy of Sciences, Shanghai University and University of Electronic Science and technology.
The newly added land of the project is 31.2 mu, with a construction area of 30168 square meters. Build material structure and failure analysis laboratory, packaging structure design and simulation laboratory, advanced connection technology laboratory and analysis and testing center, and purchase advanced detection, analysis and testing and experimental equipment such as high-resolution field emission SEM, multifunctional argon ion etching, infrared Fourier spectrometer, electronic ceramic tape casting machine, magnetron sputtering machine and ultraviolet lithography machine. The project integrates technical design, R & D and trial production of power semiconductor products, carries industrialization projects and industrial cooperation, serves relevant leading industries, and carries out relevant test platform and trial production business.
Chen Lijun, Secretary of the Party Working Committee of Dongtai high tech Industrial Development Zone, said in her speech,In this harvest season of "autumn high and abundant things", we witnessed the capping ceremony of fuluohua power semiconductor research institute project, which is fuluode group's mission of "striving to be an example, striving to be a demonstration and walking in the forefront", fully implemented the strategic goal of "three new business cards of Dongtai" of the municipal Party committee and the municipal government, and contributed to the construction of "green land and ecological health city" Another solid step on the new journey of modernization. "Concentric planting Wutong tree, sincerity brings Phoenix habitat", this is the spirit of an ingenuity enterprise.
Through "nesting Phoenix", it creates conditions, talents, strong support and development for Dongtai semiconductor industry. With the full support and concern of the municipal Party committee, the municipal government and relevant departments, and closely adhering to the construction requirements of the "five month new normal", the high tech Zone has established special classes and special services to jointly promote scientific and technological innovation, complement each other, conspire to make breakthroughs, make concerted efforts to make overall progress, achieve the capping in less than 80 days, and break through the new normal with high standards. Adhering to the concept of joint construction of "government, enterprise, University and research", the company has carried out in-depth cooperation with Silicate Research Institute of Chinese Academy of Sciences, Shanghai University and other units.
The completion of the project will drive the development of power semiconductor, new materials and other related industries and effectively promote the formation of vertical layout of industrial chain. At the same time, by vigorously cultivating design and application prototypes, systems, software and hardware products, highlighting the driving force of science and innovation, realizing the reconstruction of enterprise kinetic energy, constructing the innovation ecology of industrial clusters, improving the hard core strength of semiconductor materials and chip manufacturing in our city, and contributing science and technology supply to the high-level construction of Jiangsu coastal electronic information industry characteristic base.
Scientific and technological research and development of the semiconductor industry is the "lifeline" of high-quality development. Fuluode Group actively carries out innovative project research and development, research on cutting-edge technologies and service scenarios, and integration of industry, University and research, constantly meets the needs of the development of new economy and new business forms, promotes the transformation and application of scientific and technological achievements, and stores sufficient kinetic energy for the development of the semiconductor industry in our region.
The majority of Party members and cadres in our district will seize the opportunity of the "two in two" construction of new achievements, constantly consolidate the thinking of "industry-oriented and project-oriented", as always, provide enterprises with fast, high-quality and efficient services in terms of business environment and resource elements, compact responsibilities, escort the development of enterprises, and turn the "tangible hand" into "emotional hand".
Finally, the leaders and guests on the stage jointly sprinkled gold sand on the capping display board of the Research Institute, announcing the successful capping of the fulehua power semiconductor research institute project and pushing the ceremony to a climax. This also indicates that the fuluohua project cluster has made a firm and solid step towards the goal. I believe that with the care and support of leaders at all levels in Dongtai City and the wise leadership of chairman he Xianhan, it will continue to make new achievements and create new brilliance!
Silicon MOSFETs are key components in a very wide range of low and mid-power applications. In 2020, the silicon MOSFET market was worth $7.5B. Yole Développement expects a 3.8% Compound Annual Growth Rate (CAGR) from 2020-2026, with most revenue coming from consumer and automotive markets. In general, 2021 has been an impressive year for MOSFETs with a huge recovery from COVID thanks to the high demand for computing and consumer electronics.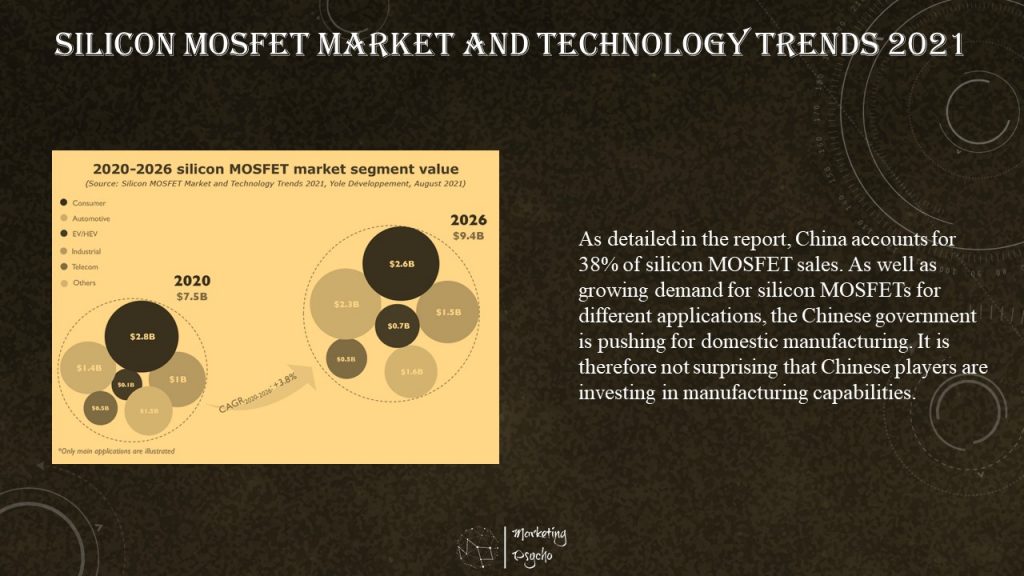 Today the consumer market contributes 37% of silicon MOSFET revenues, making it the largest sector. Yole Développement expects this to fall in coming years due to lower end system demand after COVID-19 lockdowns, which have been very good for computing and consumer electronics, resulting in a $2.8B market by 2020. Automotive, including Electric Vehicles (EV), will boost the demand for silicon power MOSFETs due to increasing adoption of auxiliary systems and electrification. Auxiliary motor drives boost low voltage MOSFETs, while electrification boosts high voltage MOSFETs that are included in DC/DC converter or on-board charger systems. The two segments together are today 21% of the MOSFET market. They will increase to 32% by 2026.
Of course, MOSFETs play an important role in many any other applications. A detailed analysis of the silicon MOSFET market and technology trends by application can be found in the latest Yole Développement report.
As detailed in the report, China accounts for 38% of silicon MOSFET sales. As well as growing demand for silicon MOSFETs for different applications, the Chinese government is pushing for domestic manufacturing. It is therefore not surprising that Chinese players are investing in manufacturing capabilities.
Foundries like HHGrace and CanSemi have invested in 300mm facilities to cope with higher production of MOSFETs and other power components and have started production in them. However, this is not the end of Chinese push for 300mm. SiEn is building a 300mm fab, as well as CRMicro and Nexperia. In fact, CRMicro recently raised money through an Initial Public Offering (IPO), and has already expanded its 200mm line. Other companies like Jiejie Microelectronics and SMIC are following the same pattern. All of them want to invest the money raised into manufacturing capacity.
However, it is not all about investments in manufacturing sites. Chinese companies are also gaining market share via acquisitions. Deals by Chinese-owned companies are not straightforward since the China-US trade war started. See for example the Nexperia–Newport, UK, Wafer Fab or Magnachip-Wise Road Capital acquisitions.
Chinese manufacturers are also investing in technology knowledge. If we look five years back, Chinese products were believed to be lower performance than EU, Japan, or US manufacturers for high-end components like super junction MOSFETs. However, this is changing. Some Chinese companies can actually achieve similar performances to key MOSFET players.
All in all, Chinese manufacturers are racing to capture a big portion of the MOSFET market. This Yole Développement report contains a deep analysis of the Chinese supply chain and product benchmarking.
On October 28-29, 2021 join the International Conference on Integrated Power Electronics Systems and Solutions.
It aims to bring together leading academic scientists, researchers and research scholars to exchange and share their experiences and research results on all aspects of Integrated Power Electronics Systems and Solutions. It also provides a premier interdisciplinary platform for researchers, practitioners and educators to present and discuss the most recent innovations, trends, and concerns as well as practical challenges encountered and solutions adopted in the fields of Integrated Power Electronics Systems and Solutions.
Prospective authors are kindly encouraged to contribute to and help shape the conference through submissions of their research abstracts, papers and e-posters. Also, high quality research contributions describing original and unpublished results of conceptual, constructive, empirical, experimental, or theoretical work in all areas of Integrated Power Electronics Systems and Solutions are cordially invited for presentation at the conference. The conference solicits contributions of abstracts, papers and e-posters that address themes and topics of the conference, including figures, tables and references of novel research materials.
International Conference on Integrated Power Electronics Systems and Solutions has teamed up with the Special Journal Issue on Integrated Power Electronics Systems and Solutions. A number of selected high-impact full text papers will also be considered for the special journal issues. All submitted papers will have the opportunity to be considered for this Special Journal Issue. The paper selection will be carried out during the peer review process as well as at the conference presentation stage. Submitted papers must not be under consideration by any other journal or publication. The final decision for paper selection will be made based on peer review reports by the Guest Editors and the Editor-in-Chief jointly. Selected full-text papers will be published online free of charge.
Subscribe to Power Semiconductors Weekly and watch it on YouTube every Tuesday.
If you prefer a monthly update about the world of power semiconductors delivered to your e-mail address, please, subscribe to Marketing Psycho Power Semiconductors newsletter.