Power Semiconductors Weekly Vol. 35
Infineon Technologies AG launches new current ratings for its EconoDUAL™ 3 portfolio with TRENCHSTOP™ IGBT7 chips. With the broad range of current classes from 300 A up to 900 A, the portfolio offers inverter designers a high degree of flexibility while also providing increased power density and performance. In addition to solar and drive applications, the portfolio is also tailored for commercial, construction and agricultural vehicles (CAV) as well as for uninterruptible power supply (UPS) inverters.
Based on the new micro-pattern trench technology, the EconoDUAL 3 with the TRENCHSTOP IGBT7 chip performs with much lower static losses compared to the modules with an IGBT4 chipset. Additionally, its on-state voltage is reduced by up to 30 percent for the same chip area. This brings significant loss reduction in applications, especially for industrial drives, which usually operate at moderate switching frequencies. The oscillation behavior and the controllability of the IGBT have been improved. Additionally, the new power modules feature a maximum overload junction temperature of 175°C.
The new chip dimensions enable optimization of the module layout to reduce switching losses. As a result, the switching losses for the 600 A module are reduced by up to 24 percent compared to the former generation. This leads in a simplified design-in for applications with higher switching frequency. Furthermore, all features can be implemented in the same footprint facilitating the upgrade of existing inverter system designs. With the extended 750 A and 900 A versions, the EconoDUAL 3 package addresses an improved inverter power range. In addition, the PressFIT housing enables a fast and cost-efficient assembly.
The 1200 V TRENCHSTOP IGBT7 EconoDUAL™ 3 portfolio can be ordered now. Variants with pre-applied TIM will also be available soon.
Power Integrations Introduces New SCALE-iFlex Gate Drivers
Power Integrations, the leader in gate-driver technology for medium- and high-voltage inverter applications, announced SCALE-iFlex™ Single gate-drivers for the popular "New Dual" 100 mm x 140 mm IGBT modules. The compact new drivers support modules up to 3.3 kV and are available now for design-in. The SCALE-iFlex Single gate-drivers are ideal for light-rail, renewable energy generation and other high-reliability applications that demand compact, rugged driver solutions.
Thorsten Schmidt, product marketing manager at Power Integrations commented: "SCALE-iFlex Single gate-drivers fit the outline of the latest standard IGBT power modules including the Mitsubishi LV100/HV100, Infineon xHP2 and xHP3, ABB LinPak, Hitachi nHPD² and other similar products."
SCALE-iFlex Single gate-drivers use Power Integrations' SCALE-2™ ASIC technology which dramatically reduces component count compared to conventional products. The ASIC also provides Advanced Active Clamping (AAC) over-voltage protection during normal operation, a substantial improvement over simple soft shut down, which adds extra protection in case of short-circuit during turn-on. Devices are conformally coated and feature reinforced isolation. Isolated housings ensure isolation between modules when they are mounted side-by-side. Devices are pre-qualified according to railway standards IEC 61373 – Class 1B (shock & vibration) and IEC 61000-4-x (EMC tests) and IEC 60068-2-x (serial environmental tests). Burn-in is optionally available.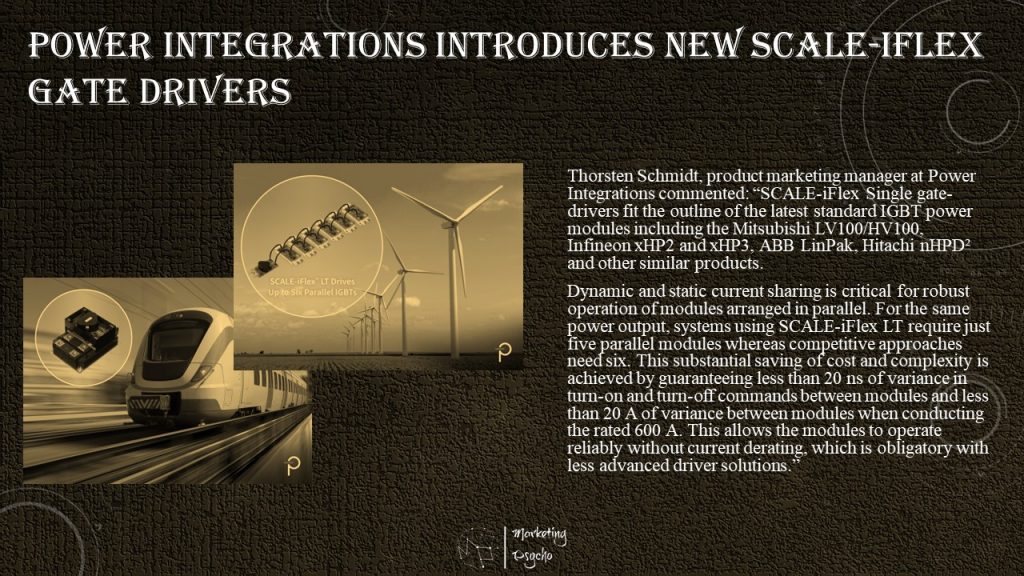 The new gate drivers are rated at 20 A peak output current per channel at 85 °C ambient temperature with no air flow. Higher power levels are possible with cooling or a lower ambient temperature. Both electrical and fiber-optic interfaces are available.
The SCALE-iFlex Single gate-drivers are available for sampling now.
Additionally, Power Integrations announced its new plug-and-play SCALE-iFlex™ LT dual gate-drivers. The new drivers improve the performance of multiple parallel EconoDUAL modules by 20%, allowing users to eliminate one of every six modules from power inverters and converter stacks. In addition to saving the cost of the driver and module, this reduces control complexity and costs related to modules, wiring, hardware, and heatsinking. SCALE-iFlex LT targets multiple applications in renewable energy generation and storage, and is particularly applicable to offshore wind turbines in the 3 to 5 MW range.
Thorsten Schmidt, product marketing manager at Power Integrations commented: "Dynamic and static current sharing is critical for robust operation of modules arranged in parallel. For the same power output, systems using SCALE-iFlex LT require just five parallel modules whereas competitive approaches need six. This substantial saving of cost and complexity is achieved by guaranteeing less than 20 ns of variance in turn-on and turn-off commands between modules and less than 20 A of variance between modules when conducting the rated 600 A. This allows the modules to operate reliably without current derating, which is obligatory with less advanced driver solutions."
Up to six EconoDUAL 3, or equivalent, power modules can be paralleled from the same Isolated Master Control (IMC) unit which has a more compact outline than conventional products. The Module Adapted Gate drivers (MAGs), which fit the footprint of the EconoDUAL module, each featuring two SCALE-2 ASICs – one per channel – to optimize symmetrical paralleling, efficiency and protection.
The new SCALE-iFlex LT gate-driver modules reduce switching losses by three to five percent, due to the fast turn-on and turn-off of the SCALE-2 ASIC which features an integrated booster stage. Power Integrations' Advanced Active Clamping (AAC) protection enables higher DC link voltages to be achieved. A full suite of other protection features, including short-circuit, are provided. Drivers feature reinforced isolation to 1700 V and may be ordered naked or conformally coated.
As well as renewable energy, other applications include power quality, commercial air-conditioning units and medium-voltage drives. The new SCALE-iFlex LT gate drivers are available now.
Applied Materials, Inc. announced new products that help enable the world's leading silicon carbide (SiC) chipmakers transition from 150mm wafer production to 200mm production, which approximately doubles die output per wafer, to help satisfy the world's growing demand for premium electric vehicle powertrains.
SiC power semiconductors are in high demand because they help efficiently convert battery power to torque, thereby increasing vehicle performance and range. Compared to silicon, SiC is inherently harder with natural defects that can lead to degradation of electrical performance, power efficiency, reliability and yield. Advanced materials engineering is needed to optimize raw wafers for production and build circuits with minimum damage to the crystal lattice.
"To fuel the computer revolution, chipmakers moved to ever-larger wafer sizes, dramatically increasing chip output to satisfy burgeoning global demand," said Sundar Ramamurthy, Group Vice President and General Manager of the ICAPS group at Applied Materials. "Today we are in the early stages of another revolution that will benefit from Applied's expertise in materials engineering at an industrial scale."
"Electrification of the transportation industry is a rising trend, and we are accelerating this inflection point by leading the global transition from silicon to silicon carbide with our Wolfspeed technology," said Gregg Lowe, President and CEO of Cree, Inc. "Delivering the highest-performing silicon carbide power devices on larger 200mm wafers enables us to increase end-customer value and meet growing demand."
"Applied's support in helping speed qualification of 200mm processes in Albany and multi-equipment installations at our Mohawk Valley Fab is expediting this transition," Lowe added. "Moreover, new technologies being developed by Applied's ICAPS team, such as hot implant, have broadened and deepened our technical collaboration and helped accelerate our power technology roadmap."
SiC wafer surface quality is critically important to SiC device fabrication as any defects on the surface of the wafer will migrate through the subsequent layers. To produce uniform wafers with the highest quality surfaces, Applied Materials has developed the Mirra® Durum™ CMP system which integrates polishing, measurement of material removal, cleaning and drying in a single system. The new system has demonstrated a 50X reduction in finished wafer surface roughness as compared to mechanically grinded SiC wafers and a 3X reduction in roughness compared to batch CMP processing systems.
During SiC chip fabrication, ion implantation places dopants within the material to help enable and direct the flow of current within the high power producing circuits. The density and hardness of SiC material makes it extremely challenging to inject, accurately place and activate the dopants while minimizing damage to the crystal lattice which reduces performance and power efficiency. Applied Materials has solved this challenge with its new VIISta® 900 3D hot ion implant system for 150mm and 200mm SiC wafers. The hot implant technology injects ions with minimal damage to the lattice structure, resulting in a more than 40X reduction in resistivity compared to implant at room temperature.
BYD Semiconductor Moves Forward
BYD Semiconductor, a spinoff from China-based carmaker BYD, has acquired a 77.75% stake in Jinan Energen Semiconductor for CNY5 billion (US$774.8 million). Energen makes silicon (Si) and silicon carbide (SiC) power devices.
Besides BYD became one of the investors of Vertilite, a Changzhou-headquartered semiconductor technology company.
As publicly disclosed, Vertilite, founded in 2015, is an innovative tech company that provides high-power and high-speed VCSEL (vertical-cavity surface-emitting laser) solutions. Its business scope extends to cover the design and manufacturing of chips, the sales and manufacturing of optoelectronic devices, as well as the production of electronics-dedicated materials.
BYD is striving to make its semiconductor arm, BYD Semiconductor Co.,Ltd., be publicly listed. Nevertheless, the IPO plan had to be suspended last month due to a regulatory investigation into the advisory law firm.
After the suspension, BYD Semiconductor said it would endeavor to resume the listing plan as soon as possible.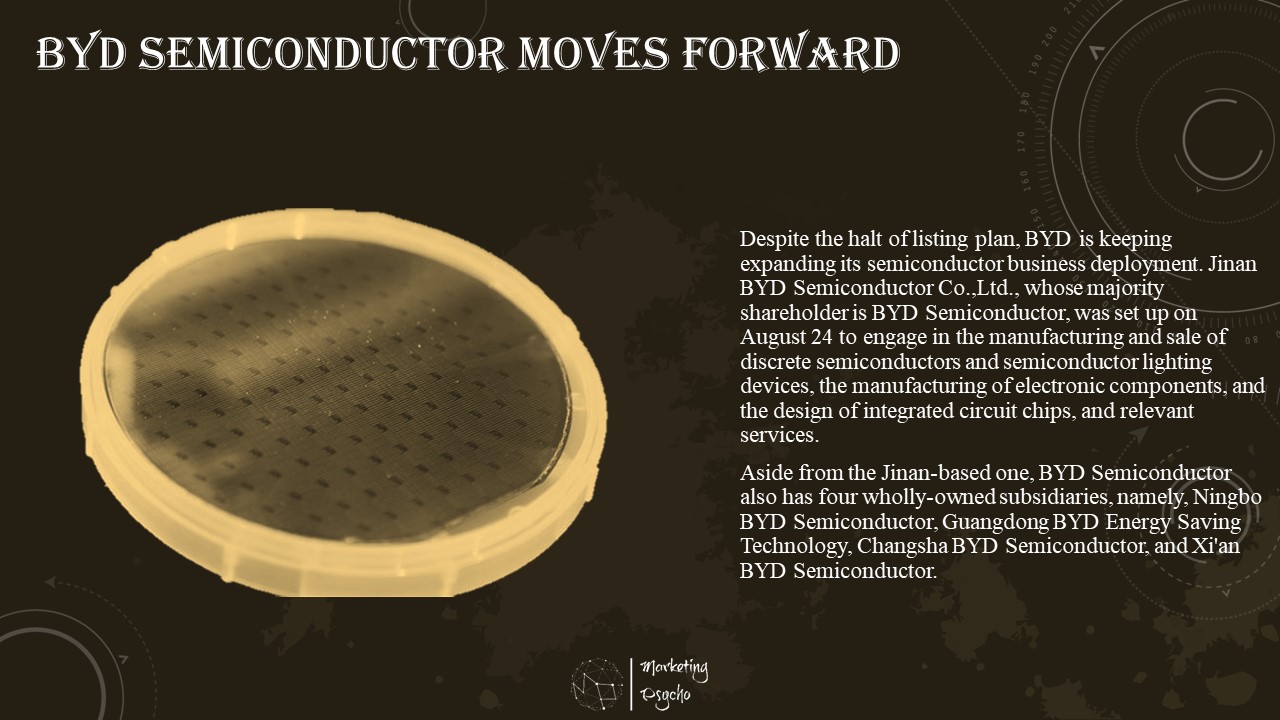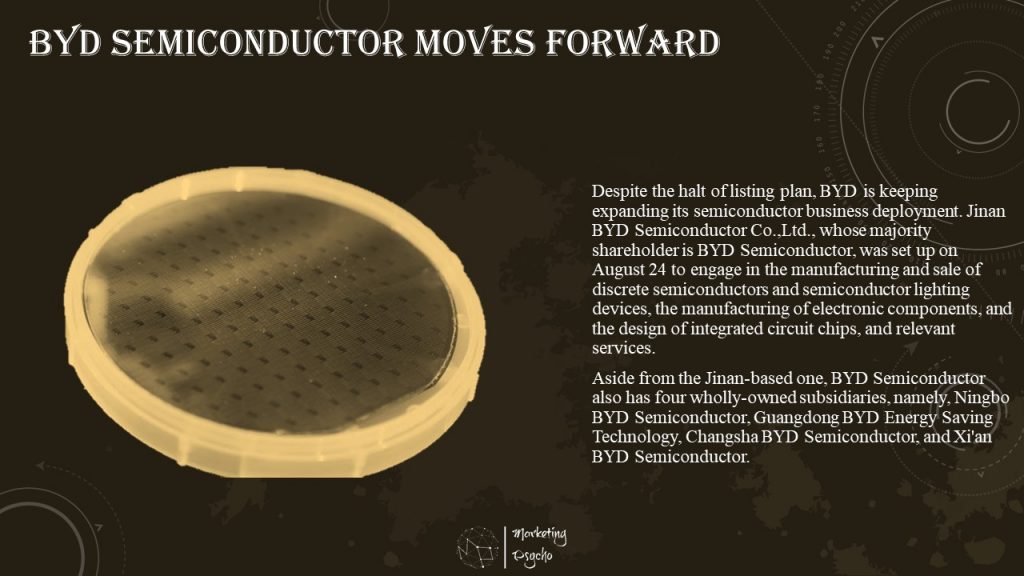 Despite the halt of listing plan, BYD is keeping expanding its semiconductor business deployment. Jinan BYD Semiconductor Co.,Ltd., whose majority shareholder is BYD Semiconductor, was set up on August 24 to engage in the manufacturing and sale of discrete semiconductors and semiconductor lighting devices, the manufacturing of electronic components, and the design of integrated circuit chips, and relevant services.
Aside from the Jinan-based one, BYD Semiconductor also has four wholly-owned subsidiaries, namely, Ningbo BYD Semiconductor, Guangdong BYD Energy Saving Technology, Changsha BYD Semiconductor, and Xi'an BYD Semiconductor.
On 17 September 2021, Infineon celebrates the official start of production in their brand new, fully automated 300-millimeter thin wafer chip factory at their site in Villach, Austria.
From this day, the Infineon production team will be able to provide global markets with even more high-end power semiconductors that make life easier, safer and greener. Join Infineon virtually in celebrating this milestone of Infineon and the global power semiconductor industry.
The building activities for the new factory in Villach started in November 2018. Over 1.6 billion euros are invested in the fully automated production of power semiconductors and a R&D building complex. With this Infineon expands production capacities for energy-saving chips that are in high demand worldwide. They make a crucial contribution to achieving climate targets and enable the energy transition. This currently largest investment in the semiconductor industry on the continent is a clear signal for the sustainability of Europe as a technology location.
Agenda: Ready for Mission Future
1:30 pm Welcome
Talk sessions with guests from business and politics
• Thierry Breton
EU Commissioner for Internal Market (requested)
• Sebastian Kurz
Chancellor of the Republic of Austria
• Leonore Gewessler
Austrian Federal Minister for Sustainability
• Martin Kocher
Austrian Federal Minister of Labor
• Margarethe Schramböck
Austrian Federal Minister for Digitalization and Business Location
• Peter Kaiser
Governor of Carinthia
• Günther Albel
Mayor of the City of Villach
• Georg Knill
President of The Federation of Austrian Industries
• Reinhard Ploss
CEO Infineon Technologies AG
• Sabine Herlitschka
CEO Infineon Technologies Austria AG
Insight into the clean room "One Virtual Fab"
Impulse statement Bertrand Piccard
Pilot, Initiator, Chairman Solar Impulse Foundation
2:40 pm Opening ceremony
Nexperia, the expert in essential semiconductors, announced 'Power Live', its second annual virtual conference from 21st-23rd September. Building on the success of last year's inaugural event, the expanded three-day event will cover a wide range of subjects related to power electronics featuring GaN devices, MOSFETs, power diodes and bipolar transistors for automotive and industrial applications.
Session highlights will include:
Fully Electrothermal MOSFET Models
A detailed preview of Nexperia's new electrothermal MOSFET models, which can accurately represent static and dynamic characteristics of devices within simulation and reduce the risk of EMC issues ordinarily recognized late in the design process.
650V GaN CCPAK evaluation
Features and benefits of the upcoming evaluation board for benchmarking GaN CCPAK devices using double-pulse testing.
Designing with power MOSFETs in industrial applications
Why and when you need a 500 A MOSFET, optimizing key characteristics, and managing in-rush current and hot SOA curves.
Schottky, Silicon Germanium or Recovery (PN) rectifiers?
How to achieve extra efficiency and reliability in automotive applications like LED driver or solenoid drive by choosing the most suitable power diode.
The full agenda will include live presentations inviting engineers to discuss and contribute to some of today's biggest challenges when designing with power components, as well as case studies and contributions from Nexperia's valued partners. Attendees can also watch Nexperia's resident power experts present the latest technology demos direct from the company's worldwide labs throughout the event.
A GaN panel discussion attended by both Nexperia and industry experts, will close the 'Power Live' event on Thursday, 23rd September. This will be an open forum to discuss thoughts and influences of the technology and market. Contributions from participants are very welcome.
Commenting on 'Power Live' Robby Ferdinandus, Global Head of Marketing at Nexperia, says: "The feedback we got from our first event last year was excellent. More than 700 engineers registered to attend, and many said they found it especially invaluable to be able to engage with other like-minded people in the live sessions to discuss common design challenges."
The full event schedule can be accessed here. Questions for the GaN panel can be asked using the form on the registration page.
Producing green hydrogen calls for efficient water electrolysis. Reduced current ripple and grid harmonics increase water electrolysis efficiency; however, this often requires flexibility from power electronics. SEMIKRON offers extensive expertise to support power supply development for efficient green hydrogen production.
In this webinar, Timo Gassauer (Director Project Business Development) explains the wide range of products, assemblies and services that SEMIKRON can provide. ​
​​​​​​​Key Take-Aways:
• What are different topologies and practical assemblies for green hydrogen generation?
• How do power electronics impact the efficiency and lifetime of electrolysers?
• How does SEMIKRON support customers with its products and services to develop future electrolysers at various power levels? ​​​​​​​
The webinar will be held on September 21, 2021 at 4pm (CET).
Subscribe to Power Semiconductors Weekly and watch it on YouTube every Tuesday.
If you prefer a monthly update about the world of power semiconductors delivered to your e-mail address, please, subscribe to Marketing Psycho Power Semiconductors newsletter.