Power Semiconductors Weekly Vol. 33
Japan's Fuji Electric will invest an extra 40 billion yen ($365 million) to expand production of power semiconductors, which are used to manage power flows in air conditioners, electric autos and more.
The decision is a response to "growing demand from renewable energy" applications, such as electric vehicles and solar, said President Michihiro Kitazawa.
Fuji Electric plans to begin producing power semiconductors in Malaysia around fiscal 2023, using clean rooms and other facilities freed up after hard disk media production was halted there last month.
The 40 billion yen is on top of the 120 billion yen Fuji Electric had earmarked for the four years through fiscal 2022, which has already been moved up from the original time frame of fiscal 2023 to meet unexpectedly strong demand.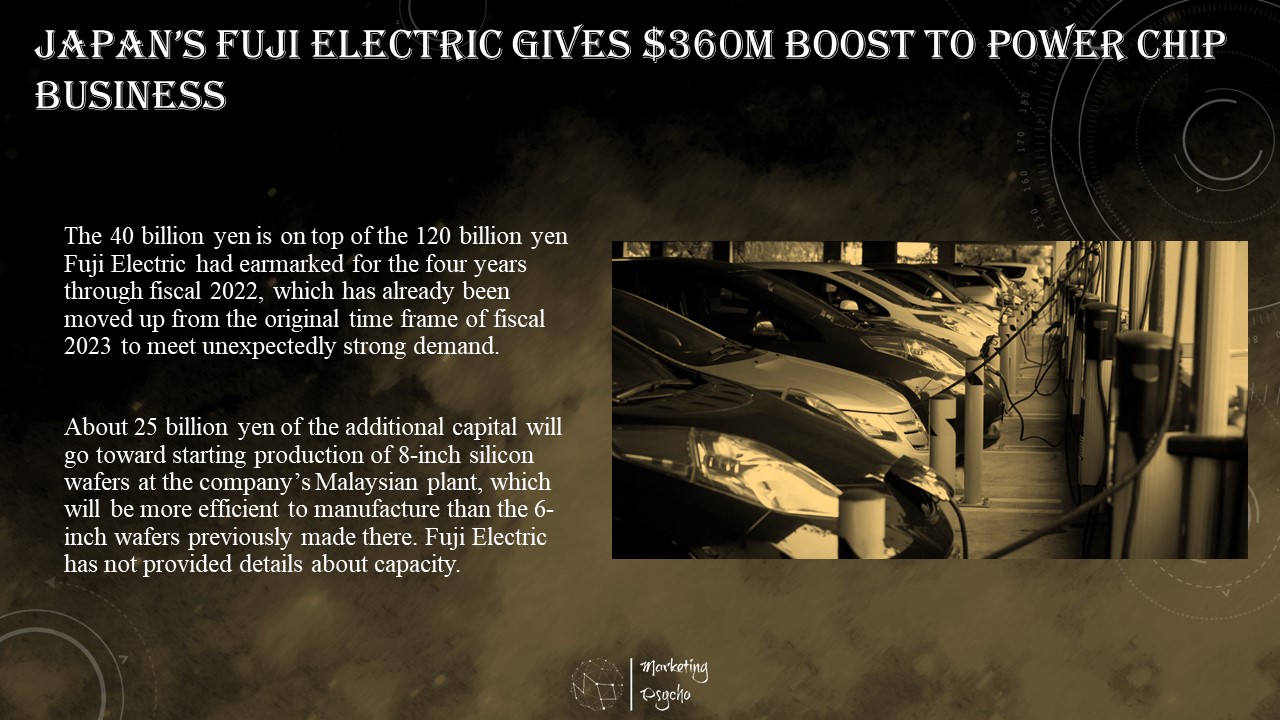 About 25 billion yen of the additional capital will go toward starting production of 8-inch silicon wafers at the company's Malaysian plant, which will be more efficient to manufacture than the 6-inch wafers previously made there. Fuji Electric has not provided details about capacity.
The remaining 15 billion yen will be used for expansion elsewhere, including at the company's Matsumoto plant in Japan.
Sales in the field are expected to overshoot the company's medium-term targets. Fuji Electric sees sales in the segment that includes power semiconductors growing 53% from fiscal 2018 to 210 billion yen in fiscal 2023, the final year of its five-year plan.
The existing Fuji Electric plan aims for sales of 200 billion yen in that segment, with 25 billion yen coming from the magnetic disk business from which the company has withdrawn.
Kitazawa has indicated that further semiconductor-related investment beyond fiscal 2023 will be "based on demand," adding that the company is considering spending another 50 billion yen or so.
Research firm Fuji Keizai projects the global market for power semiconductors will expand 44% over the decade through 2030 to 4.05 trillion yen, as electric vehicles and fifth-generation wireless technology enter broader use.
Infineon Technologies led the market last year with a 27.1% share, followed by Onsemi at 9.7% and Mitsubishi Electric at 8.5%, according to British analytics firm Omdia. Fuji Electric ranked alongside Switzerland-based STMicroelectronics at 6.5%.
onsemi, a leading supplier of intelligent power and sensing technologies, and GT Advanced Technologies ("GTAT"), a producer of silicon carbide (SiC), announced that they have entered into a definitive agreement under which onsemi will acquire GTAT for $415 million in cash.
Founded in 1994, GTAT has significant experience in crystalline growth, including SiC. SiC is a key material for next-generation semiconductors that provide technical benefits in SiC power switching devices, significantly improving system efficiency in electric vehicles (EVs), EV charging and energy infrastructure.
The transaction is expected to better position onsemi to secure and grow supply of SiC and meet rapidly growing customer demand for SiC-based solutions in the sustainable ecosystem, including EVs, EV charging and energy infrastructure. Combining onsemi's manufacturing capabilities with GTAT's technical expertise will accelerate SiC development and position onsemi to better serve customers as the sustainable ecosystem rapidly ramps up over the next decade. This enhanced SiC capability will allow onsemi to assure customers of supply of critical components and to further commercialize intelligent power technologies.
"This transaction reflects our confidence and stated commitment to meaningfully invest in silicon carbide solutions to support the creation of intelligent power and sensing technologies to help build a sustainable future," said Hassane El-Khoury, president and chief executive officer of onsemi. "We are focused on deepening our leadership and innovation in game-changing technologies that support the automotive and industrial sectors, and GTAT brings outstanding technical capabilities and expertise in developing wafering-ready silicon carbide, which we intend to accelerate and expand to better empower customers in our high-growth end markets. We look forward to welcoming GTAT's talented employees to the onsemi team and driving innovation together."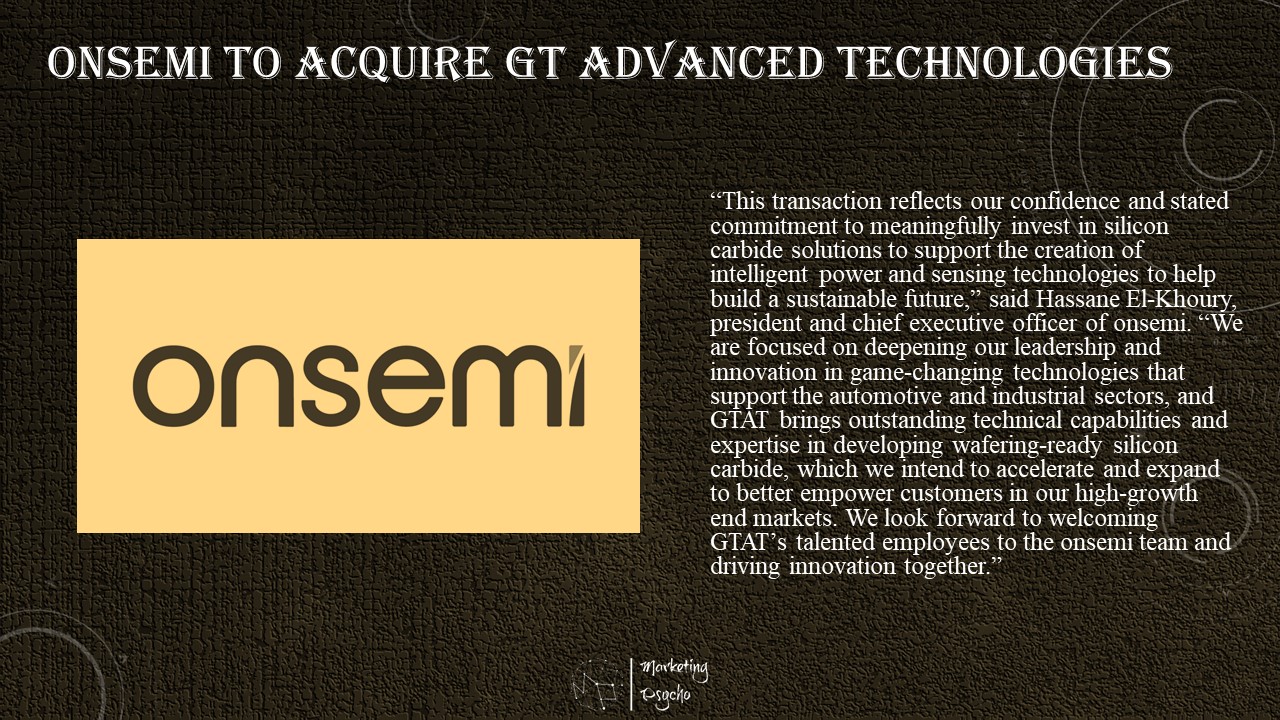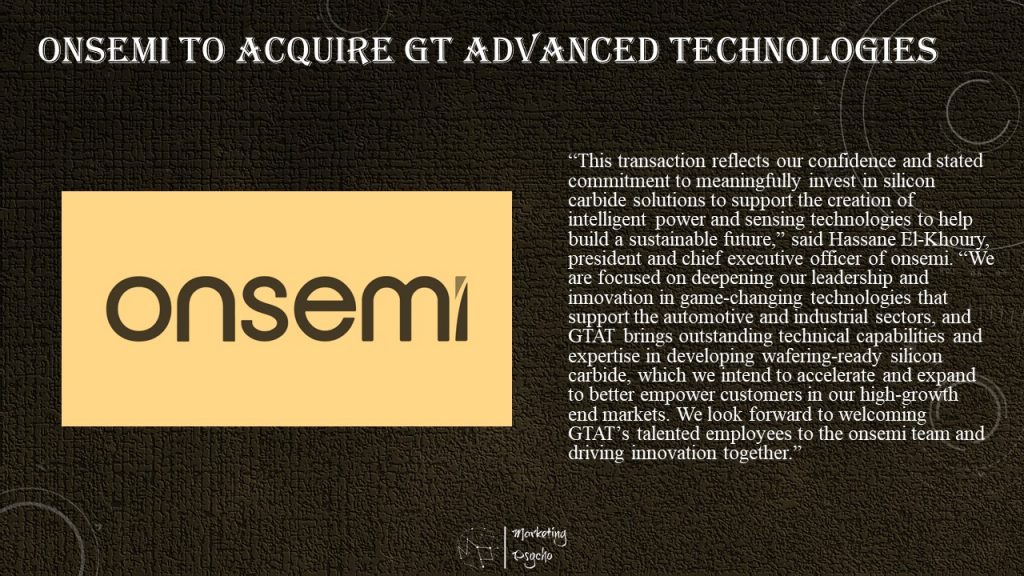 "Today's announcement marks the start of a new chapter for GTAT and is a testament to the value created by the hard work and strength of our team," said Greg Knight, president and chief executive officer of GTAT. "onsemi is strategically positioned to scale our capabilities, providing the resources and platform to maximize the potential of our cutting-edge production techniques and ensure we remain on the forefront of advanced crystalline growth."
The acquisition also reinforces onsemi's commitment to make substantial investments in disruptive, high-growth technologies, consistent with the company's recently announced 2025 target financial model described during its Analyst Day presentation. As onsemi previously stated, capital expenditures are expected to be approximately 12% of revenue in 2022 and 2023, as onsemi invests to drive differentiation and leadership, including in SiC. The transaction is not expected to impact the company's 2025 target financial model.
onsemi plans to invest in expanding GTAT's research and development efforts to advance 150mm and 200mm SiC crystal growth technology, while also investing in the broader SiC supply chain, including Fab capacity and packaging.
The transaction, which has been unanimously approved by the Boards of Directors of onsemi and GTAT, is expected to close in the first half of 2022. Completion of the transaction is subject to regulatory approvals and other customary closing conditions. Approval of onsemi's stockholders is not required in connection with the proposed transaction.
onsemi intends to fund the transaction through cash on hand and available capacity under its existing revolving credit facility. The company expects the transaction to be marginally dilutive to its non-GAAP earnings per share in the immediate term and to be accretive within one year after close.
VisIC Technologies has completed a $35M funding round to support the strong demand coming from a rising number of automotive clients, with the funding round led by GoldenSand Capital (金沙江资本) and HG Semiconductors(宏光半导体)through Fast Semi Corporation. SuZhou industrial partner joined the investment round as a co-investor with an additional $10M.
VisIC Technologies is a world leader in Gallium Nitride (GaN) devices for electric transportation applications, focused on high-power automotive solutions. Its efficient and scalable products are based on deep technological knowledge drive-by decades of semiconductor experience in GaN.
"The electrification of the automotive industry has generated significant demand for power components, which we foresee to continue its strong growth for the next decade. ", said Dr. Tamara Baksht, CEO and co-founder of VisIC. "At the same time, the efficiency of battery energy usage is critical for the cost and performance of electric cars, and GaN-based components are superior over competing technologies for high efficiency. With this investment round, we will be able to expand our product offer and provide better customer support to our customers."
Sonny Wu, representing Fast Semi Corporation, will join the Board of Directors of VisIC Technologies. Sonny co-founded GSR Ventures in 2004 and currently is the Chairman of GoldenSand Capital with notable investments in the Technology and New Energy space, including Lattice Power (won the China National First Prize for Science & Technology in 2015), Silevo Solar (sold to SolarCity/Tesla in 2014), SEEO (one of the first solid-state battery company, later sold to Bosch in 2013), Aleees (the largest Lithium Iron Phosphate material company in Asia), and Ronbay New Energy Technology Co, Ltd, (the fastest-growing EV battery NMC 811 cathode material company in China and IPO in the Shanghai STAR exchange on July 2019).
As a Board Member he will lead the effort for marketing of VisIC automotive GaN devices for China market through GSR Semiconductors and its High Power and Fast Charge Technology Lab in Shenzhen, "GSR is investing in technologically game-changing companies and I am very impressed by VisIC's product and by its highly knowledgeable team. We are excited about the opportunity to work with Tamara Baksht, Gregory Bunin, and the team to accelerate the usage of GaN and create a globally successful enterprise ", said Sonny Wu.
Founded in 1958 in Kyoto, Japan, the ROHM group today has become a global player and supplier in the electronics industry. The company produces a wide range of solutions including integrated circuits for power management, SiC MOSFETs, diodes and modules, silicon power transistors and diodes, but also LEDs, resistors and many more electronic components. Being a vertically integrated semiconductor manufacturer, ROHM is largely independent of suppliers and can respond more flexibly to market changes.
ROHM Semiconductor Europe, founded in 1971, with Headquarters in Willich near Düsseldorf, Germany, is represented by eight offices in six countries today: Germany, France, UK, Spain, Finland and Italy. Additionally, ROHM's production facility SiCrystal, located in Nuremberg, Germany, supplies the global markets with silicon carbide wafers.
ROHM's 50th anniversary page highlights all milestones of ROHM's European activities at a glance:
The company's European business activities – in line with the ROHM group's Medium-Term Management Plan 'MOVING FORWARD to 2025' ¬– aim to accelerate social contribution. "We focus on power and analog solutions and contribute to our customers' needs for energy saving and downsizing of their products," states Wolfram Harnack, President at ROHM Semiconductor Europe.
ROHM's European business both serves the needs of automotive and industrial application areas. "For example, car manufacturers strongly demand our silicon carbide devices for their production of electric cars. In addition, we also see exciting projects in the industrial field and expect a major growth in Europe – particularly in the area of infrastructure for e-mobility and alternative energies," Harnack continues.
ROHM's customer focus in Europe is reflected by the Power Lab, a modern laboratory for power electronics located at the company's EU Headquarters in Willich. It provides important local technical support at application level to ROHM's European customers. "With our (Application and Technical Solution Center (ATSC)) and Power Lab activities and expertise we enhance our local customer support to make their products even better – with state-of-the-art equipment and specialized measurements," explains Aly Mashaly, Director of ROHM's European Application and Technical Solution Center.
Additionally, ROHM's commitment to supporting its European OEM and Tier 1 partners is mirrored by various supplier awards and design-in projects.
The Power Electronics community will gather online from 6 to 10 September 2021, to exchange views on research progress and technological developments in the various topics related to Power Electronics and Adjustable Speed Drives.
Originally, it was planned to take place in Ghent, Belgium, from 6 to 10 September 2021. After many years, the conference which started in Brussels in 1985, would have returned to Belgium after a travel around Europe. Ghent is at the confluence delta of the rivers "Schelde" and the "Leie". By the 13th century, Ghent was among the 5 biggest cities of western Europe in the medieval ages, 50 000 people, now 560 000. The city remained active in all periods, which leaves a number of historical places of interest. To have sufficient "critical mass" the 'local committee' includes Benelux and Aachen.
With the Covid uncertainties, the original intention was to organize a hybrid conference. However, the steering committee has decided that the conference will once again be full-online. This however does not mean that the city is not worth visiting on another moment. In fact, it is also an opportunity to communicate with countries that have more troubles when it comes to traveling. The learning school of 2020 allows us to do better and make it a success. Not only during the virtual lecture and dialogue sessions of the conference, but also at the virtual exhibition, industrial forums and tutorials: virtual meeting places.
The conference covers subjects from the components, design and modelling to many types of applications. In fact, power electronics is a 'glue technology' converting all kinds of electrical energy, where it often creates the added value. For the moment, we see fast growing research and applications in electric mobility, solar PV and wind. In electric cars for sure, from charging, to drives and many auxiliaries. There is also no principal problem for controlling larger truck type and mining vehicles that will get a breakthrough as more competitive batteries will be available.
The EPE conference is typically a place to meet people, colleagues and exhibitors in the field. This aspect has been translated to the virtual platform as much as possible.
On September 7 watch this Infineon webinar and learn from their expert, Francesca Pastorelli, how to select the right power MOSFET package for your design. The focus will be on Infineon's package offering for power MOSFETs from 20V to 300V.
This webinar will help you understand how to overcome challenges like thermal behavior, high current, and high power density in SMPS, BMS, and motor drives applications with Infineon's newly released packages.
Key takeaways:
Get to know the Infineon power MOSFET package portfolio
Understand use cases of bottom, top, and dual side cooling packages
Select the right package for your design e.g. high current, high power density, better thermal dissipation
Date: Tuesday, September 07, 2021
Time: 11:00 AM Eastern Daylight Time
Duration: 1 hour
Subscribe to Power Semiconductors Weekly and watch it on YouTube every Tuesday.
If you prefer a monthly update about the world of power semiconductors delivered to your e-mail address, please, subscribe to Marketing Psycho Power Semiconductors newsletter.