Power Semiconductors Weekly Vol. 20
Britain's biggest microchip factory has accused a Chinese-owned company of trying to seize control in the first big test of new foreign takeover rules.
Newport Wafer Fab (NWF) in south Wales has written to business secretary Kwasi Kwarteng calling for him to block the swoop by Nexperia.
The Netherlands-based but Chinese-owned chip firm installed two of its directors on to NWF's board after a contract dispute.
Wingtech, a Shanghai-listed supplier to Chinese smartphone companies such as Huawei, took control of Nexperia in 2019. Kwarteng has refused to intervene, arguing it does not pose a national security concern.
The shortage in semiconductors is impacting the global environment. The good news comes from SEMI, which reports that semiconductor manufacturers worldwide are on track to boost 200mm fab capacity by 950,000 wafers, or 17%, from 2020 through 2024 to reach a record high of 6.6 million wafers per month.
SEMI announced in its 200mm Fab Outlook Report that 200mm fab equipment spending is expected to reach nearly $4 billion in 2021 after passing the $3 billion mark in 2020 and hovering between $2 billion and $3 billion from 2012 to 2019.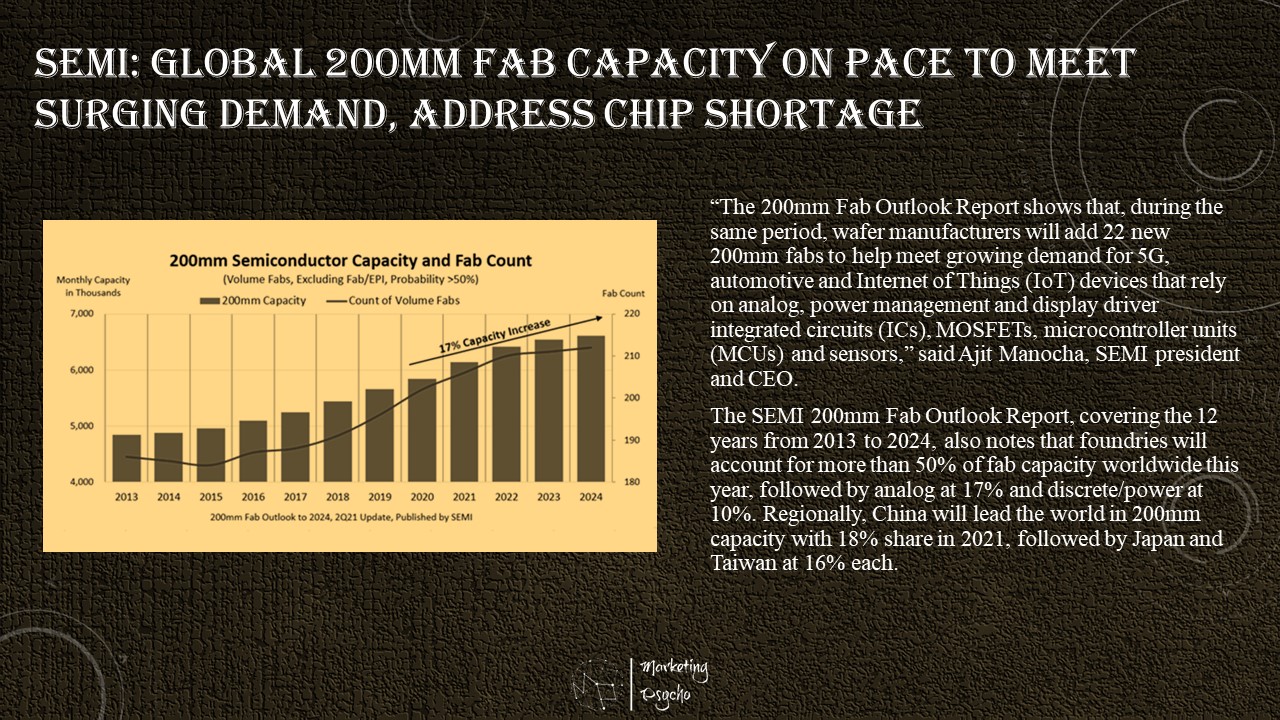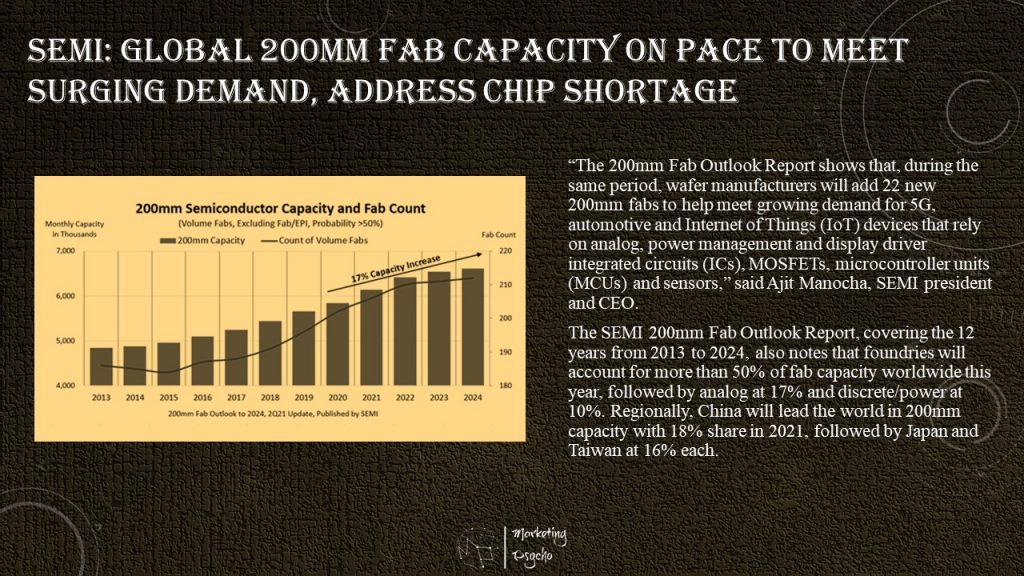 The spending increase reflects in part the global semiconductor industry's push to overcome the current chip shortage with 200mm fab utilization continuing at high levels.
"The 200mm Fab Outlook Report shows that, during the same period, wafer manufacturers will add 22 new 200mm fabs to help meet growing demand for 5G, automotive and Internet of Things (IoT) devices that rely on analog, power management and display driver integrated circuits (ICs), MOSFETs, microcontroller units (MCUs) and sensors," said Ajit Manocha, SEMI president and CEO.
The SEMI 200mm Fab Outlook Report, covering the 12 years from 2013 to 2024, also notes that foundries will account for more than 50% of fab capacity worldwide this year, followed by analog at 17% and discrete/power at 10%. Regionally, China will lead the world in 200mm capacity with 18% share in 2021, followed by Japan and Taiwan at 16% each.
Infineon Technologies supplied Samsung Electronics Co., Ltd. with power devices to couple the highest energy efficiency with lowest audible noise. They have been integrated in Samsung's brand new one-door fridge (RR23A2J3XWX, RR23A2G3WDX) and FDR (French Door Fridge: RF18A5101SR) inverterized refrigerator. Inverterization is an emerging DC to AC conversion trend in contemporary inverter designs. It helps the application run more quietly and smoothly while the average power consumption is reduced compared to a traditional on/off control.
To meet Samsung's requirements towards improved efficiency and lower system cost together with a lower noise level, the Digi Touch Cool™, Curd Maestro™ features multiple power solutions from Infineon – EiceDRIVER™ gate-driver IC, CoolSET™ Gen 5 for AC/DC conversion, and 600 V CoolMOS™ PFD7 for compressor drives. This is Samsung's first refrigerator design that uses discrete devices instead of power modules in the compressor.
The 600 V CoolMOS PFD7 superjunction MOSFETs come with a best-in-class body diode allowing for improved soft-recovery index and the industry's fastest reverse recovery time (t rr), making them a perfect choice for home appliance motor drives. Compared to module-based designs, using MOSFETs enables lower energy consumption especially at light-load conditions and an efficiency increase as of 1.7 percent. In addition, this innovative approach allows for a heatsink-less design, a 10 percent reduction in system cost and a longer refrigerator lifetime.
"Up to now, the major home appliances market was strongly dominated by modules. It was exciting to see that with our leading MOSFET technologies, we could help our customer Samsung to achieve even higher efficiency levels at lower system cost in such applications", said Stefan Obersriebnig, Product Line Head High Voltage Conversion of Infineon's Power & Sensor System Division.
The 33rd International Symposium on Power Semiconductor Devices and ICs (ISPSD) is online and will be held till the 3rd of June, 2021 as a full virtual conference.
ISPSD is the premier forum for technical discussion in all areas of power semiconductor devices and integrated circuits, their hybrid technologies and applications.
The full technical program of the event is available at the symposium's website.
ISPSD brings together the world's foremost experts and leading companies on power devices and integrated circuit technology. Since the first meeting held in Tokyo in 1988, ISPSD has become the premier international forum for technical discussions in all aspects of power semiconductor devices and integrated circuits.
Built with the design engineer in mind, the Wolfspeed seminar series that start on June 23 covers a variety of topics from deciphering data sheets to designing with SiC.
In addition to the deep-dive technical sessions, attendees will hear from Wolfspeed Co-Founder Dr. John Palmour as well as a panel of industry leaders.
You can register today to watch it online or on-demand after the series of events end.
Subscribe to Power Semiconductors Weekly and watch it on YouTube every Tuesday.
If you prefer a monthly update about the world of power semiconductors delivered to your e-mail address, please, subscribe to Marketing Psycho Power Semiconductors newsletter.