Power Semiconductors Weekly Vol. 2
Fuji Electric launched the X Series IGBT-IPM, which incorporates the latest 7th-generation power semiconductor device and contributes to energy savings in production equipment by the industry's highest class of low loss performance. Mass production of the product started in December and sales will be expanded globally, focusing mainly in Japan and China and so on, where automation is progressing.
This product is equipped with the latest 7th-generation IGBT device, which achieves the industry's highest class of low loss performance through reduced device thickness and miniaturization of the surface structure. In power semiconductors, as the operating temperature of the product increases, the switching speed generally decreases and the power loss increases. However, with this product the power loss is reduced by using an IC that controls the IGBT drive to prevent the switching speed from decreasing under high temperature conditions.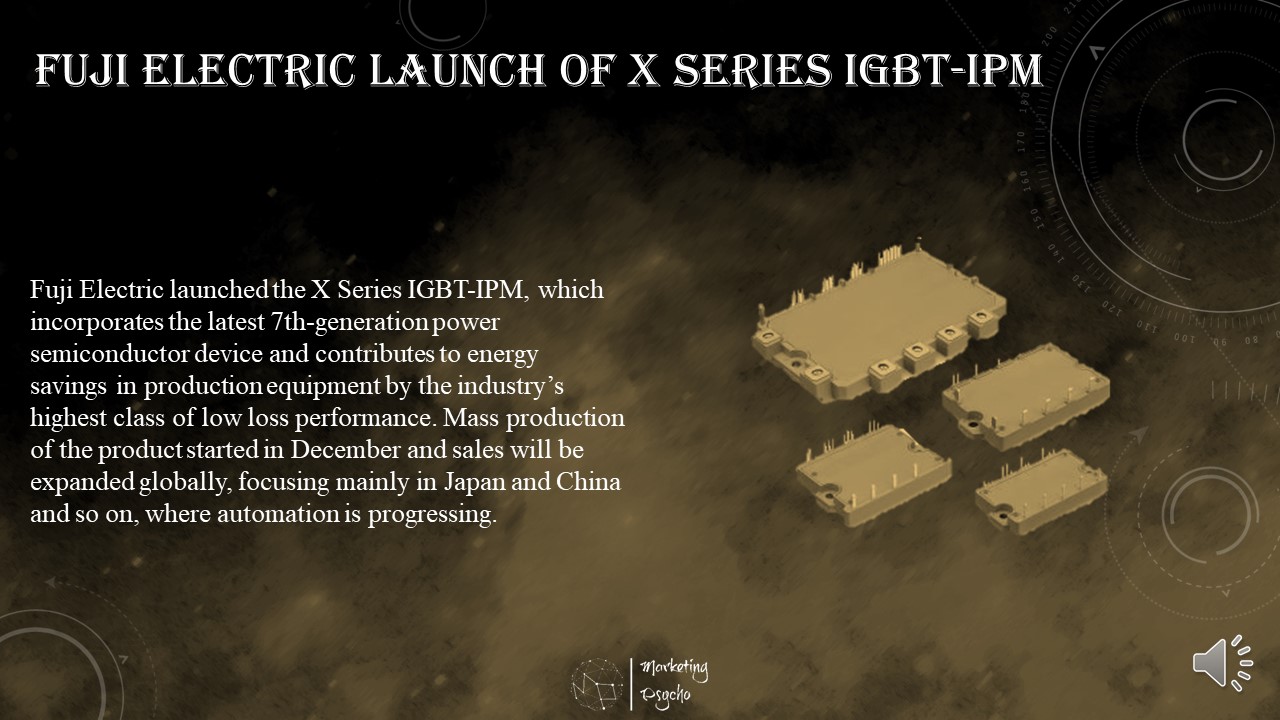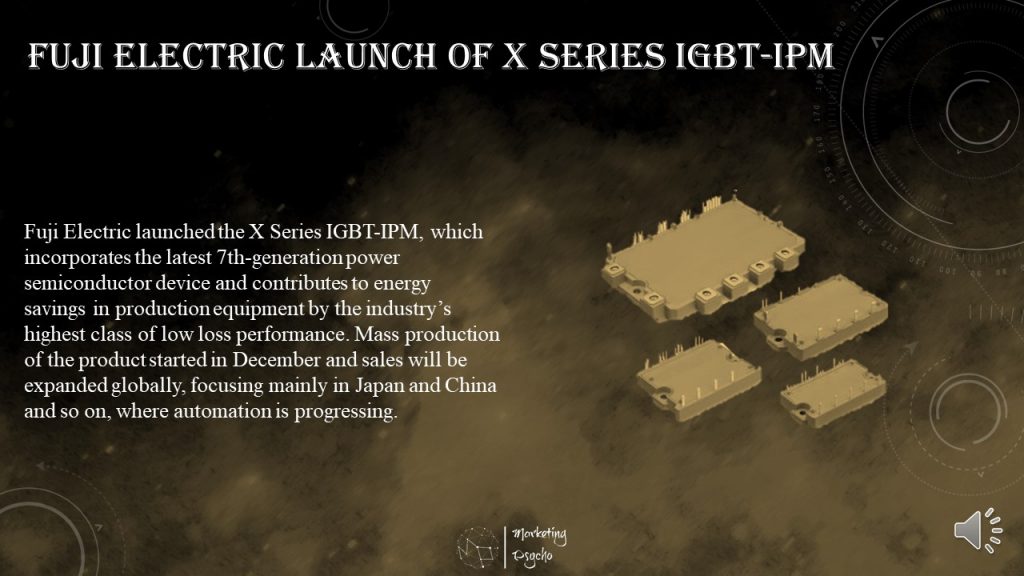 Vincotech's new 1200 V sixpack solution for servo drive applications and line converters for elevator drives are out now.
Servo drive applications and line converters for elevator drives require switching frequencies up to 16 kHz. Vincotech's new 1200 V sixpack family features a dual-diode setup not only to equip your designs to easily satisfy these requirements; they also slash system costs. Equipped with high-speed IGBT4 and tandem diode technology, this new flowPACK 1 family boosts efficiency to strike the best balance between costs and benefits.
Packaged in the low-inductive industry-standard flow 1 housing, these three-phase inverter modules cover a wide power range from 25 A up to 75 A. All modules are also available with phase-change material.
Power semiconductor maker ROHM of Kyoto, Japan has held an opening ceremony announcing the recent completion (in December) of its new five-storey building at ROHM Apollo's plant in Chikugo, Fukuoka, which will boost the firm's silicon carbide (SiC) power device production capacity (after it enters operation in 2022).
The new building introduces a number of energy-saving technologies to its production facilities, with 100% of its electricity coming from renewable energy sources.
In addition, ROHM has strengthened its business continuity management system by introducing various disaster counter-measures. Also, from January ROHM will begin installing production equipment and build a manufacturing system that can meet the medium- to long-term increases in demand for SiC power devices.
Mouser has announced a global distribution agreement with SanRex Corporation. Through the agreement, customers worldwide can now order the company's power semiconductor products for same-day delivery in the majority of cases.
The company's three-phase diode modules incorporate the latest compact 1600V diode bridges that include a low-loss, high-surge tolerance chip in a compact DIP, adding to high performance, high reliability, and enhanced productivity. The modules provide decreased thermal resistance due to an integrated copper heat plate, while dual terminals guarantee reliable solderability for large-current applications.
The DKR400CA60 two-in-one fast recovery diode module provides high power cycle reliability and exceptional heat dissipation in devices, including plasma cutting machines, welding machines, and plating equipment.
Da Nang authorities have granted an investment license to a semiconductor manufacturing project worth US$110 million, making it the second largest foreign-invested project in the Da Nang Hi-tech Park.
Construction of the project is scheduled to commence in the second quarter of 2021 and the plant will be put into operation two years later.
The project is registered under two US investors, who currently own Hayward Quartz Technology Inc, a leading supplier for original equipment manufacturers.
The United States Enterprises plant will specialize in the production of semiconductor materials for equipment in the electronics industry.
Toshiba Lineup expansion of Schottky barrier diodes with 60 V products using the compact US2H package that has excellent heat dissipation allowing easier thermal design.
The new CUHS20F60 low forward voltage product features a forward voltage of 0.41 V, about 27 % reduction from the existing portfolio CUHS10F60, and the new CUHS20S60, an ultra-low forward voltage product, features a forward voltage of 0.35 V. Reduction of the forward voltage helps improve the efficiency of power supplies.
As silicon reaches its theoretical performance limits for power electronics, industry is shifting toward wide-bandgap materials like Gallium Nitride (GaN), whose properties provide clear benefits in power converters for consumer and industrial electronics.
WBG power semiconductor devices in silicon carbide and GaN technology provide design advantages that are allowing previously unimaginable application performance: low leakage current, significantly reduced power losses, higher power density, higher-frequency operation, and the ability to tolerate higher operating temperatures, all with a smaller device size than could be achieved for a silicon-only equivalent.
AspenCore Guide to Gallium Nitride: A New Era for Power Electronics delves into GaN technology and its importance for power electronics professionals engaged with its implementation in power devices.
PCIM Asia, one of Asia's most influential exhibition and conference for power semiconductors and power electronics, will celebrate its 20th anniversary this year.
Over the past two decades, the show has earned a good reputation in the industry for its product diversity, unmatched professionalism and excellent service. Despite ongoing international travel restrictions, PCIM Asia 2020 was able to go ahead as planned with many participants praising the show's efforts to support the industry's recovery and facilitate business interactions.
The fair's relocation will create greater business opportunities for the power electronics industry within the South China region and beyond.
Find more information about power semiconductors in Marketing in Power Electronics section of the website.