Power Semiconductors Weekly Vol. 18
BYD announced that the board of directors passed a resolution that the company intends to spin off its subsidiary BYD Semiconductor and to list it on the Shenzhen Stock Exchange's Growth Enterprise Market.
After the spin-off is completed, BYD will still maintain control of BYD Semiconductor, and BYD Semiconductor will remain a subsidiary within the scope of BYD's consolidated statements.
BYD Semiconductor will focus on automotive-grade semiconductors and simultaneously promote the development of semiconductor business in the auto industry, home appliances, new energy, consumer electronics, and other sectors. It is committed to becoming an integrated new semiconductor supplier.
BYD Semiconductor mainly manufactures IGBT (Insulated Gate Bipolar Transistor) related chips. The chip manufacturing process is 45nm, and the chip manufacturing process is self-reliant and self-controlled independently.
In 2020, BYD's IGBT chip wafer production capacity has reached 50,000 pieces/month, and it is expected to reach 100,000 pieces/month in 2021, and it can supply 1.2 million new energy vehicles a year.
In 2019, in terms of sales, Infineon ranked first in the Chinese automotive-grade IGBT chip market, with a market share of 49.3%, followed by BYD, which mainly supplied its own brand of new energy vehicles, and achieved 20% market share.
According to BYD Semiconductor's unaudited financial data, in 2020, BYD Semiconductor's net profit will be 32 million yuan, and its net assets will be 3.187 billion yuan at the end of the year. BYD Semiconductor's net profit accounts for about 0.78% of BYD's entire business, and its net assets account for 4.05%.
BYD Semiconductor was established on October 15, 2004, formerly known as Shenzhen BYD Microelectronics Co., Ltd. In 2007, BYD established an IGBT module production line and completed the sample assembly of the first electric vehicle IGBT module. BYD spent 171 million yuan in 2008 to acquire the Ningbo Zhongwei wafer foundry to add wafer manufacturing capabilities.
In 2009, BYD launched its first automotive-grade IGBT 1.0 technology; in 2012, BYD's IGBT 2.0 chip was successfully developed; by 2020, BYD's self-developed IGBT chip has had 5 generations, and has been installed on more than 1 million vehicles.
Currently, BYD Semiconductor is accepting CICC's listing counseling.
Data show that in 2019, Shenzhen has 26 companies with integrated circuit design sales exceeding 100 million yuan. Among them, BYD Semiconductor ranks fourth with sales of 3 billion yuan, after HiSilicon (83.4 billion yuan) and ZTE Microelectronics (80 billion yuan), Goodix Technology (6.47 billion yuan).
Previously, there were news reports that BYD and Huawei had signed a cooperation agreement to build a automobile-level Kirin chip. Its first product was reported to be Kirin 710A, which was previously mass-produced by SMIC using 14nm process technology.
If BYD and Huawei can achieve the production of the chip, the Kirin 710A could become a landmark product that is produced with self-reliant and self-controlled industrial chain from design, manufacturing, to packaging and testing.
Toshiba Electronic Devices & Storage Corporation ("Toshiba") has developed package technology for silicon carbide (SiC) power modules that doubles their reliability and reduces their footprint by 20%.
SiC realizes higher voltages and lower losses than silicon, and is widely seen as the next-generation material for power devices. While use now centers on inverters for trains, wider deployment in high-voltage applications is on the horizon, including in photovoltaic power systems and automotive equipment.
Reliability is the main concern that has limited use of SiC devices. Application in high voltage power modules requires that not only the semiconductor chip but also the package itself delivers high-level reliability. Toshiba has achieved this with a new silver (Ag) sintering technology for die bonding.
With current SiC packages, it is difficult to suppress increased on-resistance in chips over time, as higher power densities and switching frequencies trigger deterioration in their soldering. Ag sintering significantly reduces this deterioration. The thermal resistance in the Ag-sintered layer is also half that of a soldered layer, which allows chips in the module to be positioned closer together, realizing a smaller footprint.
Toshiba has dubbed the new package iXPLV, and will apply it to mass production of 3.3kV class SiC power module from the end of this month.
Designed to fit high power applications, the SEMIKUBE MLI follows the same rigorous SEMIKRON qualification and certifications. The platform maximizes performance and power density thanks to Generation 7 IGBT. Additional features, such as switching pattern control, offer safe operation.
The SEMIKUBE MLI is suitable for outdoor cabinets, able to withstand harsh environments, such as high temperature fluctuations. An IP54 rated mounting flange separates the heatsink airflow from the driver electronics, facilitating effective cabinet integration.
High Efficiency for High Power Application
Air and water cooled IGBT power assembly
Power density up to 7 kVA/L
Switching frequency up to 15kHz
Output current up to 900A
AC output voltage up to 1000VAC
DC bus voltage up to 1500VDC
Designed according to IEC 62109-1 and IEC62477-1
Safe Operation
Fully integrated safety management
Switching pattern monitoring
THEATSINK, VBUS, IOUT: analogue measurements
CAN interface for settings and error diagnostic
Easy System Integration
Modular design per phase for easier handling
DC and AC power connection at front
Heatsink cooling separate from electronics cooling
IP54 mounting
Operating temperature range: -25°C to +55°C
The government's plan shows its commitment to help the South Korean semiconductor industry overcome its weaknesses.
Amid concerted efforts by the US, China and other countries to build their semiconductor industries, the South Korean government announced its "K-Semiconductor Belt Strategy".
The extensive support measures encompass the areas of taxation, finance, infrastructure and human resources, including the establishment of a "K-Semiconductor Belt" as the world's largest and most advanced supply chain, along with major expansions in tax deductions for semiconductor industry research and development (R&D) and facility investment.
Minister of Trade, Industry and Energy Moon Sung-wook held a joint public and private "K-Semiconductor Belt Strategy report meeting" at the Samsung Electronics plant in Pyeongtaek, Gyeonggi Province, with Samsung Electronics Co-Vice Chairman Kim Ki-nam and SK Hynix Vice Chairman Park Jung-ho in attendance.
Perhaps the most attention-grabbing aspect of the announcement that day was the bold plan for tax support. The measures included deduction benefits of up to 50% for semiconductor R&D and 20% for facility investment.
Mouser Electronics announced a new eBook in collaboration with ROHM Semiconductor, highlighting technologies that lie at the heart of the next generation of automotive solutions. In Driving the Future of Automotive Solutions with ROHM, subject matter experts from Mouser and ROHM offer technical insights into applications surrounding vehicle electrification, including power management, lighting, and motor control.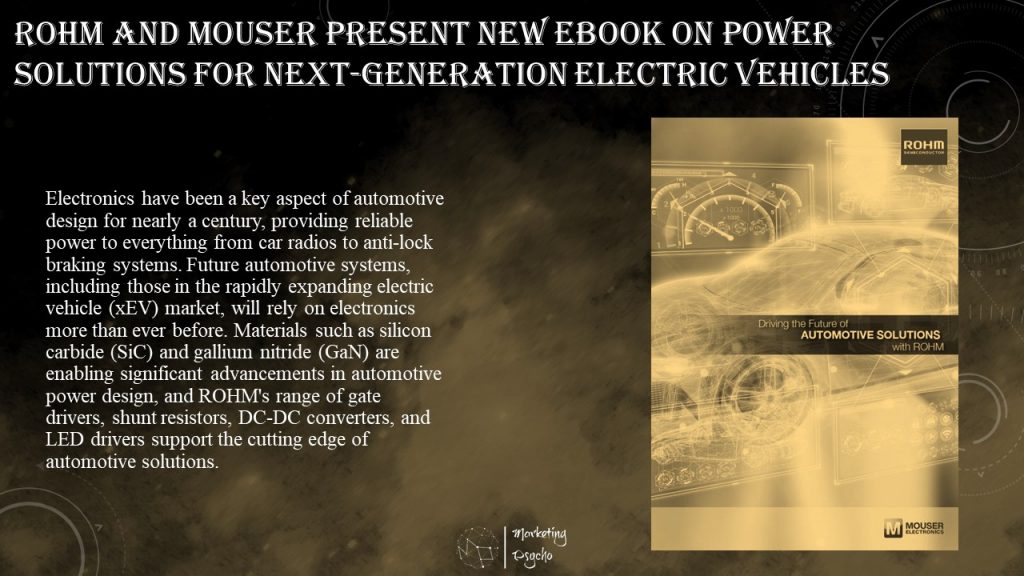 Electronics have been a key aspect of automotive design for nearly a century, providing reliable power to everything from car radios to anti-lock braking systems. Future automotive systems, including those in the rapidly expanding electric vehicle (xEV) market, will rely on electronics more than ever before. Materials such as silicon carbide (SiC) and gallium nitride (GaN) are enabling significant advancements in automotive power design, and ROHM's range of gate drivers, shunt resistors, DC-DC converters, and LED drivers support the cutting edge of automotive solutions.
Driving the Future of Automotive Solutions with ROHM offers practical insights into the automotive industry's evolving technologies, connecting emerging challenges to the solutions needed to address them. The eBook features useful information and links to key ROHM products, such as automotive lighting solutions for the transition to LEDs, GMR50 chip shunt resistors that offer improved power management, and UDZLVFHTE high-voltage automotive Zener diodes for reliable performance in harsh environments.
The 15th International Seminar on Power Semiconductors (ISPS 2021) will provide a forum for technical discussion in the area of power semiconductor devices and their applications. It is a small conference with the special flair of an atmosphere of searching deeper insight and intensive discussion.
Areas of Interest
Power semiconductor devices (materials, physics, modelling, technology, diagnostics)
Packaging, advanced device applications, reliability
Papers oriented in the field of power semiconductors are supposed to be presented in sessions on
Device Physics and Technology
Power Bipolar Devices
Voltage-Controlled Power Devices
Wide Bandgap Power Devices
Power Integration
Advanced Applications
Packaging, Reliability & Modelling
A round table discussion oriented on topical problems of research and education in the field of power semiconductors will be organized in the framework of the seminar.
The seminar will take place in Prague, Czech Republic, on August 25-27.
Find more information about power semiconductors in Marketing in Power Electronics section of the website.