Power Semiconductors Weekly Vol. 16
SEMIKRON, a leading manufacturer of power electronics, and Silicon Mobility, a solution provider of digital control for electrified powertrain, announced the availability of a 24V to 96V inverter platform for automotive battery powered vehicles and industrial off-road vehicles. The Inverter platform delivers from 10KW to 50KW and combines the SEMIKRON SKAI® 3 LV inverter and Silicon Mobility OLEA® inverter and electric motor control solution.
SEMIKRON, on one hand, provides SKAI® 3 LV, the power assembly with an advanced integrated MOSFET module with connected DC-link, gate-driver, protection functions, and sensors. It comes with a complete performance power solution for 3-phase motor-drive and a ready-made power section which reduces time to market. All of this is proposed within a custom-made cover to offer an ultra-compact MOSFET inverter. The 3rd generation of the SEMIKRON SKAI LV industrial MOSFET inverters constitutes the 7th generation of inverter technology manufactured by SEMIKRON, with more than 1.5 Million MOSFET inverters in the field. The 3rd generation is a platform concept that offers standard design versions or can be customized to meet user's needs. The converter connects easily to a custom control board for quick and easy designing, while leaving the control to the customer.  
Silicon Mobility, on the other hand, delivers OLEA® COMPOSER – T222 Starter Kit for SKAI3 LV, the digital control and software aspects of the platform. It includes a reference control board integrating OLEA® T222 FPCU, a powerful control chip, and OLEA® APP INVERTER, a control software application adapted for the SEMIKRON SKAI 3 LV inverter power module, fully configurable to support a wide variety of 3-phase PMSM and WRSM electric motor and position sensors. The application provides efficient and safe torque and speed management using Field Oriented Control (FoC) and variable Space Vector Pulse Width Modulation (SVPWM) algorithms from 2kHz up to 100kHz. It also includes numerous configurable safety mechanisms for faults detection and reaction such as overcurrent, overvoltage, and overtemperature. Calibration and validation are enabled thanks to its native ASAM standard support. The starter kit also includes vehicle dependent software demo code, post-build measurement, configuration, calibration, and firmware update GUI software. 
The combined solution offers users access to an optimized, best-in-class, and full sketch Power + Control Inverter Platform. A ready-to-go service is available at both SEMIKRON and Silicon Mobility to help customers immediately get their hands on the solution enabling fast prototyping and development of any industrial or automotive system. The platform is accessible as a White Box where users can customize upon request the power module packaging/casing from SEMIKRON and access the OLEA APP INVERTER object code through a dedicated license. 
Mitsubishi Electric Corporation announced it has developed seven new X-Series products—two HVIGBTs and five HVDIODEs—boosting the X-Series lineup to 24 power semiconductor modules suitable for increasingly large-capacity, small-sized inverters used in traction motors, DC-power transmitters, large industrial machinery and other high-voltage, large-current equipment. The models will be released sequentially beginning July 1.
The modules will be exhibited at "PCIM Europe digital days 2021," the digital version of this power conversion intelligent motion trade show, from May 3 to 7.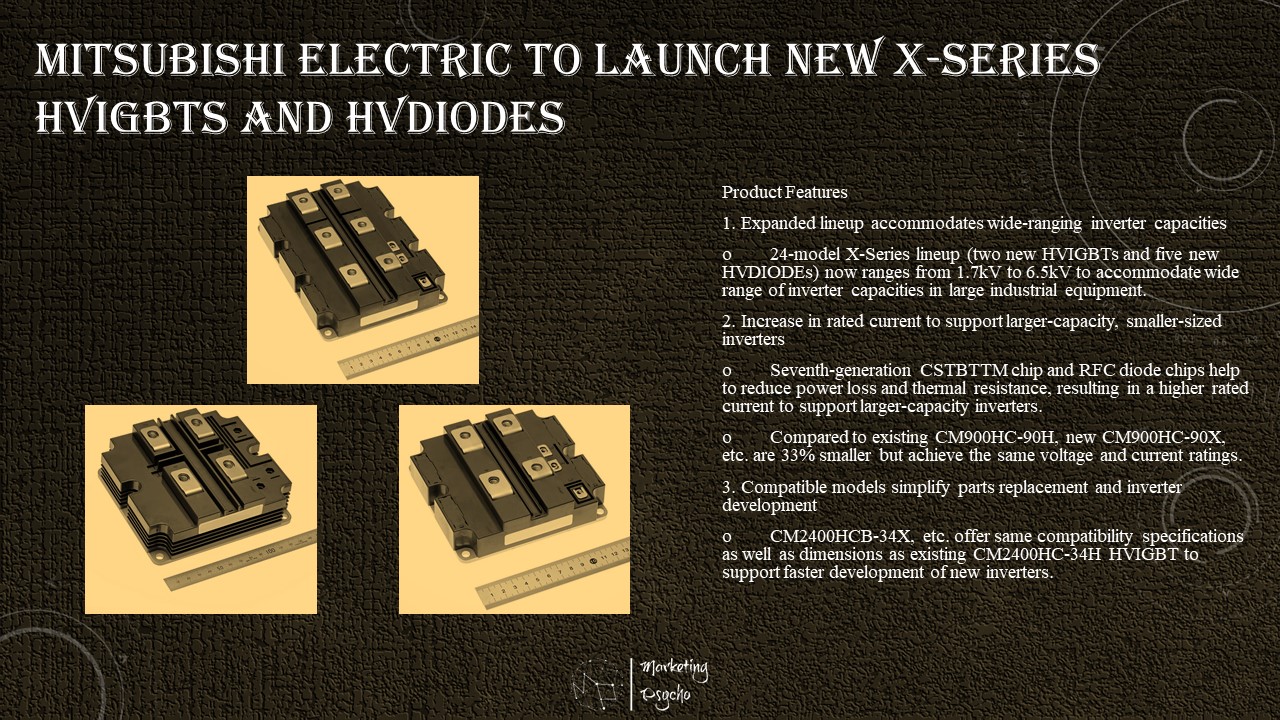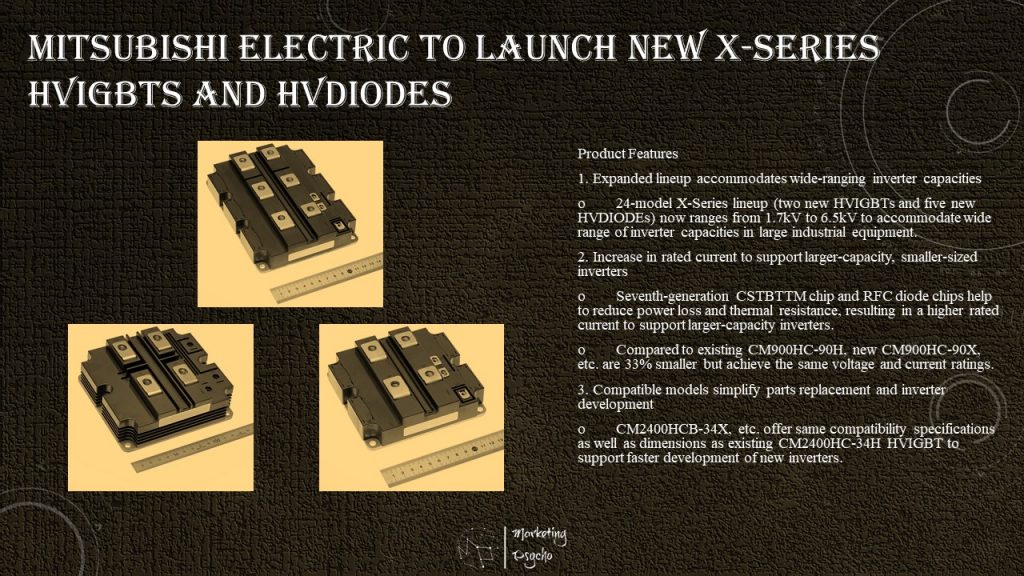 Product Features
Expanded lineup accommodates wide-ranging inverter capacities 
24-model X-Series lineup (two new HVIGBTs and five new HVDIODEs) now ranges from 1.7kV to 6.5kV to accommodate wide range of inverter capacities in large industrial equipment.
Increase in rated current to support larger-capacity, smaller-sized inverters 
Seventh-generation CSTBTTM chip and RFC diode chips help to reduce power loss and thermal resistance, resulting in a higher rated current to support larger-capacity inverters.
Compared to existing CM900HC-90H, new CM900HC-90X, etc. are 33% smaller but achieve the same voltage and current ratings.
Compatible models simplify parts replacement and inverter development 
CM2400HCB-34X, etc. offer same compatibility specifications as well as dimensions as existing CM2400HC-34H HVIGBT to support faster development of new inverters. 
Nexperia, the expert in essential semiconductors, announced volume availability of its second-generation 650 V power GaN FET device family, offering significant performance advantages over previous technologies and competitive devices. With RDS(on) performance down to 35 mΩ (typical), the new power GaN FETs target single phase AC/DC and DC/DC industrial switched mode power supplies (SMPS), ranging from 2 kW to 10 kW, especially server and telecoms supplies that must meet 80 PLUS® Titanium efficiency regulations. The devices are also an excellent fit for solar inverters and servo drives in the same power range.
Available in TO-247 packaging, the new 650V H2 power GaN FETs deliver a 36% shrinkage in die size for a given RDS(on) value, for better stability and efficiency. The cascode configuration eliminates the need for complicated drivers, speeding time to market. The devices deliver outstanding performance in both hard-switching and soft-switching configurations, offering designers maximum flexibility. 
Infineon Technologies has expanded its easy-to-design EiceDRIVER™ X3 Compact (1ED31xx) and the highly flexible EiceDRIVER X3 Enhanced Analog (1ED34xx) and Digital (1ED38xx) gate driver families. Both families now offer variants with superior reinforced isolation for higher application safety and long operating life. The new family members are VDE 0884-11 certified. With 8 mm wide-body packages, both families are suitable for applications with demanding isolation requirements including industrial drives, solar systems, uninterruptible power supplies, EV charging and other industrial applications.
The versatile EiceDRIVER X3 Compact family provides driving currents of 5.5, 10 and 14 A and optimized propagation delays of 90 ns. The family also includes a Miller clamp that is highly recommended for SiC MOSFET 0 V turn-off. With these features, the 1ED31xx is suitable for high switching frequency applications, IGBT7 and power switches with voltage ratings up to 2300 V.
The EiceDRIVER X3 Enhanced Analog and Digital families offer precise and adjustable DESAT, as well as additional configurable parameters based on I 2C. This supports high flexibility in designs and reduces hardware complexity and evaluation time. Furthermore, the built-in monitoring functionality enables predictive maintenance.
The EiceDRIVER X3 Enhanced 1ED34xx and 1ED38xx as well as the EiceDRIVER X3 Compact 1ED31xx can be ordered now, as can the evaluation boards EVAL-1ED3121MX12H, EVAL-1ED3122MX12H, EVAL-1ED3124MX12H, EVAL-1ED3491MX12M.
The EiceDRIVER families will be showcased at Infineon's Virtual Power Conference, which complements "PCIM Europe digital days." 
Infineon Technologies has launched a new EasyPACK™ 2B module in the company's 1200 V family. The module comes in 3-level Active NPC (ANPC) topology and integrates CoolSiC™ MOSFETs, TRENCHSTOP™ IGBT7 devices, and an NTC temperature sensor along with PressFIT contact technology pins. The power module is suitable for fast-switching applications like energy storage systems (ESS). The module also increases the power rating and efficiency of solar systems and supports the growing demand for 1500 V DC-link solar applications.
Using the latest CoolSiC MOSFET and TRENCHSTOP IGBT7 technology combined with an increased diode rating, the Easy module F3L11MR12W2M1_B74 is designed to operate over the entire power factor (cos φ) range. A single module per phase is capable of supplying a power level of up to 75 kW in energy storage applications. For solar applications a power level of up to 150 kW can be reached by operating two modules in parallel per phase.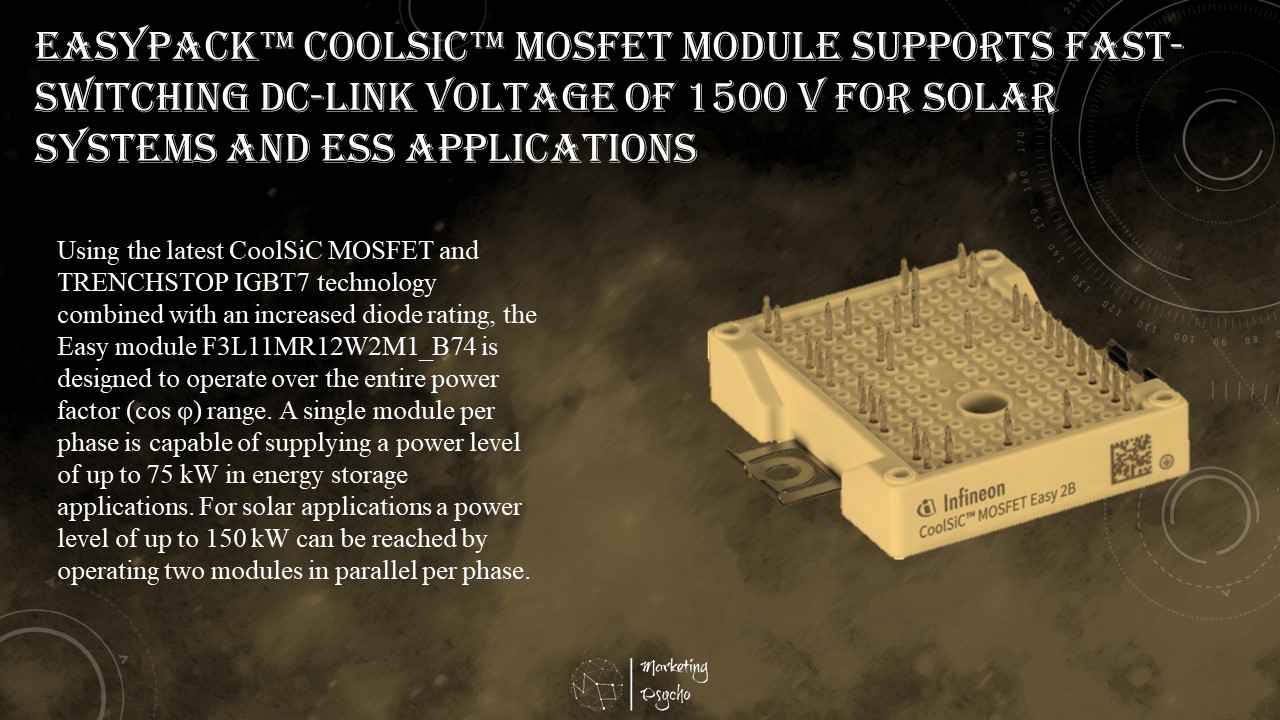 With its improved pin positioning, the module also ensures short and clean commutation loops with reduced stray module inductances. Its optimized layout enables excellent thermal conduction of the CoolSiC MOSFET chips within the EasyPACK 2B package. In addition, the power module supports easy design-in and provides a high degree of freedom for inverter design.
The EasyPACK CoolSiC MOSFET module F3L11MR12W2M1_B74 is now available.
The product will be showcased at Infineon's Virtual Power Conference, which complements "PCIM Europe digital days." 
Yes Power Technix will supply 50 billion won worth of silicon carbide (SiC) power management semiconductors to a Taiwan-based company. The South Korean component maker will supply around 80 million units of the chips by December 2025 to the customer. The customer will use the chips for its own e-bike as well as to a Chinese home appliance firm, which is its shareholder.
Yes Power Technix is the only company in South Korea that manufactures SiC power chips. A company spokesperson said the latest deal vindicates the quality of its chips and will lead to sales growth.
YEST, Yes Power Technix's parent company, in February bought 3 billion won worth of existing shares of its subsidiary. Yes Power Technix in January received 26.8 billion won investment from SK Holding, the holding company of SK Group.
JEDEC Solid State Technology Association, the global leader in standards development for the microelectronics industry, announced the publication of JEP184: Guideline for evaluating Bias Temperature Instability of Silicon Carbide Metal-Oxide-Semiconductor (MOS) Devices for Power Electronic Conversion. The publication developed by JEDEC's JC-70.2 Silicon Carbide Subcommittee, JEP184 is available for free download from the JEDEC website.
JEP184 provides definitions and procedures for characterizing the threshold voltage instability of SiC-based power electronic conversion semiconductor devices having a gate dielectric region biased to turn devices on and off.
Bias Temperature Instabilities (BTI) involve variations of threshold voltage (VT) and other device parameters such as resistance in the on-state and leakage current in the off-state as a function of the stress time, stress voltage, and stress temperature. The assessment of BTI in SiC MOSFETs is particularly challenging since the measured threshold shift can be composed of different components such as long-term VT drift, transient VT changes, and hysteresis behavior or changes in hysteresis. This publication provides guidelines for stress procedures being able to distinguish between different shift components and allowing measurement of their stability over time as affected by gate bias and temperature. JEP184 also closely follows the recent JEDEC publication of JEP183: Guidelines for Measuring the Threshold Voltage (VT) of SiC MOSFETs. Together, these two closely related publications provide the industry much-needed guidance on assessing and evaluating BTI variations of VT, as well as accurately measuring the VT of SiC MOSFETs.
On May 18 join Infineon webinar to learn about the positioning of SiC for solar and energy storage applications. The webinar will cover the benefits of using Infineon's Silicon Carbide MOSFET for solar and energy storage power conversion supported by real application examples.
Joining the webinar you will get a better understanding of the main technology trends in solar inverters.
Join the webinar to learn more about:
How the solar power system industry is evolving 
The main technology trends in solar inverters 
Infineon's comprehensive solutions for solar power systems 
Date: Tuesday, May 18, 2021 
Time: 11:00 AM Eastern Daylight Time 
Duration: 1 hour 
Find more information about power semiconductors in Marketing in Power Electronics section of the website.