Power Semiconductors Weekly Vol. 11
Fuji Electric Co., Ltd. announced the addition of a 1,200V-rated product to its discrete IGBT XS Series lineup, providing industry-leading low loss.
Fuji Electric's discrete IGBT XS Series reduces power loss both during switching (switching loss) and as electricity flows in the circuit (steady-state loss), helping to save power in the products in which they are equipped. In addition to the existing 650V-rated products, the company has begun selling a new 1,200V-rated product to accommodate devices with a wide range of capacity bands, including UPSs of several dozen kVA.
They hope that the expanded lineup will contribute to the design of customer equipment. The market for industrial equipment outfitted with these products is expected to grow from the current 60 billion yen to 70 billion yen in 2023, and to expand globally, particularly in China and Taiwan, where demand is strong.
Manufacturers expect more from power modules these days. Extended operating time at high temperatures is a top priority. VIN's advanced new die-attach technology strengthens the bond between chips and DCBs to live up to those expectations all across the MiniSKiiP® product line.
Featuring latest-generation IGBT M7 and IGBT7 chips, Vincotech MiniSKiiP® DUAL products deliver the triple-play benefits of superior performance, multiple sourcing and longer life for flexible and scalable inverter designs with nominal currents up to 400 A.
Features:
More than ten times longer life at high operating temperatures
Latest-gen chips up efficiency and power density to help drive down system costs
Less material usage (rather than copper bus bars) plus easy, solder-free assembly equals even greater savings
Vitesco Technologies, a leading international supplier of modern drive technologies and electrification solutions, has won a major order with a sales volume in a triple-digit million Euro amount for an innovative high-voltage component. For the first time ever, the company will be supplying an 800-volt inverter with silicon carbide technology in significant quantities for the new electric vehicle platform of the Hyundai Motor Group.
Vitesco Technologies uses semiconductors made from silicon carbide for the 800-volt inverter, which significantly increase the efficiency. This technology is the only way to harvest the full potential of the high-voltage architecture while at the same time providing maximum efficiency.
With the new E-GMP platform, Hyundai Motor Group is underlining its intention to launch a total of 23 battery-powered models by 2025, 11 of which will be exclusively battery-powered, and to sell more than one million vehicles in this drive category worldwide.
For Vitesco Technologies, the major order for the 800-volt inverter is confirmation of the electrification strategy that it has been pursuing up until now and underlines the pioneering approach as a supplier of choice for e-mobility solutions. The company is therefore pushing ahead with the development and optimization of other central components for electric vehicles based on 800 volts – from DC/DC converters to battery management right through to charging systems.
South Korea will nurture the local industry for next-generation power chips as a new strategic investment for future chip leadership.
At the seventh meeting on innovative growth, the Ministry of Trade, Industry and Energy unveiled a blueprint that contains measures to establish an ecosystem for next-generation power chips ranging from key technologies to product development and mass production.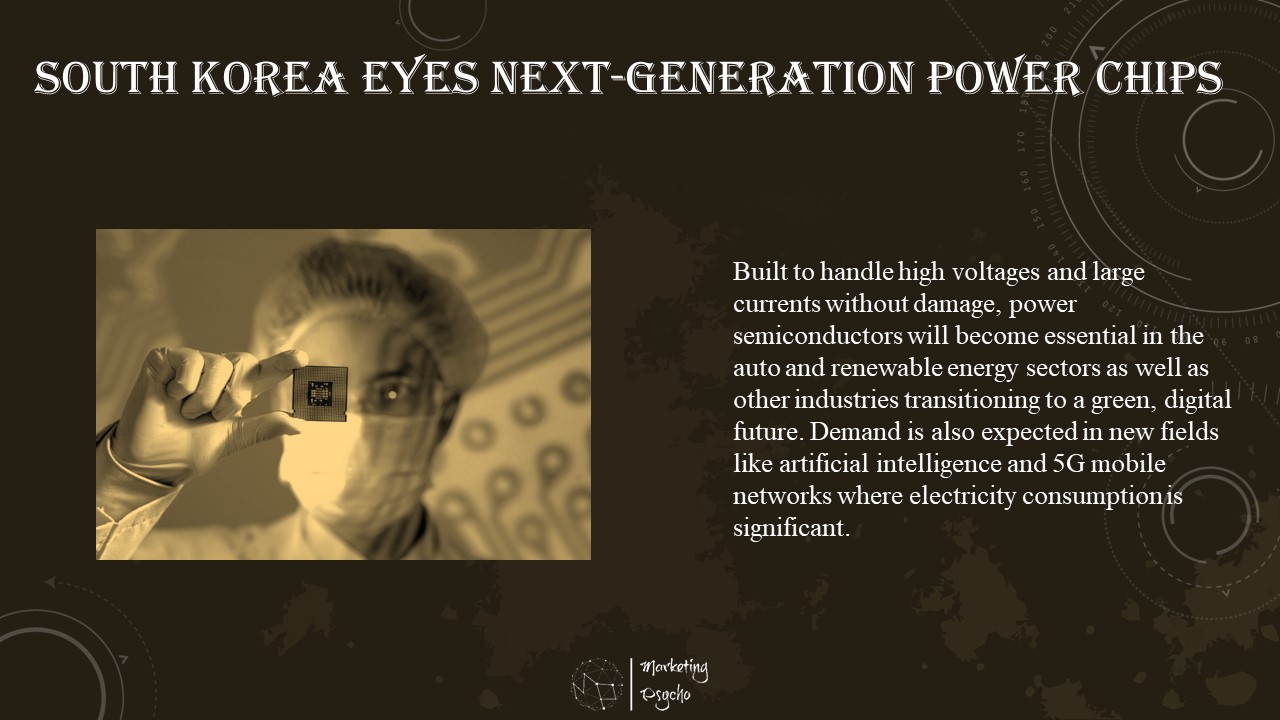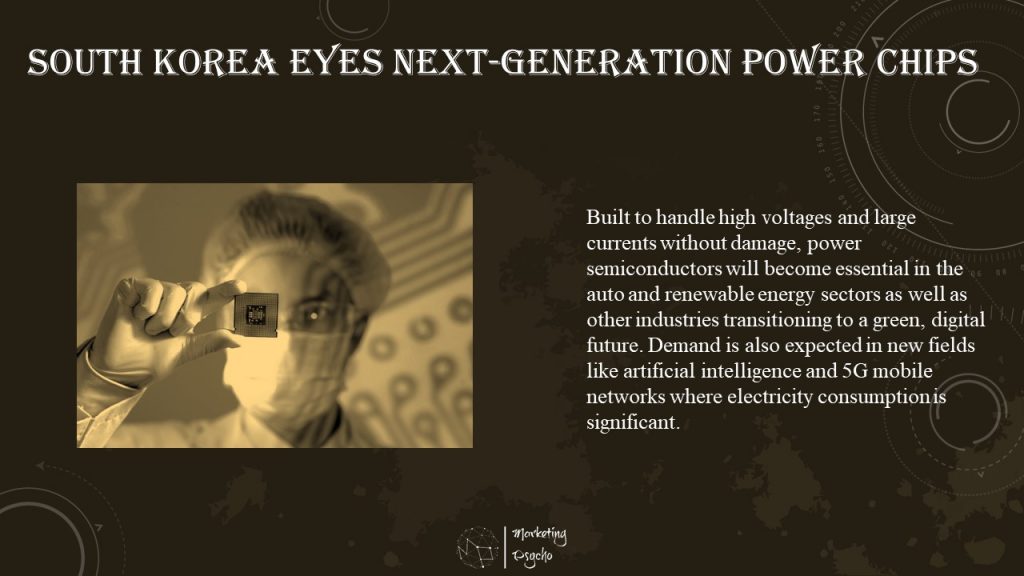 Built to handle high voltages and large currents without damage, power semiconductors will become essential in the auto and renewable energy sectors as well as other industries transitioning to a green, digital future. Demand is also expected in new fields like artificial intelligence and 5G mobile networks where electricity consumption is significant.
The government will develop at least five next-generation power chips by 2025 and establish 6- to 8-inch foundry infrastructure for mass production. The power chips will be based on new materials instead of typical silicon, such as silicon carbide, gallium nitride and gallium oxide. The new materials enhance the chips' power efficiency and durability.
North America-based manufacturers of semiconductor equipment posted US$3.14 billion in billings worldwide in February 2021 (three-month average basis), logging a record high for the second consecutive month, according to SEMI.
The billings figure is 3.2% higher than the revised billings level of US$3.04 billion in January, and is 32% above the February 2020 billings level of US$2.37 billion.
"February billings of North America-based semiconductor equipment manufacturers once again exceeded US$3 billion, powered by robust secular semiconductor demand across diverse end-use markets," said Ajit Manocha, SEMI president and CEO. "The digitization of industries worldwide continues to drive rising investments in semiconductor equipment."
Show Must Go On. Live Semiconductor Events in April
Despite the ongoing worldwide pandemic, it seems that everything starts to get back to normal, at least one step at a time. Thus, in the middle of April two major electronics shows are scheduled to be held the normal way.
Electronica China will take place in Shanghai April 14-16, and ExpoElectronica in Moscow will take place April 13-15. Both shows are the major events in electronics and semiconductor industries in China and Russia.
Let's just hope that this will be the good start for the trade fairs industry to get back on track, and we all soon will meet again face-to-face.
Find more information about power semiconductors in Marketing in Power Electronics section of the website.