Power Semiconductors Weekly Vol. 10
An increasing number of automotive manufacturers worldwide are responding to the requirement for faster charging times for battery electric vehicles with the introduction of modified on-board power system architectures. In the electric premium and sports car segments especially, high-voltage vehicle power supplies are now being designed for 800 volts rather than the current 400 volt systems.
ZF reinforces this design trend with the development and production of corresponding components for the electric driveline. At the core is power electronics using silicon carbide as a semiconductor. ZF has already seen this technology applied in the Formula E racing series.
"It is becoming apparent that the 800-volt architecture will become established in future premium electric or electric sports cars, whereas the 400-volt architecture will remain the standard in the volume market," says Bert Hellwig, responsible for the system development of electric drives at ZF. "For years, we have been supplying 400-volt technology for volume production, this year, we are preparing the start of production for 800-volt applications."
For the first time in premium vehicle production, ZF is using new chip technology: Instead of silicon transistors, silicon carbide components are used, reducing internal switching losses in power electronics. As power electronics have a very high energy throughput during electric driving and recuperation, the efficiency of the entire electric driveline increases – with a positive effect on the range.
As the global population experiences rapid growth, more people around the world are moving from the countryside to the city. In addition to the inner-city challenges posed by the urbanization megatrend, there is also an increase in the average traveling distance. As a result, the challenges for train systems are also increasing. To meet these demands, Siemens Mobility and Infineon Technologies AG have jointly developed new auxiliary converters to improve the efficiency of on-board power systems using power semiconductors based on silicon carbide (SiC).
"Our vehicles should not only offer the highest level of passenger comfort but also enable our customers to operate them sustainably over the entire product life cycle. Energy-efficient on-board train power systems can make a major contribution to economical and environmentally-friendly train operations," said Albrecht Neumann, CEO of Rolling Stock at Siemens Mobility.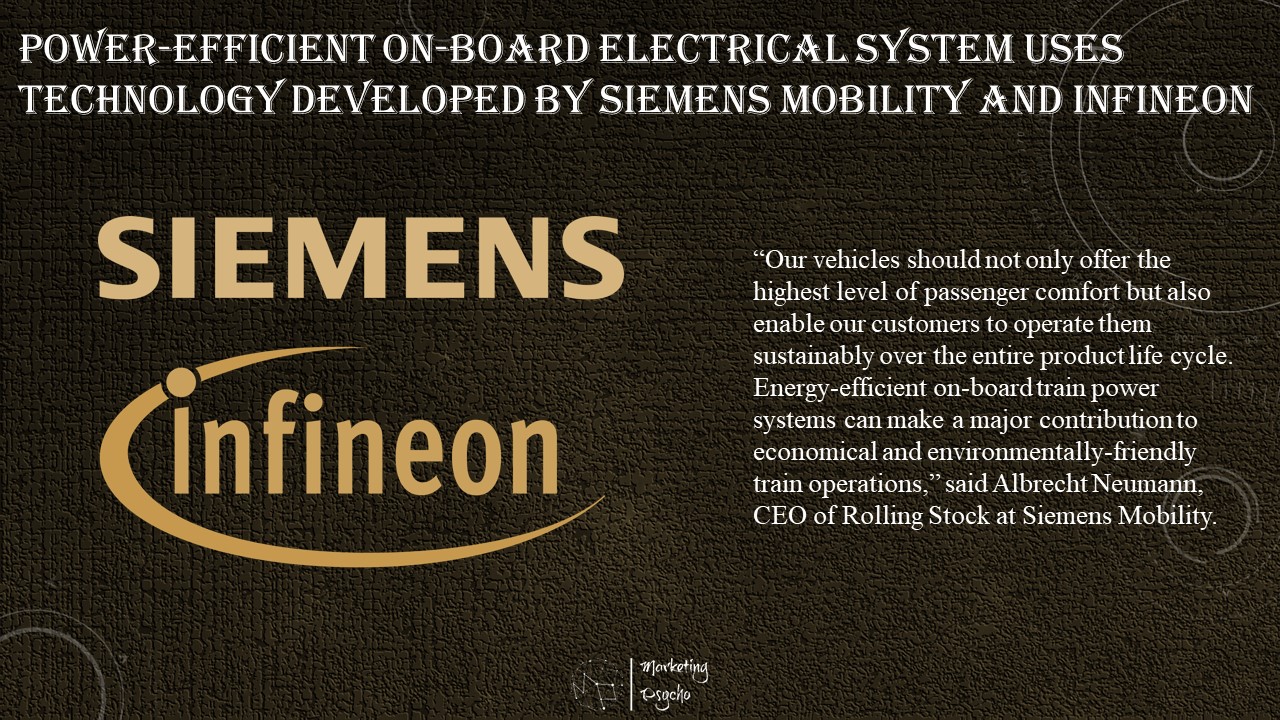 Siemens Mobility uses the new converter for various train platforms. As a result, the platforms are maintenance-friendly, reliable, economical and, above all, power efficient. "With SiC, we achieve higher switching speed as well as efficiency to reduce the size of transformers, capacitors, cooling elements and the housing unit. The advantages of this semiconductor material are evident and are now being leveraged in rail-bound vehicles," said Dr. Peter Wawer, President of Infineon's Industrial Power Control Division.
Selecting the optimal SiC device in the right power topology should be easy. This is why UnitedSiC built FET-Jet Calculator. It helps power designers evaluate UnitedSiC devices in a variety of circuit topologies and quickly focus on the most promising solutions. It is easy to use and provides the data needed to make design decisions quickly and confidently.
It all happens in 3 easy steps:
Features
Easily evaluate the full range of UnitedSiC FETs and diodes in a variety of power applications

AC-DC

Boost PFC; Totem pole PFC; Vienna rectifier; 2-level voltage source inverter

DC-DC (non-isolated)

Buck or boost with or without synchronous rectification with 3-level boost

DC-DC (isolated)

LLC in full or half-bridge variants; phase shift full bridge; dual active bridge w/phase control

Supports CCM and BCM conduction modes

Provides instant results to facilitate fundamental design decisions including:

Overall efficiency
Component losses by dynamic & conduction contributions
Junction temperature
Current stress levels
Number of devices in parallel (if any)

No registration required
Nexperia, the expert in essential semiconductors, has announced a comprehensive partnership covering gallium nitride (GaN) power semiconductor devices with United Automotive Electronic Systems Co., Ltd. (UAES). The program will focus on power systems for EVs, with the aim to jointly develop automotive applications using GaN technology.
The electrification of cars, the increasing high power requirements of telecommunication equipment for 5G and the rise of Industry 4.0 require power conversion efficiencies for which GaN is expected to become the mainstream technology. These trends underpin the growing demand for power semiconductors in 2021 and beyond.
UAES has already started using Nexperia GaN FETs in R&D and collaborative projects including vehicle-mounted chargers and high-voltage DC-to-DC converters for electric cars. Nexperia's GaN technology has extremely good figures of merit (RDS(on) x QGD) and reverse recovery charge (Qrr) metrics that support high switching frequencies and efficient power conversion. Nexperia produces GaN based on mature and reliable mass production techniques, largely in its own global production facilities, to manufacture products according to automotive AEC-Q101 standards.
Semiconductor Manufacturing International Corp (SMIC, 中芯國際) is to build a US$2.35 billion plant with funding from the Shenzhen City Government, the first major project to emerge from China's master plan to match the US and become more self-reliant amid a global chip shortage.
SMIC said that shortages could worsen this year and next, harming Chinese businesses if the country does not immediately increase domestic capacity.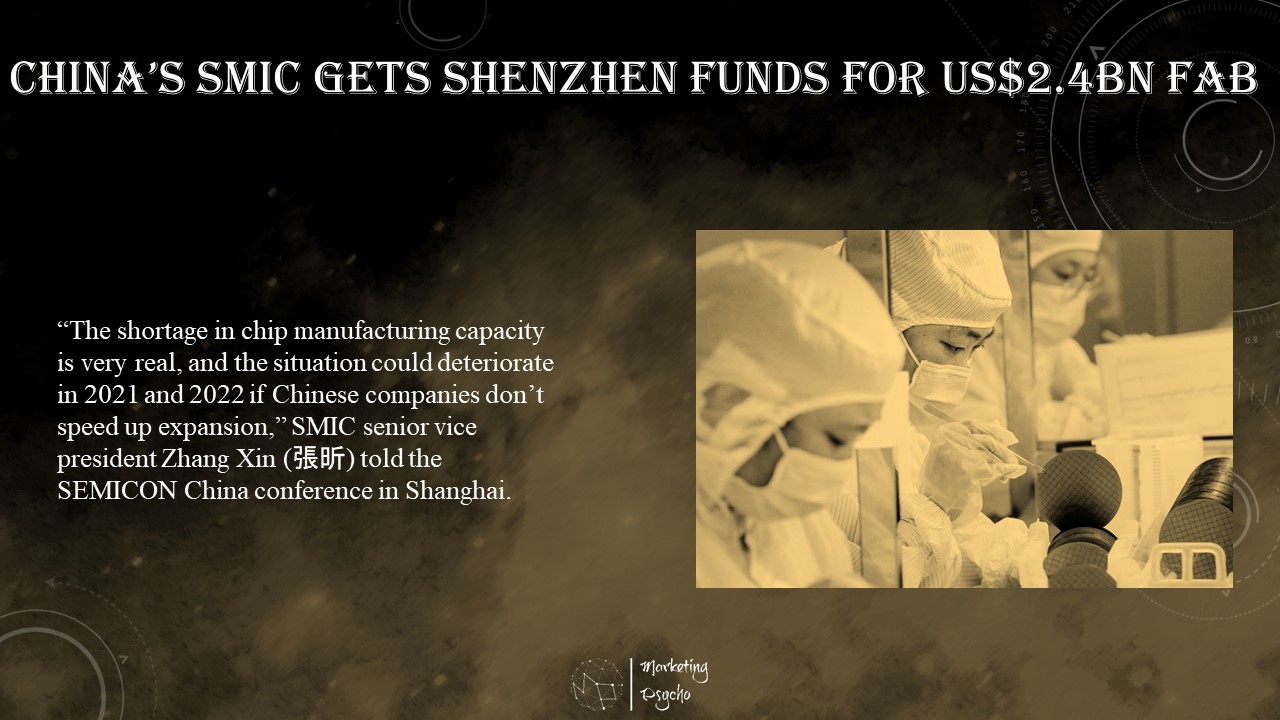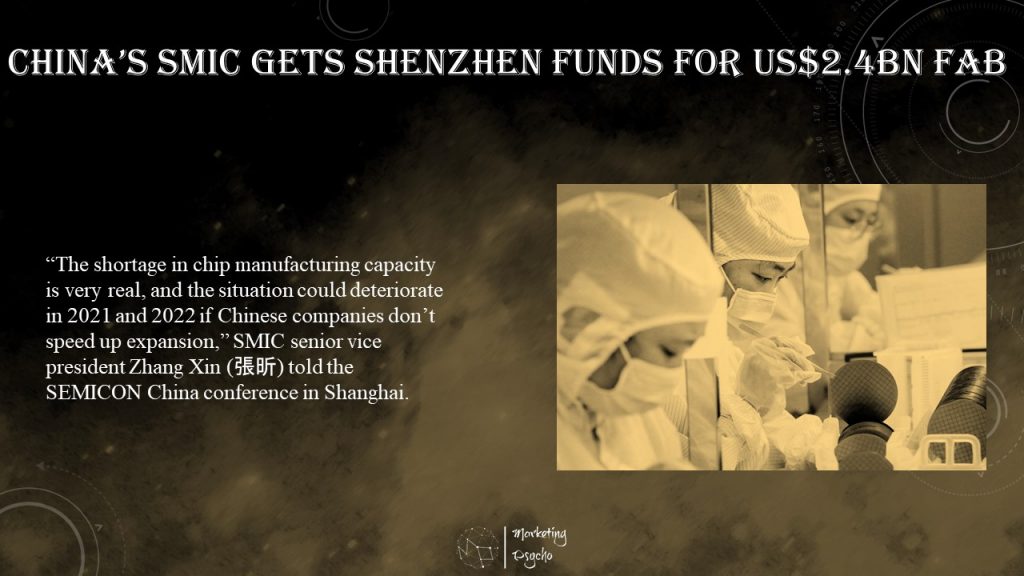 In the joint venture with Shenzhen, the company has agreed to develop and operate a manufacturing facility that can produce chips using 28-nanometer technology, it said in a stock exchange filing.
The partners aim to attract third-party investment, begin production by next year and eventually produce 40,000 12-inch wafers per month.
"The shortage in chip manufacturing capacity is very real, and the situation could deteriorate in 2021 and 2022 if Chinese companies don't speed up expansion," SMIC senior vice president Zhang Xin (張昕) told the SEMICON China conference in Shanghai.
Ferrotec and RS Technologies invest in new factories to take on bigger rivals. Two upstart manufacturers of semiconductor wafers in Japan are expanding their presence in China, looking to ride Beijing's efforts to achieve chip self-sufficiency and tap into the money the government is pouring into the sector.
Ferrotec Holdings, headquartered in Tokyo, mainly produces components for chipmaking devices. The company started making wafers in 2002 in China, with the operation limited to earlier-generation products.
Ferrotec isn't the only company with lofty ambitions.
"We seek to exceed Sumco by 2025," said Nagayoshi Ho, president of RS Technologies. The Tokyo-based company is the largest manufacturer of reclaim wafers used for equipment testing. RS expanded to normal silicon wafer production in 2018, when it formed a joint venture with Grinm Group.
In October, the two partners completed an 8-inch wafer factory in the Chinese city of Dezhou. They expect the plant to attain monthly capacity of 130,000 units this year.
RS accepted money from a Chinese public-sector fund to make 12-inch wafers. The company looks to make 10,000 units a month on a pilot basis later this year in Dezhou, with the goal of producing 300,000 units a month.
Join UnitedSiC webinar to discover how the breakthrough performance of 750V Gen 4 SiC FETs enables a simple design of a highly efficient Totem-pole PFC. Efficiency measurements on the developed 3.6kW unit will demonstrate a 99.3% efficiency rating.
Insight into the losses is provided by the UnitedSiC FET-Jet Calculator(TM) on-line tool, which are shown to match the actual measurements quite well. Finally, it will be discussed how the high efficiency of SiC FETs allows further BOM cost reduction for Totem-pole PFC.
AGENDA:
Introduction
Benefits of TPPFC
CCM vs CrM
Performance of Gen 4 SiC FETs
Measured efficiency (SR on slow leg)
Calculation of device loss using FET-Jet Calculator
More cost-effective design (diode on slow leg)
Summary
Design support
Q/A
Find more information about power semiconductors in Marketing in Power Electronics section of the website.