Power Semiconductors Weekly Vol. 1
Denso's new high-quality silicon carbide power semiconductors have been used in Toyota's recently launched second-generation Mirai fuel cell EV.
Denso says it has developed its REVOSIC technology for the purpose of applying SiC power semiconductors to in-vehicle applications.
The new model of booster power module equipped with the SiC power semiconductors is about 30% smaller in volume and provides roughly 70% less power loss compared to a conventional product equipped with Si power semiconductors.
Rohm is a leading developer of power semiconductors using silicon carbide, which boasts higher energy-saving performance than silicon. The Kyoto company commands a roughly 20% share globally for power semiconductors, competing with players such as Germany's Infineon Technologies and STMicroelectronics of Switzerland. Rohm intends to boost capacity, seeking a 30% share.
In June 2020, the researchers reported that pandemic would greatly impact automotive power semiconductor revenues, and power electronics for cars would see a fall in demand that would cause a revenue decline by 16% in 2020.
All of those predictions are now being realized. In addition to the shuttering of chip production due to the pandemic, the problem was worsened last summer after the Trump administration-imposed sanctions on 11 Chinese companies for alleged labor abuses.
China Resources Microelectronics (CR Micro) has notified its clients based mainly in China about price hikes for all its power semiconductor products, including MOSFET and IGBT components, starting this year.
CR Micro is the largest China-based MOSFET supplier in China, adding that the company has as high as 90% of revenues generated from its power semiconductor business.
CR Micro has run its 8-inch fabs dedicated to producing MOSFET and IGBT devices at full capacity utilization, with plans to build additional capacity.
SemiQ , Inc. announced the release of its third-generation SiC Schottky Diode modules developed in the industry-standard SOT-227 packages.
The Modules are optimized for power conversion applications where low losses and high efficiency are critical including renewable energy, electric vehicle charging station, uninterruptable power supplies (UPS), solar power, and fuel cell power systems.
Samples are in stock at SemiQ and available through DigiKey and Mouser.
Cree, the global leader in silicon carbide technology, announced the launch of its Wolfspeed WolfPACK™ power modules, extending its range of solutions and ushering in a new era of performance for a diverse range of industrial power markets, including electric vehicle fast charging, renewable energy and energy storage, and industrial power applications.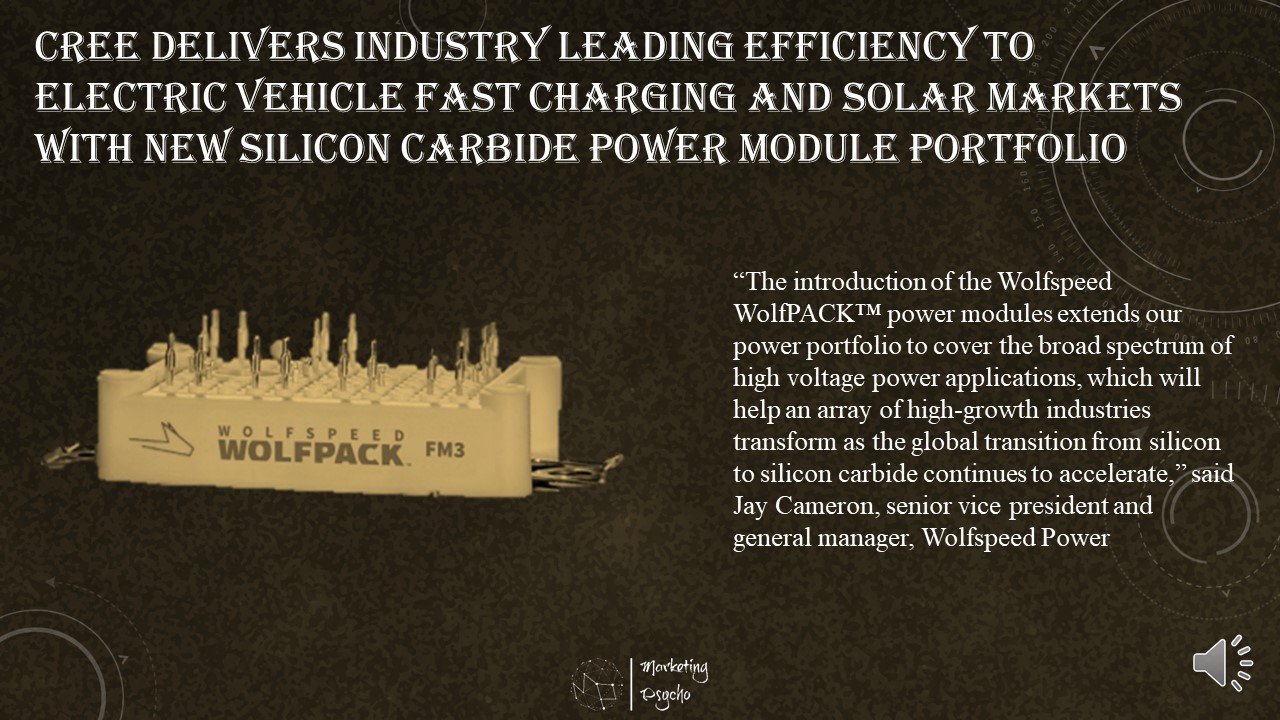 Using 1200V Wolfspeed® MOSFET technology, the new modules deliver maximum efficiency in easy-to-use packages that allow designers to significantly increase efficiency and performance with smaller, more scalable power systems.
Early last year, Infineon closed its $10 billion deal to take over Cypress Semiconductor, a move that promises to transform it into the world's largest producer of chips used by the automotive industry and give it more scale to succeed in the growing Internet of Things (IoT) market.
According to Shawn Slusser, the senior vice president of marketing, distribution, and sales at Infineon Technologies Americas, Cypress adds some unique strengths in security that add to one of the core competency areas of Infineon, like secure memories that protect devices and communications in industrial, automotive and IoT segments.
Together, both companies will move into the Top 10 semiconductor companies globally.
Find more information about power semiconductors in Marketing in Power Electronics section of the website.