Power Semiconductors Weekly Special Vol. 02. APEC Virtual Conference 2021
With another pandemic strike it is still quite blurry when we all can get back to in-person events. Hopefully starting 2022 we all will get back on track and see each other during the coming shows. While crossing my fingers for the next year events, I want you to join me in a brief overview of the APEC virtual conference 2021 which was held online middle of June. The platform is still open till the end of July, so you still have time to find interesting for you materials there.
Power Integrations Plug-and-Play 1SP0630 gate drivers are compact single-channel intelligent gate drivers optimized for 130 x 140 mm single IGBT High Power (IHM) modules, which are used in railway and other long-life applications. The compact SCALE-2 gate drivers match the footprint of the smaller IHM single-channel IGBT module formats with 1200 A to 1400 A output current and 3300 V IGBT blocking voltage.
These Power Integrations gate drivers meet IEC 61373 specifications for shock and vibration and IEC 60068-2-xx environmental requirements. Units are also EMC-qualified according to EN 50121-3-2 and IEC 6100-4-x. With standard conformal coating, the new Power Integrations gate drivers can also undergo burn-in on request for added reliability. Improved connectors increase interconnection security and facilitate fast release without tooling. Fiber-optic interfaces are provided.
All 1SP0630 gate drivers feature Power Integrations' Dynamic Advanced Active Clamping, which allows an extended DC-link voltage range in IGBT "off" state for up to 60 seconds in railway and regenerating applications. Also included is short-circuit and under-voltage lock-out protection, along with failure status output.
A complete Power Integrations solution is comprised of a "main" driver ("V2M1" or "S2M1"), one or more "peripheral" drivers ("D2S1"), and an external power supply (ISO6125R-33). Cables (RLC-IMS-61-050-0, and RLC-PSI-41-050-0) connect the drivers, power supply, and external control circuitry.
STMicroelectronics presented their new STPOWER IGBT in ACEPACK SMIT (Surface Mounted Isolated Top-Side cooling package) package for automotive power applications.
The ACEPACK™ SMIT package features a Direct Bond Copper (DBC) metal-isolation-metal substrate placed on the top side of the package to improve thermal coupling with heatsinks. This frees the circuit board PCB of silicon dissipation to allow lower temperature operation and higher design flexibility.
With its low electrical parasitic inductance and low thermal resistance, the package delivers a flexible internal DBC design that enables various electrical circuit solutions from single switch to multi-die topologies in the 1 to 50kW power range. Its molding compound offers outstanding resistance to moisture and heat for automotive and industrial applications.
The ACEPACK SMIT can house different power semiconductors including, silicon IGBTs, MOSFETs, diodes, Thyristors and silicon carbide (SiC) devices, with UL 1557 recognition for Viso ≥ 3.4kVrms.
The first ST IGBT housed in the new ACEPACK SMIT is the STGSB200M65DF2AG, ideal for automotive applications such as hybrid/EV engine traction inverters and EV charging stations, followed by the AC-DC module embedding thyristor and diodes STTD6050H-12M2Y and the STTH60RQ06-M2Y fast rectifier module.
The Infineon EconoDUAL™ 3 is one of the most popular power electronic packages on the market. It has been in use since 2005 in key applications such as general-purpose drives, electric buses and trucks, solar, wind and uninterruptible power supplies.
After 15 years, it is now time for a retrofit, to adapt this housing to modern market requirements. Therefore, the new EconoDUAL™ 3 Black Series combines a large number of new features with well-known advantages of the EconoDUAL™ 3 footprint.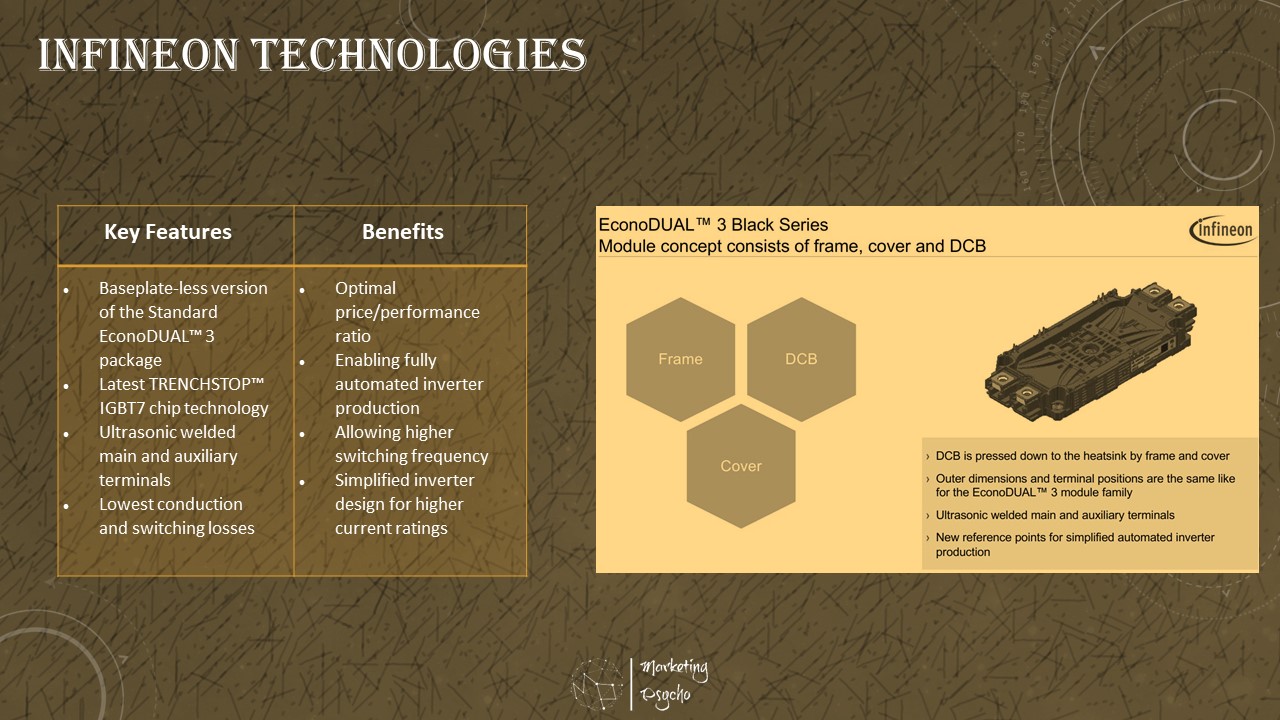 The EconoDUAL™ 3 Black Series has now been improved for use in automated production lines and is designed for future IGBT generations. Moreover, the EconoDUAL™ 3 Black Series is characterized by reduced overall electrical losses, improved module lead resistance and lower terminal temperature due to high performance terminals.
The EconoDUAL™ 3 Black Series can be used in high performance applications and enables simplified design-in for high current ratings by offering an optimal price/performance ratio.
During APEC virtual conference ME presented their complete product line including
X-series HVIGBT modules
7th generation industrial power modules
G1-series intelligent power modules
SiC power devices
The representatives of the company also had a webinar dedicated to Si and SiC Intelligent Power Modules Solutions for Variable Speed Motor Drive Applications Visitors.
For over three decades, Danfoss Silicon Power has been helping top-tier manufacturers and system suppliers meet stringent reliability, design and cost targets by developing customized SiC and IGBT power modules and power stacks for tomorrow's e-mobility, energy and industrial applications.
During APEC virtual conference Danfoss Silicon Power presented their power modules which the company produces in their facility in the US.
Semikron presented their whole power semiconductors portfolio for various applications like
Electric and electrified vehicles
EV Chargers
Energy storage
Motor drives
Solar and Wind Energy
Traction
Power supply
During their webinar Semikron discussed their high-power modules for scalability, increased power density and reliability. The presentation introduced SEMITRANS 10/10+/20 product portfolios from Semikron.
SanRex introduced their 2 in 1 SiC MOSFET modules. SiC MOSFET modules use the special 'Dio-MOS' die, which has a built-in flywheel (not a body diode). Dio-MOS has very special Rds-on characteristics that remain low at high operating temperature. It is packaged in the original 'Techno Block' that has 3-5 times longer Power Cycle than conventional package construction.
Applications
Industrial Inverters
DC-DC Converters
EV Battery Chargers
Resonant Power Supply
Features
Small
No additional FWD required
Low power loss thanks to low RDS(on) and low switching loss
Long-term reliability under power cycle stress
Safe gate driving at high frequency operation through optimized
VGS(th) (4.0V)
Top level short circuit tolerance enabling safety design of equipment
Low temperature dependency of RDS(on) reducing thermal runaway risks at high temperature operation
High-efficiency energy usage has become a critical deliverable in next-generation power converters and SiC power devices continue to be the key components driving this revolution.
At APEC virtual conference GeneSiC presented the superiority of its third-generation – G3R™ SiC MOSFETs, including the performance advantages, design considerations as well as the importance of quality and reliability in demanding applications.
With the increasing demand for the electrification of cars, the need for supporting infrastructure is also rising. The EV-Charging industry is experiencing a boom with rapid evolution in terms of requirements and solutions. Increasing efficiency requirements and the need for faster charging times spurs manufacturers toward more complex topologies or utilizing more efficient technologies like SiC.
ON Semiconductor provides a wide range of products covering all stages in an EV-Charger, from the core power products to protection, monitoring, or connectivity devices.
During APEC virtual conference, ON Semiconductor presented an overview of the ecosystem for EV-Charging design, from product offering to support tools.
Since its founding in 1949, the Shindengen Electric Manufacturing Company's business has centered on power electronics, such as power semiconductors and switching power supplies. Over the years, the company has developed countless products that utilize original technologies, and has been unflagging in dedication to meeting the expectations and earning the trust of their customers worldwide.
During APEC virtual conference the company made a very detailed presentation of their power semiconductors portfolio.
Alpha and Omega Semiconductor introduced their automotive AEC-Q101 qualified next-generation SiC MOSFETs for high efficiency and high-power density applications. Kelvin source packages enable best-in-class switching with on resistance as low as 33mohms.
Features
Proprietary αSiC MOSFET Technology
Low loss, fast switching speeds with low RG
Optimized drive voltage (VGS =15V) for broad driver compatibility
Robust body diode and low Qrr
Applications
Automotive
xEV charger
Solar inverters
Industrial
UPS
SMPS
Motor drives
Besides already mentioned companies and their product presentation, there were many more participants in APEC virtual conference presenting their power semiconductors solutions, equipment and technologies:
Companies that provide materials and equipment for the semiconductor industries demonstrated their latest solutions for power semiconductors manufacturers:
Besides manufacturers of power semiconductors, equipment, and materials, there were several foundries like X-FAB and GlobalFoundries that presented their latest technologies and the list of services they can provide to semiconductor industry.
Subscribe to Power Semiconductors Weekly and watch it on YouTube every Tuesday.
If you prefer a monthly update about the world of power semiconductors delivered to your e-mail address, please, subscribe to Marketing Psycho Power Semiconductors newsletter.